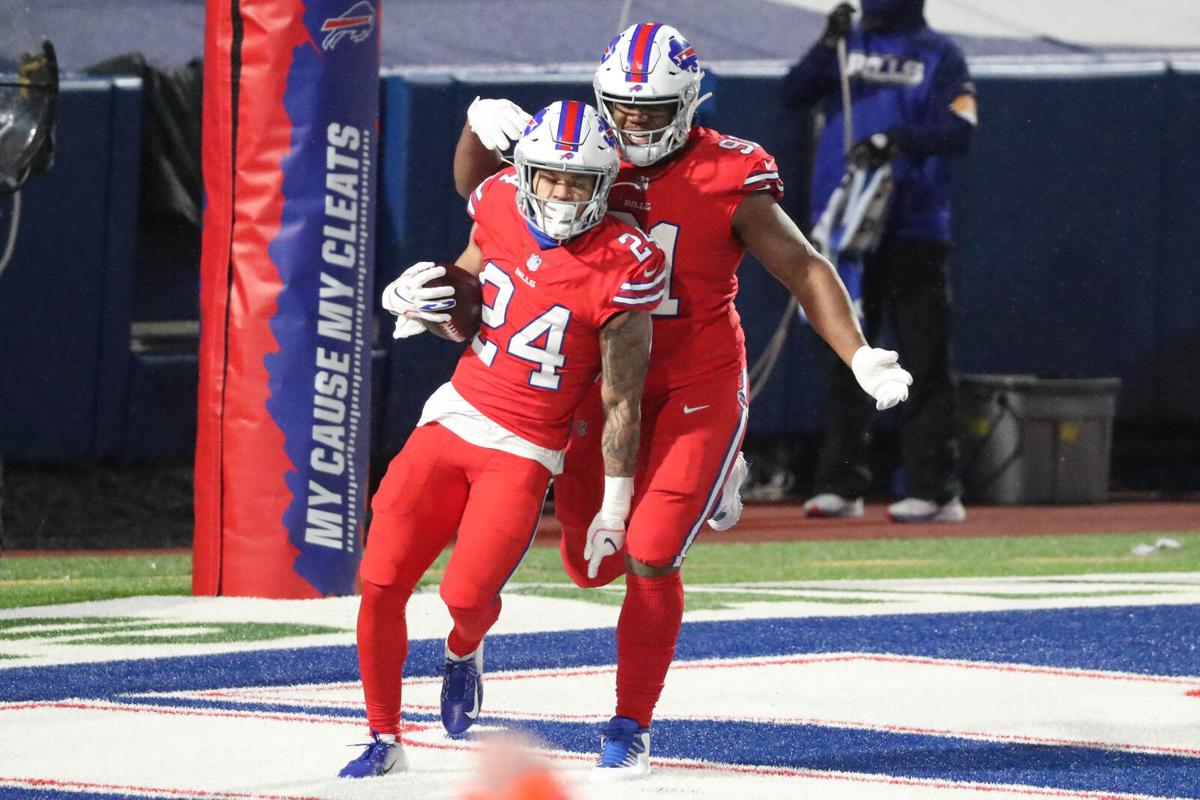 Taron Johnson's return tied the longest in NFL postseason history.
"Good for him" no doubt will be the reaction of most Buffalo Bills fans upon learning that cornerback Taron Johnson got the biggest performance-based pay increase on the team this year.
Johnson, of course, made two of the biggest plays of the Bills' season when he returned interceptions for touchdowns against Pittsburgh and Baltimore.
Johnson received an extra $578,749 under the terms of the NFL collective bargaining agreement. That was the third highest pay boost in the NFL. Johnson made $750,000 last season, the third year of the four-year rookie contract he signed in 2018.
The performance-based pay totals are determined every spring. The system was created to reward players – typically younger players – who are outperforming their contracts. Players who see a high percentage of snaps and who also have lower salaries benefit the most.
Performance-based pay is computed by using a player index, which is produced by taking a player's regular-season playtime (total plays on offense, defense and special teams) and dividing it by his adjusted regular-season compensation (full-season salary, prorated portion of signing bonus, earned incentives). Each player's index is then compared to those of the other players on his team to determine the amount of his performance-based pay. Each NFL team had a performance-based pay pool of $8.5 million for 2020.
Johnson played 84.1% of the total snaps last season.
The next biggest pay bumps on the Bills went to (with play-time percentage and total money): receiver Gabriel Davis (70.6%, $482,310), guard Ike Boettger (58.8%, $466.609), cornerback Levi Wallace (55.7%, $441,624), running back Devin Singletary (52.9%, $337,382), defensive end Darryl Johnson (40.7%, $315,433), tight end Dawson Knox (44.5%, $288,820), cornerback Siran Neal (33.3%, $247,304), tackle Daryl Williams (95.6%, $238,813) and running back Zack Moss (34.4%, $224,897).
Johnson's 51-yard interception return off a Ben Roethlisberger pass put the Bills ahead for good in the 26-15 victory over Pittsburgh in Week 13. Johnson had a 101-yard interception return off a Lamar Jackson pass in the 17-3 divisional-round playoff win over the Ravens.
While Johnson's increase was third most, most teams had a player who got a pay increase of between $500,000 and $570,000.
The biggest pay bump went to Tampa Bay guard Alex Cappa ($622,056), who played 99.7% of the snaps. Second was Arizona tackle Kelvin Beachum ($604,185), who played 99.6% of the snaps.