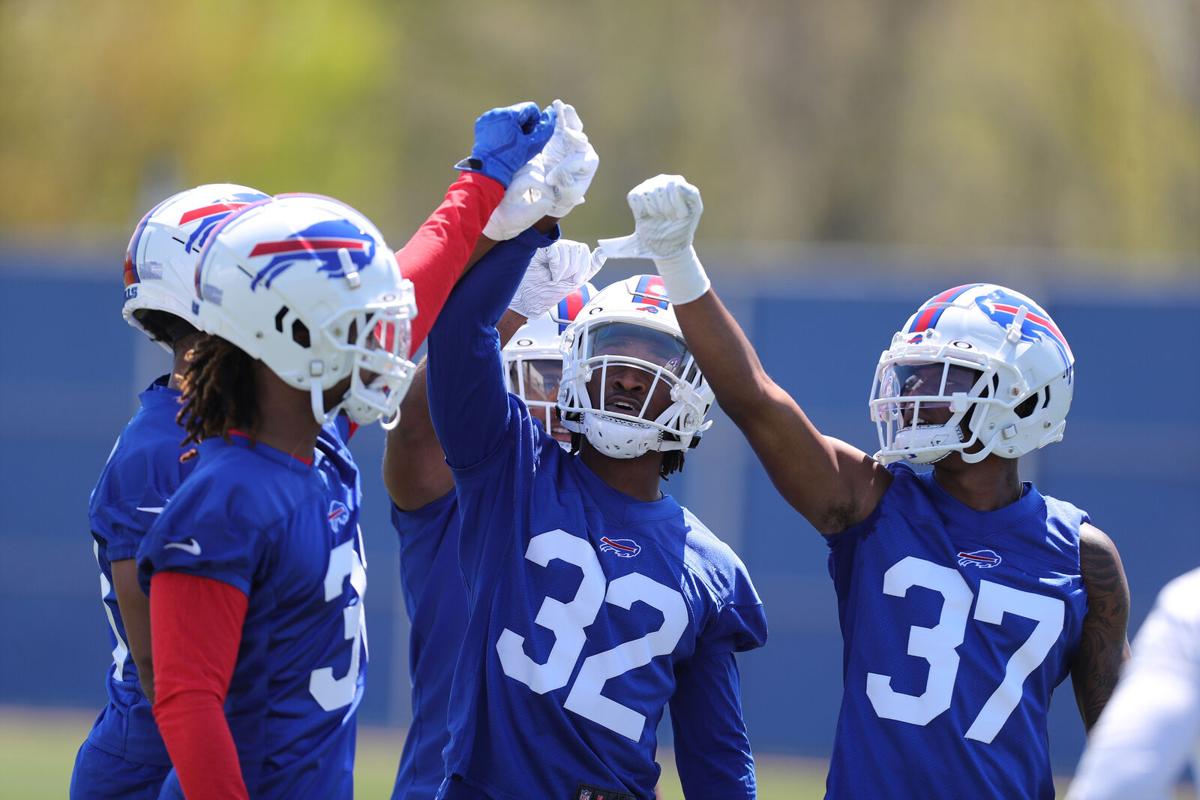 Two intriguing, physical cornerbacks are among the young undrafted players signed by the Buffalo Bills after the NFL draft.
The Bills like their cornerbacks to play tough against the run. It's a must.
One thing is certain: rookie Bills wide receiver Marquez Stevenson is fast. You don't get the nickname "Speedy" by being slow.
Both Olaijah Griffin from Southern California and Nick McCloud from Notre Dame fit that bill. Both could be practice squad candidates if they can perform well enough this summer.
Here's a closer look at the undrafted free-agent signees of the Bills, who took the field in Orchard Park for the first time on Friday at the team's rookie minicamp:
Olaijah Griffin. He might be the Bills' top undrafted signee. Pro Football Focus rated him the No. 4 UDFA signing in the league and had him rated as a fourth-round pick. Obviously, that was too high. Ourlads Scouting Services rated him as a sixth- or seventh-round prospect. PFF called him "a more explosive Levi Wallace."
Griffin arguably is more raw coming out of college than Wallace was when he came out of Alabama in 2018. One reason Griffin went undrafted is he needs time in an NFL strength and conditioning program to build up his slight frame. The 5-foot-11 Griffin weighs 176.
Griffin ran the 40-yard dash in 4.53 seconds and had a vertical jump of 34 inches at an individual pro day. Griffin had to miss the USC pro day because of a positive Covid-19 test, which he said he believed was a false positive.
As a junior in 2020, Griffin had his best year for the Trojans, holding foes to a 38% completion rate on targets to his area. He made 17 career starts and was flagged for 12 penalties in his career. Griffin's father is rapper Warren G.
Nick McCloud. He spent three years at North Carolina State, graduated, then transferred to Notre Dame for the 2020 season. Overall, he made 31 career starts and was a team captain at N.C. State. McCloud probably improved his stock by posting good pro-day numbers. He ran the 40-yard dash in 4.45 to 4.47 seconds, according to Senior Bowl director Jim Nagy.
McCloud graduated from South Pointe High School in Rock Hill, S.C. It's the same school that produced former Bills No. 1 pick Stephon Gilmore, along with NFL All-Pro defensive end Jadeveon Clowney and former UB star receiver Anthony Johnson. Gilmore is a mentor and they worked out together last offseason. McCloud's father, Nakia, is an assistant coach at the school.
Quintin Morris. A three-year starter from Bowling Green, he doesn't fit the usual mold for a Bills tight end in that he's undersized and didn't distinguish himself as a blocker in college. At 6-2, 243, he switched from wide receiver to tight end for his last two college seasons. In 2019, he had 55 catches for 649 yards and four TDs. His 40 time was 4.60 to 4.62. (Dawson Knox ran 4.55.)
Rousseau and Basham have quickly hit it off after becoming teammates.
Tariq Thompson. A four-year starter at San Diego State, he's a box safety or a big nickel defender, with a 40 time of 4.75 seconds. He played underneath coverage over the slot on 60% of his snaps as a senior last season. He's a good tackler, which should translate to special teams.
Syrus Tuitele. A 6-5, 311-pounder from Fresno State, he started 26 games at right tackle in college. He will move to guard in the NFL, and he has the thick lower body to make the switch.
Tre Walker. A 5-11 receiver, he caught 144 passes for 2,163 yards in four years at San Diego State. In 2019, he had 79 catches for 1,161 yards in 13 games and ranked third in the country in receiving yards per game. Walker went undrafted after posting sub-par testing numbers. He ran the 40 in 4.59 seconds, had a vertical jump of 28 inches and a three-cone time of 7.75 seconds.
The flight experience to Buffalo gave Spencer Brown, Tommy Doyle and Jack Anderson their first full taste of the support they can expect from Bills fans.
Tryouts: The Bills had 24 players participating in Friday's rookie minicamp practice, which lasted about an our and 15 minutes. It included eight draft picks, six undrafted rookie signees, five first-year players with past NFL camp experience and five tryout players.
The first-year players included running backs Christian Wade and Antonio Williams, tight end Nate Becker, linebacker Mike Bell and guard Steven Gonzalez. Wade, the international player from England who has drawn attention the past two preseasons, made a nice catch on a long pass during limited 11-on-11 work.
The players on tryouts were quarterback Zach Smith, receiver Isaiah Ford, defensive tackles Nazair Jones and Eddie Vanderdoes and linebacker Joe Giles-Harris.
Ford has the most experience. A 6-1, 194-pounder, he played 19 games for Miami over the past three seasons. He caught 23 passes in 2019 and 28 in 2020.
Smith started 31 college games, 21 over the past two seasons at Tulsa and 10 previously at Baylor. He's 6-3 and 222. The Bills have four quarterbacks on the roster, with Jake Fromm and Davis Webb behind Josh Allen and Mitch Trubisky. Last year, the Bills took four QBs to training camp.