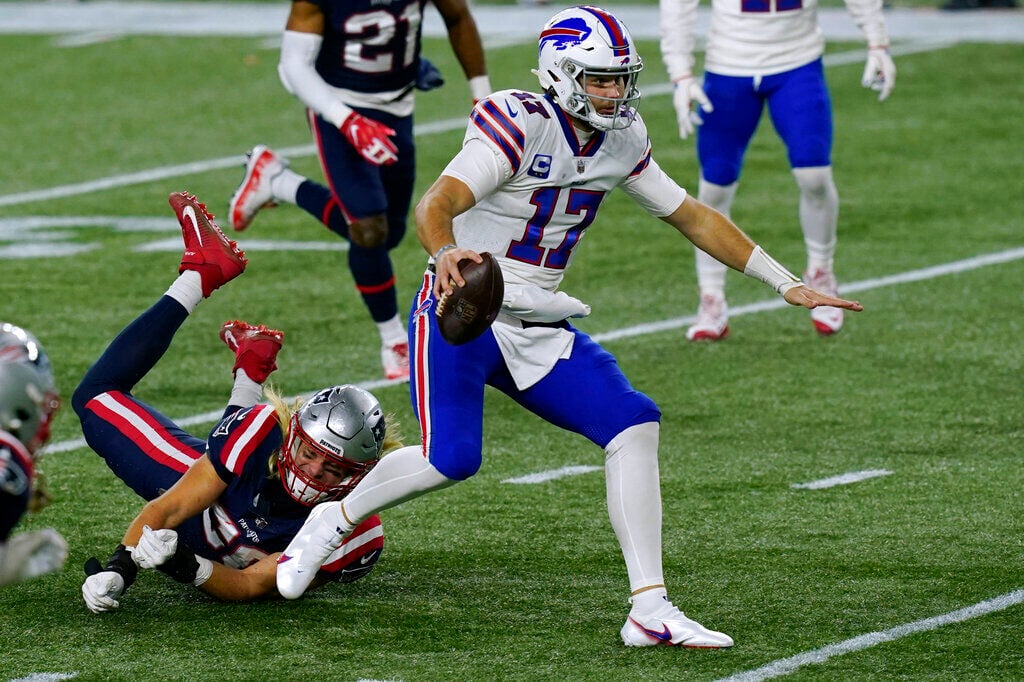 Here are my five takes on the Buffalo Bills' regular-season finale Sunday at 1 p.m. against the Miami Dolphins at Bills Stadium.
The 2020 MVP award winner is expected to be announced during Super Bowl week.
Given the murkiness of the Bills' player-usage plan for this game, we are left to do some guessing – hopefully of the educated variety – as to how that will look.
It seems reasonably safe to say that if they intended to do anything other than play their starters as usual, there would be no vague discussion by Sean McDermott about how much or little Josh Allen and other front-liners will play.
The guess here is that the Bills will approach it as a preseason game, with starters getting a series or two just to keep away any hint of rustiness. But it wouldn't be the least bit surprising if backups went the whole way, assuming the starters got in the bulk of their tune-up work in practice.
Either way, the priority is for everyone, including the backups, to emerge without injury. Though a Bills win assures them of a No. 2 playoff seed, it is not valuable enough to risk losing players for the games that truly matter. Besides, the Pittsburgh Steelers could hand the Bills the No. 2 spot by losing to the Cleveland Browns.
2. Matt Barkley getting some meaningful work is a good thing.
For the Bills, being without Allen for any extended time is at the top of scenarios they don't even want to ponder.
It's fair to say his absence would extinguish virtually all hope of postseason success. The Bills wouldn't be where they are and aren't going to get where they want to go without their MVP-worthy quarterback.
Still, this is football. Players miss plays and series and quarters and halves and even games.
If that happens with Allen, McDermott doesn't get to wave a white flag. He must go with Barkley, and Barkley must be at least somewhat competent to keep the Bills competitive for however long Allen is out.
Playing all or most of this game would allow Barkley to establish at least some semblance of feel for game action, which is particularly important for a quarterback.
3. Take advantage of an ideal scouting opportunity.
It isn't often that you host a potential wild-card playoff opponent the weekend before hosting that team again in the postseason, but that could be the case between the Bills and Dolphins even if it's not likely.
The closest the Bills came to doing that in 1995, the previous time they won the AFC East, when they faced the Dolphins at home in the next-to-last game of the regular season (a 23-20 Buffalo victory) and took them on 13 days later at home in the wild-card round (a 37-22 Buffalo win).
The advantage for the Bills is that, with Miami able to assure itself of a playoff spot with a win Sunday, the Dolphins will be utilizing all their starters and showing at least a good portion of their strategic cards.
Meanwhile, the Bills have the luxury of their starting units watching from a safe distance for most, if not all, of the game. They also have the luxury of being as vanilla as possible with their game plan.
They will be free to study and learn as much as possible about the Dolphins, paying close attention to how they have evolved since the teams met way back on Sept. 20 in South Florida. The Bills' focus, of course, will be on rookie quarterback Tua Tagovailoa. This will mark the Bills' first in-person look at Tagovailoa, who watched as Ryan Fitzpatrick played in the previous encounter. Fitz will miss the rematch after testing positive for Covid-19.
Even if the teams don't play again next weekend, the scouting info will prove valuable for next season.
4. & 5. Stay healthy! It's worth a second and third mention, which is why it will serve as the final two takes during this mini-bye week for the Bills.
Brown was deemed to have been a close contact with running back T.J. Yeldon, who tested positive last Sunday.
The Bills have activated John Brown from the reserve/Covid-19 list, so it's possible he'll see some action because he has missed the last five games, the first four while on injured-reserve.
That would make some sense, given that he has had so much time away from game-like conditions.
However, it's hard to imagine Brown playing anything more than a series or two. The Bills already have a potentially large question mark hovering over their receiver position with Cole Beasley's knee injury.
TV: CBS. Kevin Harlan (play-by-play), Trent Green (analyst).
Radio: Bills Radio Network. Buffalo-WGR 550 AM; Toronto-Fan 590 AM; Rochester-WCMF 96.5 FM and WROC 950 AM; Syracuse-WTKW 99.5 FM and WTKV 105.5 FM. Announcers: John Murphy (play-by-play), Steve Tasker (analyst).
"As I watched the Denver game at home with my family, I thought back to that first AFC East championship we won in 1989," writes Jim Kelly.
Series history: The Dolphins lead the series, 61-51-1 (including postseason).
Bills injury report: Out: WR Cole Beasley (knee), TE Reggie Gilliam (knee/hamstring).
Dolphins injury report: Questionable: WR Jakeem Grant (ankle), G Solomon Kindley (knee/foot), DE Shaq Lawson (shoulder), WR DeVante Parker (hamstring).