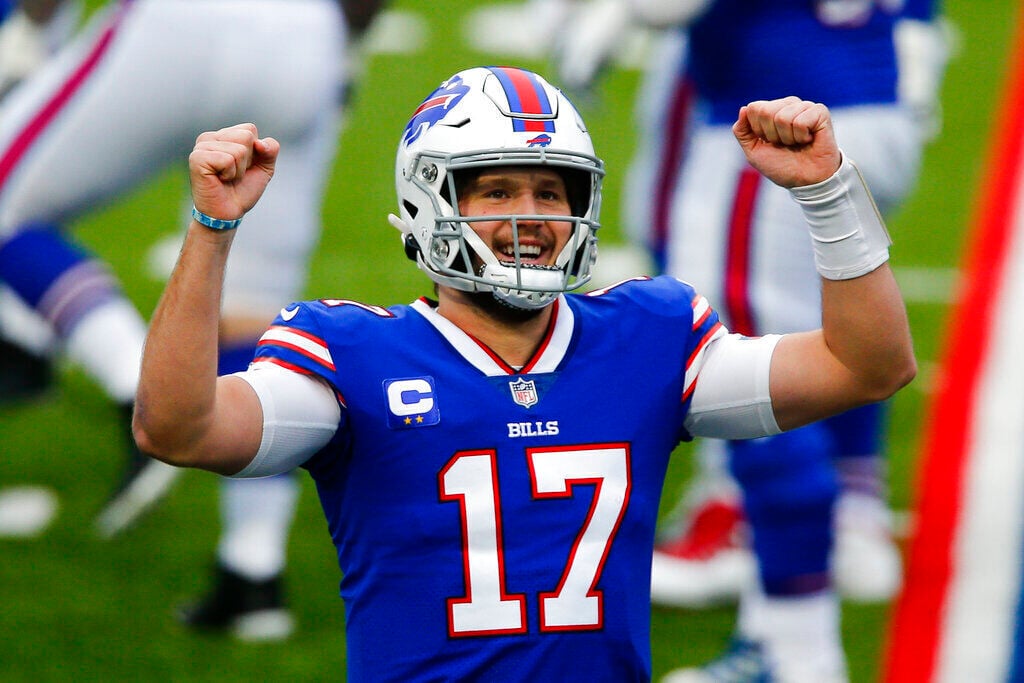 Here are my five takes on the Buffalo Bills' AFC wild-card playoff game Saturday at 1:05 p.m. against the Indianapolis Colts at Bills Stadium.
1. This time, Josh Allen keeps his poise from start to finish.
A year ago, in the Bills' wild-card loss at Houston in overtime, Allen looked every bit like a quarterback playing in his first postseason game. He fumbled twice, losing the ball once. He took bad sacks. He made poor decisions with the ball.
As a 16-point lead began to fade in the third quarter, Allen began to unravel. His desire to do whatever possible to win the game – even if it meant attempting the impossible – was a glaring indication of a lack of composure/maturity.
That shouldn't be the case Saturday.
Allen's development as a quarterback goes beyond his dramatic improvement in throwing accuracy. Throughout the season, he has demonstrated a far greater ability to stay focused and within himself. Allen has discussed the lessons he learned from what happened against the Texans. The biggest is doing his part to prevent the Bills from self-destruction.
Assuming his two best receivers, Stefon Diggs and Cole Beasley, are healthy enough to contribute at the lofty levels they established in the regular season, Allen should have another dynamic performance in a season filled with them.
2. Turn up the heat on Philip Rivers.
The Colts' quarterback is a virtual statue in the pocket. The Bills know it and fully plan to unleash as much pressure as they can.
Through the front four winning its battles and a variety of pressure packages involving linemen, linebackers and defensive backs, the Bills should be able to consistently disrupt Rivers. At the least, they should be able to hurry him into incompletions and mistakes. At the most, they should be able to put him on the ground multiple times.
Rivers will use his 16 years of experience and savvy and quick release to try to stay ahead of the pass rush. But there's every reason to believe the Bills will have their share of success forcing him to make the kind of mistakes that greatly impact the outcome of a game of this magnitude.
3. Don't let Jonathan Taylor take over the game.
The Bills' run defense has shown repeated vulnerability against talented running backs. Taylor has shown that he belongs in that category after a standout rookie season in which he rushed for 1,169 yards and 11 touchdowns.
Josh Allen is making throws that maybe only one or two other quarterbacks in the NFL can make, writes Jay Skurski.
The Colts likely will make extensive use of Taylor, especially early in the game, to allow their talented offensive line to set a physical tone. If he gets rolling, that will undermine the Bills' efforts to get after Rivers.
Matt Milano, Tremaine Edmunds and A.J. Klein need to be at the top of their respective games. The same goes for Ed Oliver, Vernon Butler and A.J. Epenesa.
Preventing significant running success by the Colts at the outset should go a long way toward allowing the Bills to keep momentum on their side.
4. Get their own rushing attack in gear.
Brian Daboll will almost certainly employ his signature pass-happy, aggressive scheme because that's what got the Bills to this point. That's what the members of his offense execute best.
Still, Daboll can't and probably won't ignore the importance of establishing an effective running game.
Colts tackle DeForest Buckner and linebacker Darius Leonard are more than capable of applying strong pressure on the quarterback. Having Devin Singletary and Zack Moss involved in the offense would go a long way toward slowing the Colts' pass rush and allow the Bills to put together some long, time-consuming, will-draining drives they've repeatedly had on the way to their 6-0 finish to the regular season.
5. Make difference-making plays on special teams.
The Bills' kicking units are one of the team's major strengths, right behind one of the most explosive passing games in the NFL.
They have a highly reliable kicker in rookie Tyler Bass. They have an exceptionally talented punter in Corey Bojorquez. They have a Pro Bowl return man in Andre Roberts. And Isaiah McKenzie isn't a bad returner, either.
The Bills are consistently effective in kick coverage and should be able to impact the outcome in significant ways.
TV: CBS. Ian Eagle (play-by-play), Charles Davis (analyst).
Radio: Bills Radio Network. Buffalo-WGR 550 AM; Toronto-Fan 590 AM; Rochester-WCMF 96.5 FM and WROC 950 AM; Syracuse-WTKW 99.5 FM and WTKV 105.5 FM. Announcers: John Murphy (play-by-play), Steve Tasker (analyst).
Series history: The Bills lead the series, 37-32-1.
Bills injury report: Questionable: WR Cole Beasley (knee), WR Stefon Diggs (oblique).
Colts injury report: Out: CB Rock Ya-Sin (concussion), OT Will Holden (ankle). Questionable: DE DeForest Buckner (ankle).
Did you know: Josh Allen has faced 16 top-10 NFL defenses, as ranked at the end of the season, in his three-year career (not counting a Week 17 game against the Jets, because he only played a quarter). Allen was 4-0 against top-10 defenses in 2020 and 7-5 from 2018 to '19.