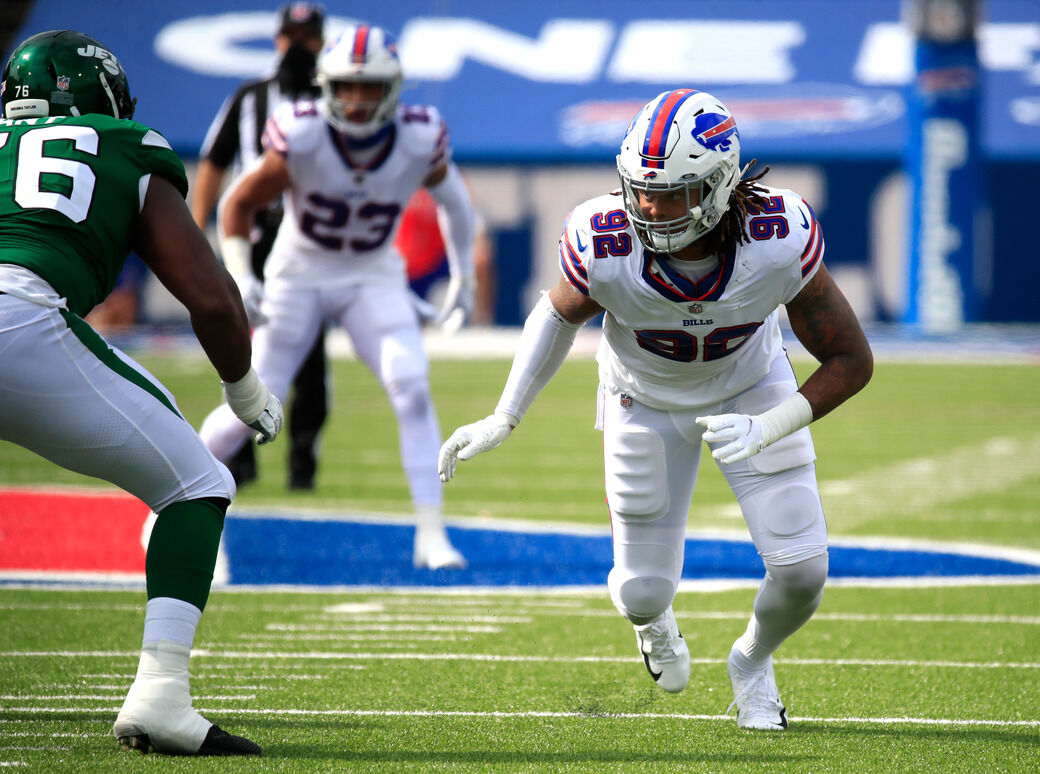 The Buffalo Bills drafted diamond-in-the-rough prospect Darryl Johnson in 2019 partly because he had the kind of prototypical frame that NFL teams covet in a defensive end.
Johnson is three years into his NFL career ... and that frame still is growing.
The 24-year-old played at North Carolina A&T as a 232-pound defensive lineman. By the time he was drafted in the seventh round, he had 252 pounds on his 6-foot-6 body.
"I'm a little bit over 6-6 now," Johnson told The News last month. "Last year, I was in a size 13 shoe. Now I'm in a 14. When I came back here in March, the trainers are like, 'You're still growing!' I guess the little body screen we do before we start workouts, it showed I'm a little bigger. It's crazy."
"Last year I played at a solid 254," Johnson said. "This year I know I needed to add a little bit of pounds. So I'm at 263, and I feel good at 263. My main move is stab, long arm. So you've got to have a little weight behind you to push those big guys back."
Johnson showed last season he is a capable backup in the Bills' defensive line rotation and a quality special teams player. This summer, he finds himself in a battle for a roster spot on the deepest unit on the Bills' team.
Can he hold onto a backup roster spot and can he tap into his physical potential and produce a little more pass rush for the Bills?
His physical tools are tantalizing.
"Who wouldn't like to work with a young man who's 6-foot-6 with 35-inch arms and still growing, from what I understand?" said Bills defensive line coach Eric Washington. "He's a versatile player. We've gotten him some snaps inside and outside. There's some things Darryl was kind of learning on the fly. There's some things he did extremely well last year. He realizes he's going to use those experiences to get better."
With six weeks to go in the regular season last year, the Bills decided they needed to find out more about Johnson. They benched veteran Trent Murphy in favor of Johnson for the game against the Los Angeles Chargers. Johnson averaged 23 snaps the rest of the regular-season, or 49% of the defensive plays.
"Being that we've got Mario and Jerry on the team, they're in my ear telling me I can do it and building that confidence in me," Johnson said, referring to Mario Addison and Jerry Hughes. "I learned a lot about being in the heat of the moment those last six to eight games. Those were some pretty big games. It felt good. ... It definitely did a lot for my confidence."
Johnson played physical. He was stout against the run.
"I thought I set the edge pretty well," Johnson said of his run defense. "But the thing about that is I learned from that. Set the edge, but do more. Whether that's coming off a gap and a half and getting to the ball, that's a thing I know I need to work on. I just really want to get after that quarterback. A lot of emphasis has been trying to get my rush angles right and trying to use my length and my speed to my advantage. I feel like being a little bit older, understanding a little more – and now the game is slowing down for me – I feel like this year I'm going to have a big year to help this organization go where we need to go."
Johnson made a big play in the win at San Francisco, tackling running back Raheem Mostert for a 9-yard loss. Johnson was too fast off the ball for receiver Brandon Aiyuk, who was trying to pin him with a crack-back block on the edge.
"Coach E always teaches us about our first emphasis is to get off the ball," Johnson said. "That was my main priority. It just took me to the right place. I also saw the wideout looking right at me, and we communicate on defense. I can't remember who it was – it was maybe Jordan Poyer or Micah Hyde – they were saying crack, crack, crack. So I'm already thinking let's get off this rock. And I made a big play for my team at the right time. It definitely was a blessing to get that play for us."
Johnson made five pressures and no sacks the last six regular-season games. He played 15 snaps in the playoff game vs. the Colts and 17 vs. Kansas City. In the divisional round against Baltimore, Johnson didn't play on defense. The Bills used the more experienced Murphy against the Ravens' exotic run package (and Murphy's run defense was an asset that game).
The Bills will be looking for more pressures from Johnson and all their defensive ends.
"Darryl is obviously very talented, albeit in some circumstances there's some rawness there," Washington said. "There's some things where Darryl is learning how to put the whole thing together. He has a tremendous attitude. He's very good in meetings. He brings a lot to our team."
Johnson was second on the team in special-teams tackles with eight. He played 58% of the special-teams snaps. Only Tyler Matakevich and Siran Neal played more. That's an advantage for him when it comes time to make out the 53-man roster.
Johnson is a physical presence on kickoff coverage from his L3 position, the middle man on the left side of the formation.
"I'm a kickoff guy," Johnson says with enthusiasm. "They like to double team me. I love the contact, the physicality and just going down there and trying to hit somebody. I love that. I love every special team. Whatever they ask me to do, I'm down to do it."
"Darryl Johnson has been a huge player for us on kickoff," special teams coordinator Heath Farwell said during the playoffs in January. "He's a guy who every coordinator has to circle on our kickoff team. How do you block this guy? You have to double team. He's so big and strong and fast. He doesn't slow down. You don't see big guys running like he does."
Maybe opponents will notice he's even a little bigger this year.