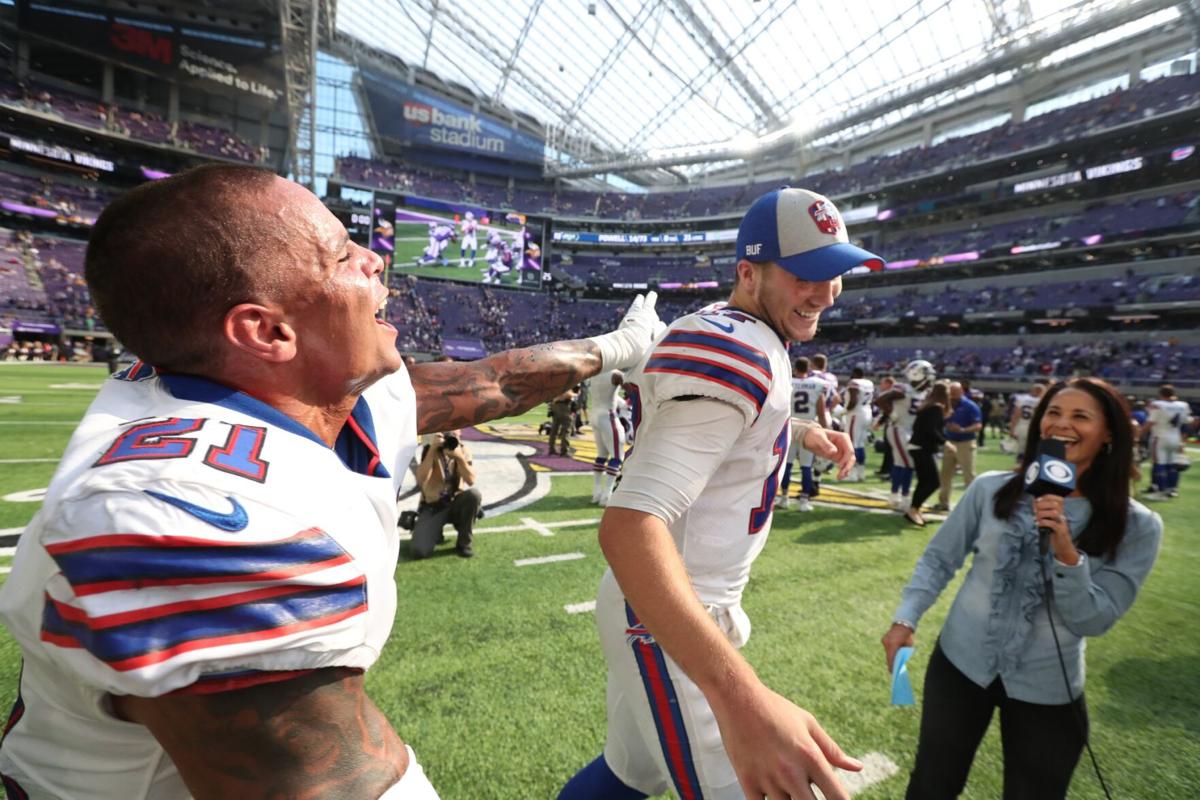 Stefon Diggs is getting ready for the 2020 season.
The Buffalo Bills' new wide receiver posted a lengthy video of his home workout Thursday on Instagram. At the end, Diggs took a few questions from fans. Not surprisingly, a lot of those questions had to do with his new team.
Diggs had plenty of good things to say about his offensive teammates in the video.
"John Brown's a baller. He was messing us up when he was in Arizona, too," Diggs said. "He's been a baller. Cole Beasley's been a baller. Especially at Dallas. He's still surgical."
When Diggs was a rookie with the Vikings in 2015, Brown was a member of the Arizona Cardinals. When the two teams played, Brown had four catches for 78 yards and a touchdown in the Cardinals' 23-20 win.
Diggs also got a chance to go against Bills quarterback Josh Allen in 2018. Then a rookie, Allen led Buffalo to a big upset of the Vikings on the road.
"I think he a baller," Diggs said of his new quarterback. "I think he a dog, too. You just watch him play."
The Bills pulled together the highlights for a Twitter post. Here's a look at them:
Diggs, 26, will join Brown and Beasley in giving Allen a formidable top three receivers. There is no indication as of yet when they'll be able to see the field together, though, as NFL facilities remain closed as the country deals with the coronavirus pandemic.
Told of Diggs' description during an interview on Mad Dog Radio, Allen replied, "It means a lot. He's my new teammate. If he's got that much faith in me. I've got all the faith in the world in him and it's time to start gelling and finding a way to come together. It's going to take time, but the sooner we can start the better."
Allen said he was "still pumped" about the trade. "I'm still floating on cloud nine. I can't wait to work with him. … We've been staying in contact and trying to devise a plan to get together. The things he can do on a football field are unbelievable, the route running, the way he can make contested catches. I've talked to him on the phone a couple of times and just the kind of cool dude he seems like he is. He's going to match well with our wide receiver room and he's going to match well with our locker room and our team. Big-time playmaker and he's going to help us out a lot this year."
The opportunity to get together has been delayed by travel restrictions from the coronavirus pandemic, so part of their bonnd will come through Call of Duty.
"We're trying to link up," Allen said. "We want to do it the smart way. We don't want to put anybody at risk. The time will come for that. We've just been talking and hanging out. I'm hoping to hop on a little later and play call of Duty and start to develop that bond."