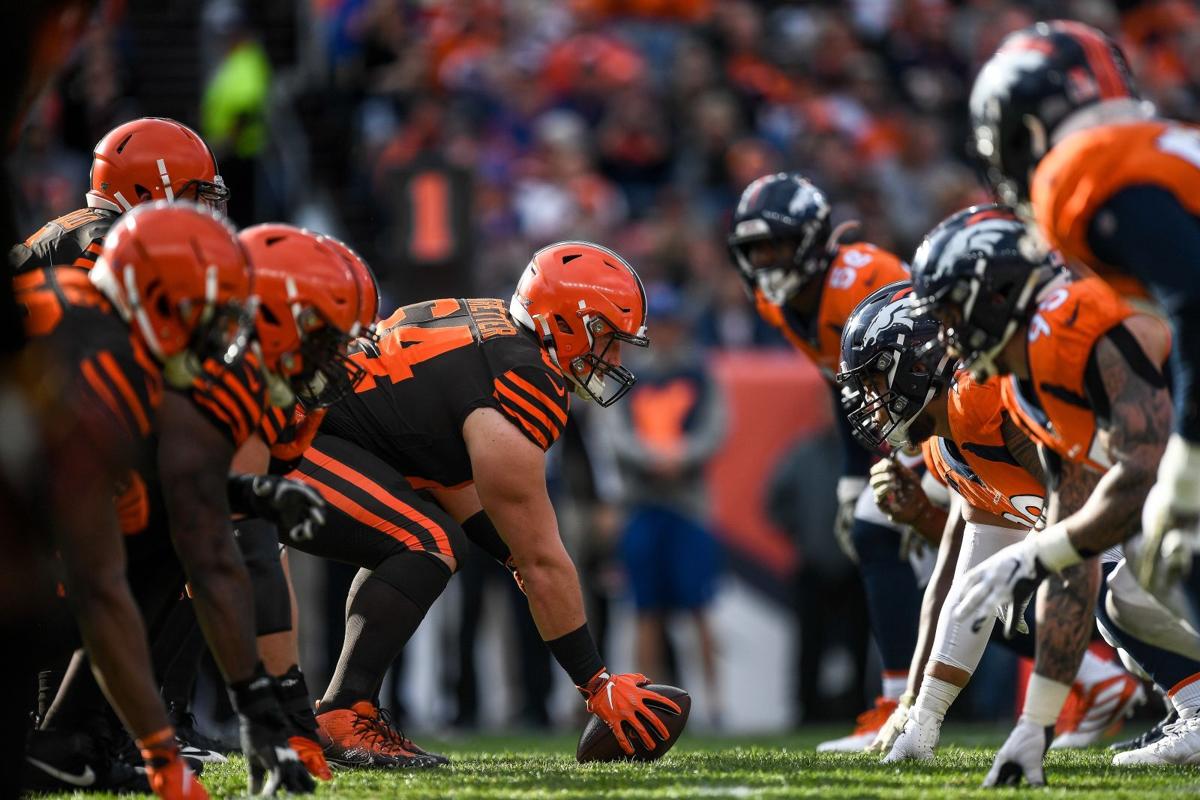 Should the novel coronavirus spread on NFL fields this season, it's likely to happen at the line of scrimmage, former players, league analysts and an epidemiologist told The Buffalo News.
The "trenches" are gross.
"When you're face to face with a guy, you're not just face to face," said Trevor Matich, an ESPN analyst who played center and long snapper for 12 NFL seasons from 1985 to '96. "You smash your face back into his, and it's a sudden stop for both of you. And your face stops, but what's on your face keeps going, and so particles of spit, sweat, tears, blood if you're bleeding, whatever. As a lineman, your potential for what is being called a 'viral load' close to you is high."
It's no wonder more offensive and defensive linemen opted out of playing this season than players in any other position group. Of the 67 players on 29 teams who opted out by Thursday's deadline, many citing concern for their families' well-being, nearly half were offensive (21) and defensive (11) linemen. Of course, there are more linemen in the NFL than players at other positions. But linemen not only face the greatest risk of contracting the disease, given the realities of their jobs, but might have a greater risk of illness given their size.
The CDC cites obesity and high BMI, or Body Mass Index, as dangerous underlying conditions for Covid-19, and found risks of complications tend to increase with age, though doctors have not studied whether these apply to professional athletes compared to the general population. Thirty of the players who opted out weigh more than 300 pounds, and the entire group of opt outs skewed toward older players. The average age of an NFL player is 26 years old. Thirty-four of the players to opt out were older. Twenty-two were younger.
"When you look at the worldwide experience with Covid-19, there's not a whole lot of NFL players in there," said Dr. John Sellick, an epidemiologist at the Veterans Affairs Medical Center and Kaleida Health and a professor of medicine at the University at Buffalo. "For the average person who is overweight, has high blood pressure, diabetes, et cetera, and comes in with a high BMI, it all goes part and parcel. I just don't know if we would be able to apply that to this group of people, because their BMIs are crazy high, but they also have huge muscle mass, even though they all carry a certain amount of blubber."
Sellick said the standard contact tracing method considers "significant exposure" being less than 6 feet from an infected person for greater than 10 to 15 minutes.
"Football, probably hockey, basketball most likely, maybe even soccer in some settings, certainly wrestling, these are all sports where you're face to face with other people and all you need is one person infected in there and it turns into a mess," Sellick said. "The quarterback and the wideouts aren't home free, but they're usually not directly in someone's face for a long period of time."
The playing field is a powder keg.
Despite the NFL's efforts to screen the virus out of the player pool, some former players and longtime league observers said it's not a matter of if but when there's an outbreak, and the genesis won't be a mystery.
"If coronavirus is going to run rampant, it will be the defensive and offensive linemen to move it around faster than any other position or skill group," said Marcus Spears, an ESPN analyst who played defensive end for nine NFL seasons from 2005 to '13, mainly with the Dallas Cowboys.
"It's going to run rampant in the league. It's going to. It's not about testing or creating some kind of mechanism where you keep distance from people. It is going to happen. I guess the main thing is, to what effect? Is every guy asymptomatic? Does every guy go through the quarantine process and bounce back the right way? Or is it that you have droves of guys on teams that have it? And then you're just like, 'We can't play.' "
The ability for players to opt out this season was a significant point of negotiations between the NFL and NFL Players Association.
Cleveland Browns center J.C. Tretter, an Akron High graduate and president of the NFLPA, said, "Everyone should at least think about" opting out during a recent Zoom video conference with team beat reporters.
Five of his teammates have opted out, four offensive linemen and one defensive lineman, and while Tretter has chosen to play, he's also staying at a team hotel during training camp rather than returning home to his pregnant wife.
"Just want to make sure everything's running properly and there's no outbreak," Tretter said. "So I'll stay here until I feel comfortable going back to my house."
The Buffalo Bills, like all NFL teams, are going to great lengths to try to prevent their players from contracting Covid-19, identifying and quarantining those who test positive to prevent the spread of the disease and keep their season on track.
Players have to test negative three times before initially being admitted into team practice facilities, once each day for at least the first two weeks of training camp and every other day thereafter. Masks are mandated, and they wear a device on their wrists that alerts them when they're within six feet of another person. This not only promotes social distancing, but records the information for instant contact tracing when someone in the facility tests positive.
But those precautions aren't enough to ensure everyone feels safe.
"When you look at trends and you look at O-linemen, D-line, tight ends, fullbacks and the guys that have a lot of contact, it comes down to whether you trust the NFL protocols," said former Bills center Eric Wood, a color commentator for the team's radio broadcasts. "If you trust that they're not going to let anybody play with the coronavirus, whether that's practice or games, then you don't have to be that worried about it.
"But if you think that there's ways that guys could contract it, bring it back and not get tested before the next practice or the next road trip or even going into a game, then, yes, you're worried about it becoming a situation where if you play a position where you have more contact, then you're more susceptible to get it than others."
The precautions, while extensive, aren't foolproof.
Sellick, the epidemiologist, is troubled by the NFL's plan to eventually stop daily testing after the first two weeks of camp.
"The reality is if you're not testing every day, and you're not doing the most obnoxious swab, which is the one that goes deep into your nose, the nasopharyngeal, your testing is probably going to help some but it's not going to be complete absolution," Sellick said, "because anybody can turn positive any particular day.
"If you test me today on Monday and I'm negative, and you don't test me tomorrow, and you test me again Wednesday or Thursday, but tomorrow is the day that I turn positive, now you're 24 or 48 hours behind the eight ball when you find out that I'm positive, because I've been in practice or at the game and I've had the opportunity to infect other people."
Matich said it's likely positive cases slip through the cracks.
"The biggest part of keeping the game itself safe is to make sure that the virus doesn't get introduced to the field to begin with," he said. "But if it gets there, then what? And everybody's going to want a Plan B, and that Plan B will come down to technology. And barring a therapeutic that will knock it out, then it's going to be technology like masks and face shields to prevent the transfer of what continues forward when your face stops, and how effective that will be remains to be seen."
The pandemic has amplified and lifted the veil on socioeconomic disparities throughout our society, and the NFL locker room is no different.
For example, no quarterbacks opted out.
Former NFL quarterback and league MVP Rich Gannon noted that starting quarterbacks' often have hefty contracts and standing as team centerpieces and leaders. But limited contact and proximity to others must factor into the equation, not only on game days but throughout the week.
"I've gone through training camp as a quarterback and not really been touched, if that makes any sense," Gannon said. "We wear red shirts. You're not allowed to hit the quarterback. If you rush the passer, you've got to pull off. It's a totally different approach to getting ready for the season, physically and mentally."
From a practical standpoint, he said, there are only two or three quarterbacks on a roster and maybe five people in their meeting room, compared to 15 to 18 offensive linemen in training camp and perhaps 10 during the season, in addition to coaches and assistants.
"You've got a lot more people in confined spaces," Gannon said. "And more importantly, when the quarterbacks practice in training camp, they're not tackling, blocking. There's some space around them a little bit, where offensive linemen, they've got to do inside run period drills and one-on-one drills and 9-on-7 drills where you've got another person's facemask literally within six inches of you. Sometimes you're facemask to facemask. You've got guys breathing and bodily fluids kind of flying around. It's just a different situation, when you really think about it with tackling and the bottom of piles. You can wear a mask, but still, it's hand-to-hand combat. I get it."
Bills quarterback Josh Allen cited his love for the game and desire to "give this nation hope" as his chief reasons for deciding to play this season.
But he's in a vastly different situation than starting defensive tackle Star Lotulelei, one of two Bills, along with reserve cornerback E.J. Gaines, to opt out this season.
Allen, 24 years old, 6-foot-5 and 237 pounds, has a girlfriend, no children, is playing for a lucrative second contract and carries the weight of the team's lofty expectations squarely on his shoulders.
Lotulelei, 30, 6-foot-2 and 315 pounds, is married father of four children, has banked more than $42 million in career earnings and has another $7 million guaranteed on his contract.
Lotulelei has not commented publicly about his decision and his agent did not respond to a request for comment from The News.
"I respect any man's decision, as far as protecting his health and protecting his family foremost, because this is only a game," NFLPA vice president and former Bills linebacker Lorenzo Alexander said. "Obviously, we get paid and compensated well, but at the end of the day, you want to be around for your family. And if you don't really know how this virus is going to impact you, some guys don't have the stomach to gamble, and he may have some other things in his family that people are unaware of."
Bills starting right tackle Cody Ford, listed as 6-foot-3 and 329 pounds, is entering his second season, only 23 years old, unmarried and like Allen, working to establish himself in the league.
He said his situation made the decision to play relatively simple.
"I don't have any kids, I don't have any health issue that I know about, so I'm going into this season like it's a normal season for me," Ford said. "I want to play ball. That's what my job is, that's what I love to do, and I wouldn't be the same if I just sat around the house for no reason."
Ford, a second-round pick, signed a four-year, $7.5 million rookie contract in 2019.
But some players, like most fans, are working to pay bills and put food on the table.
The average length of an NFL career is 3.3 years, according to the NFLPA, and scores of players make the league minimum salary, $610,000 a year for rookies in 2020. That's still life-changing money for them and their families, but they're compelled to capitalize on the limited earning potential while they can.
"It's no different than society as a whole," Spears said. "What block is richer? This group of lockers is the $100 million row. Then you've got guys over there fighting for their life every week, that wouldn't opt out even if they were scared to death because they need the check. And it's been that way in the league. But now you add this big monster into it as far as the pandemic. Now guys are having to make decisions against their health so they can provide, and that's a tough spot to be in. But nobody's going to cry for the players, because people all over the country and the world and going through the same thing. It's just something that you understand."
While some are at greater risk than others given their job requirements and underlying conditions, the coronavirus doesn't discriminate.
Opting out of the season is a personal, and for many, prudent decision.
"I can't say I blame any of these guys for bailing," Sellick said. "If I were one of them, I'm looking and saying, 'Gee, I'm young and I'm healthy. I would probably do OK with this.' But you've got one major league pitcher (the Boston Red Sox's Eduardo Rodriquez, who developed a heart condition as a complication from Covid-19), which is well described, and if you infect enough young people, enough people of any age, you're going to get some with a bad outcome. Even kids who generally have much less severe disease … are not 100% out of the woods.
"If I'm a lineman, especially if I've got a family, I've got a wife and kids at home, I might be saying, 'Guys, let me know after we have a vaccine. I'll stay in shape, but in the meantime, let's wait for the vaccine.' When there's a vaccine, then we get back to life as we used to know it."
NFL players who opted out (67 total)
3: Dal, Det, Ind, Jax, KC, LV, NYG, NYJ, SF
2: Bal, Buf, Car, Chi, Cin, Den, Mia, NO, Was
1: Arz, GB, Hou, LAR, Min, Phi, Sea, TB, Ten