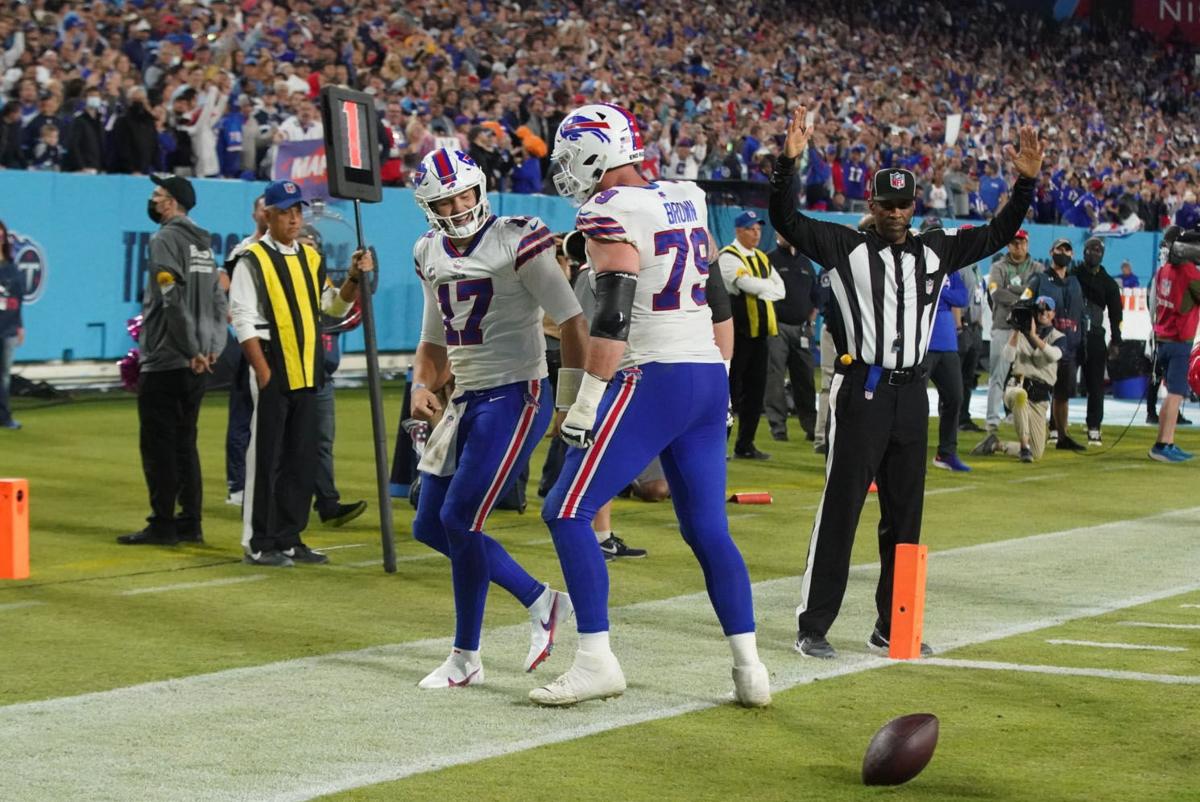 Buffalo Bills wide receiver Stefon Diggs didn't think he would have a special handshake so soon with Spencer Brown, but the rookie right tackle surprised him.
"I usually don't really gravitate to young guys," Diggs said Wednesday on Brown. "I think it's just because I'm old and grumpy, but I like him a lot and I think he's cool."
Brown has even surprised himself this season: He didn't necessarily think his role would be this big, this soon. The third-round pick has started four of the last six games at right tackle, missing two for a back injury that came after the bye week. His back is better now; Brown even jokes that it "suspiciously feels good" based on how quickly it healed. 
He returned to the starting lineup this past Sunday against the Jets, when the Bills re-established their run game. Brown's been a big part of that success, even if he wouldn't have predicted it ahead of the season.
"I came in here just, 'Gotta do my role and make the team and be the swing tackle,' " he said. "And then now, I'm in a starting role. So it's been a pretty surreal whirlwind of emotions, honestly."
When it comes to the Bills' run game, he loves a big play, of course, but Brown finds the most delight in controlling the game, in making opponents back up slowly and repeatedly. On Sunday, the Bills picked up 139 yards on 24 carries, averaging out to 5.8 yards per attempt.
"That's a really, really good feeling, just to pick up four or five yards, six yards, every carry and just slowly give them a slow death," he said. "That scenario, just kind of chipping away, that just wears on the front seven of the defense for a long time, and that eventually opens up other things as well."
Brown is also opening things up on an individual level. His pancake block on Matt Breida's 15-yard touchdown run Sunday helped the running back get right into the end zone, as Brown obliterated safety Ashtyn Davis.
"Yeah, it was just a pin-and-pull scheme, just getting me out on the edge," Brown said. "And I guess that's what happened – run full speed into somebody, and that's what happens, I guess. But it's just a good scheme to be a part of. I did it a little bit of that in college, pulling. So, coming here to a scheme that does that a little bit, it's good to be part of."
It did take a bit of a mindset adjustment, though, for the 6-foot-8, 311-pound force. Brown says in college at Northern Iowa, he would sometimes slow down or hesitate. He didn't want to miss. But once he got to the NFL, he embraced a more brazen approach: "Just full-send into someone, and see what happens."
Left tackle Dion Dawkins sees that help the offensive line as a whole.
"It just keeps that over-positive, kill-or-be-killed swagger on the field," Dawkins said. "Spencer's just like one of those guys, he's a young pup. He's just out there throwing his body around and not caring and just being reckless, which is exactly what football is."
Brown is soaking in everything he can from his teammates on the line. Some of that is during the course of a game. He talks to Daryl Williams next to him a lot, but also tries to swap insight with Dawkins in between plays.
"Defensive ends flip flop, and I'm like, 'Hey, this guy likes to do this in the first series, heads up,' and then maybe we'll get him a few more plays after that," Brown said.
But he especially gravitates toward center Mitch Morse and guard Ike Boettger, who have taken both him and Tommy Doyle under their wings. Brown spends a bit more time with them off the field, getting to know their families as well. Morse can already tell Brown is helping the O-line, and he thinks Brown will keep getting better.
"He's just so full of youthful vigor," Morse said Sunday. "Spencer Brown is gonna be a special football player and I think as a rookie there's always stuff to learn from, minor things. Some big. Part of it comes with just experience. The guy didn't play football last year. He's stepping in to a pretty big position and I've thought he's played admirably. He's got poise beyond his years as a rookie."
But even with that poise on the surface, Dawkins – who compares Brown to the Juggernaut – sees something brewing underneath for the rookie.
"He's a character. He's a huge personality guy," Dawkins said. "He shows it on the football field, he runs around, he's just like an atomic bomb, he's ready to explode it anytime."