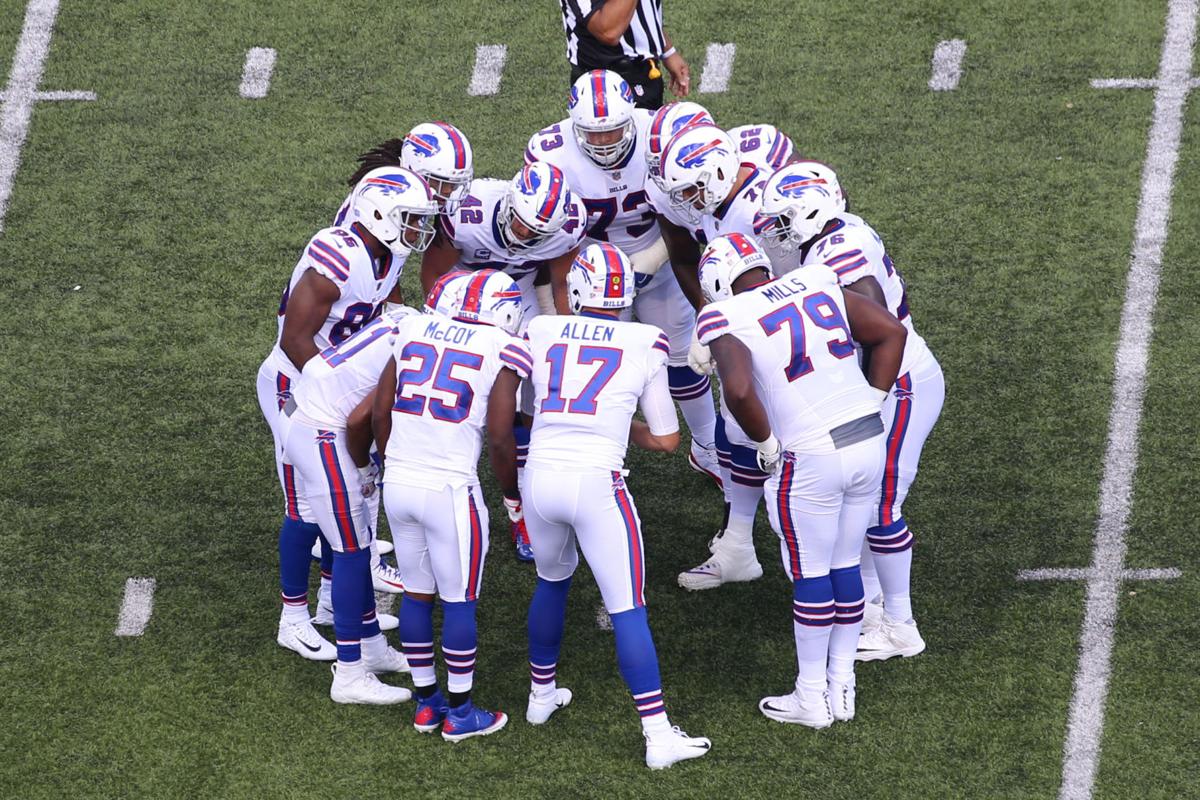 You're aware of "The Process," Sean McDermott's oft-mentioned label for all the Buffalo Bills do to try to build lasting success.
You're probably not as familiar with a method that McDermott borrowed from the business world and also began implementing soon after he became the Bills' coach in early 2017.
That's because, unlike "The Process," the coach doesn't make references to "Kaizen" while addressing the media. The Japanese word (pronounced ky-zin) is most commonly translated in English to "continuous improvement."
Until the Bills' victory against Jacksonville last Sunday, few outside of the team knew anything about the prominent place "Kaizen" held in McDermott's weekly messaging to his players. That changed thanks to defensive tackle Kyle Williams, a team camera, and social media.
Near the end of a 30-second video clip the Bills posted on Twitter, Williams, in the middle of a circle of players and coaches to lead a breakdown in the postgame locker room after remarks by McDermott, is heard saying: "When you stick together and believe in each other, good things happen, men. Keep battling, keep working. Let's keep …" He pauses, looks at McDermott and says, "Kaizen? Did I pronounce it right?" McDermott, who is part of the circle, nods.
Williams then offers a variation of the word's meaning when he urges his teammates to "keep getting better every day," before the scene ends with a collective, "One, two, three, Bills!"
"We always talk about some form of Kaizen," McDermott said. "We (use PowerPoint to) put up a chart, basically, that (shows) there's some teams that are going to do this (moving his hand up and down like a wave), some individuals are going to do this, and they're going to ride the wave. And then other teams are going to do a little bit more tick-tacking back and forth, but with more of a gradual type of improvement. So we want them to see the visual behind it."
"The gist of it is continual improvement, no matter if you get the results you're looking for," Williams said. "Sometimes you play good, but you don't get the results you're looking for. Sometimes you play bad, and you get the results that you want, right? So it's all about mastery of self and continual improvement as a player and as a team. It's really relevant to this game, and especially this league, because there's so much parity. It really is about a weekly improvement and weekly performance. It's been good for us."
How much have players bought into it? Consider this take from rookie defensive tackle Harrison Phillips: "For me individually, the D-line as a unit, the defense as a unit, the Buffalo Bills as a team, for us to go where we want to go, in summary of one word, it should just be, 'Kaizen.' "
Nallan Suresh, a strategy professor in the University at Buffalo School of Management, said "Kaizen" actually got its roots in America in the early 1950s from a program called "Small Step Improvement," which was part of a larger initiative known as Training Within Industry. He explained that it migrated across the Pacific Ocean when America was actively working to bring Japan back to its feet after World War II.
"There was a lot of industrial training in Japan, and the Small Step Improvement program was introduced within Japanese industry," Suresh said. "The Japanese took it to another level and it came back to America as a Japanese innovation with a Japanese name on it. Kaizen has been implemented very widely in Japan, particularly in the auto industry. Companies like Toyota were pioneers in the continuous improvement program, and it has worked very well.
"It is a very democratic, grassroots way of improvement. That means everybody in the company has to participate in the program, right from the CEO to the janitor. And the rules of the game are, everybody has to come up with new ideas about their own job every single day."
The common application of "Kaizen" is within organizations seeking turnarounds. It's why it made so much sense to McDermott to utilize it with the Bills, who had gone 17 years without a playoff appearance before his arrival and have mostly struggled this season on the way to a 4-7 record.
"We're paying for some sins of the past and it's going to take some time," McDermott said. "We've got to build this thing the right way and if we all embrace, simply put, doing our job better — whether it's Sean McDermott as a head coach or Joe Smith in marketing, ticketing — this place is going to be lifted up collectively. There's just different ways to get across, 'Hey, let's just all be about embracing continuous improvement and continuous development.' "
McDermott chose "Kaizen" after learning that a coach in a different sport, Brad Stevens, was using it with the Boston Celtics. Bills Assistant General Manager Joe Schoen is a longtime friend of Stevens' and arranged for McDermott to speak with him on the phone.
"We were just talking shop," McDermott said. "When I see someone that's good at their job, I want to find out what makes them good. He's certainly at the top of what he does. I had heard of it before, and it's like anything, it just reinforces things.
"It makes a whole lot of sense to me in terms of, I'm not a finished product, myself, or our football team, in this case. And if I take that growth mindset of continuous improvement every day, that's a positive outlook and I think that's a healthy and hungry approach."
Williams felt it was particularly important to mention "Kaizen" after the Bills beat the Jaguars because there was a reasonable chance that the two-game winning streak could cause some players to become a bit full of themselves.
"I think more than anything in this league, if you have success, the biggest thing that you have to fight is complacency and feeling accomplished, no matter your record," Williams said. "You can get really happy with yourself real quick, whether you're 10-1 or 9-1 or 4-7 and you're trying to figure out who you are as a football team with a lot of young players. Complacency can get in there. Then the next week, your your preparation isn't as good, your performance isn't as good and it comes over on Sunday, and then you lose and you're starting all over.