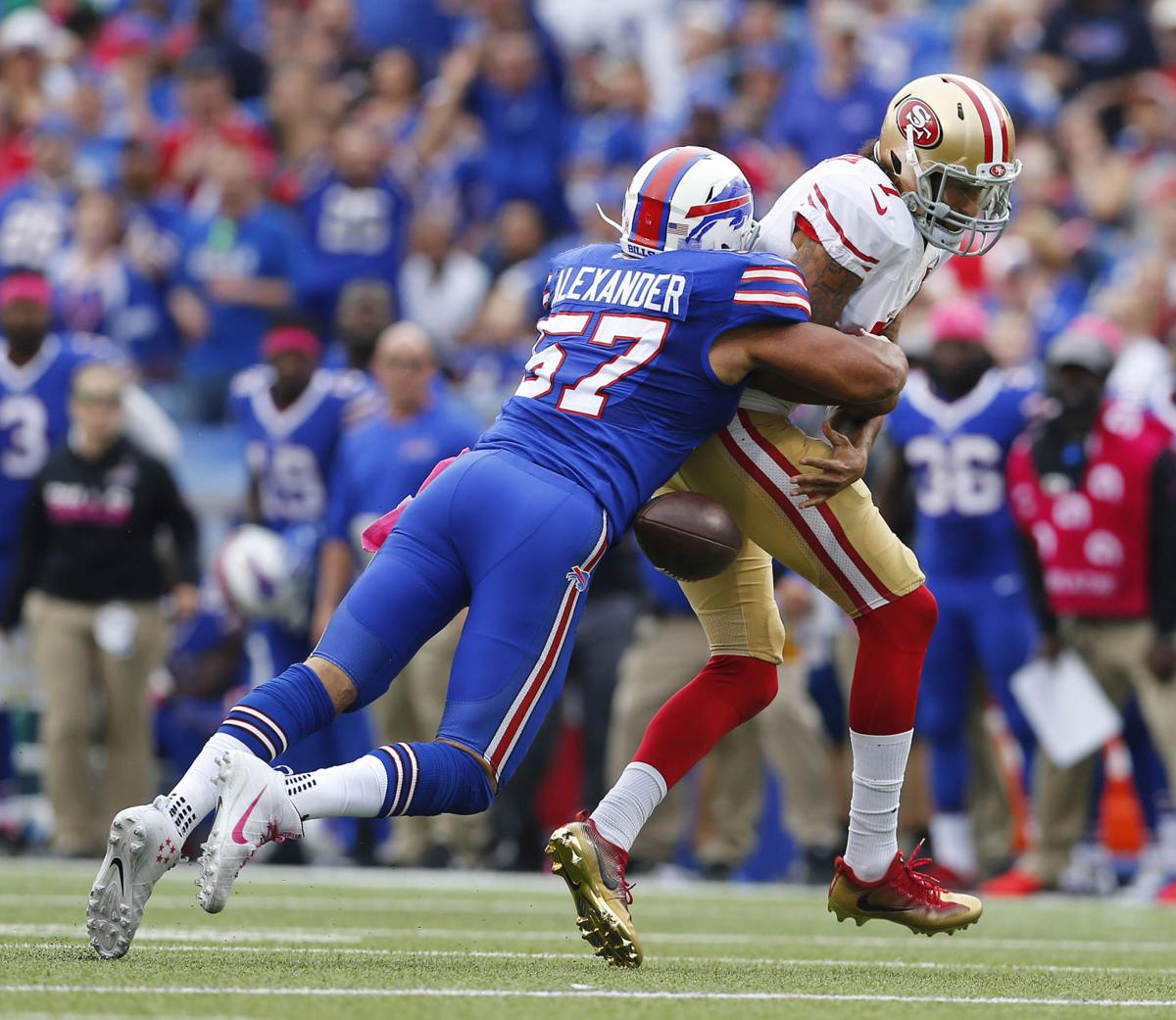 The author of the NFL's most unlikely story of the 2016 season wrote another chapter Sunday.
Buffalo Bills outside linebacker Lorenzo Alexander had another sack in his team's 45-16 victory over the San Francisco 49ers at New Era Field. That gives him eight on the season, pushing him back into the NFL lead after Denver's Von Miller reached 7.5 on Thursday night.
"Just adding to the total," Alexander said. "That's No. 8 for me, but that's a team stat in my mind."
Alexander credited the Bills' rushing attack for building a big lead, which forced the 49ers into obvious passing situations.
"Once that happened and we got a good lead, it gave us a chance to work," he said.
The Bills sacked 49ers starter Colin Kaepernick three times Sunday, bringing their team total to 20 on the year. That's second in the NFL and just one off their team total of 21 last year.
That turnaround would not be possible without the efforts of Alexander, a free-agent signing who wasn't given a second thought in April. For a player who wasn't expected to start, his production is nothing short of incredible.
Now, it begs the question: What happens next? Rookie Shaq Lawson, the team's first-round draft pick, can start practicing Monday and is eligible to play in Week Seven at Miami. But given how Alexander is playing, along with Jerry Hughes at the other outside linebacker spot, it's hard to see how Lawson gets more than just a few snaps – even when he's completely up to speed.
"I'm going to give him all the knowledge I have," Alexander said of mentoring Lawson, even though they are fighting for the same job. "I've not insecure about my abilities. I think I've established myself in this league for 12 years and what I can bring to this team. Obviously a young, talented guy like that, we drafted him in the first round for a reason and the coaches will integrate him into the scheme as needed and I'm all for it."
It's that type of team-first mentality that has the defense believing its best is yet to come.
"It's all about winning," Alexander said. "Getting to the playoffs – what we haven't done. I think it's going to take that type of mentality to get there. I think coach Rob (Ryan) said last night, 'we're a team, not a group of individuals. And when you come together and play hard like we've been playing, that's when you see great things happen."
Alexander became the first Bills player with a six-game sack streak since Aaron Schobel in games 10-15 in 2006 and tied Mario Williams' 2013 mark of eight sacks by a Bill in the first six games of a season.
Not only is Alexander getting to the quarterback, he's creating big opportunities for the defense when he does. Three of his sacks have also resorted in forced fumbles, although the Bills haven't been able to recover any of them yet. On Sunday, Hughes looked like he had a chance to scoop up the fumble Alexander forced and return it for a touchdown, but he just missed and the 49ers recovered.