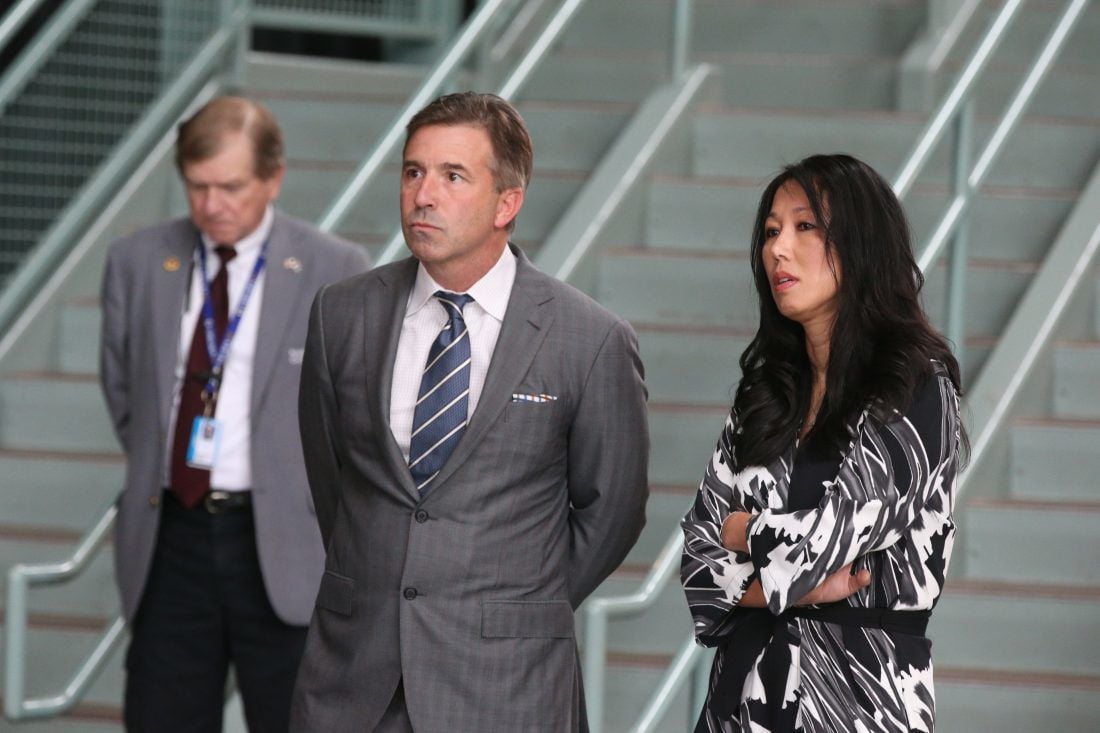 Russ Brandon has resigned as managing partner and president of the Pegula sports empire.
Kim Pegula has taken over as president.
The move comes after Pegula Sports and Entertainment conducted an internal investigation into Brandon's workplace behavior and allegations of personal misconduct, two sources told The Buffalo News on Tuesday.
As the top executive under Terry and Kim Pegula, Brandon ran the Buffalo Bills, Buffalo Sabres, Buffalo Bandits and Rochester Americans. He also was the alternate governor to Terry Pegula for the Sabres and Americans.
Brandon confirmed his resignation to The Buffalo News late Tuesday afternoon, but did not discuss the details of his departure.
"I have been contemplating transitioning out of my role for some time," Brandon said in a written statement. "My goal when the Pegulas purchased the franchise was to reach 20 years with the Bills." Brandon said he reached that goal in November.
The Pegulas also issued a statement late Tuesday afternoon noting that their "focus remains on building championship teams on and off the field for our fans and community."
"We have a tremendous amount of confidence in the strong leadership teams we have built within each of those entities over the last several years," Kim and Terry Pegula said in the statement. "We are excited about the direction of our teams, especially after this past weekend's NFL draft and NHL lottery results."
Brandon is mostly known for his two decades in the Bills' front office, rising through the organization as Ralph Wilson's trusted steward. Brandon served as general manager, CEO and de facto owner upon Wilson's death.
Kim Pegula on Friday informed Brandon an internal investigation was being conducted. Two sources with knowledge of the investigation said it was triggered by allegations of inappropriate relationships with female employees.
When confronted by Kim Pegula, the sources said, Brandon denied any such relationships, but the investigation indicated he was deceitful about that and other job-related issues that were uncovered.
Brandon joined the Bills in 1997 as executive director of business development and was promoted to vice president of business development and marketing two years later.
Brandon, in his statement, attributed the timing of his departure to the recent conclusion of the NFL Draft and hitting 20 years with the Bills in November.
"Given where we are from a timing standpoint, particularly with the conclusion of the NFL Draft, now seems like the time to make that transition," Brandon said. "As grateful as I am for the amazing experience and the incredible people I've had the privilege to work with the past two decades, I am just as anxious for the professional opportunities that lie ahead."
Brandon was responsible for relocating Bills training camp in 1999 to St. John Fisher College, his alma mater.
Wilson named Brandon vice president of business operations in 2006 and chief operating officer in 2008. Brandon added the role of general manager, replacing Marv Levy, in 2009. He became chief executive officer in 2010.
Brandon helped broker the 2012 stadium lease among the Bills, Erie County and New York State.
By then, Wilson's health had declined too much to allow regular travels to One Bills Drive from his home in Grosse Pointe Shores, Mich. He summoned Brandon to his bedside and made him president and CEO, a move that was announced New Year's Day 2013.
Brandon's most important work was done after Wilson's death in March 2014.
Generations of Bills fans had feared the moment, convinced their team could move to Los Angeles, Toronto or even London.
Brandon oversaw all Bills operations during a lickety-split sale process and transition to new ownership.
The Pegulas bought the Bills in October 2014 for an NFL-record $1.4 billion, outbidding Donald Trump and a group backed by Toronto money and fronted by rock star Jon Bon Jovi.
The record price tag will be annihilated by the Carolina Panthers' sale. Panthers founder Jerry Richardson was pressured to sell after a Sports Illustrated report in December detailed allegations of workplace misconduct and sexual harassment by Richardson and monetary settlements.
When the Pegulas fired Sabres President Ted Black in July 2015, they turned the job over to Brandon, too.
But Brandon's presence wore out many Western New York sports fans. He was a constant throughout the Bills' 17-year drought, and he became an easy target for the Sabres' woes.