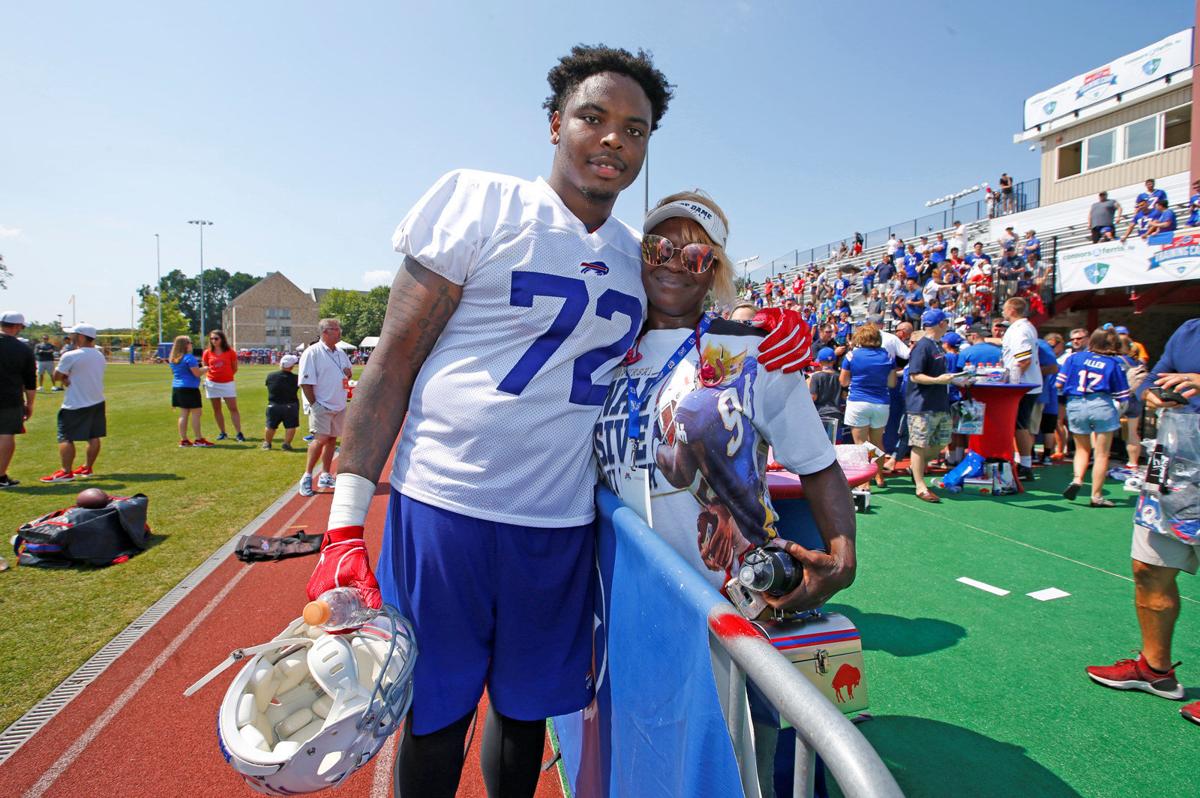 PITTSFORD – The Buffalo Bills didn't have to look far for their newest offensive lineman.
The team announced before the start of Tuesday's final practice of training camp at St. John Fisher College that it signed offensive tackle Jarron Jones, a Rochester native who played in high school for Aquinas.
Jones had actually been in Rochester over the weekend for the Park Ave Summer Art Fest, but returned to his Dallas home Monday. Just as he was ready for bed, his agent called and said the Bills wanted to work him out. That meant another trip home, although this one ended with an NFL contract.
Jones worked out for the Bills early Tuesday morning, then was on the practice field just a couple hours later.
"I'm very happy with the opportunity," he said. "It's good to be home, it's good to see some familiar faces and stuff like that, but I'm here to work, here to try and crack the 53 or do whatever I can wherever they need me."
Jones, 25, is a 6-foot-6-inch, 320-pounder who had a decorated high school career for Aquinas, twice being named first-team all-state in Class A. He then went to Notre Dame, where he racked up 122 tackles, 4.5 sacks and three forced fumbles during his college career.
He went undrafted in 2017, but signed with the New York Giants as a free agent. He made the position switch from defensive line to offensive line at that time.
"I'll tell you one thing, it's not easy trying to transition from D-line to offense, but you make it work," Jones said. "You find the joy in it."
Jones has racked up the frequent flyer miles since entering the NFL. In addition to the Giants, he's had stints with the Seahawks, Cowboys, Buccaneers, Redskins and, most recently, the Lions. He has yet to play in a regular-season game.
"It's been a whirlwind, but that's how the league is," Jones said. "I understand I'm home, but I don't want to look at it just as I'm home. It's just another opportunity to try and make a team. I'm here to work, I'm here to grind and hopefully try and make this 53-man roster."
Jones took the spot on the Bills' 90-man roster that opened up when the team placed offensive tackle LaAdrian Waddle on injured reserve because of a torn quad suffered in Sunday's practice. He's expected to miss the entire season.
2. Gaines to miss "weeks." Coach Sean McDermott doesn't usually put a timetable on a player's return from injury, so it was noteworthy Tuesday when he said "at this point it will be a number of weeks" before cornerback E.J. Gaines is able to return from a groin injury. Gaines, who spent the 2017 season with the Bills before playing last year in Cleveland, was signed to add depth at cornerback. He's worked mostly with the second team behind starters Tre'Davious White and Levi Wallace.
"Everybody steps up. It's an opportunity for some players that were behind E.J. to step up and show us what they got, and I do like some of the possibilities with that group," McDermott said.
3. The plan for Indy. The Bills open their preseason schedule Thursday against Indianapolis at New Era Field. McDermott said his staff is still ironing out some details, but thinks "overall the starters will work roughly a quarter give or take, and then we will work through the rest of the game from there."
The Bills held a low-intensity workout in jerseys and shorts for their final practice of training camp.
4. Other injury updates. Center Mitch Morse (concussion) remains in the league's concussion protocol. Guard Jon Feliciano (shoulder) did not practice. Cornerback Taron Johnson (undisclosed) did not appear to take part in team drills, meaning Siran Neal worked as the starting nickel cornerback.
McDermott provided an update on tight ends Jason Croom and Dawson Knox, both of whom remain out with hamstring injuries.
"Both of those guys from the reports that I get are moving in the right direction," he said. "When that time is that they actually return to the field and team drills remains to be seen, but hamstrings take some time, at least initially, and then they kind of build from there and each one of them is a little bit different. Dawson, that's his first real hamstring and when you look at Jason, he had it in the spring a little bit, so it's a recurrence type of deal, so two different situations."
5. Noteworthy. Hall of Fame quarterback Jim Kelly watched practice from the sidelines. Former Chicago Bears coach Marc Trestman, who is the head coach and general manager of the Tampa Bay franchise that will debut in the XFL in 2020, also was on the sideline. … Tight end Tommy Sweeney continued his strong summer, making a nice catch over the middle. He'll likely get plenty of time with the starters Thursday night. … Lafayette Pitts worked with the second team at outside cornerback with Gaines out of the lineup. … Ray-Ray McCloud ended a strong training camp on a positive note with a nice grab over the middle.
Be the first to know
Get local news delivered to your inbox!