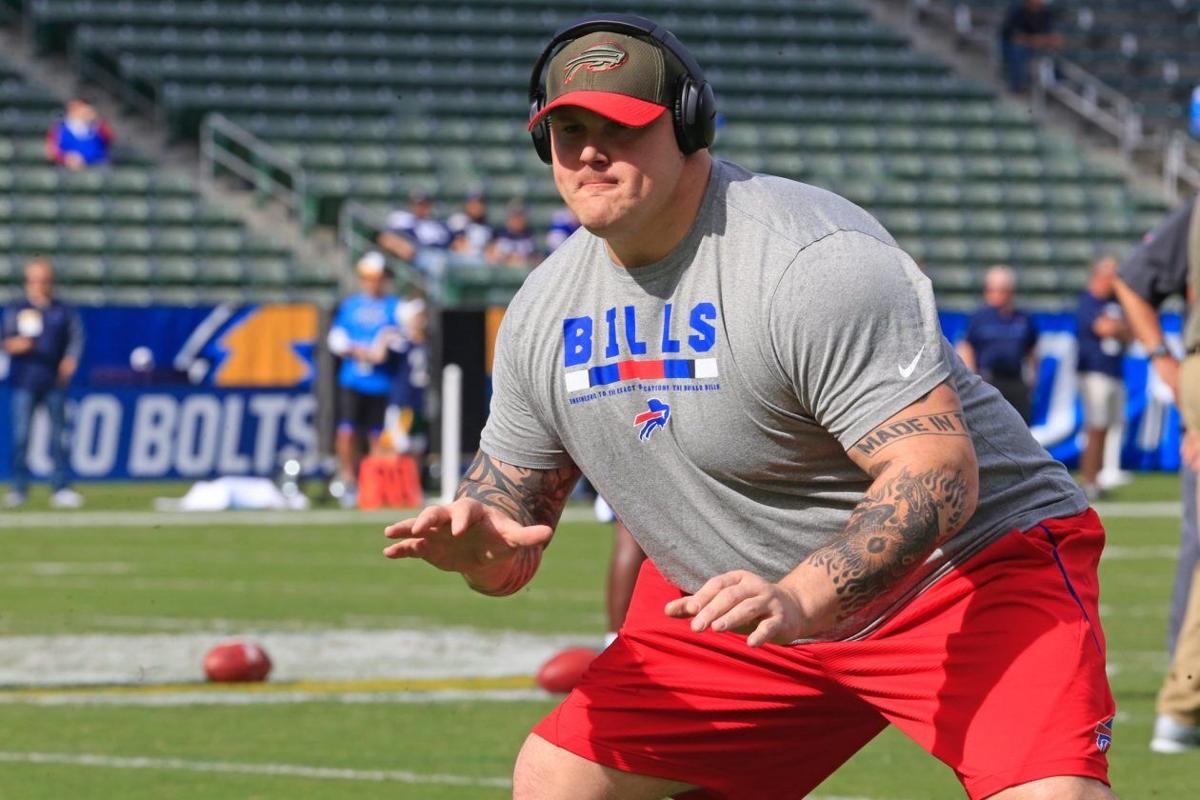 Buffalo Bills offensive guard Richie Incognito told The Buffalo News on Tuesday that he's retiring from the NFL and said health issues were the primary reason.
He said he informed the Bills of his decision – which he said came "in the last couple days" – Tuesday morning and has spoken to team owner Terry Pegula, General Manager Brandon Beane and coach Sean McDermott.
"I'm done, I'm done, that's it," Incognito, 34, said by phone from his offseason home in Arizona. "It's been a long career. My liver and kidneys are shutting down. Nothing I can't restore with some balance, but the stress is killing me.
"I went to a doctor's appointment the other day and they said, 'Listen, the stress is killing you, what are you doing?' And I said, 'Listen, I'm just doing what I love and that's playing football.' So that's why I'm done."
Asked if there was any chance he'd change his mind and return for a 12th NFL season, Incognito said, "Absolutely not."
He said he thinks the Bills' hierarchy with whom he spoke thought he was "trying to negotiate with them," but insisted that wasn't the case. "That's it, man," Incognito said. "I'm just done." Incognito said he planned to contact the NFL Players Association to "formalize" his retirement.
@68INCOGNITO reached out to our union today to inform us that he plans to retire. Good luck to you in the next stage of your career.

— NFLPA (@NFLPA) April 11, 2018
In a separate phone conversation with The News, Incognito addressed his health further by saying: "I don't have major health problems, but I went and saw some specialists down here and they're like, 'Listen, from your diet -- your high-carbohydrate, high-protein diet -- your kidney's not functioning very well, your liver's not functioning very well. The medical people (said), 'We can fix all this. This is all within order, but if you keep going, you're just going to keep stressing your system out.' PR and agents and everybody, they all want me to do one thing, and I just wanted to do was best for me and that was to retire."
Incognito added, "I'm very strict on my diet and I've come to understand that it was throwing off some things in my stomach. My stomach was just constantly upset through these last two years -- constipation, basic, little (stuff), right? It's nothing major. And when I got here to Arizona, they were scanning things and the doctors were going through things and (they said), 'Yeah, your kidney's pretty stressed out, your liver's pretty stressed out.' And it's not debilitating, but it's something where I had to change my diet and hire a chef and start asking myself, 'Hey, do I really want to go back and tax the whole system again."
Earlier, Peter King of Sports Illustrated reported that Incognito told him that he might return for one last season at the right price and has until Sunday to change his mind about retiring. King reported Incognito and the Bills are talking about his contract.
Incognito stressed to The News that walking away from the game was not about money. "This is all about me. This is all about the decision that was best for me."
The Bills have not responded to requests for a comment.
"It pisses me the (bleep) off," Incognito said of the pay cut. "The contract and all that pissed me the (bleep) off and all that, but (the decision to retire) has nothing to do with that. You know what it is. It's just about doing what's right. And that's it.
"I just want to be in the Hall of Fame. I think I'm there."
At the time of the pay cut, which the Bills announced minus the financial details, Incognito tweeted: "BUFFALO! I'm thrilled to be returning this season and fired up to get back to work with my #BuffaloBills brothers. I truly believe in the vision and the path we are on. We have all that we need to finish what we started #honored #letsdothis"
He said he still felt that way. However, he said, "It's just I was very unhappy with the pay cut. There's more to that story, there's many layers, but I don't want to get into that right now. I just want to go out with the proper tone and say, 'Listen, enough's enough. I'm done with football, I am retiring. My body is telling me it's time.' Nothing major is happening (physically). I can probably still play three more years, but enough's enough."
Earlier Tuesday, Incognito tweeted to the NFL Players Association and the NFLPA's assistant executive director George Atallah, "I'm done."
His retirement, along with that of center Eric Wood as the result of a neck injury, suddenly takes away considerable experience from the Bills' offensive line. Wood played every offensive snap last season and Incognito played 99 percent of the snaps.
"We went through the contract process and when I was going through that, I was unhappy," Incognito said. "But the entire time, I was working on myself. I was talking to people, I had counselors, I had people that I was leaning on to get me through this. It was just a self-discovery process and, literally, it went day by day by day. And (Monday) night I was like, 'You know what? I'm done, I'm done.' The risk versus reward of going back to play -- my body, a brain injury, a neck injury like Eric Wood has -- it's just not worth it to me.
"I love the game so, so much and if I'm not going to give it my one hundred percent, then I just came to the conclusion through the steps of this to be done. ... I'm at that point in my life and my career where I have enough money that I don't have to go back and play football."
After Incognito restructured his deal, Beane said, "We're glad that Richie is still going to be here, and came off a Pro Bowl year. He'll bring some leadership for us with Eric Wood's departure."
The acquisition of free-agent center Marshall Bodine from the Bengals could allow the Bills to plug Ryan Groy, who started in place of Wood through the final seven games of 2016, into the left guard spot Incognito vacated. John Miller, who last season was bumped from the starting right guard position by Vlad Ducasse, is another possibility on the roster.
Incognito joined the Bills as a free agent in 2015 after sitting out all of the 2014 season and half of the 2013 campaign after his involvement in a bullying scandal with the Miami Dolphins led to his suspension. He promptly became one of the mainstays on the Bills' offense.
"I'm upset with a lot of stuff, but the message is I am at peace with retiring," Incognito said. "This wasn't a knee-jerk reaction."