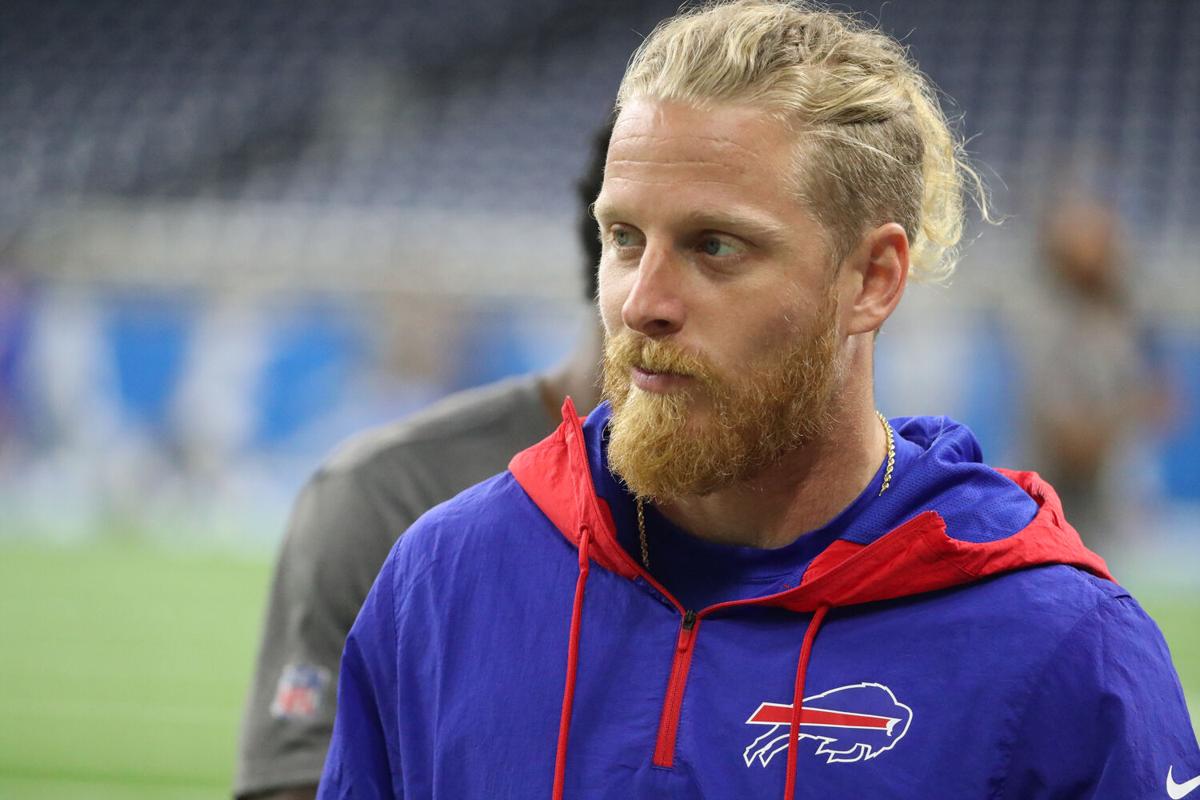 In tone, demeanor and facial expressions, Brandon Beane looked exasperated Tuesday.
The Buffalo Bills' general manager held a video conference call to announce that four of the team's players – wide receivers Cole Beasley and Gabriel Davis and defensive tackles Star Lotulelei and Vernon Butler Jr. – had been sent home from the facility and would be placed in quarantine after being deemed close contacts of a fully vaccinated team employee who caught a breakthrough case of Covid-19.
Those four players all tested negative for Covid-19 on Tuesday, but will need to go through a five-day re-entry process before they can return to team activities, including practice. Depending on when their close contact with the Covid-positive staff member occurred, it's possible that some of those players could return before Saturday's preseason finale against the Green Bay Packers, provided they continue to test negative for the virus.
"This is part of the world we're in," Beane said. "Fortunately, it's preseason. Hopefully, no other positives will show up. If they do, we'll deal with them and we'll be ready to play come Saturday against Green Bay.
"This is our new normal. It's not the normal we like. But it's the world we're in. We're not exempt from any of this, as we've said many of times. We're going to try to keep our building as safe as we can. Everyone understands the protocols and the rules."
Those rules differ greatly for vaccinated and unvaccinated players. Those who are vaccinated do not need to quarantine after coming into close contact with a Covid-positive person, so in that sense Tuesday's news was avoidable.
Of course, that would require all players to be vaccinated. The Bills aren't there.
"We're similar to what we were when I mentioned that low-80s percent," Beane said of the number of players who have been vaccinatd. "I don't have an update with what we've done, you know, the latest roster moves we've done. I don't know if we're still about that 80% threshold. It may be slightly below it. We had a push right as camp started to get us over that 80 number, and it kind of has leveled off since then."
It's hard to imagine that number improving much more. The Bills have had their franchise left tackle, Dion Dawkins, come out last week and admit that he wasn't sure if he would ever make it out of the hospital after spending four days there at the start of training camp because of Covid. Last year, tight end Tommy Sweeney missed the entire season because of a heart condition that developed as a result of testing positive for Covid.
If those two examples aren't enough to convince their teammates to get vaccinated, it's hard to see what will. Beane was asked whether the Pfizer vaccine receiving full FDA approval may sway some of his players who have yet to be vaccinated, but he didn't sound all that optimistic.
"These guys, they're all pretty well educated," the GM said. "It's an independent, personal decision. That's really where it is. It's not a mandatory thing. That's agreed upon between the league and the union. As long as it's not a mandatory thing I think most teams are going to have a number of players where maybe some are waiting on that. I don't have a specific number of players that said, 'Hey, if the FDA approves this I'll get it or not.' But maybe some guys will look at this and say, 'I don't want to deal with it.' I'm not sure all of them will. Time will tell."
In Beasley's case, it didn't exactly require a crystal ball to see Tuesday coming. The wide receiver has become the poster child for vaccine hesitancy in the NFL, speaking out frequently on the topic prior to the start of training camp. He had been particularly critical of the differing testing standards for vaccinated and unvaccinated players. Some of his musings on Twitter were liked by Davis, as were several other tweets related to "freedom of choice" regarding the vaccine.
Lotulelei's case is particularly perplexing. The veteran defensive tackle opted out of last season, presumably out of concerns related to Covid, but that fear evidently hasn't been enough to get vaccinated.
"Pretty much with all the uncertainty that was going around at that time, not knowing exactly what was going to happen and what protocols were going to be, I felt like the best decision for myself, my wife and my kids was what I decided to do," Lotulelei said at minicamp in June about why he opted out.
As for Butler, he practiced Tuesday. Beane admitted the Bills were surprised the NFL ruled him a close contact.
"From the conversation that they had had with the staff member, through the interview process, going back and forth, the timeline, I think he had forgotten about the interaction there, because it was maybe back a little bit," the GM said. "You don't know when -- I guess the best way I could put this -- he probably was giving us the last 24 hours. I think that interaction was a little bit longer, and probably didn't realize that the medical team would say he may have still been positive then. Again, we'll try to do our best each time with this, but that one's one that did catch us by surprise."
Beane said Butler tested negative Tuesday, and that the medical staff has advised him that even if he does come down positive, by testing negative when he did, he should not be shedding the virus and thus putting others at risk.
Beane said the staff member who tested positive was experiencing only minor symptoms Tuesday morning, but head athletic trainer Nate Breske sent him for a test out of an abundance of caution. The organization has instructed every employee to get tested if they feel anything out of the ordinary, Beane said.
When the test came back positive, the staff member was interviewed by the NFL to come up with a list of who came into close contact with them.
The Bills sent linebackers Matt Milano and A.J. Klein home Tuesday to be safe, but it was determined by the league that they do not need to quarantine.
"I think I'm numb to the fact that we know when we come in here every day, you're just glad everybody's negative," Beane said. "That's kind of where we're at. It's been going on so long that you expect the unexpected with this. We don't have it figured out. We don't have it under control. And we just have to deal with the cards that are dealt."
That all four players who were sent home are expected to make the 53-man roster and play big roles for the team (perhaps Butler is an exception to that) shows what could happen when the regular season starts.
"It's all hard. This has been going on so long -- I was asked earlier what were my emotions -- you just expect it and you deal with it," Beane said. "I'm not going to let it get me down. I wish we weren't having to do this. I'm sure you guys wish we weren't, either. It's the way it is and we'll deal with it now and we'll continue to deal with it as we move forward here."
There is still time for the Bills to improve that vaccination rate. If a player receives the one-shot Johnson & Johnson vaccine, or has recovered from a previously-documented Covid case and receives the first dose of either the Pfizer or Moderna vaccines, he would be considered fully vaccinated in two weeks – before the Sept. 12 season opener against Pittsburgh.
Of course, with the vaccine not being mandated, all Beane can do is hope.
"In my seat, you like to control as much as you can," he said. "You really do, but it's just another proof that I can't control everything and we have to have as many reserves as we can whether it's on practice squad or wherever else. Just like we had to do in games last year, whether it was that Arizona game where we lost three or four guys, several DBs as we were boarding the airplane. Unfortunately, we're not out of this thing. I know the whole world is ready to get past it. We're moving in the right direction, but we still have a long way to go."
The players will be allowed to take part in meetings virtually, according to NFL rules, and can return to the facility on the sixth day after exposure, pending negative tests.
Buffalo #Bills news: Per a source, Cole Beasley & Gabriel Davis passed this morning's COVID test (came back negative) but have been removed from facility & must undergo 5-day reentry process as close contacts to a member of team's training staff who tested positive for #COVID19

— Pat Leonard (@PLeonardNYDN) August 24, 2021