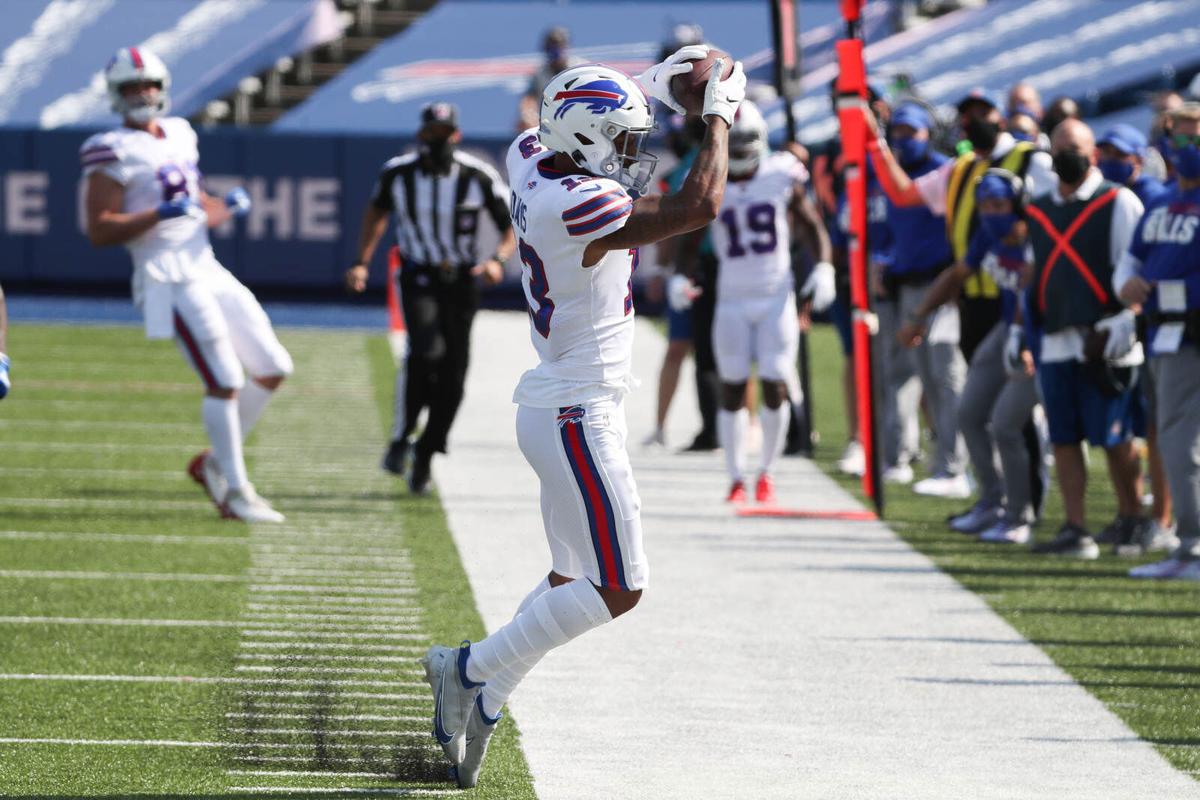 Grading the Bills in their 35-32 victory over the Los Angeles Rams on Sunday at Bills Stadium …
Devin Singletary maximized his 13 carries, picking up 71 yards – an average of 5.5 yards per carry.
"Definitely starting to get more comfortable," Singletary said.
Josh Allen's contributions to the running game were minimal – just four carries for 8 yards – but he did score on a 1-yard run in the second quarter. Allen's 19th rushing touchdown marked the 12th game of his career in which he's had a rushing and passing touchdown. Only Cam Newton (20) and Dak Prescott (13) have more of such games in their first three NFL seasons. Isaiah McKenzie had one carry for 4 yards. The Bills haven't gotten much out of the running game from any of their receivers this season.
Allen surpassed 300 yards for the third consecutive game – remember when his inability to do that was a thing? – finishing 24 of 33 for 311 yards, four touchdowns and one (questionable) interception. With John Brown out because of a calf injury, Cole Beasley stepped up as the primary target, finishing with six catches for 100 yards. Rookie Gabriel Davis drew the crucial pass-interference penalty that kept the Bills' game-winning drive alive on fourth down. Davis finished with four catches for 81 yards. Especially if Brown misses time, Davis' emergence has been important for the passing offense.
It figured to be a tough day for Stefon Diggs in his matchup against Rams cornerback Jalen Ramsey, but Diggs did find his way to four catches for 49 yards and a touchdown. Two other TD catches were erased – one by video and one by offsetting penalties. Diggs also had a catchable pass go through his hands – a reminder that he is human, after all.
It was a day to forget for everyone defensively. The Rams piled up 167 yards on the ground, led by Darrell Henderson, who gashed the Bills for 114 yards and a touchdown on 20 carries. We've been waiting to see if the Bills would miss Star Lotulelei in the middle of the defense, and a case can reasonably be made that they did so big time against Los Angeles. Middle linebacker Tremaine Edmunds made just five tackles and did not look close to being himself. Cornerback Taron Johnson had an up-and-down game – more on that in a bit – but did make two tackles for loss. Matt Milano was all over the field in his first game back, finishing with eight tackles. The Bills' defensive tackles – Ed Oliver, Quinton Jefferson, Harrison Phillips and Vernon Butler – combined for just three tackles. The middle of the Bills' defense was soft against the run all day.
Cornerback Levi Wallace had an interception in the first half, which had to feel good coming off a tough showing in Week 2. Safety Jordan Poyer led the team with 14 tackles. Johnson had his hands full with Rams receiver Cooper Kupp in the slot. Johnson finished with 11 tackles, but Kupp made nine catches for 107 yards and one touchdown. Rams quarterback Jared Goff finished with 323 passing yards, finding Kupp, Robert Woods (five catches, 74 yards) and Josh Reynolds (four catches, 60 yards) with regularity. The Bills did a decent job against Rams tight end Tyler Higbee, who had three touchdown catches last week. Higbee finished with two catches for 40 yards. Defensive end Mario Addison had two passes defensed, while Milano and A.J. Epenesa had the team's two sacks.
Corey Bojorquez got off a 72-yard punt. Largely because of that, his net average on two punts was a whopping 58 yards, with both punts pinning the Rams inside their 20-yard line. Can't ask for much more than that. Rookie kicker Tyler Bass made all five extra points – not to be taken for granted on a windy day – and produced five touchbacks. The only kickoff of Bass' that was returned was a squib at the end of the game that was designed to be returned. Andre Roberts had another strong game, returning two kicks for 73 yards, including a 39-yarder on the game's first play. Deon Lacey had a tackle on special teams after being promoted from the practice squad. All in all, it was a clean, solid performance from the special teams.
Sean McDermott managed the clock well and made good use of his timeouts. That's the good. Now the bad – what's up with his defense? The unit looks nothing like what we've come to expect during McDermott's tenure in Buffalo. The failures of the pass defense are particularly perplexing. That's been a strength under McDermott. Offensive coordinator Brian Daboll again called a solid game. If Allen and the Bills' offense continues to perform like this, there is little doubt Daboll is going to be a hot head-coaching candidate for teams after this season. Special-teams coordinator Heath Farwell's unit has quietly had a very nice start to the season, save Bass' shakiness in Week 1. The Bills were penalized five times for 55 yards – with 30 of those yards coming on a facemask and an unsportsmanlike conduct penalty against Allen. McDermott doesn't have to tell his quarterback this, but that's unacceptable for one of the team's leaders.
[BN] Blitz Daily Updates
Feed your obsession. Start every morning with a guide to the latest news from One Bills Drive and stay informed about what is going on elsewhere in the NFL.