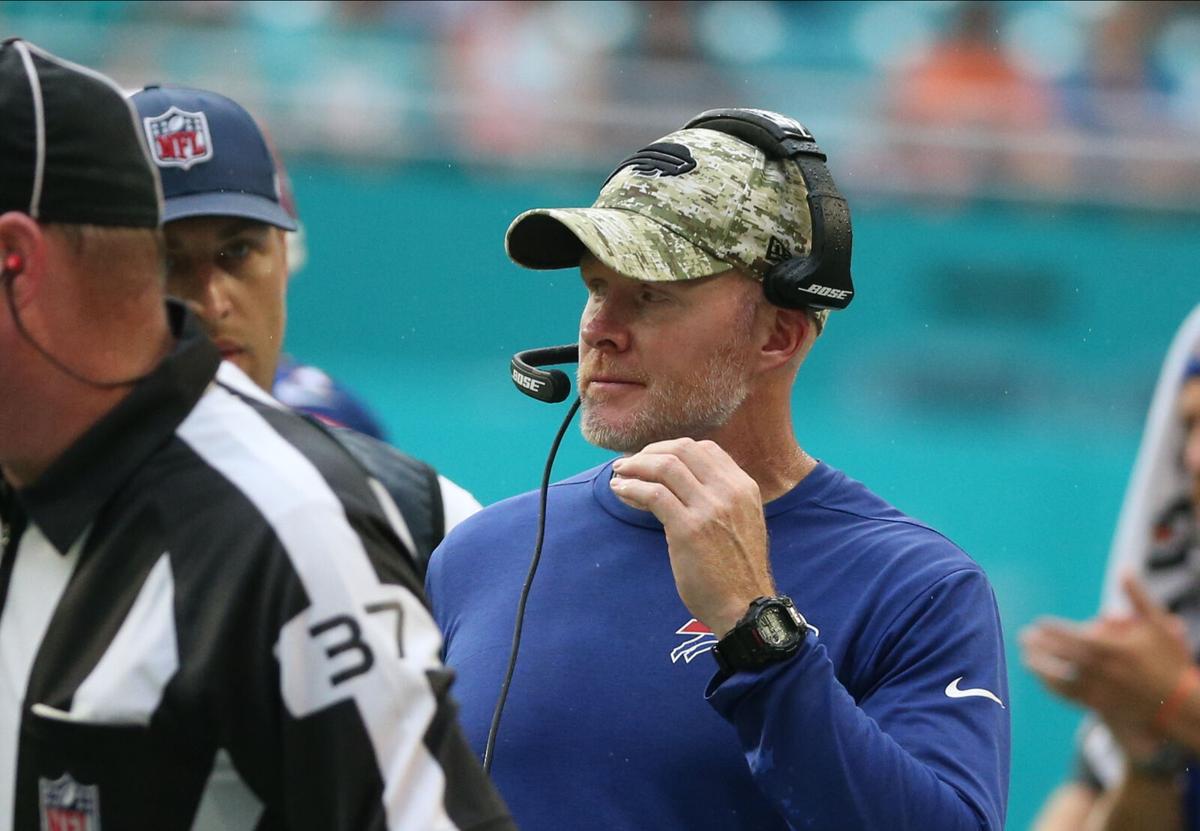 MIAMI GARDENS, Fla. – Grading the Buffalo Bills in their 35-0 victory over the Dolphins on Sunday at Hard Rock Stadium …
It was apparent from the very first play that the Buffalo Bills' defense came to play Sunday, finishing with six sacks and forcing two turnovers (the special teams forced another) in a 35-0 win over Miami.
Devin Singletary started things with a bang, taking his first carry 46 yards to the house. Singletary has 154 rushing yards through the first two games. At the conclusion of Sunday's win, he ranked No. 7 in the NFL and is averaging a robust 6.4 yards per carry. Playing with a heavy heart after the death of his aunt, Zack Moss bounced back from a lost fumble in the first half with two tough touchdown runs in the second half. Quarterback Josh Allen scrambled for 35 yards on five rushing attempts, coming up a foot short of a rushing touchdown. Fullback Reggie Gilliam wasn't able to convert a third-and-1 carry, but the Bills picked up the first down on the next play when Allen kept it himself and gained 2 yards. For a team that sometimes makes short-yardage situations look hard, that was an encouraging play.
The Buffalo Bills shut out the Miami Dolphins 35-0 on Sunday at Hard Rock Stadium in Miami.
It took Allen a while to find any sort of rhythm. He overthrew Stefon Diggs on his first throw of the game, but rebounded with an absolute dime to Emmanuel Sanders for a 35-yard gain in the first quarter. That set up a 5-yard touchdown when Allen faked a Miami defender out of his shoes, then drifted right before throwing back across the field to Diggs, who was wide open in the end zone. Allen finished 17 of 33 for 179 yards, two touchdowns and one interception, which came when he attempted to get the ball to Diggs, who was covered tightly by Dolphins star cornerback Xavien Howard. Allen also seemed to miss a wide-open Sanders down the seam in the second half, instead throwing late to the left sideline and nearly getting picked off again by Howard. There was also a missed throw to Singletary earlier in the game that could have gone for a big gain had the throw been on the money. Diggs' 41-yard catch in the fourth quarter was an unbelievable individual effort against good coverage from Howard.
There were some spectacular moments for Josh Allen & Co. in the 35-0 win at Hard Rock Stadium. Here's a closer look at the big offensive plays for the Buffalo Bills.
Things got off to a shaky start as Miami's Myles Gaskin ripped off an 18-yard gain on Miami's second possession. Gaskin's first two runs went for 24 yards. After that, Miami gained just 47 yards on the ground the rest of the game. Granted, the score meant the Dolphins weren't going to run a lot, but that doesn't take away from the Bills' defensive effort. Rookie Greg Rousseau had an impressive tackle for loss on a second-down play in the first quarter, forcing Miami into a passing situation on third down. Cornerback Dane Jackson created a turnover on downs when he stopped Miami running back Malcolm Brown after a 1-yard gain on fourth-and-2. That's a big-time play for a cornerback in run support. Tre'Davious White also had a tackle for a loss, as did linebackers Matt Milano and A.J. Klein.
"We've got plenty to work on, though," McDermott said after the Buffalo Bills bounced back from a Week 1 loss to Pittsburgh with a 35-0 win over the Miami Dolphins. 
For the second consecutive game, the Bills held an opponent to fewer than 190 passing yards. That's phenomenal. The pass rush was fierce all afternoon, with Rousseau leading the way with two sacks. Even though he didn't get a sack, second-year veteran A.J. Epenesa was a terror off the edge. He knocked Dolphins starting quarterback Tua Tagovailoa out of the game in the first quarter. Taron Johnson and Levi Wallace each had two passes defensed. It's worth mentioning here the Bills got some help from the Miami receivers. There were at least four clear drops, including one in the end zone by No. 1 receiver DeVante Parker. Milano had a sack and was frequently used as a blitzer. He gave the Dolphins fits all day in that role.
Here is a quarter-by-quarter look at the Buffalo Bills' win against the Miami Dolphins on Sunday.
Miami native Isaiah McKenzie, who grew up in the shadow of Hard Rock Stadium, gave his team a solid drive start on Buffalo's first offensive possession with a 20-yard punt return. He averaged a solid 16.5 yards on his two punt returns. Tyler Bass' miss from 53 yards at the end of the first half wasn't particularly close, but he did make all five extra points. It feels like you can file your taxes in the time it takes punter Matt Haack to actually, you know, punt the ball, but he did a pretty good job of it Sunday, averaging 40.8 net yards on his four attempts. The kick-coverage unit did allow a 31-yard return by the Dolphins' Jakeem Grant.
Don't miss our coverage of the Buffalo Bills' 35-0 win over Miami in Week 2!
Give the game ball to Leslie Frazier. The Bills' defensive coordinator cooked up a near-perfect game plan. The Bills were absolutely relentless on that side of the ball. Coach Sean McDermott said he saw a hunger in his team during the practice week. That showed up on the field. There were some shaky moments offensively in the first half, but the Bills made the right adjustments coming out of halftime, and that produced a 75-yard touchdown drive that basically put the game away. "I thought Leslie and Brian and Heath (Farwell) did a really good job during the week, getting them ready," McDermott said. It's not easy to beat a division opponent six times in a row, as the Bills have now done against Miami. After the disappointment of the opener against Pittsburgh, it feels like the season is back on track. That's a credit to the coaching staff.