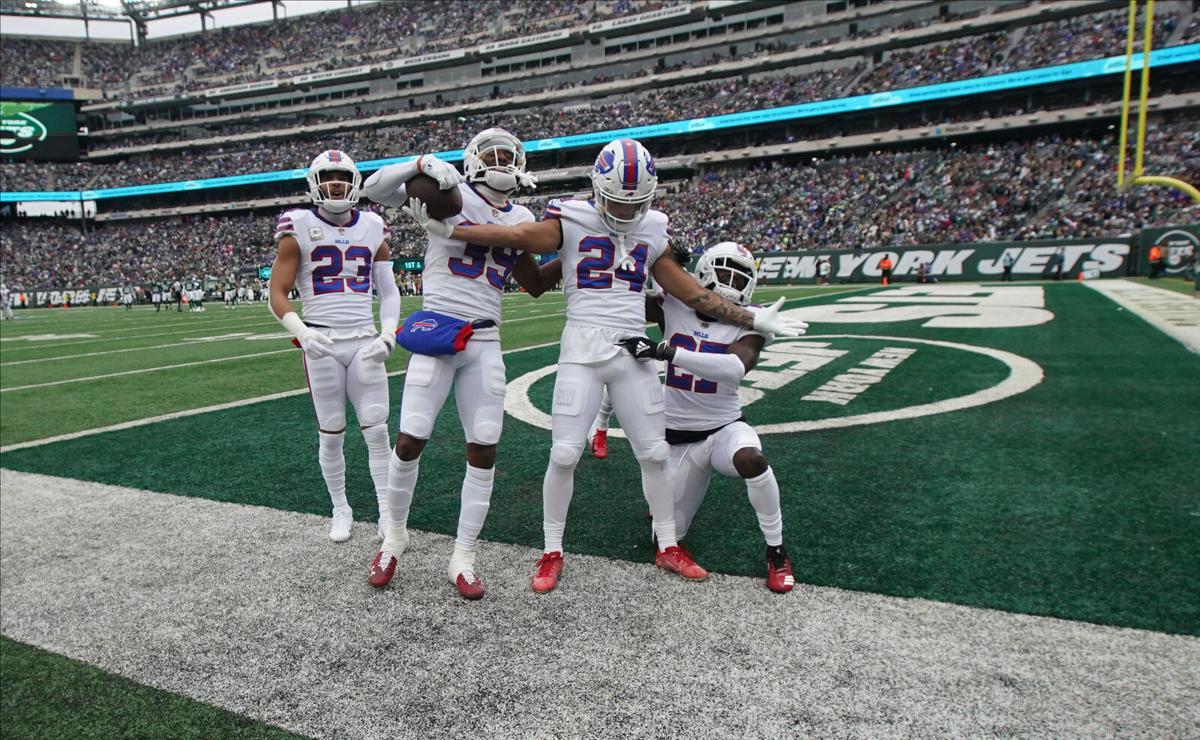 EAST RUTHERFORD, N.J. – Grading the Buffalo Bills in their 45-17 victory over the New York Jets on Sunday at MetLife Stadium …
The 45-17 victory and season-high 489 yards should silence some of the questions that cropped up about the Bills' offense after an ugly showing in a Week 9 loss to Jacksonville.
What do you do when it becomes apparent simply handing the ball off to Devin Singletary and Zack Moss is not producing the desired outcome on the ground? Get others involved. The Bills did that Sunday, taking Matt Breida out of mothballs and involving the wide receivers on the ground more than they have in recent weeks. The results – 24 team carries for 139 yards and a whopping four rushing touchdowns – speaks to the success of that decision. Quarterback Josh Allen didn't have to be involved, either, as he gained just 3 yards on two carries. How about this? Buffalo's four rushing touchdowns by four different players is the first time in team history that's happened. Singletary led the balanced attack with seven carries for 43 yards, but this game was defined by the spread-the-love nature of the rushing attack. Singletary, Moss, Breida and wide receiver Isaiah McKenzie all rushed for touchdowns. Fellow receiver Emmanuel Sanders took a jet sweep for 24 yards, the Bills' longest run of the day. The only negative was Breida's lost fumble in the fourth quarter.
Don't miss Katherine Fitzgerald's quarter-by-quarter analysis of the Buffalo Bills' 45-17 victory over the New York Jets at MetLife Stadium ...
Allen was precise, going 21 of 28 for 366 yards, with two touchdowns and one interception. His 125.6 passer rating was his 23rd career game of being at or more than 100, which is third in team history behind Jim Kelly (40) and Joe Ferguson (25). The Bills are 21-2 when Allen posts a passer rating of 100-plus. Allen's 57-yard completion to Stefon Diggs was the second-longest play of the season, trailing only a 61-yard completion to Diggs against Kansas City in Week 5. Allen also had a 43-yard completion to Diggs and a 49-yard connection with Gabriel Davis, giving him three completions of 40-plus yards for just the second time in his career. Tight end Dawson Knox had just one catch for 17 yards in his return from hand surgery, but his presence changes the way defenses can defend the offense. Breida had three catches for 22 yards and a receiving touchdown that opened the scoring. Like the running game, the passing game had one slipup in the third quarter when Allen threw a rather ugly interception to Jets safety Sharrod Neasman.
This was an important victory because the Bills proved to themselves that when they protect the ball and don't beat themselves with penalties, they are as capable as ever of dominating an inferior opponent. 
Same old story. The Bills once again dominated statistically, allowing the Jets to rush for just 70 yards on 22 carries. New York managed just one carry that gained more than 10 yards – a 15-yarder by Tevin Coleman. The Bills had five tackles for loss – two by A.J. Klein, and one each by Matt Milano and rookie defensive ends Boogie Basham and Greg Rousseau. The defensive game plan every week is to make opposing offenses one-dimensional. On Sunday, the Bills were aided in that by an offense that exploded in the second half. The run defense, though, also contributes to other teams being forced to throw.
The Buffalo Bills' defense has allowed just six points in the first quarter – total – through nine games this season. They've allowed more than 23 points in a game just once.
Cue up the Oprah GIF: You get a takeaway, you get a takeaway, you get a takeaway! Every member of the Bills' secondary took the ball away against the Jets, with Jordan Poyer, Tre'Davious White, Levi Wallace and Taron Johnson making interceptions and Micah Hyde forcing and recovering a fumble. That's unheard of. Although Efe Obada registered the only sack, the defensive line built plenty of pressure on Jets quarterback Mike White, forcing him to make dangerous throws the Bills' secondary feasted on. The coaching staff will point out during film review Monday that the defense didn't close the game particularly well, as Jets quarterback Joe Flacco came in for an injured White and threw for a 15-yard touchdown pass to Elijah Moore. And hey, you'll always remember where you were when you watched Flacco produce a perfect (158.3) passer rating.
A mostly clean game. Isaiah McKenzie took his only punt return 26 yards. Tyler Bass continues to be rock solid, converting all six of his extra points and a 29-yard field goal. Bass kicked off eight times. Four went for touchbacks, and the coverage unit allowed a total of just 86 yards on the others. A play that won't get much attention, but deserves mentioning: Taiwan Jones stopped Jets punt returner Braxton Berrios after an 8-yard gain that looked to have the potential to go for a lot more. Punter Matt Haack continues to underwhelm. His two attempts averaged just 35.0 net yards, which is not good enough.
Allen completed 8 of 11 attempts for 228 yards on first-down throws when he faked a run in the Buffalo Bills' 45-17 victory.
Head coach Sean McDermott credited his team leaders for making sure the Bills showed up energized and ready to play against the Jets – a problem last week against Jacksonville. We'll send some credit McDermott's way, as well. The Bills responded the right way after what was the worst regular-season loss of McDermott's five seasons. The head coach credited offensive coordinator Brian Daboll with calling a good game, and he'll get no disagreement here. Daboll kept the Jets guessing with his use of pre-snap motion and jet sweeps. Finding a way to get the running game going was a top priority, and Daboll delivered. The Bills cut down on penalties from a week ago, taking seven for a loss of 50 yards. That's still more than desired, but at least a step in the right direction. One quick second guess of McDermott – why were the starters in so late in the game?