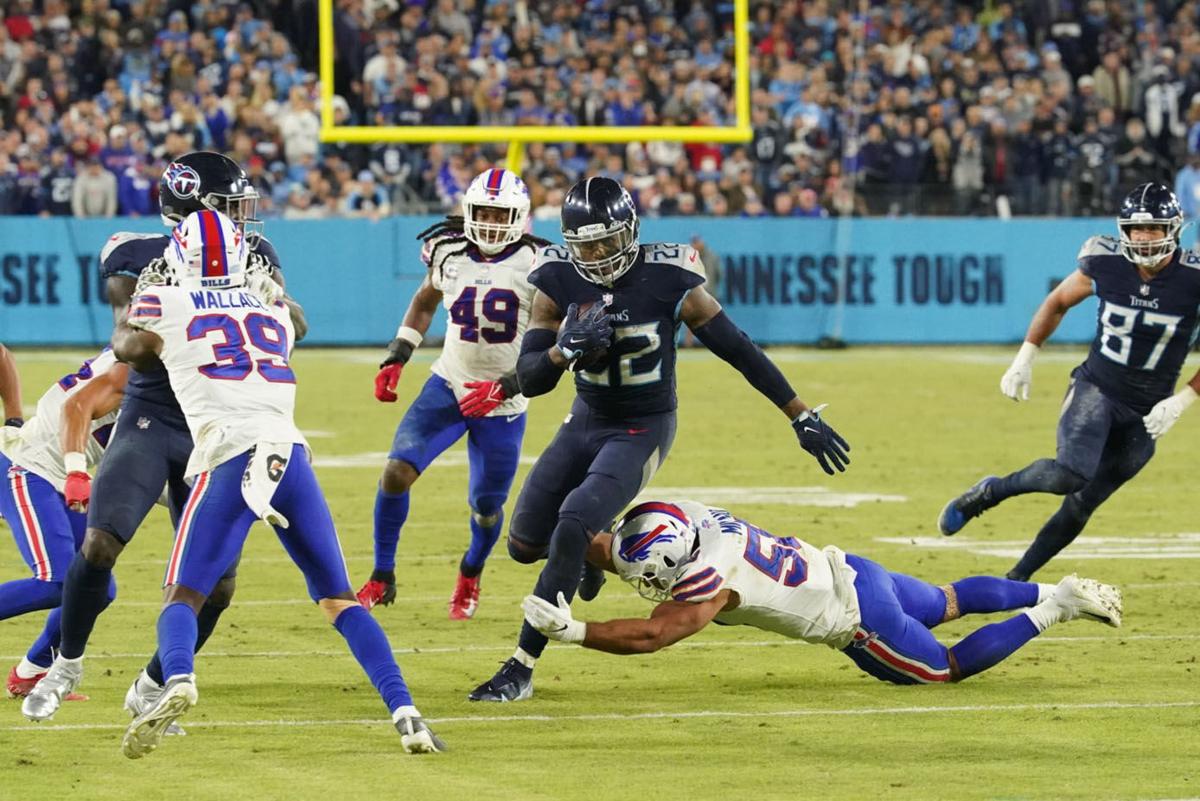 NASHVILLE – Grading the Buffalo Bills in their 34-31 loss to the Tennessee Titans on Monday night at Nissan Stadium.
Failed when it needed to come through the most. Whether it was loose footing or a blown block, the Bills couldn't gain the 6 inches they needed on fourth down in the dying seconds when quarterback Josh Allen was stuffed for no gain. That's a failure that is going to stick with the team for at least the next couple of weeks. As a whole, the running game got little going. Devin Singletary had a solid, 14-yard gain on the first drive, but that was easily the team's longest gain of the night on the ground. Singletary carried just five times for 27 yards, which made him the leading rusher over Allen (nine attempts for 26 yards) and Zack Moss (eight carries for 24 yards). The Bills finished with 82 yards on 23 rushing attempts, well less than their season average of 140.4 coming into the game.
"The Bills have scored only 16 touchdowns in 29 trips to the red zone this season, confounding for a team with so many weapons," writes Jason Wolf.
The Titans were dealing with major injury problems in the secondary, so it should have been a big night for the Bills' passing game, and it was. Allen finished 35 of 47 for 353 yards, three touchdowns and one interception. That came in the second quarter when he was hit by Titans defensive end Denico Autry while throwing, leading to a pick by Tennessee safety Kevin Byard. The offensive line was overwhelmed at times up front by the Titans, leading to Allen being sacked three times for a loss of 18 yards. Nine receivers caught a pass. Stefon Diggs finished with nine catches for 89 yards and a touchdown. Slot receiver Cole Beasley was also busy, with seven catches for 88 yards and a score. Tommy Sweeney's touchdown catch was the first of his career – a nice moment for a player who missed all of last season because of a heart condition following a positive Covid-19 diagnosis.
Don't miss Katherine Fitzgerald's quarter-by-quarter look at the Buffalo Bills' loss to the Tennessee Titans on Monday.
Titans quarterback Ryan Tannehill didn't put up huge numbers – going 18 of 29 for 216 yards and one interception – but he found easy completions over the middle of the field time and again in the second half. Tannehill went 9 for 9 for 103 yards in the fourth quarter. That's a bad look for the Buffalo defense. While it created some pressure at times, the Bills' pass rush failed to record a single sack against Tannehill, who came into the game having been sacked an NFL-leading 20 times, and generated just two quarterback hits. The Bills have to get more out of their pass rush. Jordan Poyer had a nice interception in the first quarter to set up a Buffalo field goal.
Derrick Henry dominated Monday night's game when he was on the field – whether he carried the ball or not.
The potential for a long night was realized. Derrick Henry ran wild, scoring three touchdowns and piling up 143 yards on 20 carries. Please, if you hear someone say that if you "subtract the 76-yard run," the Bills did a pretty good job against Henry, stage an intervention with that person. That 76-yard run was one of the big turning points in the game. Henry did what he does – wore the defense down. There were some nice individual efforts against him in a losing effort. Defensive tackle Star Lotulelei made a tackle for loss on the defense's second play, while cornerback Taron Johnson showed impressive toughness by sticking his head in to stop Henry for no gain in the fourth quarter. Tremaine Edmunds led the defense with 10 tackles, one of which went for a loss.
The Titans running back found all sorts of ways to put space between himself and Bills defenders Monday night as the Titans edged the Bills 34-31.
After the Titans went ahead 34-31 with 3:05 left, Isaiah McKenzie returned the ensuing kickoff for what should have been a touchdown to retake the lead. Instead, it came back on a holding call against linebacker Andre Smith. Brutal. That wasn't the only penalty on special teams, either. Linebacker Tyrel Dodson got whistled for a hold on a good punt return by McKenzie, resulting in a 24-yard difference in field position. Those are critical mistakes that are happening too often on special teams. Kicker Tyler Bass drilled a 52-yarder as one of his three made field goals. Punter Matt Haack also did a nice job, averaging 46.5 net yards on his two punts. The Bills had a plan to kick off short against Tennessee, and it worked, as the Titans averaged just 18.9 yards per return on seven attempts.
According to NextGen Stats, the conversion probability was 75%. The win probability was 63% if the Bills went for it.
Let's get right to it: I liked the call of going for it. The Titans had scored on six straight possessions. The Bills were a few inches away from having a great chance to win the game in regulation – without having to rely on their reeling defense. There is nothing wrong with Sean McDermott trusting his guys in that spot. Could the play call have been more inspired? Perhaps, but execution seems largely to blame in this instance. The first throw of the game going to Beasley did not feel like a coincidence. After a week of talk about Beasley's reduced role, it certainly appeared like the coaching staff was sending a message that Beasley is still a big part of the team. The designed run by Allen in the first quarter that resulted in a 7-yard gain also resulted in a bigger hit than the team probably wants him taking. Penalties also remain an issue – with eight of them being called for 60 yards against. That has to get better.