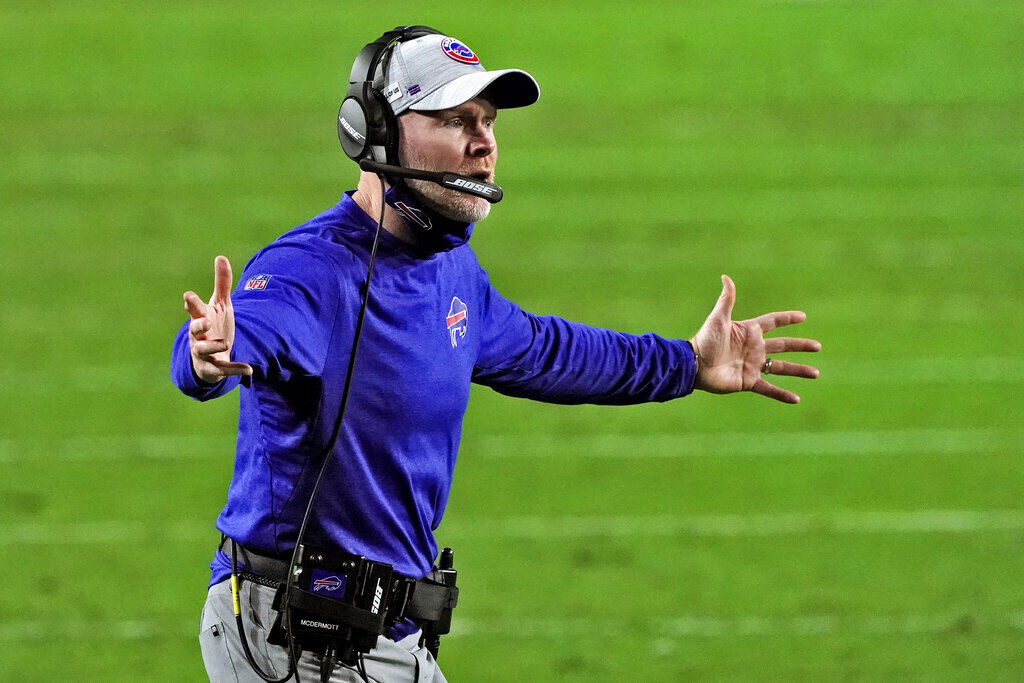 Grading the Buffalo Bills in their 34-24 victory over the San Francisco 49ers on Monday in State Farm Stadium:
Disaster was avoided after Devin Singletary and Zack Moss both got hurt on the opening drive. Both were able to return, although Moss saw the field sparingly after losing a fumble late in the first quarter deep in Buffalo territory that set up San Francisco's opening touchdown. Singletary finished with 18 carries for 61 yards. He ran hard, but it was clear the change of pace presented by Moss was missing. Quarterback Josh Allen ran six times for just 11 yards. 
On Monday night, Josh Allen delivered again, writes Vic Carucci.
A thing of beauty. Playing against his childhood team, Allen was absolutely masterful on the national stage, finishing 32 of 40 for 375 yards and four touchdowns. The game seems to have just slowed down for him. Allen never stops looking down field and is absolutely terrific at buying himself more time by making the first rusher miss. Some of his throws were the kind maybe only two or three quarterbacks on the planet can make. Others were, quite frankly, sort of easy because of how open his receivers were. More on that later. Wide receivers Cole Beasley and Stefon Diggs were unguardable. They combined for 19 catches and 222 yards. Diggs, a No. 1 receiver in every sense of the word, wasn't shy about throwing a huge lead block to spring tight end Dawson Knox for his second touchdown in as many games. So much for Diggs being a "diva." He went over 1,000 yards for the season.
The score meant the 49ers attempted just five carries in the second half. There were a couple issues – missed tackles by A.J. Klein and Tremaine Edmunds stood out – but also some good moments. Edmunds stuffed 49ers running back Jeff Wilson at the Bills' 1-yard line on a fourth-and-goal play on San Francisco's first possession. The 49ers' running backs come downhill hard, and the Bills responded to the physical challenge. Safety Micah Hyde led the team with 12 tackles. He wasn't afraid to stick his nose in at the line of scrimmage to stop the run. Defensive end Darryl Johnson Jr. had a big tackle for loss, dropping a 49ers running back 9 yards behind the line of scrimmage. Defensive tackle Vernon Butler Jr. also had a tackle for loss. He was active inside.
Cole Beasley was free money Monday night, writes Jay Skurski.
Here's an example why sacks can be somewhat overrated. The Bills didn't have any against Nick Mullens, but they did hit him seven times, so the front four (and defensive coordinator Leslie Frazier's blitzes) were generating pressure. Cornerback Tre'Davious White iced the win with a fourth-quarter interception. Hyde also made his first interception of the season, being in the right spot when the ball bounced away from 49ers receiver Brandon Aiyuk and Klein.
"That's what we are – we're an attack-oriented defense," White said. "We want to put the pressure on the quarterback and make the game one-dimensional, try to take out the run game and make the game easier by putting it in the quarterback's hands and make him throw it. That's definitely always our plan to come out and be the aggressor."
The only big negative for the passing defense was cornerback Levi Wallace. He was picked on repeatedly by Mullens. Wallace also got called for a third-down pass-interference penalty on San Francisco's first drive – questionable as it may have been – and failed to pull in an interception that he probably should have caught. It was the type of performance that had fans on social media asking what it would take for the Bills to try either Josh Norman or Dane Jackson at the spot opposite White. Perhaps that will happen next week.
The Washington Football Team's triumph did more than tighten the race for the top seed in the AFC playoffs and hand the Steelers their first loss of the season. It robbed Buffalo of its chance to do the same.
Quietly excellent, which describes this group for much of the season. Rookie kicker Tyler Bass has now made nine straight field goals, including two against the 49ers. Corey Bojorquez's only punt hung in the air for more than 5 seconds, went nearly 70 yards in the air and netted 52 yards. Return man Andre Roberts gained 22 yards on a punt return and 25 yards on a kick return. The kick-coverage unit allowed just 13 yards on one return. The punt-coverage unit did give up 16 yards on one return, the only very small blemish.
It might be time to start thinking about life after Brian Daboll. The Bills' offensive coordinator called a masterful game against 49ers defensive coordinator Robert Saleh, who is looked at as a prime head-coaching candidate after this year. Daboll should be on that list, too. The touchdown passes Allen threw to Isaiah McKenzie and Gabriel Davis were layups because of how open Daboll schemed them up. Coach Sean McDermott continues to show how he's evolved when it comes to going for it on fourth down. It didn't work the first time, but it's great to see McDermott putting that kind of faith in his offense. The coach successfully went for it twice more on fourth down, passing over field-goal tries on both occasions. McDermott maybe could have gone with a little quicker pace at the end of the first half – the run on first down wasted a lot of time – but the possession still resulted in a field goal. All in all, this was a job well done at every level by the coaching staff. There certainly was no "Hail Murray" hangover in returning to Arizona. McDermott made sure of that.