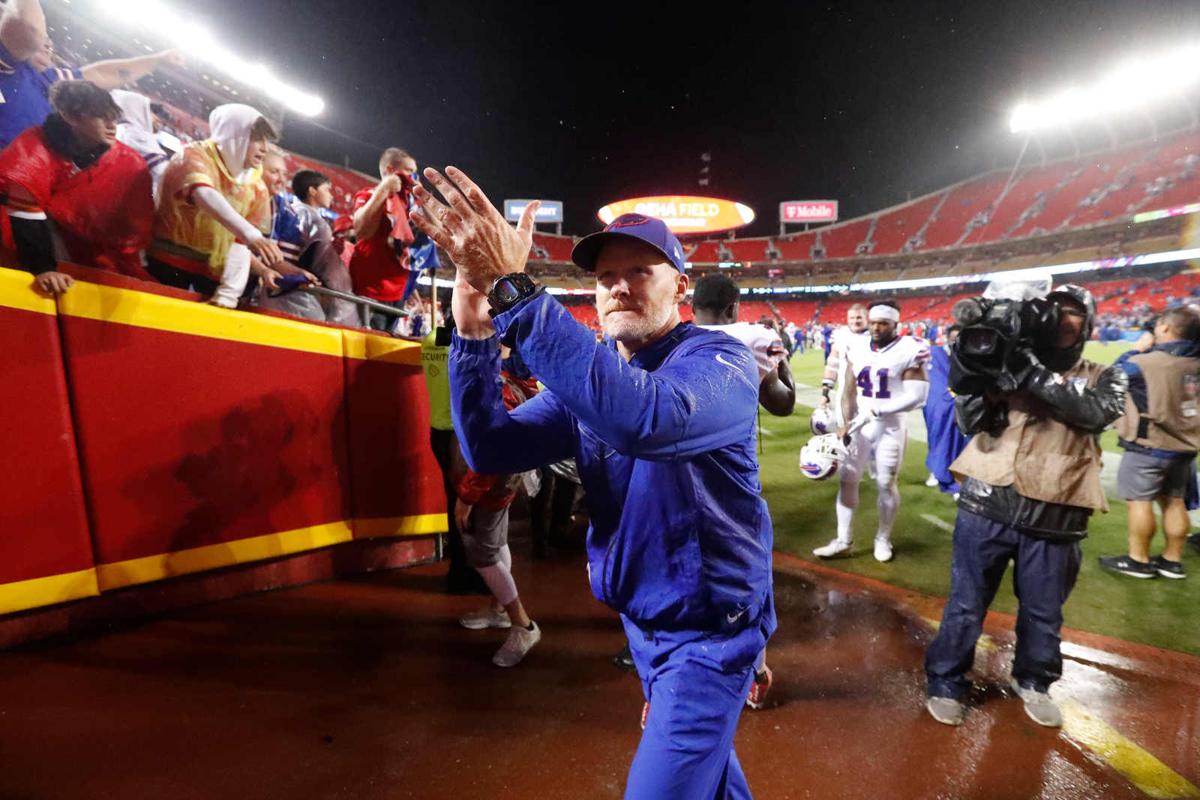 Grading the Buffalo Bills in their 38-20 victory over the Kansas City Chiefs on Sunday night/Monday morning at Arrowhead Stadium …
Josh Allen delivered when it mattered most. His hurdle for a first down in the fourth quarter produced another entry on the career highlight reel. Allen was the Bills' best running threat, racking up 59 yards on 11 carries – an average of 5.4 yards per carry – and one touchdown. Zack Moss and Devin Singletary were largely held in check, combining for 17 carries and 62 yards, but Allen's output gave the Bills 121 total yards on 28 attempts, a respectable 4.3 yards per carry. Allen, Moss and Singletary were the only Bills players to attempt a carry. All of Buffalo's ball carries held onto the football – an important consideration given how much it rained. 
Allen completed just 15 passes, but those 15 completions went for 315 yards and three touchdowns, along with a 139.1 passer rating. Allen's 12.1 yards per attempt set a single-game high in his four-year career. Allen's completions were the fewest in a 300-yard game by a Bills quarterback since Drew Bledose had 306 yards on 15 completions against the Dolphins in 2002. Looking at the result of this game only through the box score will tell a strange tale. Allen wasn't sacked, avoiding trouble when it arrived to keep plays going long enough to let his receivers get open deep down the field. The Bills had three completions of 40-plus yards, the longest of which covered 61 yards to Stefon Diggs. Moss added a nice wrinkle to the passing game by making three catches for 55 yards, once again showing good elusiveness out of the backfield. It was another quiet game for slot receiver Cole Beasley, who was targeted just twice and finished with one catch for 5 yards. Gabriel Davis had just one catch for 16 yards, but it was a big one during the Bills' final touchdown drive. Emmanuel Sanders had two touchdowns and continues to be a significant addition. Tight end Dawson Knox turning into a legitimate threat has the potential to take the offense to an even higher level.
The Bills lost contain against Chiefs quarterback Patrick Mahomes on a few occasions, leading to him gaining 61 yards on eight carries. Before getting hurt, former first-round pick Clyde Edwards-Helaire managed just 13 yards on seven carries. Linebacker A.J. Klein, stepping in for the injured Matt Milano, had nine tackles, including the first two of the game for the Buffalo defense. Fellow linebacker Tremaine Edmunds also had nine tackles, including one ultra-impressive tackle when it looked as if he were shot out of a cannon to bring down Edwards-Helaire for a loss of 2 yards in the third quarter. Safety Jordan Poyer was next, with eight tackles after a one-game absence because of an ankle injury. 
Although Mahomes hurt the Bills a bit on the ground, that's a reflection of the job the coverage units did. The Chiefs' quarterback wanted to throw – he just rarely found anyone open enough to throw to. Mahomes' numbers look a bit inflated by some garbage-time yards. He finished 33 of 54 for 272 yards, two touchdowns and two interceptions, made by Micah Hyde and Greg Rousseau, respectively. Hyde's interception led to his first career pick-six. The defense sacked Mahomes twice, with Rousseau getting one and the other being split by Boogie Basham and Jerry Hughes. The Bills hit Mahomes eight times, which is a better indication of the amount of pressure the defensive line was able to generate. Defensive tackle Justin Zimmer was the only defensive player to record two quarterback hits – a testament to his motor never stopping. Nickel cornerback Taron Johnson led the team with a dozen tackles and one pass defensed. Star receiver Tyreek Hill finished with 63 yards on seven catches – numbers the Bills can absolutely live with.
A takeaway on special teams is a big deal, and the Bills got that in the first half when cornerback Siran Neal forced a fumble with a big hit on Chiefs returner Byron Pringle, leading to a recovery by linebacker Andre Smith. Pringle averaged 30.7 yards on his three kick returns, but the Bills kept the ball away from Mecole Hardman, Kansas City's dangerous punt returner. Kicker Tyler Bass made a 30-yard field goal. Isaiah McKenzie bobbled his only attempted kick return, gaining just 4 yards, although he did work hard to gain 7 yards on his only punt return. Punter Matt Haack was average, with a 35.0 net average on four attempts, including one punt that went for a touchback. The kickoff out of bounds by Bass was a preventable error. Dane Jackson and Tyler Matakevich made tackles on special teams.
This one must feel extra sweet for Sean McDermott, who evened his record against mentor Andy Reid at 2-2. Any fears about the moment being too big for the Bills were quickly erased. Defensively, the game plan was to sit in coverage and not blitz Mahomes at all. Give a lot of credit to defensive coordinator Leslie Frazier – the plan he cooked up worked exceptionally well. It felt as if offensive coordinator Brian Daboll was waiting for the right time to unleash Allen as a runner, and that came Sunday night. Although the number of penalties against (10) was too high, the majority of them came during the play – the type McDermott can live with. The offensive struggles in the third quarter will be an area the team wants to clean up during the week.