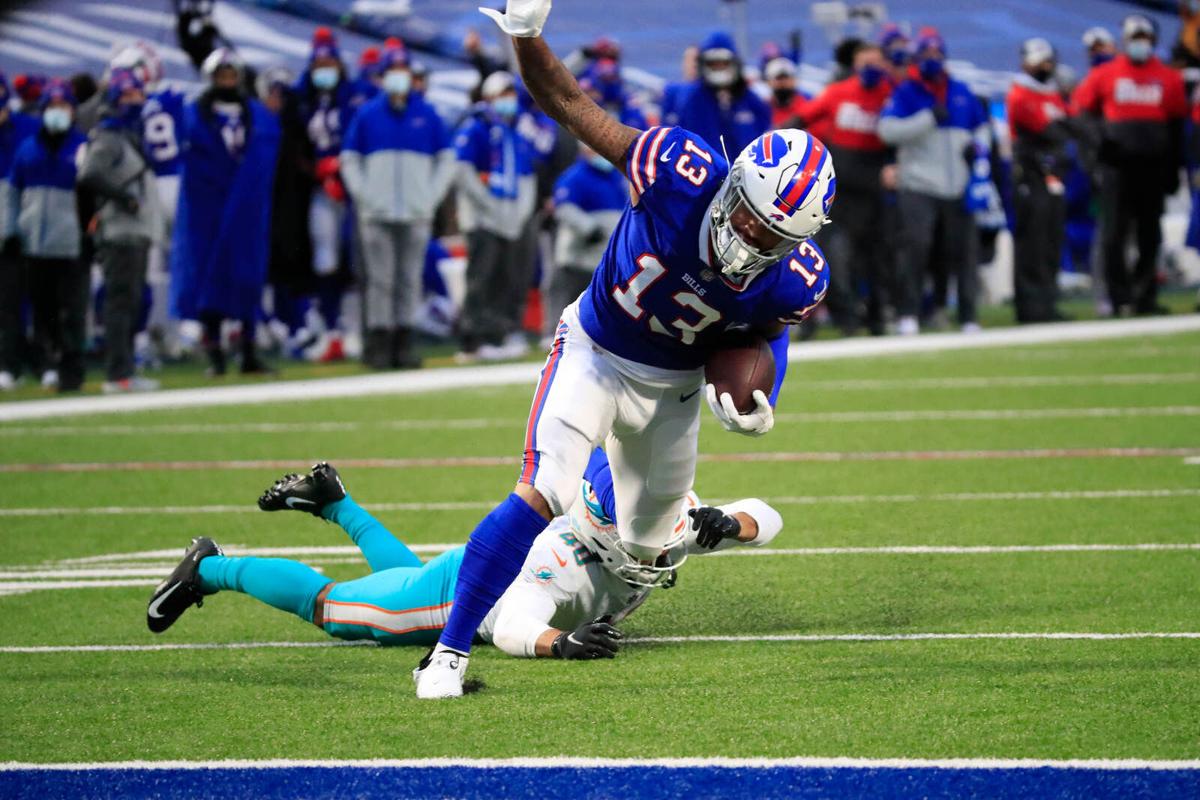 Grading the Buffalo Bills in their 56-26 victory over the Miami Dolphins on Sunday at Bills Stadium …
It actually started on a down note, as quarterback Josh Allen was intercepted by Dolphins quarterback Byron Jones at the Buffalo 41-yard line on the Bills' first drive. Buffalo's next two possessions ended in punts in what was a quiet first quarter. Then, Allen detonated. He threw touchdown passes every time the offense got the ball in the second quarter – three in all – finishing the game at 18 of 25 for 224 yards. Allen's late-season surge has him squarely in the MVP race. The jump he's made from his second to third professional season has been nothing short of remarkable. Stefon Diggs needed just one half to pile up seven catches and 76 yards – remember, Jones and fellow cornerback Xavien Howard are supposed to the strength of the Miami defense.
"They've got a lot of weapons, and Josh Allen is a great quarterback doing some great things this year," Howard said.
Rookie Gabriel Davis averaged a cool 53.5 yards on two catches. His first, for 51 yards, was a career long – only to be surpassed by his second, a 56-yard touchdown that he stretched out neatly to pull in. Davis finished the year with seven touchdown catches, becoming just the third rookie or first-year player to have that many with the Bills (joining Lee Evans, who had nine in 2004, and Elbert Dubenion, who had seven in 1960). Matt Barkley went 6 of 13 for 164 yards, one touchdown and one interception in his most extended action of the season. The Bills as a team passed for 388 yards.
Isaiah McKenzie had a field day against the Miami Dolphins on Sunday.
Antonio Williams, elevated from the practice squad Saturday, was impressive in his first career game, running for 63 yards and a pair of touchdowns on 12 carries. Williams ran with conviction when given the opportunity. Zack Moss and Devin Singletary had a quiet afternoon, gaining a combined 15 yards on six carries, split evenly. Allen ran for 4 yards on a pair of carries – the last thing Bills fans wanted to see was their star quarterback running the ball Sunday and thus exposing himself to hits. Isaiah McKenzie's two carries went for no gain – which can be forgiven after he caught a pair of touchdowns and scored another on a punt return.
The lopsided nature of the game meant the Dolphins ran the ball just 20 times, compared to 59 passing attempts. Those 20 runs produced just 70 yards – an average of 3.5 yards per carry – although the Dolphins scored twice on the ground. Middle linebacker Tremaine Edmunds led the Bills with nine tackles in a little more than a half. Back to being an every-down player, Matt Milano had five tackles before leaving in the third quarter. His replacement, Andre Smith, also had five tackles, including one for a loss. Mike Love and Dane Jackson, both of whom were called up from the practice squad, each made a tackle for a loss.
Momentum doesn't get any stronger than the runaway train that is the Buffalo Bills entering the postseason, writes Vic Carucci.
The Bills' backups had their way against Dolphins rookie quarterback Tua Tagovailoa. Safety Dean Marlowe had a pair of interceptions, and dropped what should have been a third. The Bills registered a ridiculous 11 passes defensed, with Josh Norman making two of those, including a pick-six. Backup linebacker Tyler Matakevich had two passes defensed, as did Jackson, a rookie seventh-round draft pick. Edmunds had the Bills' only sack, although Buffalo did hit Tagovailoa four times.
With regular returner Andre Roberts active for the game, but not getting playing time, McKenzie scored on a punt return. Tyler Bass set the franchise record for points scored in a season. He also blasted all nine of his kickoffs into the end zone for touchbacks. Corey Bojorquez quietly obliterated the single-season franchise record for gross punting yards – averaging 50.8 yards per punt – more than 2 yards better than the previous team record of 48.2 yards set by Brian Moorman in 2011.
"Special teams is always important," McKenzie said. "We've done a lot of big things on special teams."
That continued Sunday. The job that General Manager Brandon Beane did in helping to rebuild the special teams over the past couple of seasons should not be ignored.
The Miami Dolphins have a major Josh Allen problem, writes Mark Gaughan.
This was just an absolute pantsing by Sean McDermott and Co. against a Miami team that needed a win to make the postseason. McDermott sent a message in sweeping the AFC East for the first time in franchise history – the division belongs to Buffalo now. One of the goals for this coaching staff coming into this season was a home playoff game – now the Bills will have at least two of them with a win in the wild-card round. There will be some who question the wisdom of playing Allen, Diggs and some of the other starters for as long as he did, but McDermott has more than earned the benefit of the doubt. He decided the No. 2 seed and momentum heading into the postseason was worth playing for, and boy, did his team respond. Buffalo scored touchdowns on offense, defense and special teams for the first time since 2011.