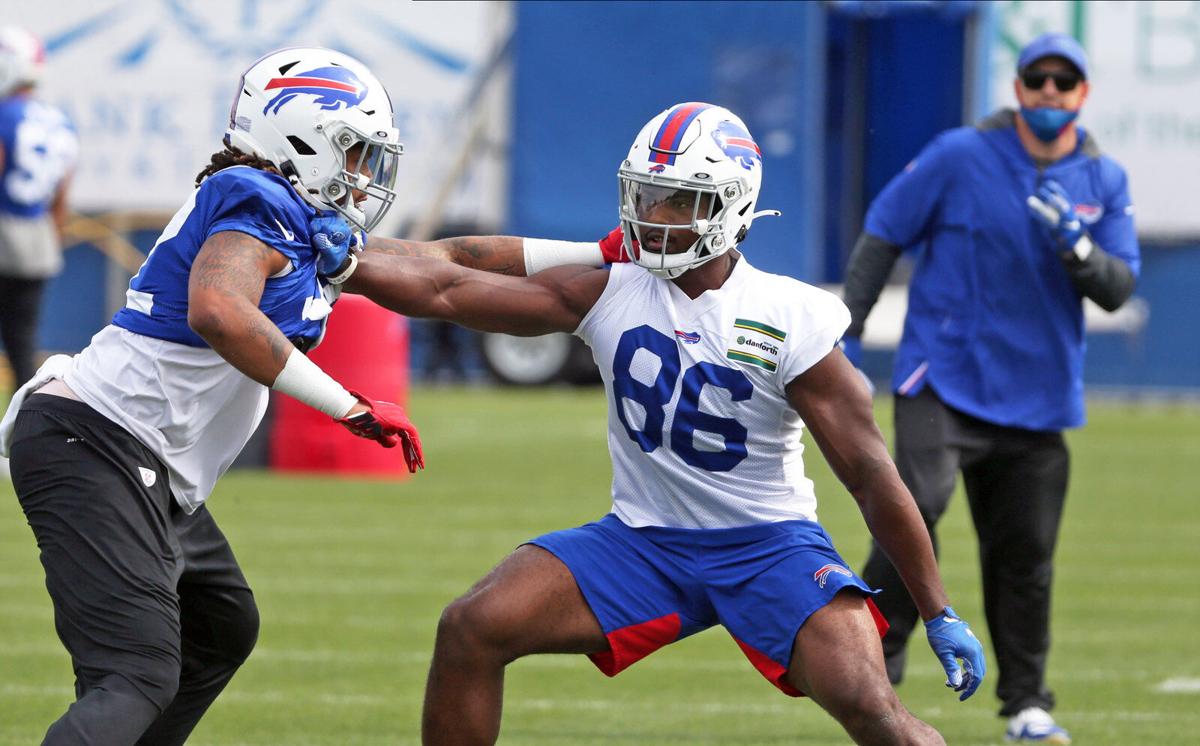 Reggie Gilliam fits the description of a throwback football player.
He can play tight end. He can play fullback. He can play special teams.
Gilliam's multidimensional skills, which he displayed as a rookie with the Buffalo Bills last season, date back to his time at the University of Toledo.
Jason Candle, Toledo's football coach, has long recognized Gilliam's old-school nature.
"Reggie is like a flip phone," Candle was quoted as saying on the University of Toledo website. "It's reliable and it does its job every single day to the best of its ability. It's not flashy."
Gilliam is one of the more intriguing players on the Buffalo Bills' roster.
The Bills list the 6-foot, 244-pound Gilliam at tight end and fullback.
Of course, Gilliam's best pathway to making the 53-man roster for the second year in a row is on special teams. While appearing in 14 games last season, he played 43% of the kicking-unit snaps. The rest of Gilliam's action, 7%, was tight end snaps. 
The Bills effectively eliminated fullback from their roster when they parted ways with Patrick DiMarco last year. He has since retired. But Gilliam can play fullback when necessary.
For now, the Bills appear set with Dawson Knox as their starting tight end. It would be fair to say this is put-up-or-shut-up season. The Bills want substantially better production from the tight end spot. Unless they make the much-speculated acquisition of Philadelphia standout Zach Ertz, or another player who would represent an immediate upgrade at the position, they'll be counting on Knox to perform at a higher level than he has shown the past two years since arriving in Buffalo as a third-round draft pick.
Jacob Hollister, who the Bills signed in March as a free agent from the Seattle Seahawks, should be a strong candidate for No. 2 tight end. Tommy Sweeney, who is back after a bout with myocarditis following a Covid-19 infection, also is in the conversation for a backup spot.
His first reception as a pro was for a touchdown in a win against the Miami Dolphins in September. He finished his rookie season with two catches for 16 yards.
Gilliam also played in all three of the Bills' postseason games.
"Reggie is the epitome of a selfless human being. He is a product of great parenting," Candle said. "I think that his parents have raised that young man to be great for every opportunity that he has. No player in our program's history, at least my time being here, has embraced his role and done it at such a high level."
Gilliam's father is a master sergeant in the U.S. Army. His mother is a district administrator for the U.S. Department of Transportation.
Robby Discher, Toledo's special teams and tight ends coach, describes Gilliam as "probably the physically toughest kid I've ever been around."
"He's also one of the hardest-playing guys I've ever seen," Discher was quoted as saying on the University of Toledo website. "Honestly, he's just one of the best people I've ever been around. He makes the coaches look really good."