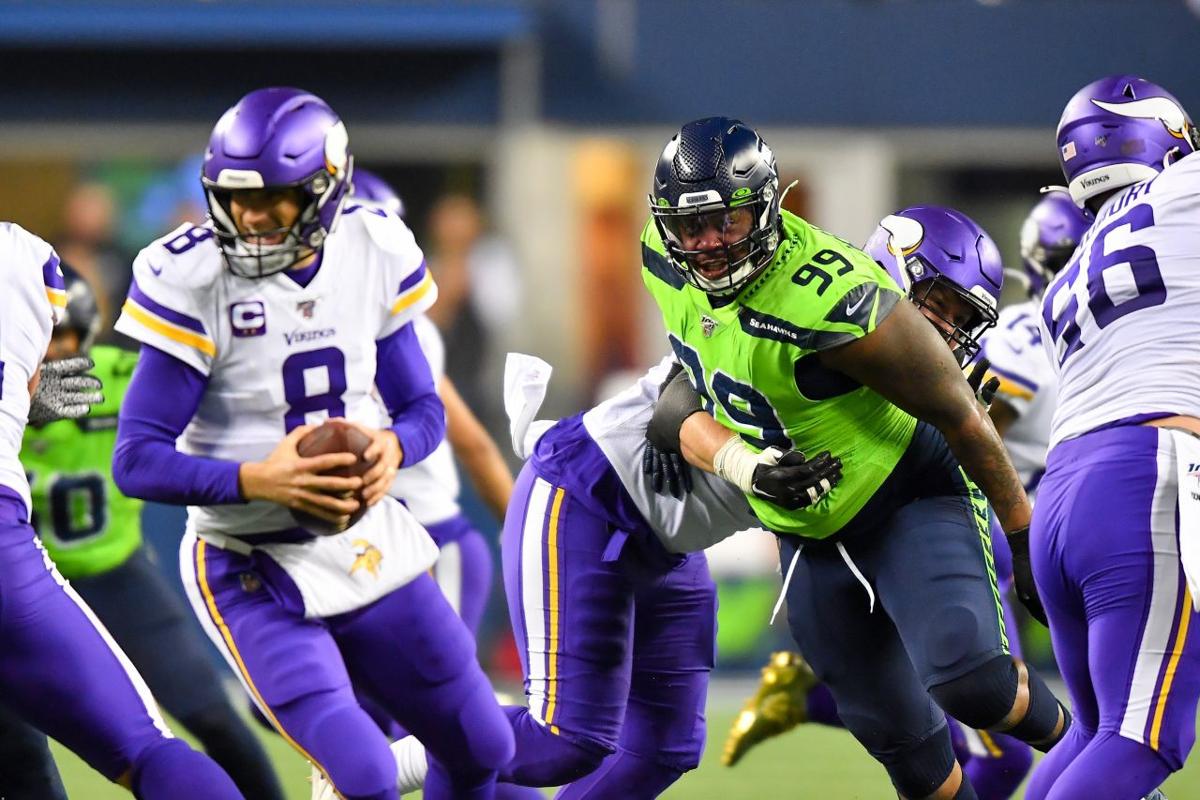 Quinton Jefferson prefers an open-ended job title.
"People ask me what I play on the D-line and I just say, 'I play D-line,' " he said. "I take pride in learning the whole defense, the whole front."
That versatility went a long way toward convincing the Buffalo Bills to make Jefferson one of four defensive linemen the team signed in free agency this offseason. Coach Sean McDermott and defensive coordinator Leslie Frazier love players who can handle a variety of positions on the line, and that was a quality Jefferson displayed during his previous four NFL seasons, most of which were with the Seattle Seahawks.
The Bills like to rotate defensive linemen frequently in games. Knowing he would have a good chance to get playing time at end or tackle, and that he could join a team on the rise, Jefferson saw the Bills as an attractive landing spot once his contract with Seattle expired.
"I think it keeps a lot of guys fresh and it keeps you at your best ball," Jefferson said Thursday during a Zoom conference with reporters. "From playing in Seattle, sometimes we might go into a game with six D-linemen and you're going to play quite a bit. Sometimes that can be overwhelming to your body and just the beating you take over 16-17 weeks. So anytime you can come to a situation where you've got a bunch of guys that can just keep it rolling, keep you fresh, it's good for all of us.
"We're all going to eat, we're all going to be productive and playing at a high level."
It is nothing new for Jefferson. He goes back to his days at Woodland Hills High School in Pennsylvania where the man-for-all-situations role took hold.
"I literally played every position (on the defensive line)," he said. "Coming in as a young guy, especially Seattle, our first year we had so many guys. You've got Frank (Clark), you had Mike (Bennett), you had Cliff (Avril), you had Big Rube (Ahtyba Rubin), you had (Jarren) Reed. And my biggest thing was, I know to be able to make this team, I have to be able to play anything. So if anybody comes out, I took pride in knowing I could go in and fill that void and there wouldn't be any drop off. I feel like that was the biggest thing and it kind of just helped me develop through my years there."
Jefferson, who joined the Seahawks in 2016 as a fifth-round draft pick from Maryland, does have his preferences. When it comes to pass-rush situations, he likes to be inside, either as a three-technique or nose tackle.
"But if you're just talking about playing the run, I feel like I can play the run at any position," he said. "First, second down, I like playing end, setting the edge, having the double team between the tackle and the tight end. Third down, I like kicking inside."
At the end of April, during a Zoom call with reporters, McDermott cited "position flexibility" when discussing Jefferson, who spent a brief portion of 2017 with the Los Angeles Rams before returning to the Seahawks.
"You know how much I love that, and versatility I think is huge," McDermott said at the time. "He played really good snaps for the Seattle Seahawks on a good defense. He's played inside, he's played outside. Love his relentless attitude and approach, a true pro. ... That was a good addition for us."
Jefferson wasn't surprised that the Bills were able to bolster their team this offseason with the additions of wide receiver Stefon Diggs, via trade, and other free-agent signings. He said the team's image, as a struggling bottom-dweller, has improved greatly in the last few years.
"When you get good coaches, good staff and good players, you can shift the culture of a place and whole viewpoint of a place," Jefferson said. "Now you ask guys about Buffalo they're like, 'Hell yeah, I'll come play for Buffalo.' Great team, great culture, great fans."
In the eyes of some Seahawks fans, Jefferson's departure was a bad loss. When Jefferson signed with the Bills, there were some Seahawk followers who expressed dismay on social media that he wasn't remaining in Seattle.
Jefferson showed steady improvement last season and he finished with 3.5 sacks. He felt something click as the year progressed.
"I think it was just through the years (learning) from my experiences and just trying to make the most of my opportunities," Jefferson said. "My first few years, I was banged up. But I think I really just took those years to just watch guys because I had great guys in front of me, whether it was Mike, Cliff, Frank, just watch to see how those guys played, the things they do, pick their brains. I still pick their brains to this day and just try to use those resources and (take) what they do and put it into my game."