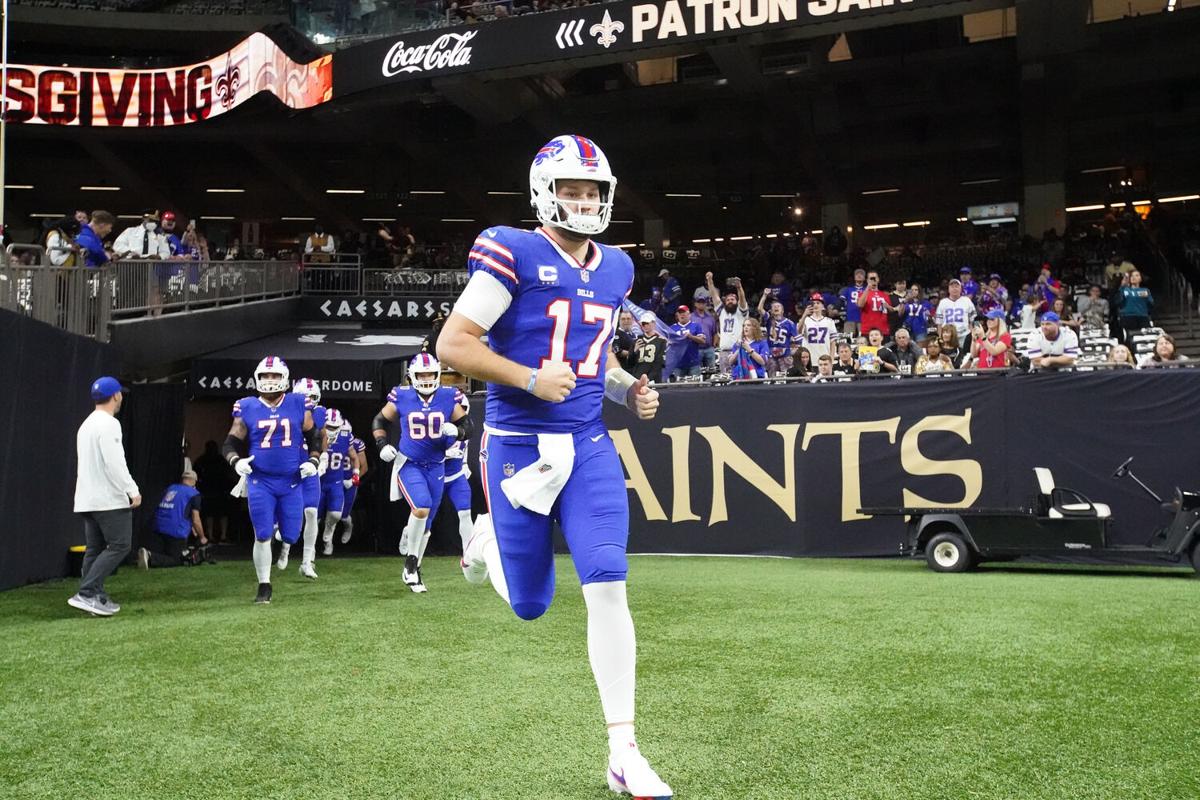 Here is a quarter-by-quarter breakdown of the Buffalo Bills vs. New Orleans Saints game on Thanksgiving.
Lineup note: Wide receiver Isaiah McKenzie and running back Zack Moss were among the Bills' inactives, leading to bigger roles for Marquez Stevenson (activated off injured reserve Sunday) and Matt Breida. Safety Damar Hamlin, defensive end Boogie Basham, cornerback Cam Lewis, defensive tackle Vernon Butler and offensive lineman Bobby Hart were also inactive.
Breida featured early: Running back Matt Breida has earned more snaps, and he got them early. On the Bills' first drive, he had four carries for 19 yards. He finished the first quarter with 24 yards on seven attempts. Previously, his five carries against the Colts were his most of the season.
Knox moving up: On a drive that had a heavy dose of Breida, it was Dawson Knox who made it to the end zone. The seven-yard catch was Knox's sixth touchdown of the year. With that, Knox tied the franchise record for touchdown catches by a Bills tight end in a single season.
Sacks on sacks: Bills defensive end Mario Addison had a big sack on third-and-2 for a loss of nine to force the Saints to punt. However, the Bills went through something similar the next drive. Quarterback Josh Allen was sacked on third-and-13, also for a loss of nine.
Field goal: The Bills' longest play of the first half was a 26-yard catch by wide receiver Gabriel Davis. However, the offense stalled out shortly after. Allen was once again sacked on third down, bringing out kicker Tyler Bass. Bass was good from 34 yards out to put the Bills up 10-0.
White injured: Bills cornerback Tre'Davious White was injured midway through the second quarter. White later walked to the locker room with a towel over his head right after Allen threw an interception. He was listed as questionable to return with a knee injury.
Finally: Defensive tackle Ed Oliver has been so close so many times to a sack this season. A number have been negated by penalties on his teammates. It finally came against the Saints, with Oliver and Efe Obada combining for a four-yard sack. It brought up third-and-18.
Two picks: Allen was intercepted twice in the second quarter, on back-to-back drives. First, Bradley Roby intercepted him when he was looking for Stefon Diggs. Then, just one play after a would-be touchdown for Knox was called back, Allen's arm was hit by defensive end Cam Jordan, and Kwon Alexander picked Allen to effectively end the first half.
Scoring to start: The Bills scored to start the second half. They went 75 yards in 11 plays, capped by Allen finding Diggs for a five-yard touchdown. That marks three games in a row that Diggs has had a touchdown, and he's had a touchdown in five of the last six.
Singletary in the mix: Bills running back Devin Singletary helped Buffalo move down the field ahead of Diggs' touchdown. His 15-yard run two plays ahead of the score was one of his most physical of the season. On the drive, he had five carries for 29 yards.
Defensive stand: The Bills defense forced a three-and-out on the Saints' first drive of the second half. New Orleans gained just four yards. Bills returner Stevenson fumbled on the ensuing punt, but was able to recover it himself and return it nine yards.
Knox again: Knox's second touchdown of the day was a 24-yard reception. It gave Knox sole control of the franchise record for touchdowns by a Bills tight end in a single season. He's up to seven, and Thursday was his second game of the year with two touchdowns.
Saints score: The Saints finally got on the scoreboard on the first play of the fourth quarter, with quarterback Trevor Siemian's 11-yard pass to tight end Nick Vannett. The Saints went for two, but were unsuccessful, with Siemian's pass to wide receiver Lil'Jordan Humphrey incomplete.
Breida back: After a notable uptick in touches in the first half, Breida disappeared for a chunk of the second half. But he came back in a big way, with a 23-yard touchdown reception. It was his second receiving touchdown of the season, weaving his way to the end zone.
Poyer pick: Safety Jordan Poyer notched his fifth pick of the season, running it back 18 yards. Following the interception, Bills backup quarterback Mitchell Trubisky entered the game with 6:59 left to go.
Unbeaten no more: Saints head coach Sean Payton entered the game 3-0 against the Bills. His first loss to Buffalo came by way of Allen throwing four touchdowns, and as the Bills defense allowed the Saints just 190 yards.