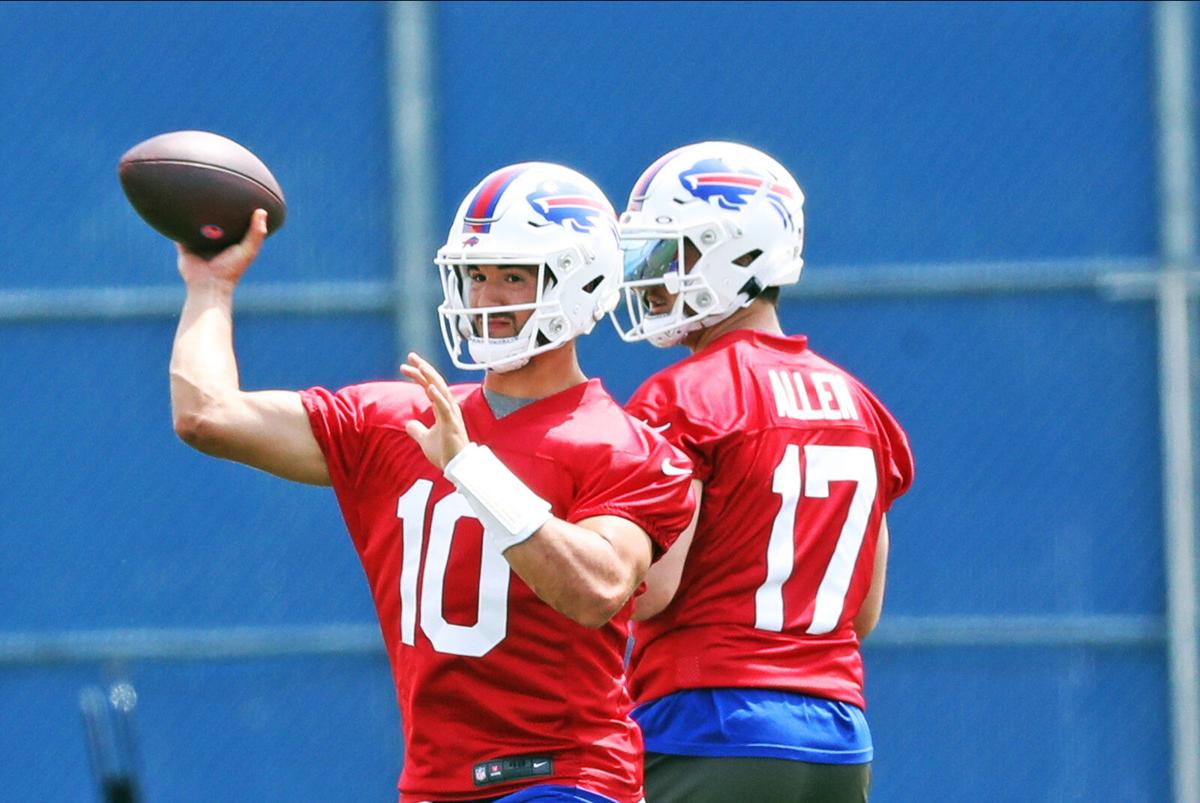 It remains one of the bigger "whoa" moments of the Buffalo Bills' offseason.
When General Manager Brandon Beane's scheduled news conference was unexpectedly delayed March 18, it was apparent something might be up. A short time later, the cause of Beane's delay became clear: The Bills had agreed to a one-year contract with Mitchell Trubisky, the former Chicago Bears' quarterback who was the No. 2 overall pick in the 2017 draft.
Mitchell Trubisky will benefit from dramatically lower expectations when he dons a Bills uniform.
That the Bills were in the market for a backup quarterback was not a huge surprise. After an appearance in the AFC championship game, the Bills feel like their Super Bowl window is wide open. With that being the case, securing a dependable No. 2 quarterback to back up Josh Allen was a priority.
That they convinced Trubisky to fill that role, however, is a surprise.
Trubisky was under the microscope in Chicago, mostly because the Bears moved up to draft him, passing over quarterbacks Patrick Mahomes and Deshaun Watson. Still, Trubisky played a lot in his four seasons, going 29-21 as a starter while completing 64% of his passes and throwing for 10,608 yards, 64 touchdowns and 37 interceptions. He made the Pro Bowl in 2018 – becoming the first Bears quarterback to do so since Jim McMahon in 1986 – and set a franchise record by reaching 10,000 career passing yards in just 49 games (it took McMahon 58). He also set Bears rookie records for completions (196) and yards (2,193) in 2017. In 2018, he threw for six touchdown passes in a win over Tampa Bay, falling just one short of matching an NFL record for a single game.
The new Bills' No. 2 quarterback, signed as a free agent from Chicago to upgrade the spot behind Josh Allen, enjoyed an accurate day.
Those highs, however, were matched by some lows. Trubisky, 26, lost his job to Nick Foles as the starter in Week 3 of the 2020 season, although he did return to the lineup after Foles was injured and ultimately helped Chicago reach the postseason. The Bears chose not to re-sign Trubisky as an unrestricted free agent.
The quarterback has not spoken to the media about his decision to sign with the Bills since joining the team in March until Thursday, when he did a video interview with The Buffalo News. Here is that conversation, which has been lightly edited for length and clarity:  
The Buffalo News: The first question is the most obvious and the easiest: Why the Bills?
MT: "I think I just needed a fresh start. I just wanted to go somewhere where I was wanted and they had a role for me. I wanted to be a part of a championship-caliber team, so when this opportunity came knocking on the door, I thought it was a great fit, just with the offense and the people they've got in this building right now. To be part of a team that can possibly go win a Super Bowl, I think that's special. They've got a great culture around here. It definitely wasn't what I was expecting, but I think it will be a great part of my journey. I'm just excited to be here and be a part of this team."
BN: When you say it wasn't what you were expecting, do you mean the opportunity to sign in Buffalo?
MT: "Right. I was hopefully looking for an opportunity to go compete somewhere and maybe get a starter spot somewhere, but coming here and backing up Josh is going to be a new role, but I'm ready to embrace that and be a part of this great team and help any way I can. Help the other quarterbacks in the room, help the guys on offense and challenge the defense when we're out there, whether it's doing scout reps or just helping them before or after practice. That's what I'm here to do and I'm excited about it."
BN: How big of a factor was Brian Daboll's system and how he uses quarterbacks in deciding to sign here?
MT: "Coach Daboll definitely made it very attractive to come here in the conversations I was having with him, how he plays to his quarterback's strengths, no matter if it's Josh in there or somebody else. He says he's going to call the game to the quarterback's strengths and allow his playmakers to get open and make plays. From being able to observe from afar and see the kinds of things that they were doing in this offense and how they were putting up prolific numbers, they've got great playmakers across the board and have a great offensive line. It was just something that was attractive to me and something I wanted to be a part of. ... It just seemed like a great offense to be a part of and learn from. It's been awesome picking that up schematically since I got here."
BN: It's early in the process, but what's expected of the quarterback in this system versus how you've been used or what's been asked of you in your previous offenses?
MT: "I think right now it's just learning the offense and finding completions day in and day out. Showing that I have a recollection of what we've been installing so far, just being out there and being able to execute it and go out and find completions. Right now we're just installing the whole offense. ... As this thing evolves, I think he'll be able to learn my strengths and what I'm able to do well and what fits in within the offense and what he calls. I think that'll evolve as it goes, but for now it's just me learning the scheme and figuring out all these concepts and just going through the progressions."
BN: You know what Josh Allen was able to accomplish last year. There is always pressure in the NFL, but your job is different than what it was in Chicago as a former No. 2 overall pick. Do you view it that way, though? Or do you view it the same?
MT: "No matter what your role is on the team, you've got to come in, push yourself, and continue to get better and work at your craft. I think that's first and foremost. Always putting the team first is a great way to go about it, so however I can help the team, whatever I can do to make them get better. I am in a little bit of a less-pressure role, but I always have to be prepared. That's my job – just stay prepared and help the rest of the guys as much as I can. As it goes for Josh, just having his back. He had a great season last year, and my job this year is to make sure he has an even better one this year. ... We're trying to be the best we can possibly be on a daily basis. Whatever role you're in, if it's backup or starter, if you bring great energy and excitement every day, you're getting yourself and then you're able to make your teammates better. That's what I'm here to do."
Welcome to the first post-draft edition of the Bills Mailbag.
BN: Brandon Beane talked when he signed you about this potentially not being a long-term pairing – meaning that he believes you're good enough to be a starter in this league and that opportunity will come soon. What do you make of that?
MT: "It's definitely day to day, task at hand. Just put my heart and soul into this year and into every day, and I know the future will take care of itself. I'm looking forward to embracing this year, giving it everything I've got, and then when we get to the next opportunity, that's when we approach things and see where we're at, but for now, I'm just loving it day to day here in Buffalo and just helping this team as much as I possibly can. That's how I'm going about it – day-to-day mindset and control what I can control."
BN: What are your early impressions of being here in Buffalo. How's it been working with your new teammates and coaches so far?
MT: "It's been awesome. The locker room has been great. Just meeting all the guys and getting to know them, they have a great culture here. They come in and get their work in. Everyone's very focused and prepared with the playbook and in the weight room. Working very hard, but guys are also having a good time. Guys are having fun. It's laid back, but the guys are driven. It's been a great OTAs. It's been really fun to be a part of. The guys here have been helping me pick up the offense. The guys who are coming in and don't know it as well, I'm able to help them pick up the offense as well. It's just been fun talking ball, getting to know these guys and their families a little bit and getting back to football."
BN: What's the biggest lesson or lessons you took away from your four years in Chicago?
MT: "I would just say for me, it's been enjoying this process, enjoying this ride. Ever since I was little, it's been a childhood dream to play in the NFL. Four years ago I made that come to life by getting drafted and was able to play four years in Chicago. Right now, I'm just living out a childhood dream, and I'm having as much fun as I possibly can. For me now, it's just trying to perfect my craft as much as I can and continue to enjoy this ride, because football only lasts so long. It's been such a huge part of my life, I want to make it last as long as I possibly can. I've learned so much and developed so many great relationships. It just taught me to enjoy the process and really be grateful for those relationships you make along the way."
BN: The experience last year when you weren't always the starter, but you got into the lineup and did lead the Bears to the playoffs, in some ways, that could mirror what you're asked to do here. If something happens to Josh, you're one play away. What did last year in particular teach you about what might be asked of you this year?
MT: "Just always being prepared. Just knowing that over time I earned my teammates' trust there and when I was asked to come in, they had the belief and confidence in me that I could go out there and make the plays and help the team win. If that situation comes to it, just be ready to do the same thing here. That's really what I learned from last year. Just continue to work on my craft when you're not the guy and be prepared as you possibly can within the offense and helping your other teammates. Then, when you're in there, just knowing that your teammates around you, they trust in you, they have confidence in you. Just believing in yourself that I have the talent to go out there and make the plays and help the team win. That's what I did last year and I believe if called upon, I can help this team do that as well."
BN: You said when we started talking that a backup role is not what you had in mind at the start of the offseason. What made it OK in your mind? How did you reach that decision?
MT: "Talking to people around the league and then just people close to me who have been coaches in the NFL or are higher up, just the people that I talk to, they were like, 'wow, that was a great decision.' Just surrounding yourself with championship culture. Being around coach McDermott, being around coach Daboll. The more that people looked at it and the people that I really trust and confide in, they were like 'I think this is going to be really great for your development, just to be around those types of people.' Being in this environment, being able to be a part of a quarterback group where I can really develop and maybe work on the things that I wasn't able to work on in Chicago, maybe learn something that will help me out the rest of my career. Just talking to those people and getting that feedback, it really gave me confidence that this is where I'm supposed to be. I'm in the right situation to help me the rest of my career."
After months of reading mock drafts and pouring over prospect rankings, the draft will kick off Thursday night in Cleveland. Jay Skurski answers some draft-centric questions.
BN: Anyone in particular that you leaned on for that advice?
MT: "I would say I talked to my agent (Chase Callahan) a lot. One of my best friends, Ricky Proehl, is someone I talk to. (Proehl's son, Austin, is a former seventh-round draft pick of the Bills who played receiver in college at North Carolina while Trubisky was the Tar Heels' starting quarterback.) He knows a bunch of people around the league. Just his knowledge of the NFL and him playing in the NFL so long, talking to him and other coaches that I've been around, it really gave me confidence that I'm in a great spot here."
BN: That's a pretty mature decision. Do you think it's one you would have always made?
MT: "I put a lot of thought into it, for sure. It wasn't just something like, 'OK, Buffalo sounds great. Let's go there.' It was like, 'What's going to give me the best opportunity to really develop as a player and what is going to help me stick around this league for a very long time?' When I was thinking through that and going through all the variables, it's a great roster, great coaches and phenomenal culture."
BN: A big part of the backup quarterback's job is playing a support role of sorts. How do you feel like you and Josh will work together in the film room, on the sideline during games and on the practice field during the week?
MT: "I see it being very positive and very helpful. From Day One, I told him, 'Look man, I've got your back. I'm going to support you all the way. Anything you need, let me know.' Whether you want me to watch film for you and kind of break down defenses or just tell you what I'm seeing, or just having that open communication. I know when I was in that role, just knowing that the other guys in the room had your back when you're going through things, I know that feels really good. So we have a really tight quarterback room. Being around Josh and the other guys has been so much fun so far, just picking their brains and learning this offense together. ... I see this relationship being very strong and a positive one that's going to help this team."
BN: You saw Stefon Diggs twice a year when you were in Chicago and he was in Minnesota. You saw his numbers last year. You saw Cole Beasley's production out of the slot. How much fun can this offense be?
MT: "Absolutely, that's why I wanted to be here. It's just special guys. Top to bottom, the O-line is a great group of guys. They do a great job up front. You've got talented playmakers on the outside. They're doing special things. We're out there at practice and we're having a blast. That's what I wanted to get back to – just playing the game I love, having fun doing it with a great group of guys who are just so talented. You see it across the board. It's a great roster, great locker room and I'm just grateful to be a part of it."