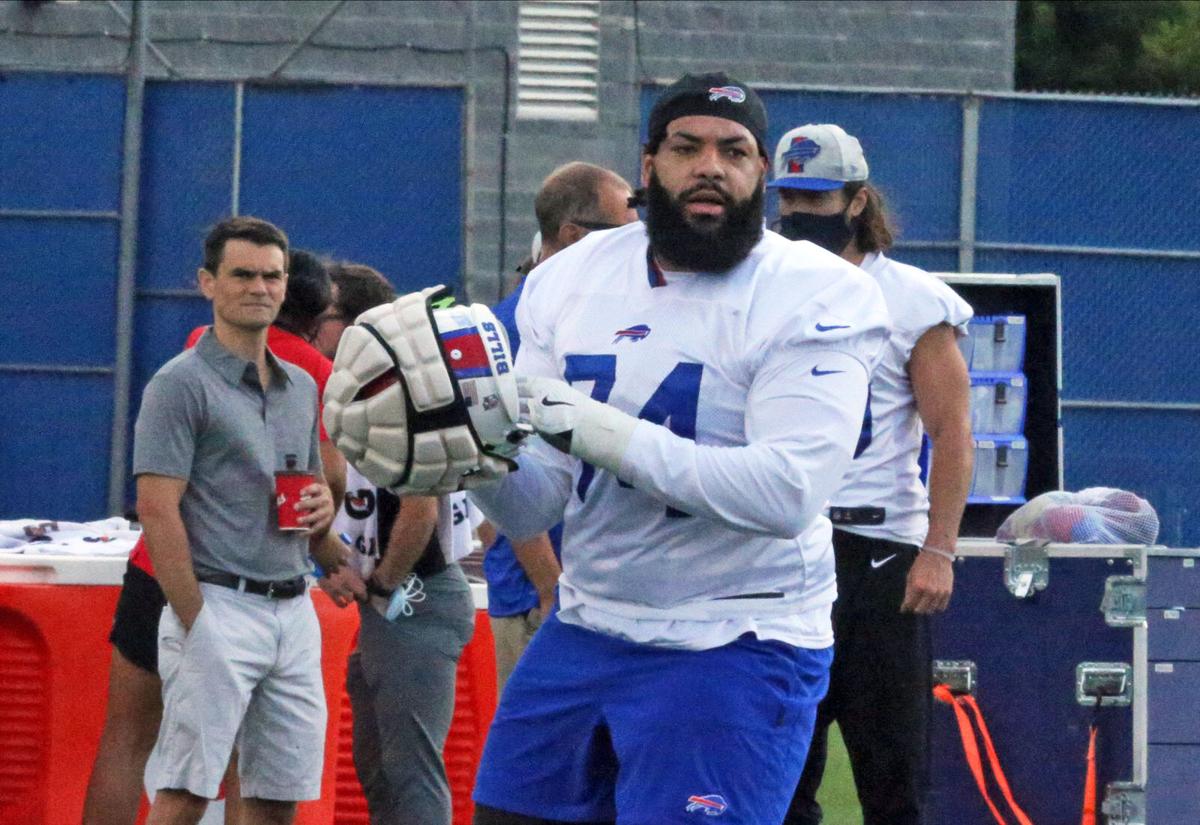 Buffalo Bills offensive line coach Bobby Johnson gushed last week about Spencer Brown, saying the rookie right tackle "jumped off the tape" in the preseason and in limited mop-up duty through the first three games of the regular season, leading to his first career start in Week 4.
Brown has started the team's last two games, victories against Houston and Kansas City, and the 6-foot-8, 311-pound lineman is rewarding the coaching staff for its confidence.
Buffalo is averaging 34.3 points per game. Second is Dallas at 34 and third is Tampa Bay at 33.4.
A third-round draft pick out of FCS Northern Iowa who missed last season because of the Covid-19 pandemic, he's already proving himself as one of the team's best offensive linemen.
"We had an idea after the preseason," Johnson told The Buffalo News. "You just didn't know, 'OK, how is it going to translate when it's real, when it's not a preseason game?' Because he had definitely shown things in the preseason games that he played in that he appeared to be one of our best five.
"But when he got a chance to play, even late in the real games, the stuff he was doing in the preseason he was doing in real games. And you're like, 'OK. There's confirmation right there.' "
The defensive end had a sack, five tackles, a quarterback hit, a tackle for loss and an interception in the Buffalo Bills' 38-20 win over Kansas City.
Brown has played 150 snaps through five games, 127 at right tackle, 13 at left tackle and 10 at tight end, a position he played for his eight-man high school football team in Lenox, Iowa.
According to Pro Football Focus, he has allowed no sacks, no quarterback hits, six total pressures and has not drawn a penalty.
The analytics website awards Brown the Bills' best run blocking grade of any offensive lineman to receive regular playing time this season, as well as its fourth-best pass blocking grade, following Mitch Morse, Dion Dawkins and Daryl Williams.
Williams slid over from right tackle to right guard – replacing the ineffective Cody Ford, a second-round pick in 2019 – and opening an opportunity for Brown to take over the starting job at right tackle.
"There was an opportunity there," Johnson said. "He seized the opportunity. And we'll move forward from there."
For his efforts with the Bills, Williams will be enshrined Wednesday as a member of the Greater Buffalo Sports Hall of Fame's Class of 2021.
Johnson further discussed how the move reverberated across the offensive line and other issues, including Ford's future; Dawkins' improving health after his bout with Covid-19; Ike Boettger filling in at left guard against Houston in place of Jon Feliciano, who missed the game with a concussion; and how consistency and depth figures into the line's performance and the coaching staff's decision-making.
BN: Where does Spencer Brown's ascendance to the starting lineup leave Cody Ford, who spoke during training camp about his improving physical and mental health?
BJ: Cody's got some things he needs to work on, which we've talked to him privately about. Some things on tape he's got to get corrected. Also, he's got to make sure that he physically can do the things we're asking him to do.
Cody's a professional. Same thing as Spencer. We watched him in college and he brought a lot of good things to the table and across the board. Everybody gave him the stamp of approval. So there's that player somewhere in there.
We've just got to make sure that all of his circumstances get taken care of and all get cleaned up and that way he can put his best foot forward when he's healthy. And that's the thing. We've just got to get him back on the right track. And he's working toward it.
He's obviously disappointed. But he's also a pro and understands, "OK, this is something I've got to work on and once I work on it, I'll seize my opportunity when it comes back."
BN: Sean McDermott made it a point to say that Ford remains a good player. Is it fair to think we haven't seen the last of him this season?
BJ: When a guy has a bad stretch of games and we decide to make a change, we don't all of a sudden move on. This is a long NFL season. I tell the guys every week, "We're going to need every guy in the room. Whether you're a practice squad guy or you're a veteran. We're going to need every single one of you in the room in some way, shape or form before the season's over." That's never going to change in this league. And Cody understands that.
BN: How is Dion Dawkins bouncing back after spending four days in the hospital during training camp with Covid-19?
BJ: He's bounced back, I think. You always go, "hey," when a guy misses that much time, that he's not completely there yet. But he's showing signs of being his old self. More than signs. I think he's closer to being back than being hindered from it.
BN: The Bills have used multiple starting offensive line combinations since the beginning of last season, often out of necessity because of injuries. The team's overall record in that span is 19-5, including playoffs. Is the importance of consistency along the offensive line overblown?
Bills quarterback Josh Allen has moved into the favorite's role for league Most Valuable Player.
BJ: Ideally, in a perfect world, you'd like to have the same starting five every game throughout the whole season. But that very rarely happens. When a team goes that long or goes a whole season with the same starting five, it's an anomaly. Whether it be injuries or poor play or whatever it may be. Five guys operating like one person. That's five variables right there.
You'd love to have consistency. But the biggest thing is you want to have the performance consistency, regardless of who the five guys are out there. You want the line to perform at a consistent level.
BN: Ike Boettger started 10 games at guard last season, including all three in the playoffs, and filled in against Houston this season when Jon Feliciano missed the game with a concussion. How hard is Boettger pushing Feliciano for a starting job?
BJ: We've got competition, and that's the thing. At the end of the day, you try to find your best five. Right now, the five that we're putting out there are our best five. It doesn't mean that there aren't good players behind them. The fortunate thing is we have good players that aren't in the top five.
When you have a dip in performance or an injury, we have guys that we count on and that we believe in to go in and keep the consistent level of performance up.
If you don't have depth and you have one guy go down, now all of a sudden that consistent performance you're looking for takes a dip. And that's what you can't have.