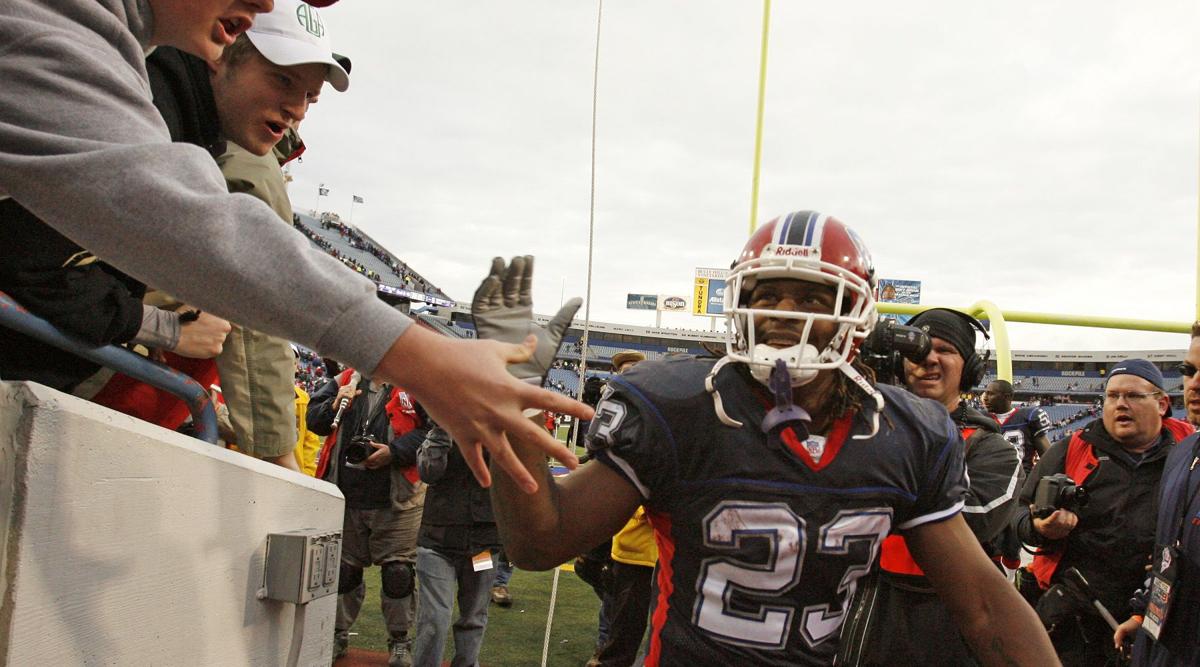 One word fills half the screen: Buffalo.
Its arrival is accompanied by a big, dark chord in the soundtrack.
Obviously, Buffalo was not Marshawn Lynch's favorite place to live.
That's certainly understandable. He had three seasons with the Bills during which he ran well but got into a hit-and-run mess in the wee small hours in Chippewa's bar district. A private settlement was reached, and he pleaded guilty to a charge. His license was revoked.
No one was under the impression the event was trivial.
According to David Shields' fascinating film "Lynch: A History," which hits iTunes in a couple weeks and will be shown around the country in various cities (Buffalo is not yet one of them), neither Lynch nor the Bills was sorry to say goodbye. In the Bills' next draft, they opted for C.J. Spiller, which Lynch obviously read as handwriting on the wall.
He wound up running in his bullish way for the Seattle Seahawks and then the Oakland Raiders with his "Beast Mode" running style.
It led to an 11-year total over 11,000 yards. It also led to one of the more deplored coaching decisions in Super Bowl history. Lynch's Seahawks were playing the Patriots and needed short yardage for a last-minute winning touchdown. Coach Pete Carroll called a pass that resulted in Russell Wilson throwing an interception rather than a run by a guy who could probably have gained 3 yards against the walls at Ft. Knox. (Confession: The Green Bay Packers used to say that about fullback Jim Taylor. I liked it so much I stole it.)
None of that is what "Lynch: A History" is about. Nor is it about the travails in snowy Buffalo of Oakland's native son. It's about athletes and race, and it's smart and provocative.
Shields is, perhaps, my favorite current American writer. It used to be true no two Shields books are alike. What's now true is that no two Shields projects are alike.
Shields' father was a sportswriter, which may account, in some way, for his film. Among previous Shields books are: "The Trouble with Men: Reflections on Sex, Love, Marriage, Porn and Power," "Reality Hunger: A Manifesto," "How Literature Saved My Life," "Enough About You" and "Black Planet: Facing Race During an NBA Season."
It's the last that is the clearest precedent for Shields' documentary film.
What fascinates Shields most about Lynch is his refusal to cooperate with the media during his Seattle career. Shields' previous interest in J.D. Salinger indicates some fascination with those who feel some revulsion at the ordinary manifestations of American fame.
That's not exactly Lynch, to be sure. He'll be seen on the next season of "Westworld." Shields' film shows Lynch in Seattle doing local TV commercials for "Beacon Plumbing." There is not a new interview with Lynch as part of this documentary.
Still, in Seattle, he was so famous for not showing up for media events that he was fined $100,000.
Which led to his famous news conference quote: "I'm just here so I won't get fined." He used it to answer questions and followed it with nothing else.
Among his other answers to questions: "Yeah" and "Thanks for asking." Followed, again, by nothing.
It's there Shields makes his fascinating case about Lynch's "Black Planet" as a son of Oakland and all the empty publicity rituals routinely required of black players by white team managements and an unsympathetic press.
As a member of the media, obviously my sympathy is always with the working journalists who need information to function. Players are prime sources — especially about themselves and their relationships to their teams.
A steadfast refusal to talk to the media is, nevertheless, certainly comprehensible when you're talking about football players (politicians are another matter entirely).
Not all questions are easy or even nice. Not all tough questions are necessary (again, unlike pols). Some members of the media can be disagreeable for no good reason. (I once listened to a fellow at a news conference give Rock Hudson an unpleasant and pointless hard time for reasons everyone knew but no one could then say publicly. It was a vile behavioral relic of an era I'm delighted is gone.)
A running back who revels in his "Beast Mode" on the field is probably a guy who should have been tutored thoroughly in the not-so-fine art of using a lot of words in a locker room to say absolutely nothing. Even better would have been a guy trained to tell all pertinent truths. Journalists are like most other people in this world: They tend to like anyone who likes them. The result of that is usually work that is clear, frank and significant.
But Lynch treated the Seattle media like an opposing team. Barack Obama is seen joking in Shields' film about needing Lynch to give him lessons in how to treat media.
Something deeper was going on with Lynch, and Shields is good at suggesting it. Professional athletes are paid staggering amounts of money. They're also — especially in football — putting their bodies and heads in serious harm's way to endure brutal punishment. In the past 25 years, we've learned harrowing things about the possible life consequences of all those concussions that athletes still sometimes seem to take for granted as an everyday risk.
What Shields sees is racist history and exploitation from every direction and silence and resistance as its most sensible answer.
A very public man who used to run in "Beast Mode" found a way, with much difficulty and resistance, to be silent about it.