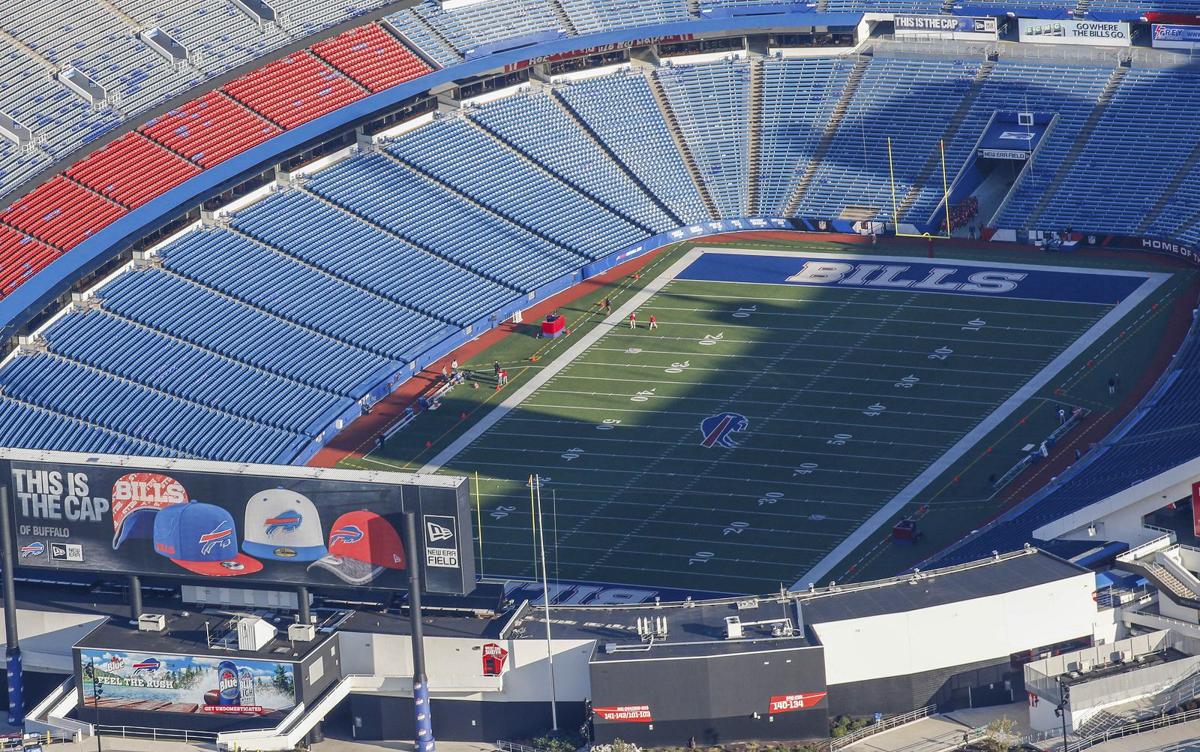 When it comes to Sunday home games, there might at times be a twinge of guilt among some football fans who find themselves choosing between attending church — and going to the stadium.
At least, not the weekend after next.
That may be the case for some who are headed to the AFC East matchup on Dec. 17, when the Buffalo Bills meet the Miami Dolphins at New Era Field in Orchard Park.
Faithful who are also football fans have an invitation from organizers to gather from 9:45 to 10:45 a.m. in the Ad Pro Sports Training Center, adjacent to the Bills stadium, for a nondenominational Christian service.
"We'll have seating for 500, but we could probably put another 500 for standing room if people show up," said Bill Hein, co-founder of the group known as Church at the Game.
Buffalo is only the second team in the league to offer such an event, after the Kansas City Chiefs, Hein said.
"Kansas City is now in their fourth year of doing it. Another gentleman and myself did go out and visit them in Kansas City last year. They have around 350 to 400 attend each week. They were the people who originated it. It was actually Clark Hunt, the owner (of the Kansas City Chiefs) who was behind starting it," Hein said.
"They do it at every home game, at every 12 o'clock game. If it's a night game or Monday night, they don't do it," he added.
Hein and the group's co-founder, Neil Boran, decided to pick up the mantle and bring the event to Buffalo after their success with Church at the Beach — another event that, for the past seven years, they have been holding at Crystal Beach, Ont.
"The service is right at the beach, where the park used to be," Hein said. "When we first started out ... we had 35 people. Now this past year, we have averaged 1,000 people."
Organizers are hoping the Bills gameday service has the potential to be just as successful, though, for now, it is scheduled as a one-time event.
"We did write to the Pegulas, Kim and Terry, and we were told that they approved it and this is a one-time event. If it is successful ... we were told that they would consider having more in the future," said Hein.
In addition to offering a convenience for those who prefer to enjoy church and the game on the same day, the event is also intended to help maintain and grow the Christian flock.
"This way they can miss church at their home church and still go to church," Hein said.
"We're there to promote the churches. We're not there to compete against the church, because we don't take any offering, and anybody who comes, we try to tell them to go back to their local church," he added.
Retired Bills quarterback and Pro Football Hall of Famer Jim Kelly and his wife, Jill, are scheduled to be in attendance.
"They're going to be, more or less, the opening greeting for people attending," Hein said.
Motivational speaker Reggie Dabbs of Ft. Myers, Fla., is scheduled to be guest speaker.
"He normally speaks to students, but he also speaks to many different churches and adults and sports fans," Hein said.
Also present will be a worship team, featuring Mo Badger, a Buffalo police officer, and Christian Rainville, a worship leader at the Tabernacle in Orchard Park. Worship leaders play music and lead the assembled in song before and after the speaker, Hein said.
He acknowledged that some who attend might be tempted to show up as a little extra insurance for the Bills.
"Well, (the Bills) could use a little of that (prayer), but that's not the purpose," said Hein. "If people want to pray for them, that's fine."