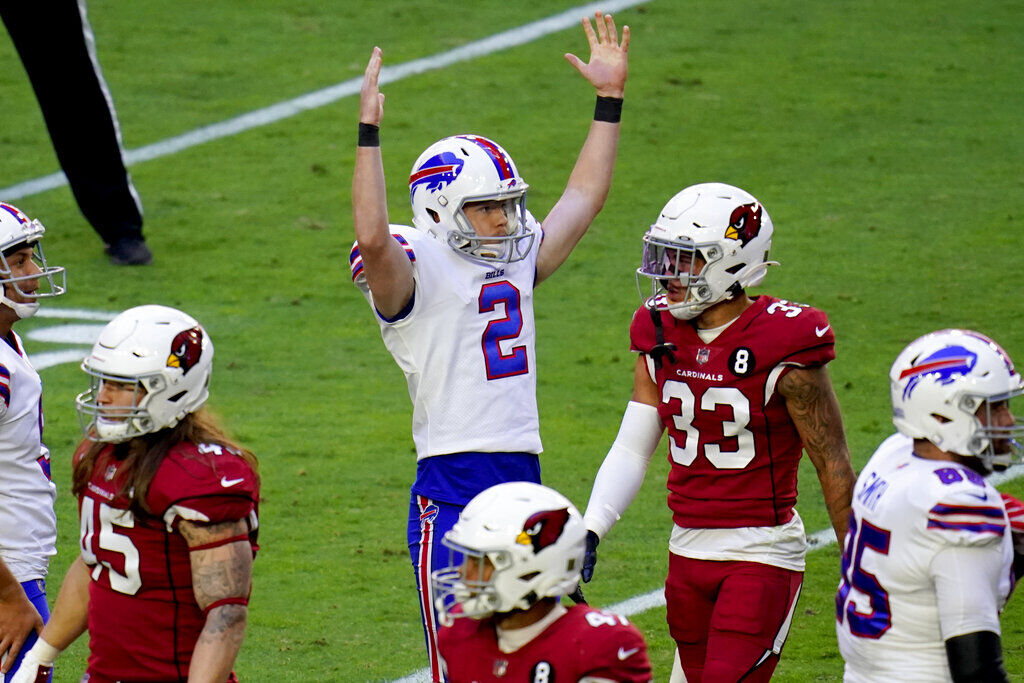 The linebacking duo of Tremaine Edmunds and A.J. Klein had a second consecutive strong game in the Buffalo Bills' 32-30 loss to the Arizona Cardinals.
Edmunds chased plays sideline to sideline and had 10 tackles. Klein had 11 tackles and again rushed the passer a lot. He was sent at the quarterback 11 times, according to Buffalo News charts and came up with a sack and four other hurries.
Here's a position-by-position grading of the Bills, based on video review and on a scale of 0 to 5:
Quarterback (3.0): Too bad DeAndre Hopkins and Kyler Murray kept Josh Allen from the 12th game-winning drive of his career. The two INTs bring down Allen's grade.
Receivers (4.0): Stefon Diggs caught four of his passes for 45 yards against Patrick Peterson, including the final TD. Cards slot corner Byron Murphy, who's pretty good, couldn't handle Cole Beasley, who caught five passes for 46 yards on him. The big downside was the illegal block penalty that Dawson Knox took at the end of a 21-yard catch-and-run by Devin Singletary.
Running backs (2.0): The running backs rushed 11 times for 35 yards, just a 3.2-yard average. If you count Allen going 4 for 25 on designed QB runs, which is fair, the average goes up to 4.0. On three run stuffs, the Bills ran into run dogs. Running against lighter boxes remains an area in which the Bills need to improve. The return of center Mitch Morse should help. Morse was having a strong season before missing the past three games due to the concussion. Zack Moss showed his power by running through 290-pound Josh Mauro for an 8-yard gain. Singletary dropped a screen pass that would have been a big gainer.
Offensive line (3.5): The line pass blocked on straight-up pass rushes very well and did a decent job handling the myriad of stunts and blitzes the Cards showed. Dion Dawkins handled Markus Golden, and Daryl Williams did well vs. Haason Reddick. Dawkins had a cut block on Budda Baker on the Allen TD catch. Jon Feliciano beat Angelo Blackson at the point of attack, and Brian Winters had a cut block to spring Singletary for a 14-yard gain. Feliciano was beaten by Blackson on a reach block to foul up a fourth-quarter Moss run. Brian Winters couldn't get to a reach block to foul up a run on a three-and-out drive.
Defensive line (2.5): Cardinals young left tackle D.J. Humphries is quality. He did a solid job, working mostly against Mario Addison. But Humphries benefits from blocking for Kyler Murray. For the defensive ends, the game was more about not letting Murray break containment. Murray scrambled four times for only 17 yards. The one time Murray got free of the D-line was when Addison bit on a read-option, and Murray got around him for the 15-yard TD run. Ed Oliver had a run stuff for a 4-yard loss and played disciplined, as well. Vernon Butler and Justin Zimmer likely showed enough stoutness to keep Harrison Phillips on the bench for the next game. Quinton Jefferson, however, was the least effective of the linemen. Playing stout is not his forte.
Linebackers (4.0): The Bills used a five-man front, with Edmunds as a stand-up edge defender, Klein as the middle linebacker and a defensive tackle head up on the center (some of the time) on 10 plays. All six times the Cards passed against these fronts, the Bills pressured. Murray was 2 of 6 on those plays, with three hurries and an interception. The pickoff, however, wasn't a result of the front. Murray had Larry Fitzgerald open and was off target with the pass. On the Cards' second to last drive, Klein blitzed up the middle from the five-man front on both first and second downs and forced two incompletions. On third-and-10, the Bills rushed seven men. Klein got a hurry again, and Taron Johnson made the clean-up sack.
Defensive backs (3.0): DeAndre Hopkins' 28- and 35-yard catches came vs. zone coverage. He caught only 2- and 4-yarders on Tre'Davious White ... until the Hail Mary TD. But the Bills stuck with their scheme and didn't match up. They trusted Dane Jackson, and he broke up an end-zone pass for Hopkins. Jordan Poyer continued his fine season, and almost had a spectacular interception on the goal-line break up in the second quarter. The tackling of Taron Johnson and Micah Hyde's tackling was excellent. Hyde took down Murray on a third-and-1 loss and had a third-down pass breakup vs. Fitzgerald. Daryl Worley, subbing for Jackson, missed a tackle that sprung Murray on a 28-yard read-option run. Siran Neal was used as a sixth defensive back on six plays.
Special teams (4.5): Tyler Bass' three 50-plus-yard field goals set a Bills record. Andre Roberts ignited another scoring drive with his opening 40-yard return. The Bills kept the Cardinals' inside the 25 on the first two kickoff coverages, with Andre Smith and Darron Lee making tackles. Good punt coverage by Siran Neal, Jaquan Johnson and Klein pinned the Cardinals back on their own 2 in the fourth quarter. The one big negative was Corey Bojorquez's dead shank of a punt for 12 yards.