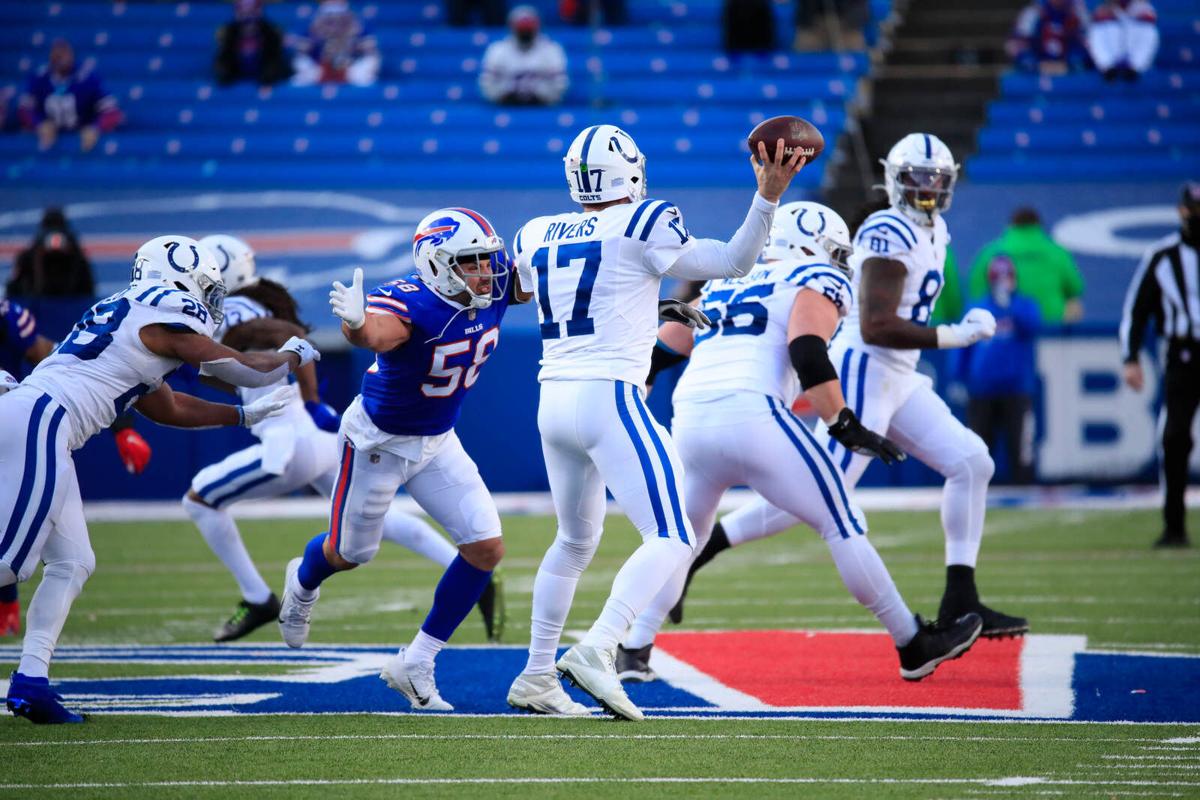 Linebacker Matt Milano was at his versatile best in Saturday's win over the Indianapolis Colts.
Milano led the Bills with 11 tackles. He used his range to make three tackles for 1 yard less in pass coverage. He had four run stuffs for limited yards. He added one pass breakup and one hurry on a blitz against Colts quarterback Philip Rivers.
The biggest sequence for Milano came on the Bills' goal-line stand late in the second quarter. Milano stopped a shuffle pass to tight end Trey Burton for 2 yards on a first-and-goal play from the 4. On second and goal from the 2, he filled a hole to stop Nyheim Hines for 1 yard on a direct-snap run off left guard.
Here's a position-by-position grading of the Bills' win over Indianapolis, based on video review and on a scale of 0 to 5:
Quarterback (4.5): Josh Allen manufactured five scoring drives in nine possessions, despite the fact that the Bills' average drive start was their own 15. He completed 12 straight passes in the second half, a Bills playoff record. His 74.2% completion rate broke the playoff mark of 73.9 set by Jim Kelly in the 51-3 win over the Los Angeles Raiders.
In the 27-24 win against the Colts, Allen passed for 324 yards and two touchdowns, with no interceptions, for a passer rating of 121.6.
Offensive line (4.0): Where was Colts speed rusher Justin Houston, who had eight sacks this year and 97.5 for his career? Mostly invisible, thanks largely to Dion Dawkins, who faced him two thirds of the time and did not give up a single hurry in one-on-one blocking. (Dawkins might have given up one edge pressure on a blitz, depending on his assignment.) Daryl Williams gave up just one hurry, by The News' count. The Bills' "middle three" had a tough job. But All-Pro DeForest Buckner managed just three hurries and one hit on Allen. Ike Boettger and Jon Feliciano faced Buckner about equally, and Mitch Morse helped with double teams on him. Buckner stood up Morse on one third-and-1 run stuff. Morse did a good job blocking Buckner on a key, third-down pass to Cole Beasley. Boettger failed to get a block on Al-Quadin Muhammad on the third-down QB sweep where Allen was tackled for a 5-yard loss. Tyquan Lewis beat Feliciano to create the big sack play on the Bills' last drive. The other sack was due to the Colts' good coverage. Overall, the Bills were very good in pass protection.
The way Gabriel Davis explains it, the process of making spectacular toe-tapping catches on …
Receivers (4.5): One reason the Bills' passing attack is so tough is that they can go to their third option and get key plays. Gabriel Davis' 85 receiving yards were the most ever by a Bills rookie wideout in a playoff game. The Colts don't match up their cornerbacks. So the Bills were able to get Stefon Diggs one on one against the Colts' weakest corner, T.J. Carrie, for the fourth-quarter TD. Good thing Beasley gutted it out on a sore knee. The Bills needed him.
Running backs (3.0): The Bills called 40 pass plays and 18 runs. Only 10 runs were by Zack Moss and Devin Singletary. Singletary had a fine blitz pickup of Darius Leonard on a 16-yard pass to Diggs in the second half. He also ran through two arm tackles on a key, late 13-yard rush.
Defensive line (3.0): The Bills sold out to stop the run, and it worked. Jonathan Taylor had 14 carries for 40 yards in the first half and averaged just 3.7 for the game. The Bills had eight or more men in the box on 10 of his 21 carries, and he averaged just 2.4 yards on those plays. The Bills' pass rushers did not record one hit on Philip Rivers, according to The News' charts. The Colts' offensive line was as good as advertised, and Rivers played a sensational game. However, Mario Addison got a key hurry on the fourth-and-goal incompletion just before halftime. Rivers had to backpedal and couldn't hit Michael Pittman Jr. in the end zone. Addison had three hurries. Ed Oliver managed just one hurry, going up a lot vs. All-Pro Quenton Nelson. Oliver kept hustling. He dropped into coverage late to force a key drop by Hines on the final drive.
Linebackers (4.0): Milano was the star, but Tremaine Edmunds had a strong game, too. He had three run-stuffs among his nine tackles and two pass break ups. The Colts' star center, Ryan Kelly, got 12 yards downfield to block up Edmunds on the 33-yard run by Hines. The Bills blitzed Rivers on 13 of 43 dropbacks, and the timing was good. Rivers was 8 of 13 for 118 yards against the blitz, but just 4 of 8 in the second half.
Defensive backs (3.5): By committing so many men to stopping the run, the Bills played a ton of single-safety-high coverages, and that meant some tough man-to-man assignments. The Colts responded with good strategy. They ran a lot of "mesh" concepts, with two receivers running shallow crossers from opposite directions. That's how Zach Pascal got free on his 9-yard TD catch. Rivers was 10 of 12 for 135 yards on crossers. Even though Rivers passed for 309 yards, it was a good day for the Bills' secondary. Jordan Poyer had nine tackles and two run stuffs. He missed a tackle on a 29-yard run. Micah Hyde had two big third-down pass breakups early and a couple run stuffs. Tre'Davious White defeated the block of tackle Jared Veldheer on the third-and-goal pitch play. Taron Johnson shot through and assisted on that tackle. White might have had the coverage bust on the last Colts TD. But White had a big pass breakup with 50 seconds to play.
Bass' field goal Saturday was the longest in playoff history for a rookie.
Special teams (4.5): Tyler Bass came through again with two field goals and booming kickoffs. His 54-yard field goal bumps up the grade. Corey Bojorquez executed four effective punts to help mitigate the field-position problems. His first went for a net 54 yards with a 4.85 hang time. His next was for a net 47 right on the sideline. This third was 58 yards for a net 44. The Colts' special teams were good, too. Superb kickoffs pinned the Bills deep on two first-half drives.