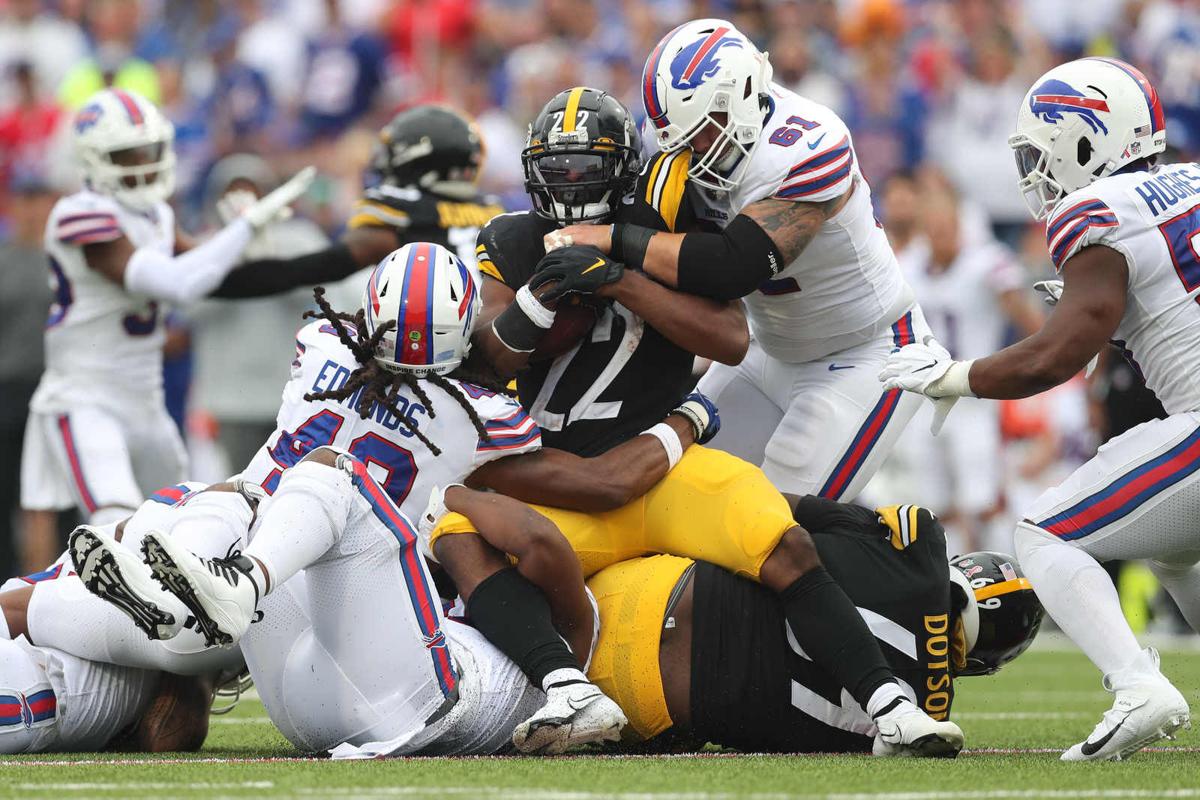 If you found out Sunday morning the Pittsburgh Steelers would manage only 252 net yards against the Buffalo defense, you would have expected a Buffalo Bills victory.
That total was way below Pittsburgh's season average of 334 a game last season. Offense and special teams let down the Bills in the season opener, but the Bills' defensive grades are good from Sunday's 23-16 loss. Here's a position-by-position grading of the Bills' game, based on video review and on a scale of 0 to 5:
"Yes, it's still very early in the season, but another loss would turn the disappointment of the defeat to the Steelers into full-blown panic," Jay Skurski says.
Defensive line (4.0): The most encouraging development for the defense was the stoutness against the run. This wasn't the toughest run-defending challenge the Bills will face, due to the fact the Steelers have two rookie offensive line starters. Still, holding Pittsburgh to 75 yards and 3.6 a carry should have been the prescription for a victory. Tops among the run defenders was Ed Oliver, who consistently pushed linemen backward. He overpowered Kevin Dotson, Trai Turner (twice) and Kendrick Green for run stuffs. That included a 4-yard tackle for loss that resulted in the Steelers settling for a field goal. He also beat Green for a hit on the quarterback. Harrison Phillips created two second-half run stuffs from the 1-technique position, and Justin Zimmer got good push on a couple plays late in the second quarter. Against the pass, Jerry Hughes was most effective, with three hurries, including a third-and-goal rush that forced a field goal. Greg Rousseau started off strong. He used his long arms for a run stuff on the first series, set the edge well overall and defeated a cut block on a first-and-goal play. In the fourth quarter, he didn't get much heat going against tight end Zach Gentry. Mario Addison's sack came on a three-man rush when he beat rookie Dan Moore.
The Bills probably left their offensive tackles on an island too often in Sunday's 23-16 loss to the Pittsburgh Steelers.
Linebackers (4.0): Matt Milano was outstanding. He had a sure tackle in pass coverage on Najee Harris at the 2-yard line to prevent a touchdown. He also wasn't fooled by fake motion on a 2-yard TFL in the fourth quarter. With the D-line keeping him mostly clean, Tremaine Edmunds filled his gaps.
Defensive backs (3.0): The Steelers targeted Tre'Davious White four times. He gave up two catches for 32 yards. They targeted Levi Wallace 10 times. He gave up four catches for 25 yards and a TD, plus two penalties for another 31 yards. That's 56 total yards allowed, not a bad total. But when the Steelers desperately needed to make a play, Wallace is who they attacked. The tackling by the secondary was excellent. Taron Johnson had a key third-down pass breakup vs. JuJu Smith-Schuster and an end-zone breakup vs. Eric Ebron. The Bills stayed in the nickel defense every play of the game. Jordan Poyer had six tackles, including a sack. He was sent to rush the passer four times.
"I think anytime a play doesn't work, you always want it back. But we're trying to call plays that give us a chance here, and maybe spring a big one, and they did a good job," offensive coordinator Brian Daboll said Monday.
Quarterback (2.0): The Bills produced 371 yards. Only one team last season gained more than that against the Steelers' defense. The point is: The Bills' attack can move the ball. And despite being under duress, Josh Allen had no interceptions. Allen's big miss was the deep overthrow to wide-open Emmanuel Sanders. Look for defenses to continue to sit back and test Allen's patience. He rushed for 44 yards on nine carries and only one was a scramble. That kind of running by the QB probably will need to continue.
Running back (3.0): Devin Singletary averaged 6.5 yards a carry. He ran through contact. The only criticism is he should have run more. Steelers safety Minkah Fitzpatrick was sensational in his versatility in run support, deep coverage and slot coverage. He made a huge play to stop Matt Breida on a third-and-3 run early in the fourth quarter, swooping in from a deep-half position to trip up the RB for a 2-yard gain. The Bills tried the failed pitch-back on the next play.
Receivers (2.5): We can't lay much blame on the wideout corps. With the Steelers dropping seven in coverage, it was an underneath receiving game. It was no surprise Cole Beasley caught eight passes. Fitzpatrick made a great breakup of a key third-down pass for Beasley at the Steelers' 20 late in the third quarter.'
Emmanuel Sanders finished with four catches for 52 yards in his first game with the Bills.
Offensive line (1.5): Cody Ford didn't have quite as tough a matchup as Jon Feliciano, who faced Casey Heyward most of the time. Ford had a good pull block on Melvin Ingram on a 15-yard run. The News had Ford for three pressures allowed, including one on a switch against T.J. Watt, who made a sack. The coaches trusted Ford to play 75 snaps, while Ike Boettger relieved him for just two series (10 snaps).
Special teams (1.0): As was written Sunday, Jaquan Johnson appeared to be the man who missed the block on the Steelers' pivotal block of Matt Haack's punt. The fault was not that Haack was slow. He got the punt off in 1.95 seconds. Anything under 2.1 is acceptable and under 2.0 is good. On Isaiah McKenzie's 75-yard kickoff return, Jake Kumerow and A.J. Epenesa made the initial blocks to seal the inside, and Reggie Gilliam sealed the outside. Siran Neal made a good block after McKenzie broke through the first gap.