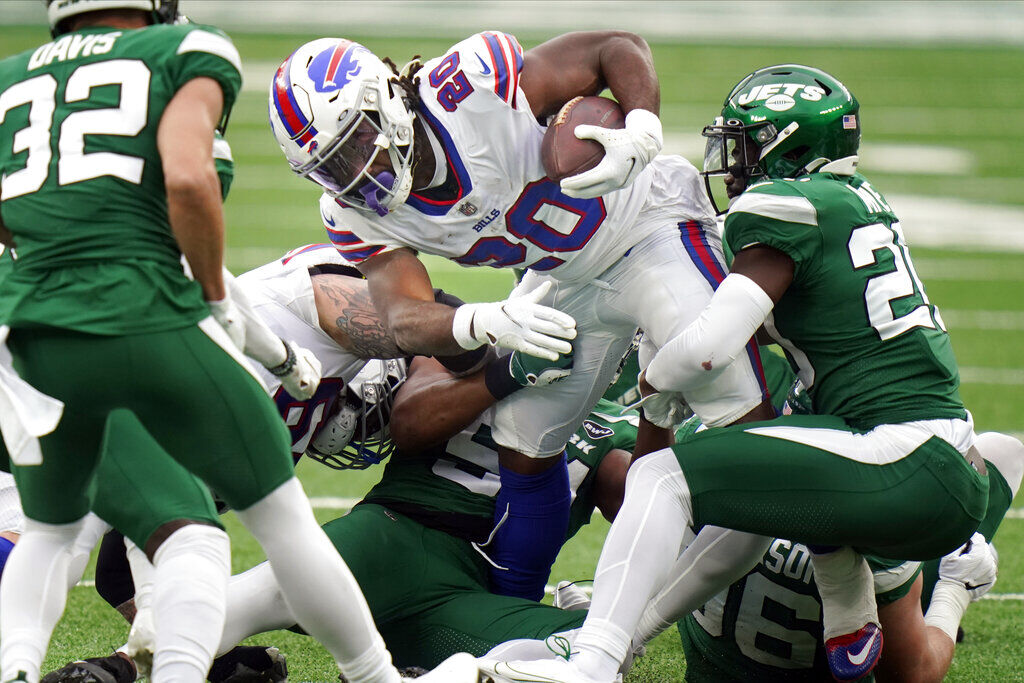 The oversimplification of the Buffalo Bills' red-zone problems Sunday in New York is: penalties, play-calling, run-game misfires.
The Bills went 0-for-5 in the scoring area in their 18-10 victory against the Jets. Red-zone touchdowns had not been a problem the first six weeks. The Bills' offense entered the game ranked seventh in the NFL in the red zone, scoring touchdowns 74% of their trips inside the 20.
Quarterback Josh Allen is the Bills' best asset in the red zone, because of his run-pass, dual-threat ability.
Here's a breakdown of why the five red-zone chances failed:
1. Guard Ike Boettger committed a holding penalty on a first-and-goal play from the 7.
2. Jets edge defender Bryce Huff wasn't fooled on an end-around run by Isaiah McKenzie, and the play lost 11 yards. It was a risky call that didn't work.
3. An illegal formation penalty on Gabriel Davis wiped out a 22-yard touchdown pass to Davis. The rookie receiver was about a half a yard off the line of scrimmage, instead of on it, at the snap.
4. Another third-quarter threat was foiled when a first-down run went for 1 yard, the Jets smelled out a second-down screen pass and a blitz forced a throwaway by Allen on third down.  
5. Jets safety Marcus Maye was the extra defender vs. the run to stuff a second-and-5 run from the Jets' 7. Then good coverage caused a third-down sack of Allen.
Here's a position-by-position grading of the Bills, based on video review and on a scale of 0 to 5:
Quarterback (4.0): Once upon a time, the Bills went 59 consecutive games without a 300-yard passer (during the J.P. Losman/Trent Edwards era). Now Allen has four 300-yard games this season. Coordinator Brian Daboll continues to show confidence in his QB. The Bills called 15 consecutive passes to open the game. Allen showed good patience in attacking the Jets' two-deep safety looks by hitting receivers underneath. He had a late trigger on a third-down incompletion for Stefon Diggs in the second quarter, but he might have been impacted by pressure up the middle. Allen should have handed off on a third-and-2 run stuff in the fourth quarter. Allen is completing 67.6% of his passes, 11th in the NFL. Every Bills fan would have been ecstatic with that figure before the season.
Running back (3.0): Devin Singletary and Zack Moss combined on 15 carries for 76 yards, a 5.0 average. That's encouraging. They both were good in pass protection, as well.  
Receivers (3.0): It was a solid outing. Diggs had his fourth straight game of six-plus catches (only Eric Moulds and Lee Evans have done that before for the Bills). Cole Beasley had his fourth 100-yard game for the Bills. Tight end Tyler Kroft produced a big play.
Offensive line (3.0): The Jets don't have elite edge rushers, but the Bills' tackles handled them well, with the exception of the strip-sack allowed by Daryl Williams. That came against Tarell Basham, who was lined up in a wide position. Williams gave up two other hurries but was mostly solid. He blocked up John Franklin-Myers, who had been playing well. Left tackle Dion Dawkins had a clean sheet. No hurries allowed. Boettger had a tough day. He gave up six hurries by The News' count and was flagged for a key holding penalty. Boettger blocked up Quinnen Williams well on the 36-yard pass to Kroft, but the talented Williams was tough rushing the passer and credited with a season-high five pressures (one sack, one hit and three hurries). Bills center Mitch Morse was good again. Jets nose tackle Folorunso Fatukasi wasn't nearly as impactful as Steve McLendon, traded last week to the Bucs.
Defensive line (4.0): Jerry Hughes got the headlines with two sacks and four other hurries. He played 29 snaps on the left and four on the right, with Mario Addison seeing all his duty on the right side, which he prefers. Ed Oliver was second best on the D-line. He consistently played with power. He made two run stuffs early from the 1-technique spot and got three hurries. Vernon Butler saw the most duty in the 1-technique position, over a shoulder of the center. He played 18 snaps there, by The News' unofficial count. Justin Zimmer played 12 1-T snaps, while Oliver played six.
Linebackers (3.5): Tremaine Edmunds had some up and down moments vs. the run but was strong in coverage. His good zone drops caused Sam Darnold trouble on third downs. A.J. Klein doesn't engage in the run game as quickly as Matt Milano. Klein had a good first-down run stop in the fourth quarter. Milano played 19 snaps and made an impact. He dogged up the A gap to force the fourth-and-1 stop.
Defensive backs (5.0): Jets rookie Denzel Mims said after the game that the Bills matched Tre'Davious White on him the second half. It wasn't the case. White played to the field side, as usual, covering the X receiver. In the second half, White lined up vs. Breshad Perriman as often as he did Mims. Rookie Dane Jackson showed his savvy by picking off Darnold in the second quarter. Jackson said it was a "blue" coverage, which is a Cover 2 matchup zone look. Jackson read the QB and bailed off the underneath receiver to make the play. Jackson also had a third-down pass breakup vs. Mims to force a field goal and tight coverage on Mims on a third-down incompletion in the fourth quarter. Taron Johnson had a superb third-down pass breakup, raking the ball out of Braxton Berrios' arms. Johnson tackled well, too.
Special teams (3.5): The Bills became first NFL team since at least 1940 to win without a punt or a TD, according to the team's PR staff. It was the fourth game in franchise history in which Buffalo did not punt and the first since the famous no-punt win at San Francisco in 1992. Tyler' Bass' two misses keep the grade from being an A-plus. Still, the Bills kicking units outplayed the Jets. Andre Roberts continued his sensational season with a 58-yard kickoff return against his former team. He simply outran the Jets' Nate Hairston and Matthias Farley up the sideline. Kickoff coverage was good.  
Buffalo Bills vs. New York Jets
Bills Jets football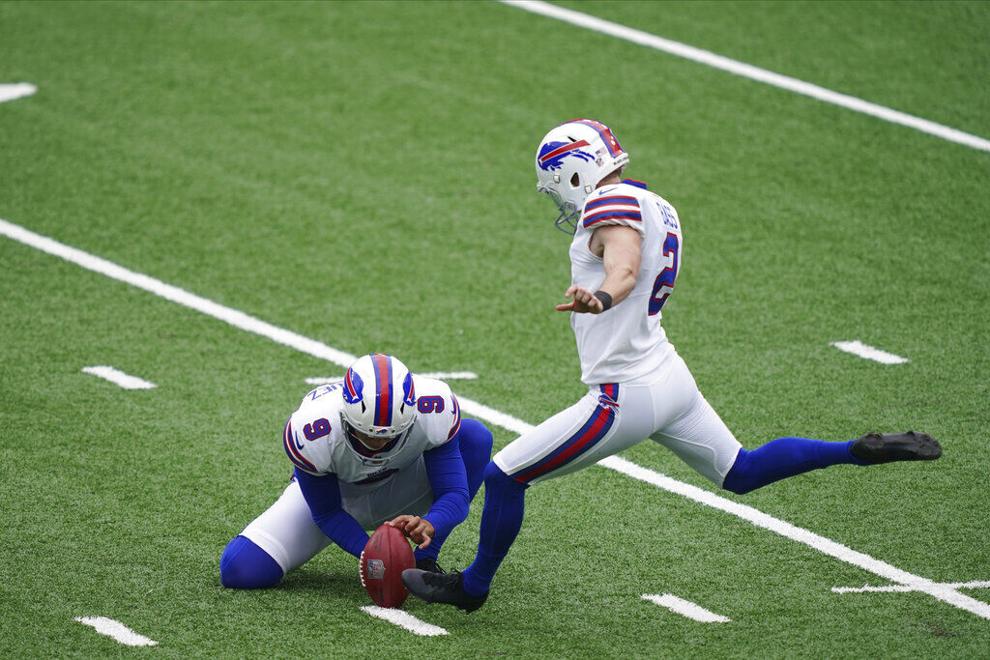 Bills Jets football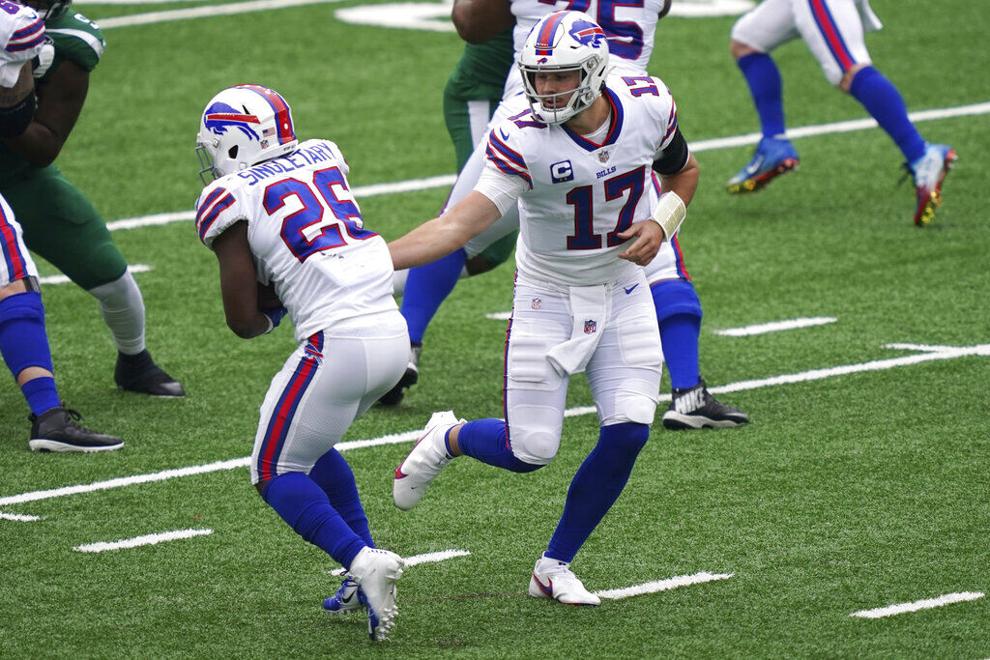 Bills Jets football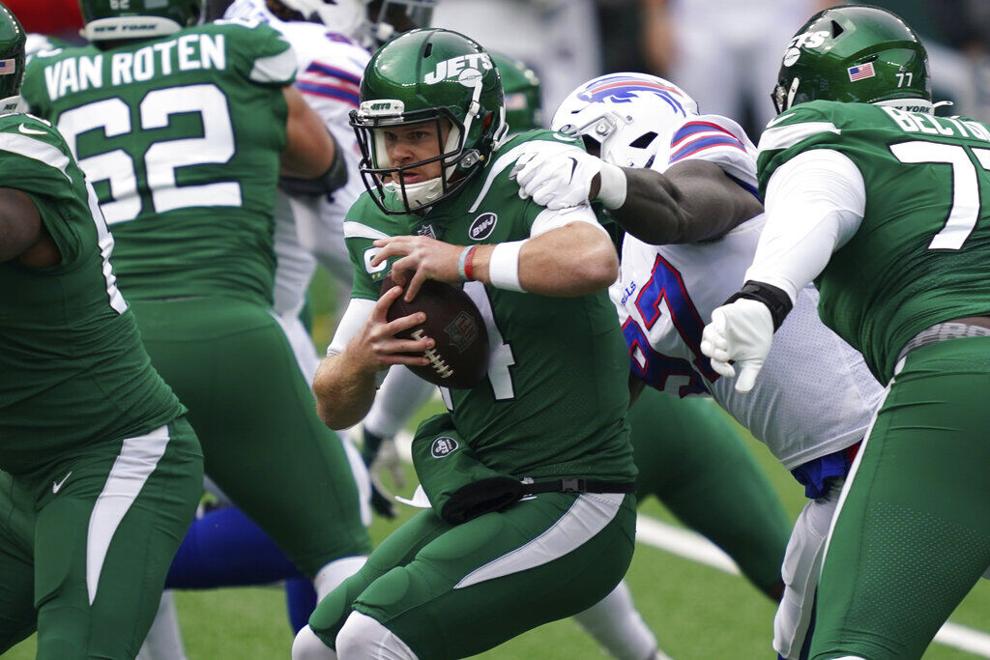 Bills Jets football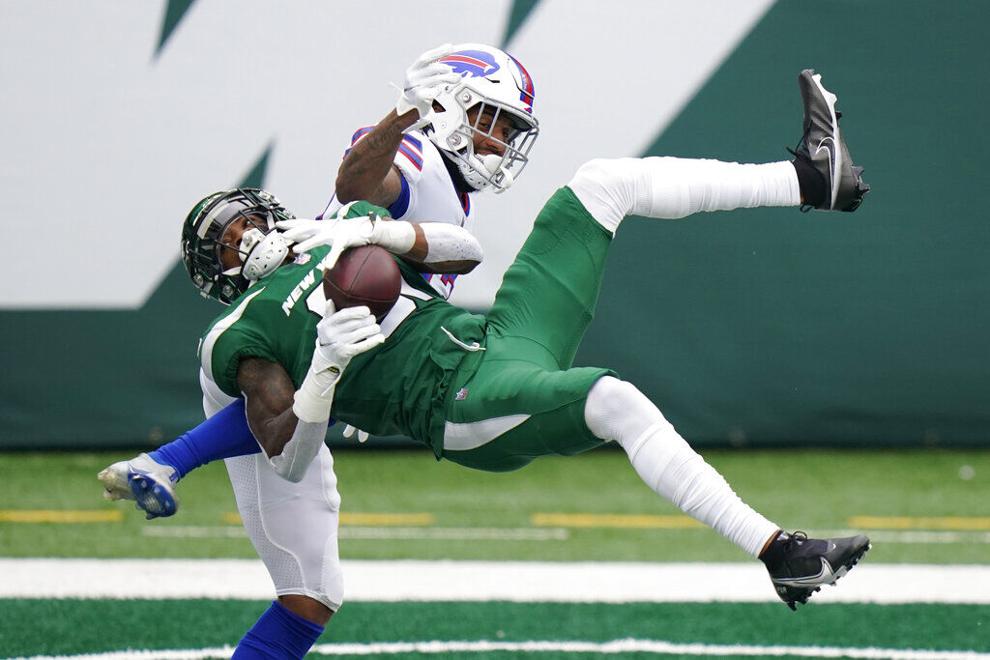 Bills Jets football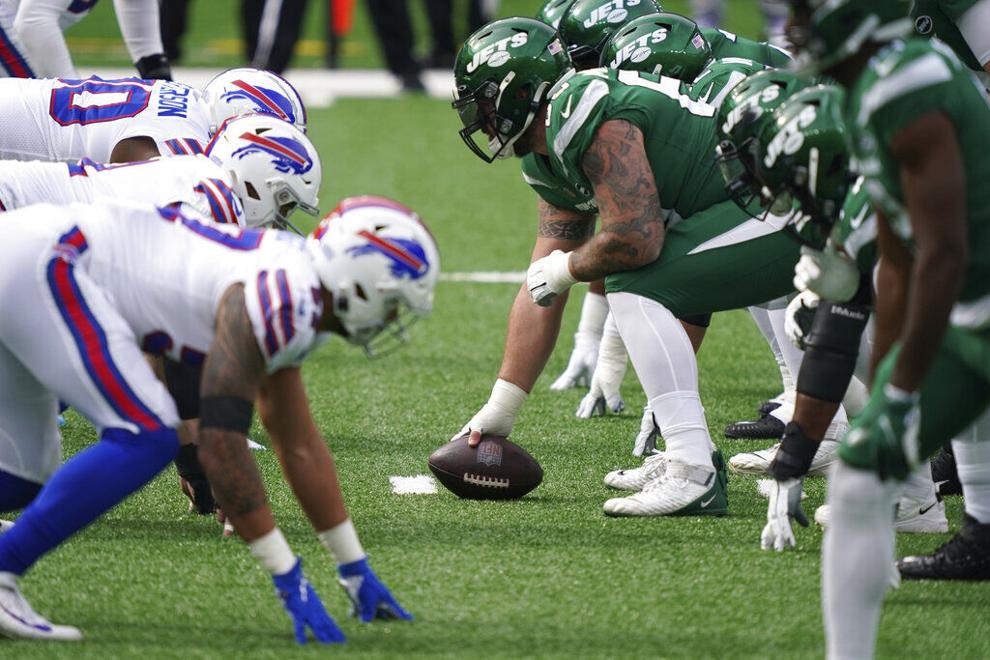 Bills Jets football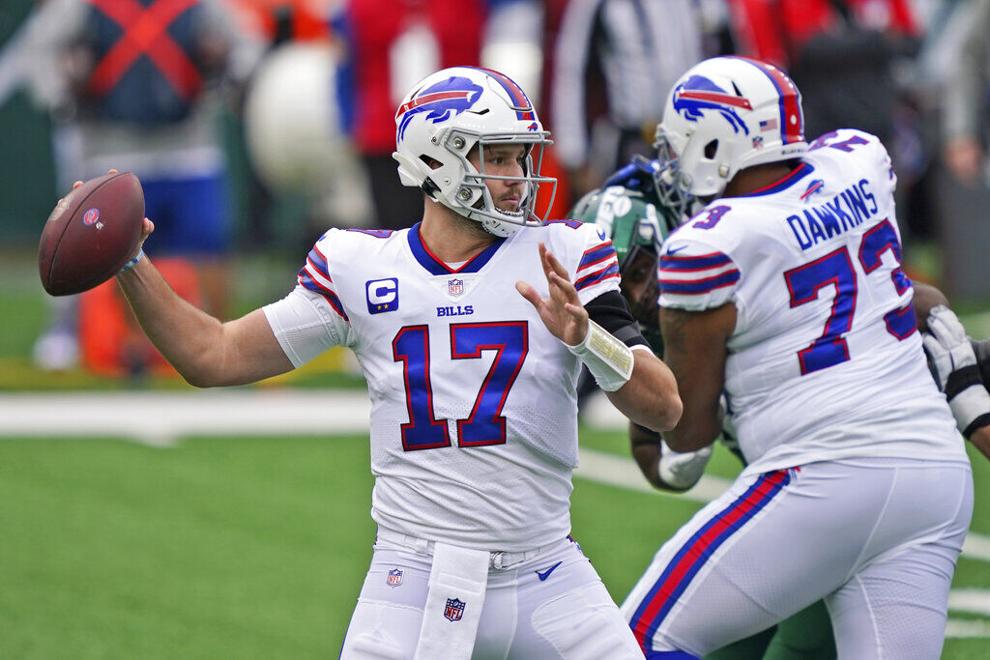 Bills Jets football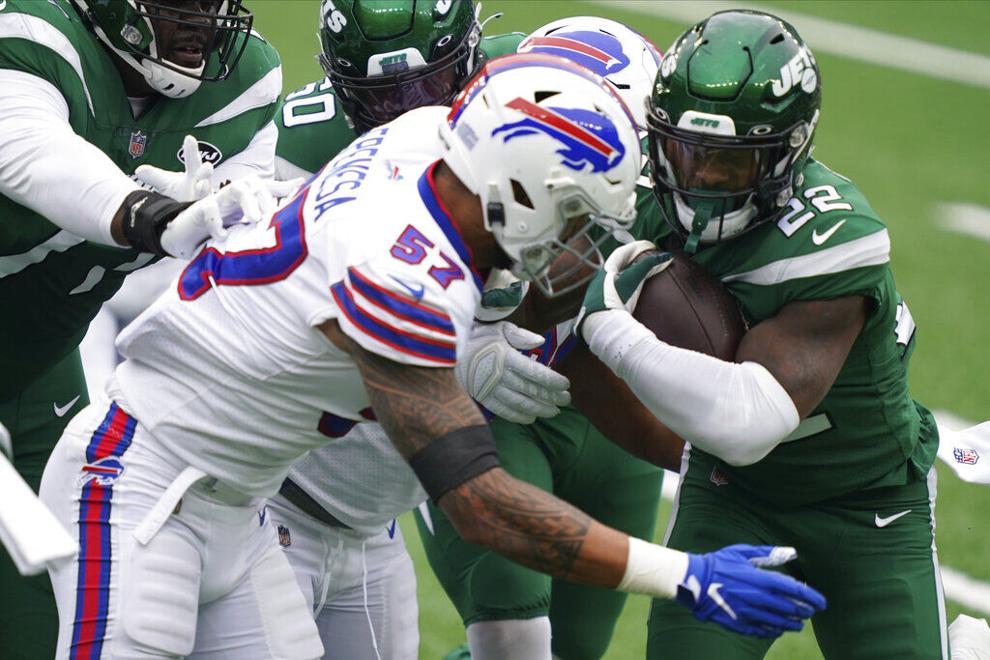 Bills Jets football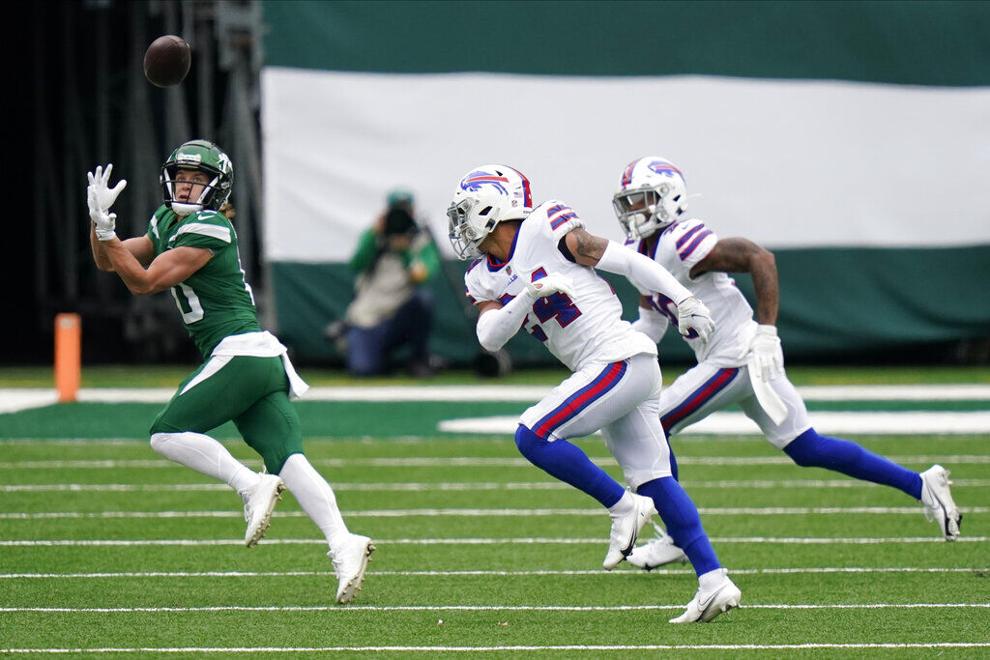 Bills Jets football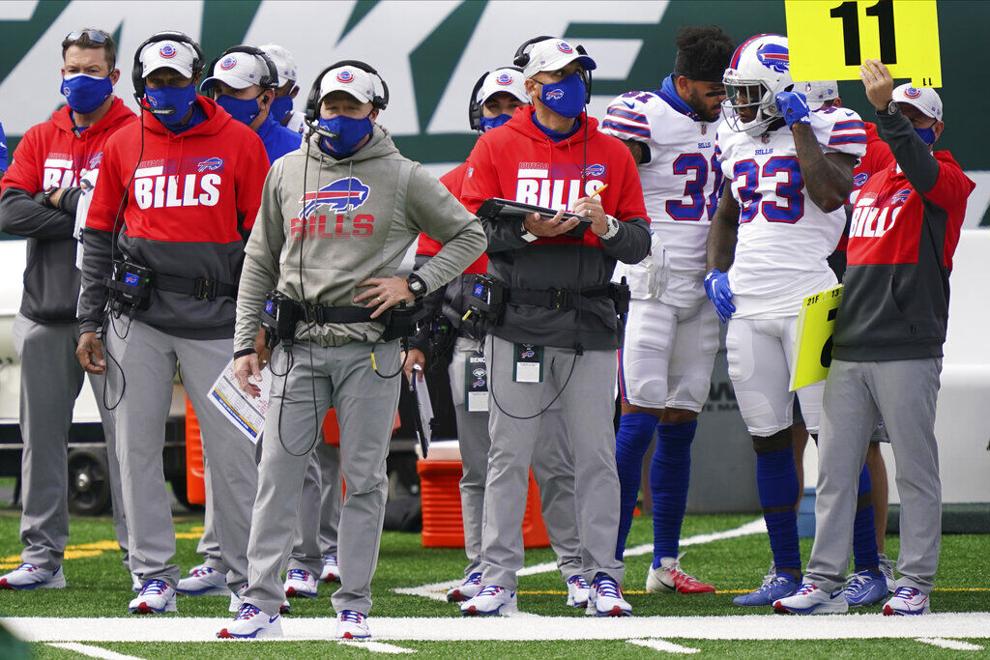 Bills Jets football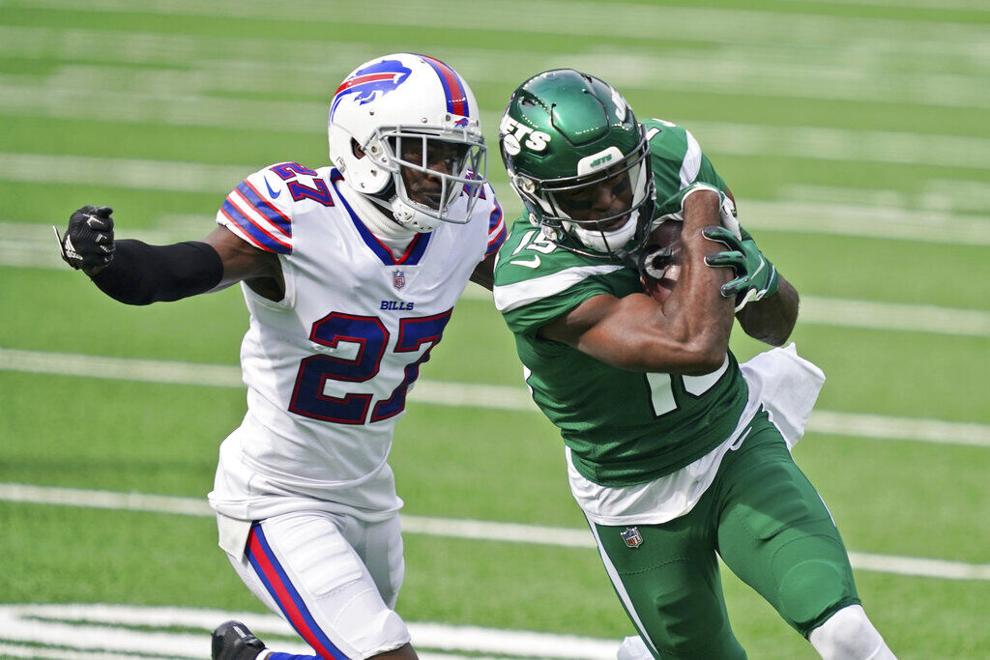 Bills Jets football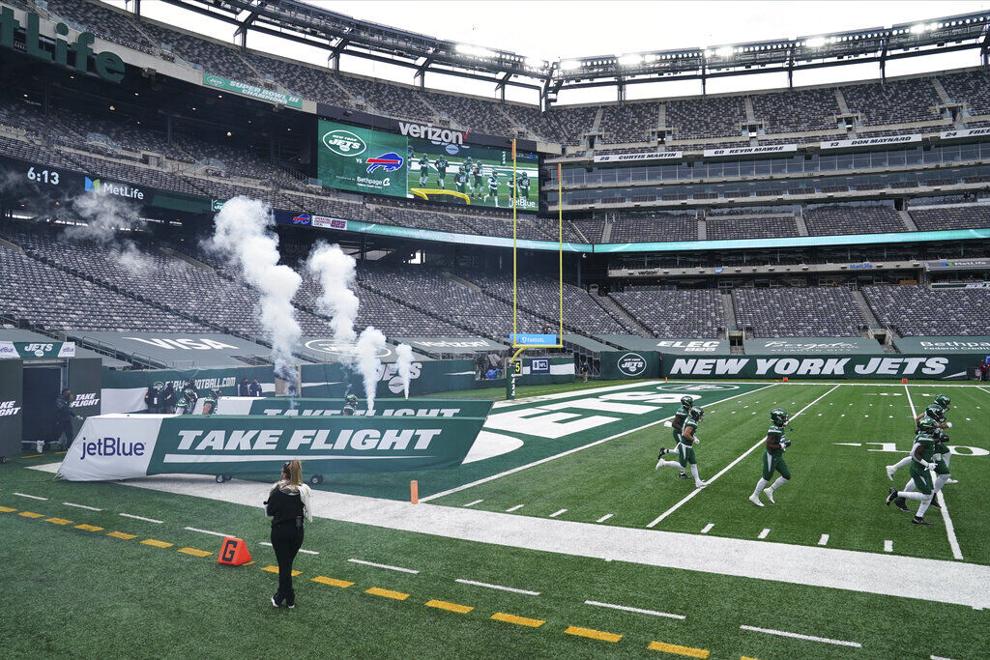 Bills Jets football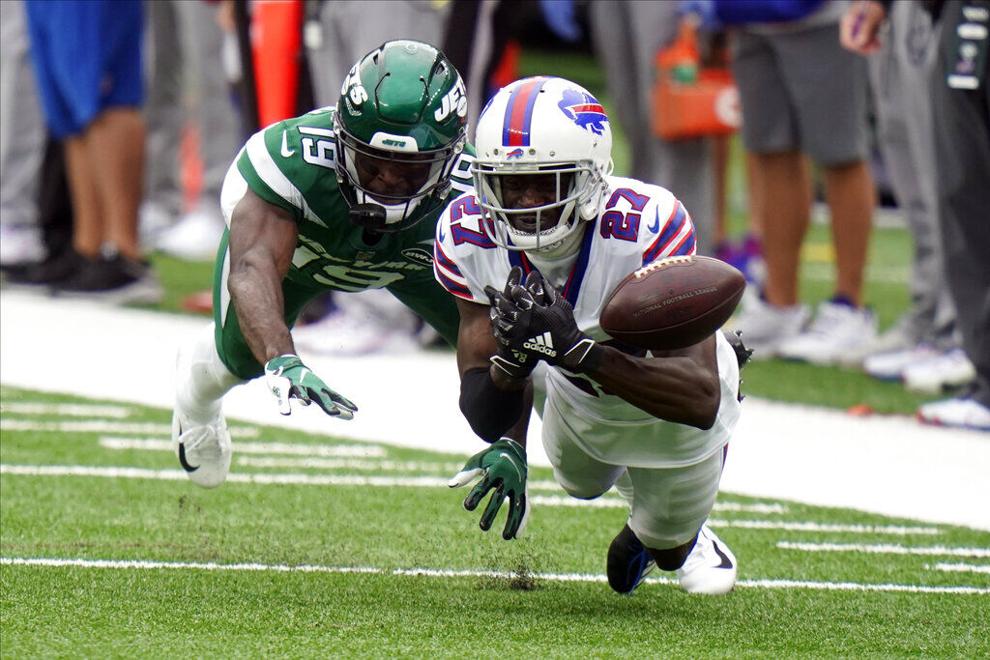 Bills Jets Football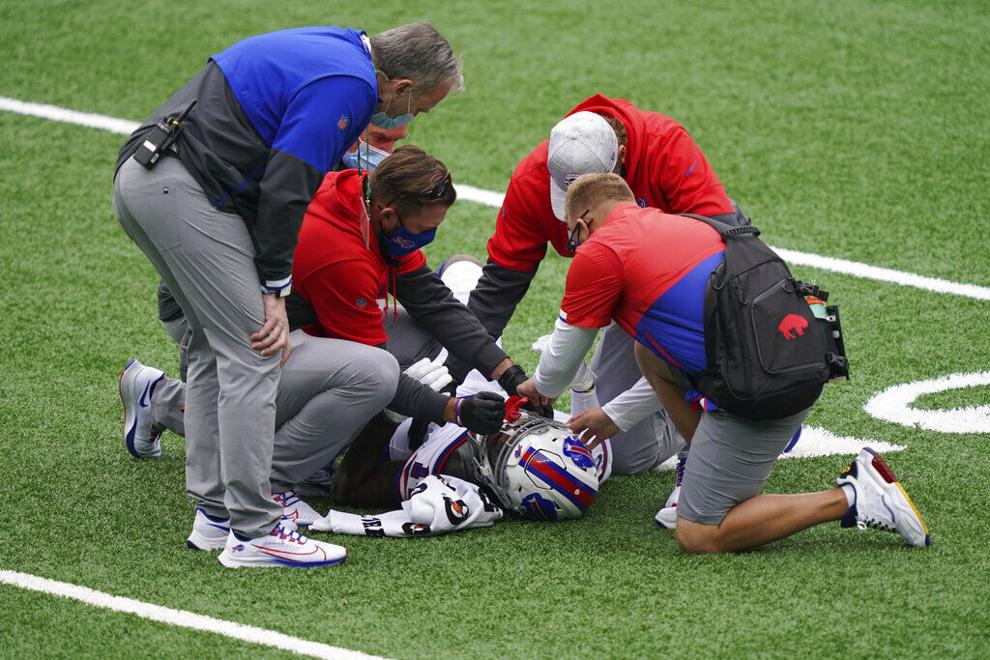 Bills Jets football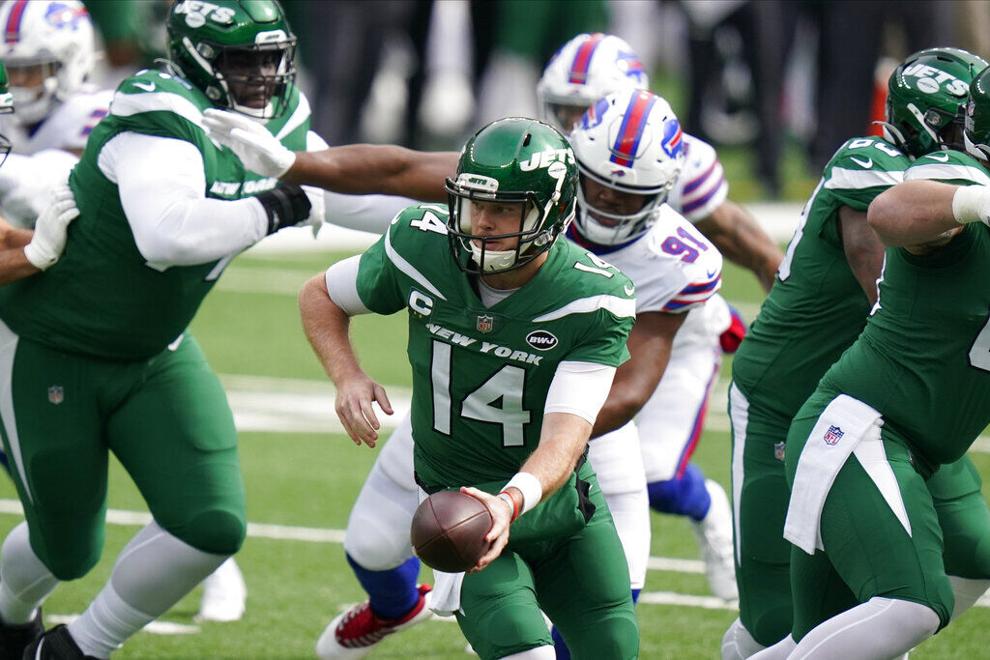 Bills Jets football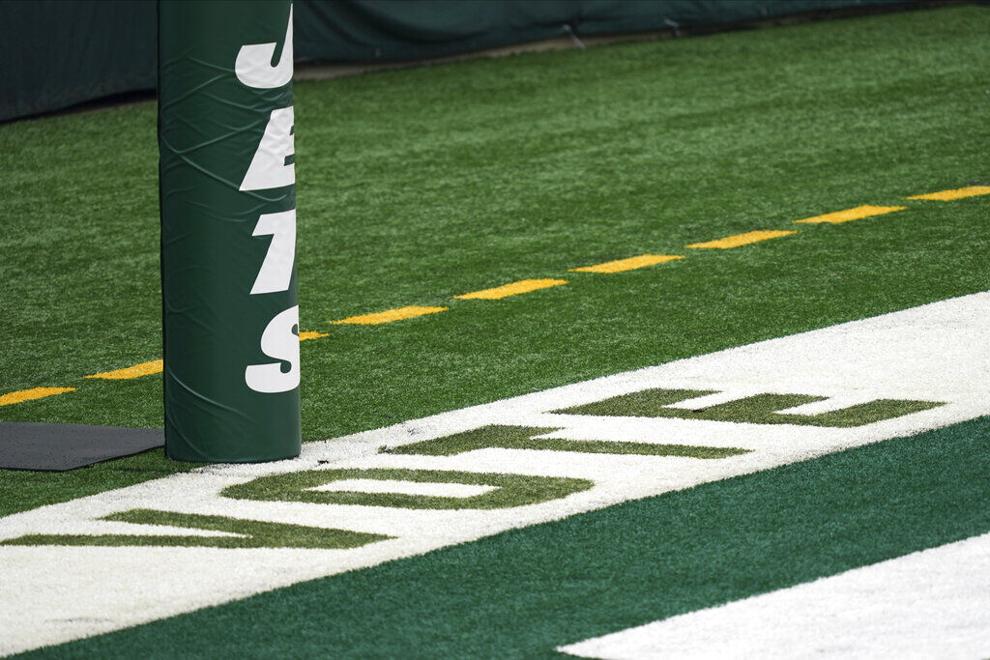 Bills Jets football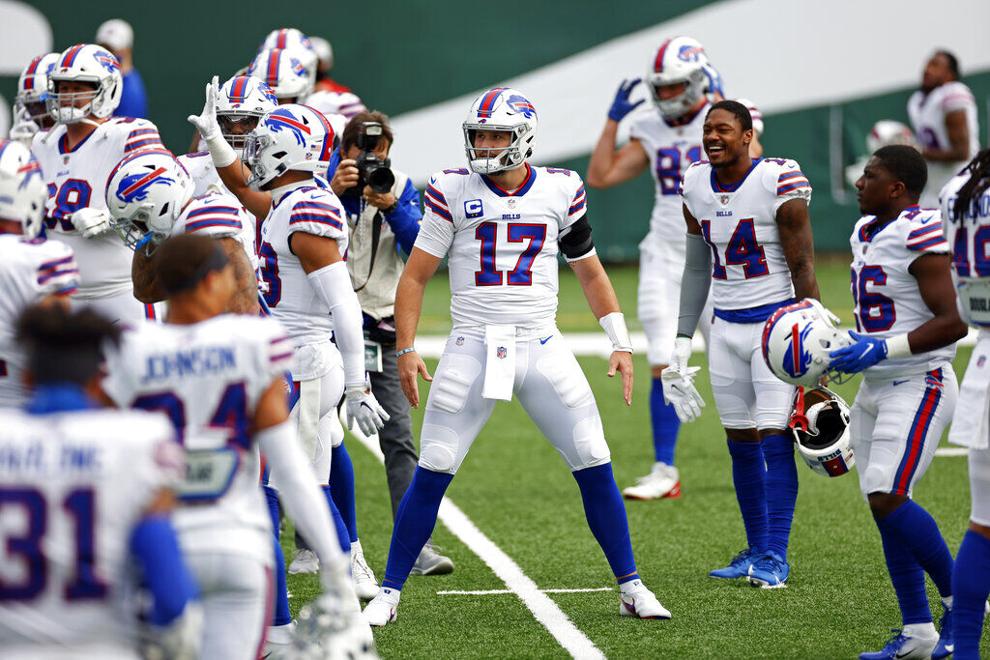 Bills Jets football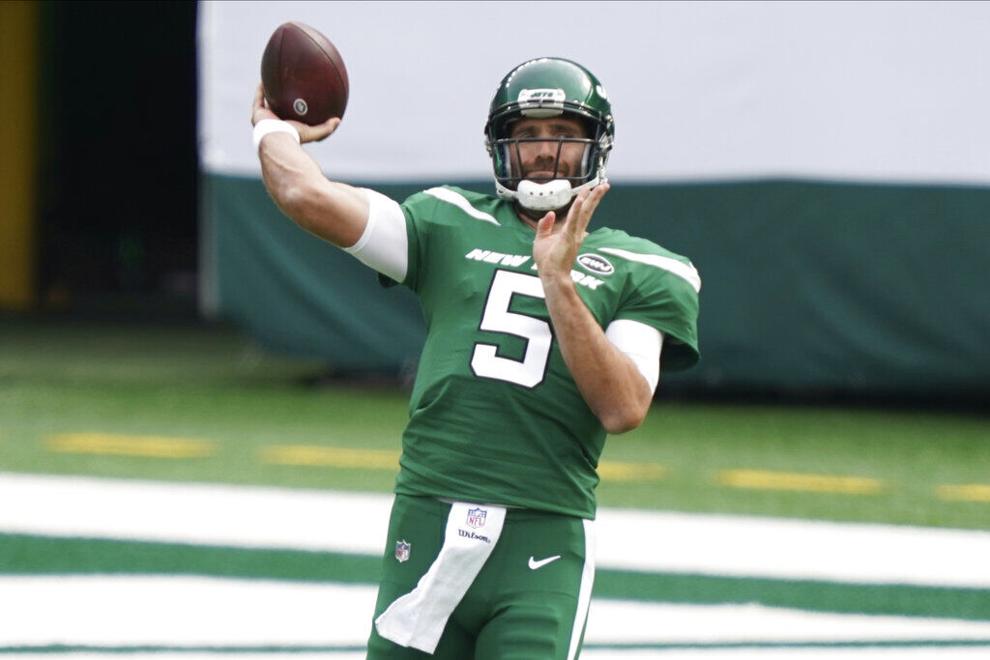 Bills Jets football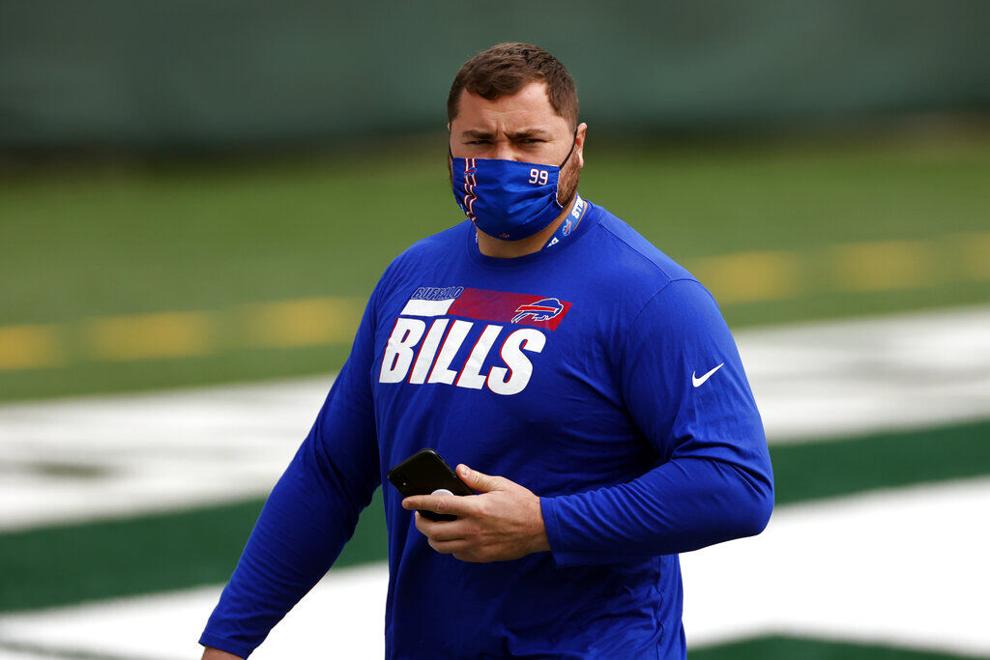 Bills Jets football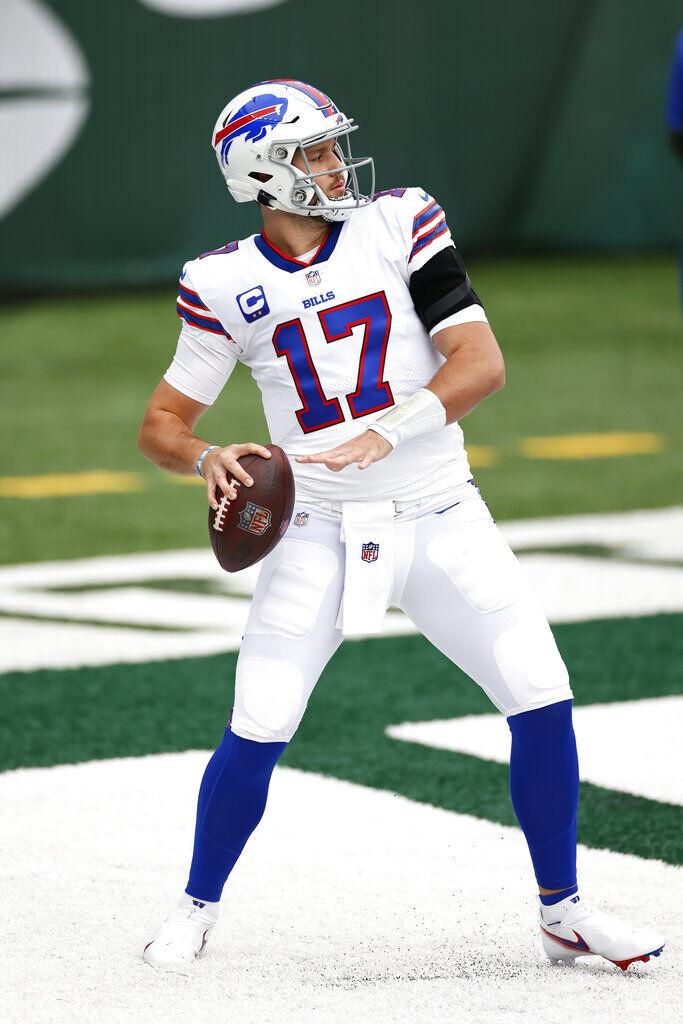 Bills Jets football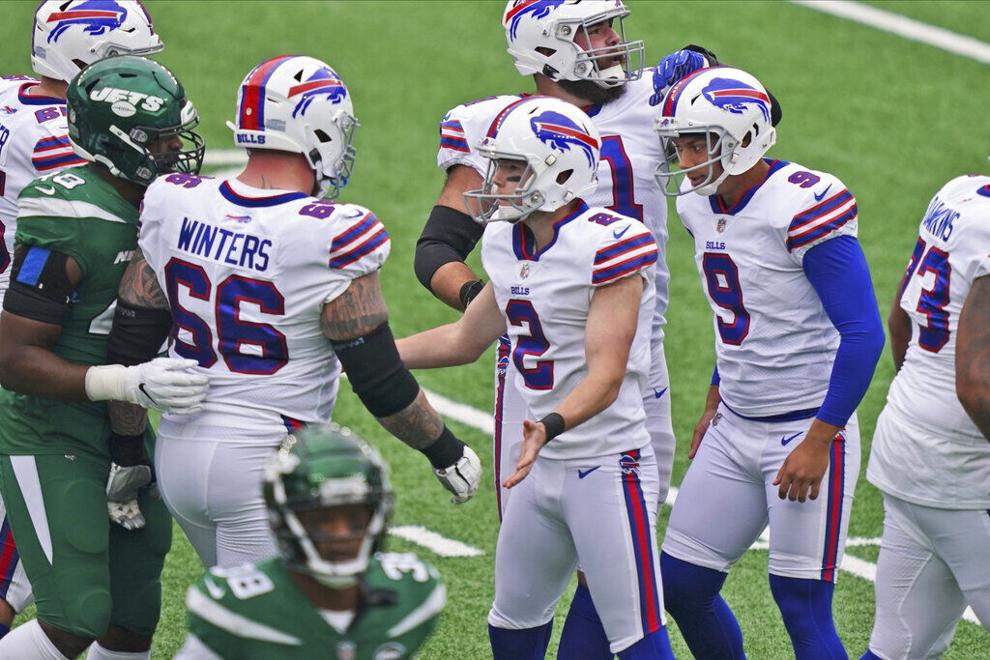 Bills Jets football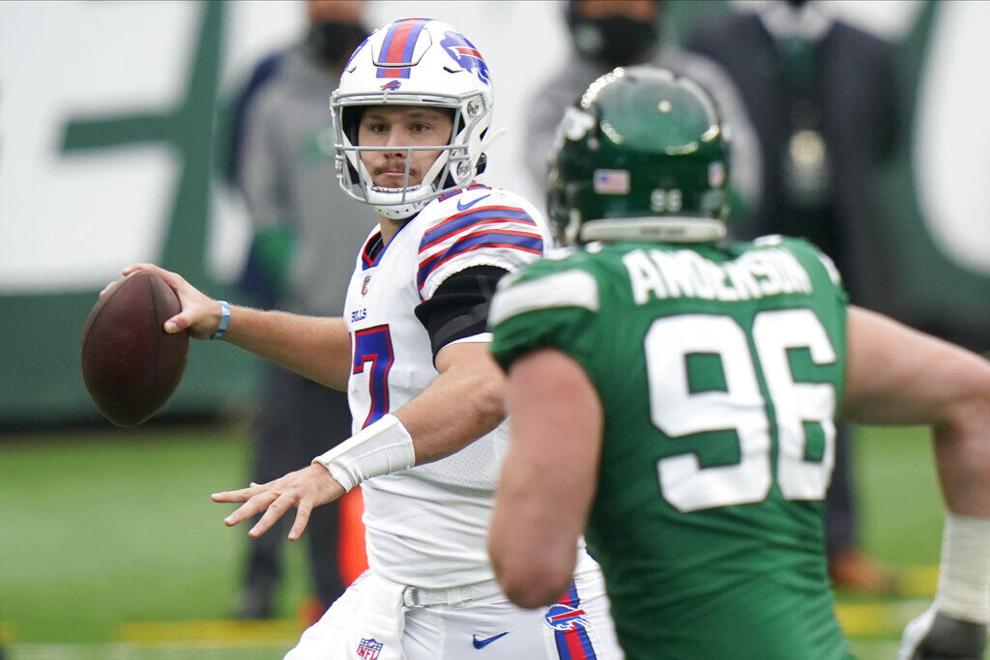 Bills Jets Football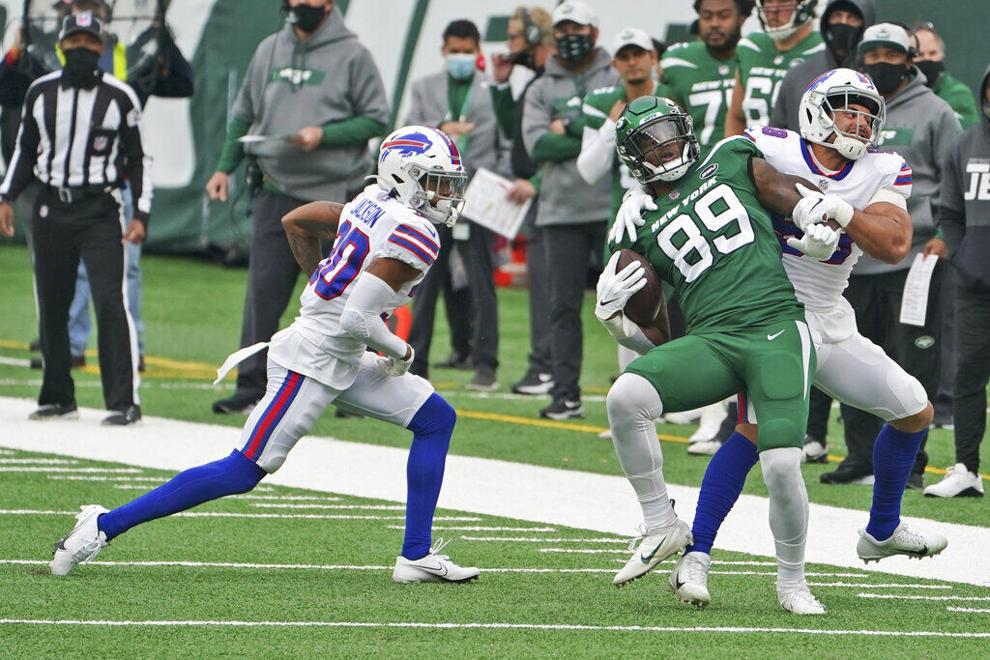 Bills Jets Football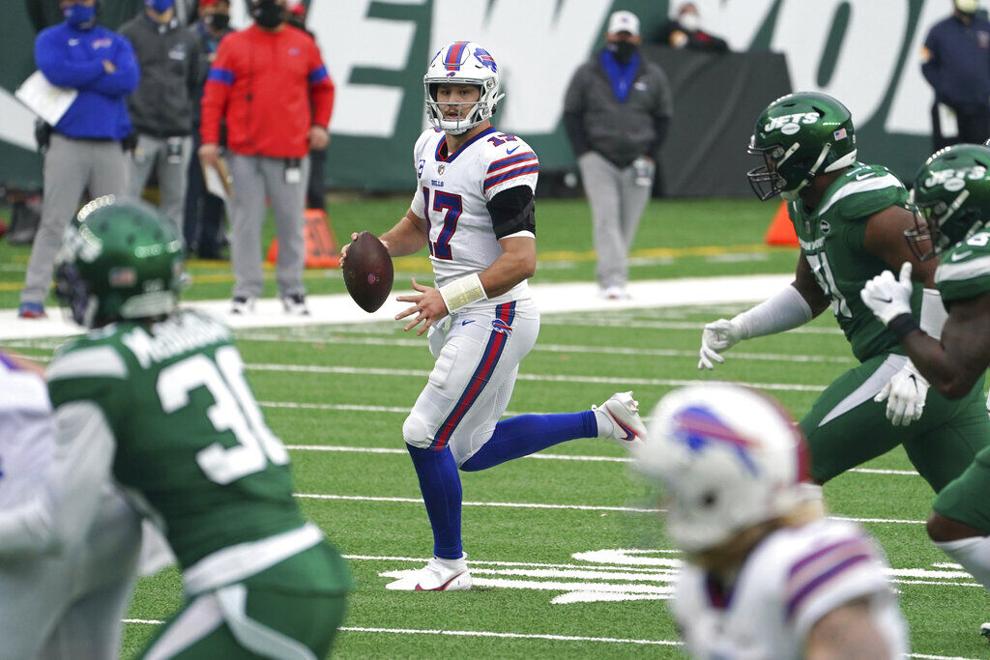 Bills Jets Football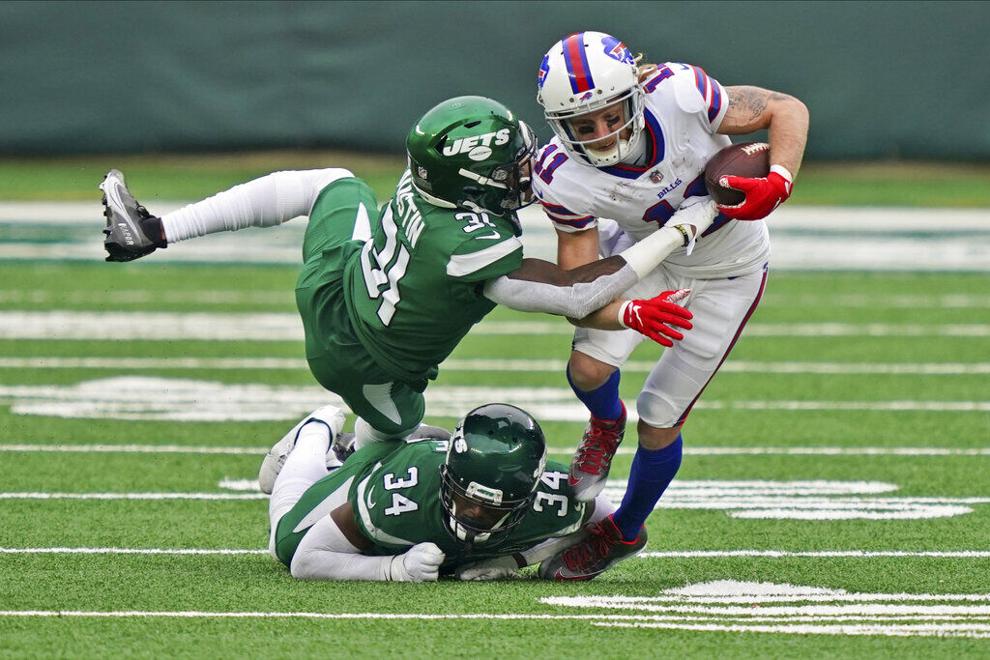 Bills Jets Football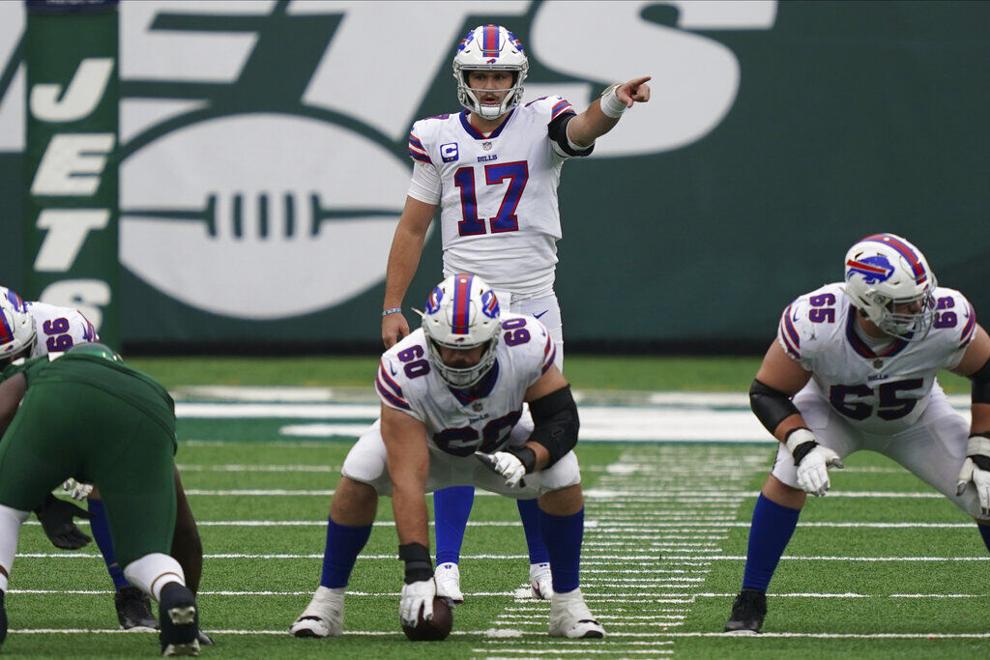 Bills Jets Football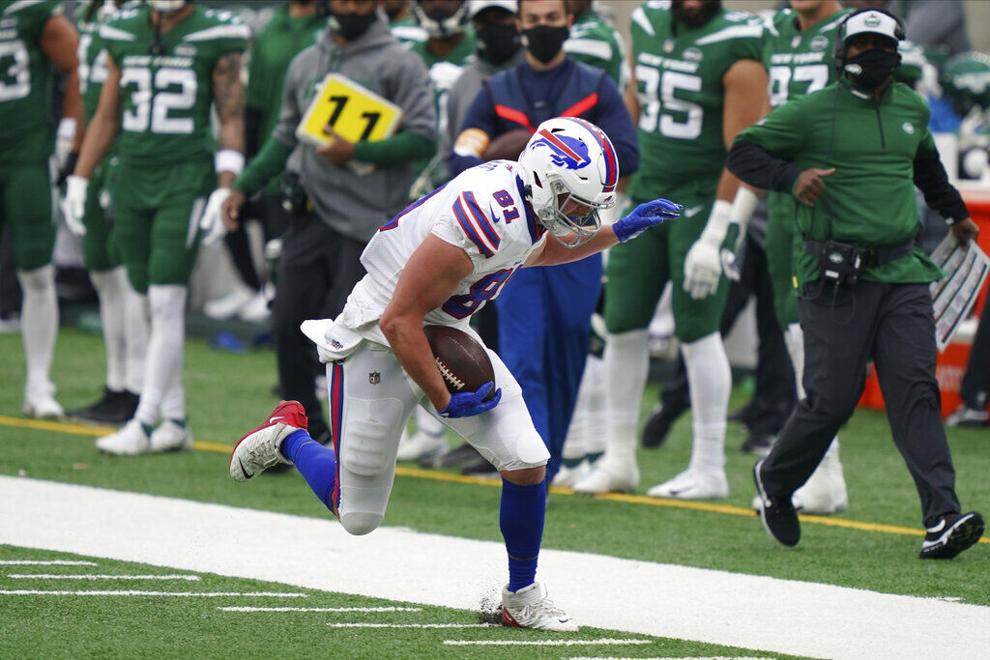 Bills Jets Football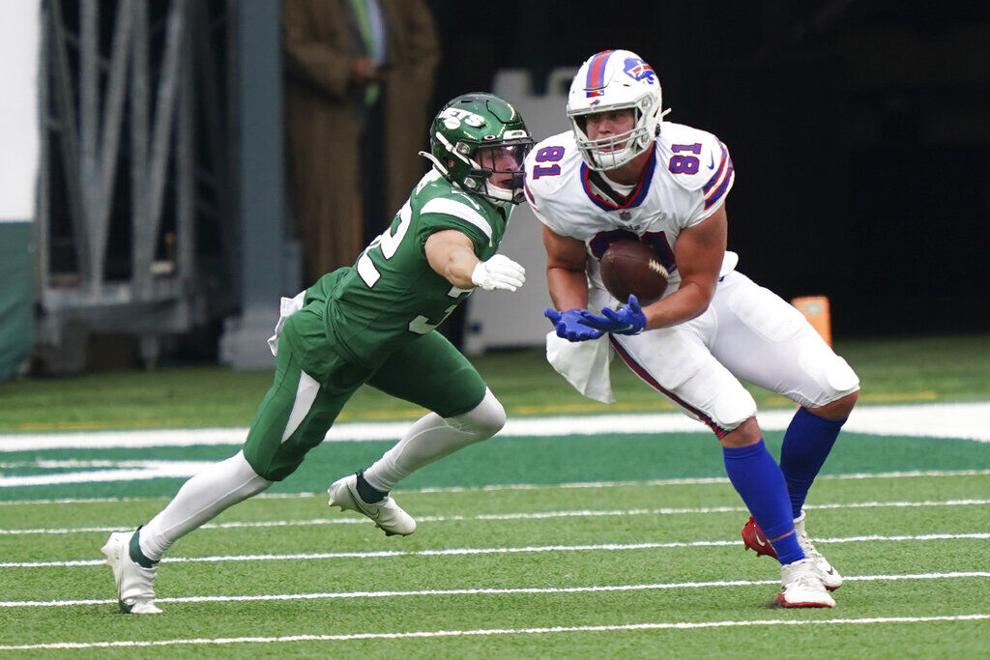 Bills Jets Football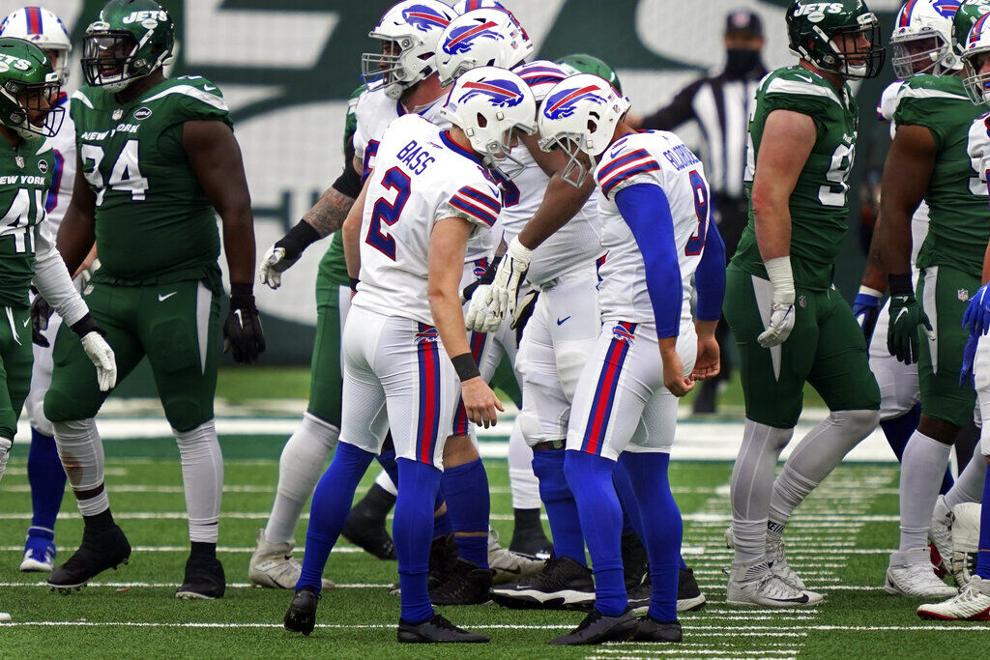 Bills Jets Football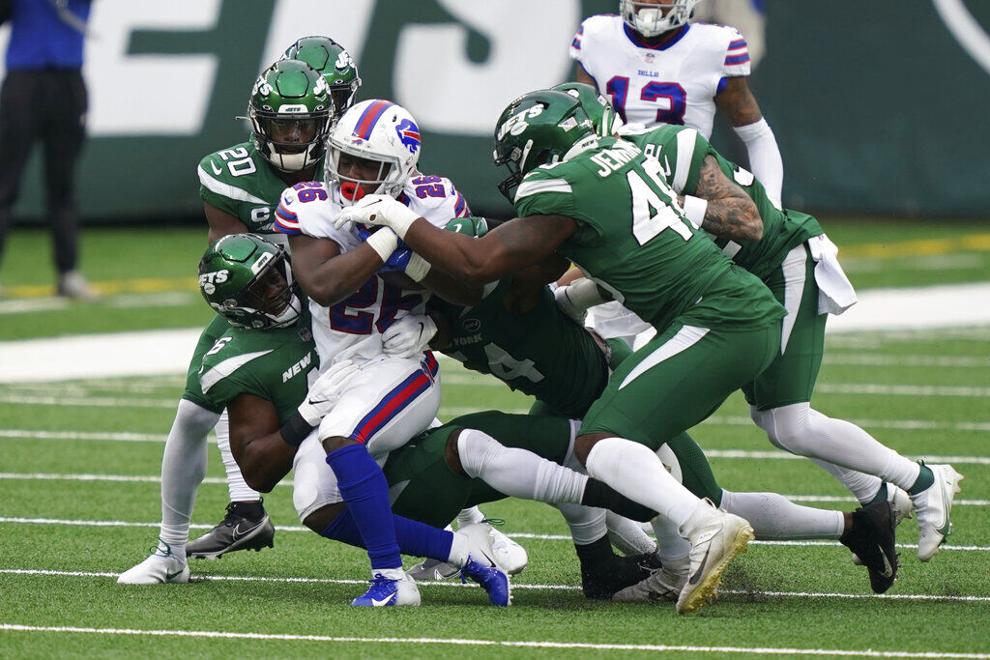 Bills Jets Zack Moss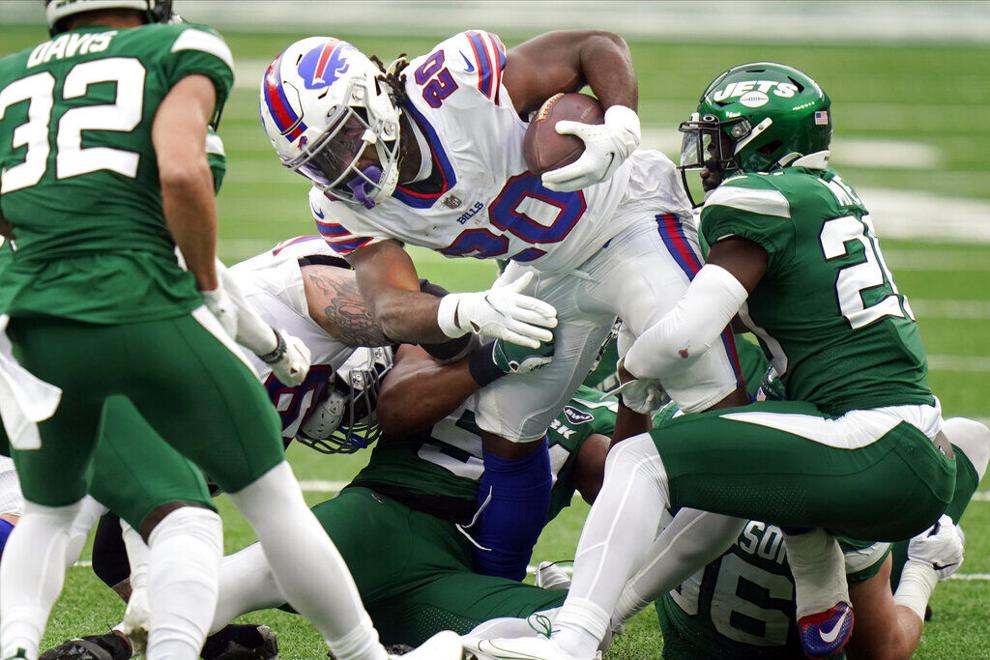 Bills Jets Football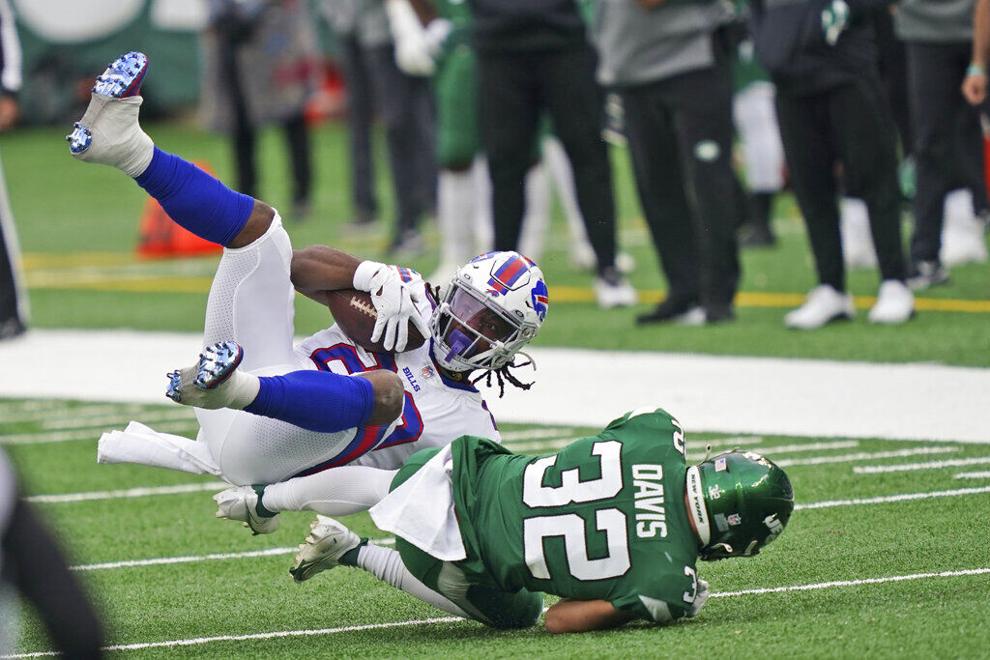 Bills Jets Football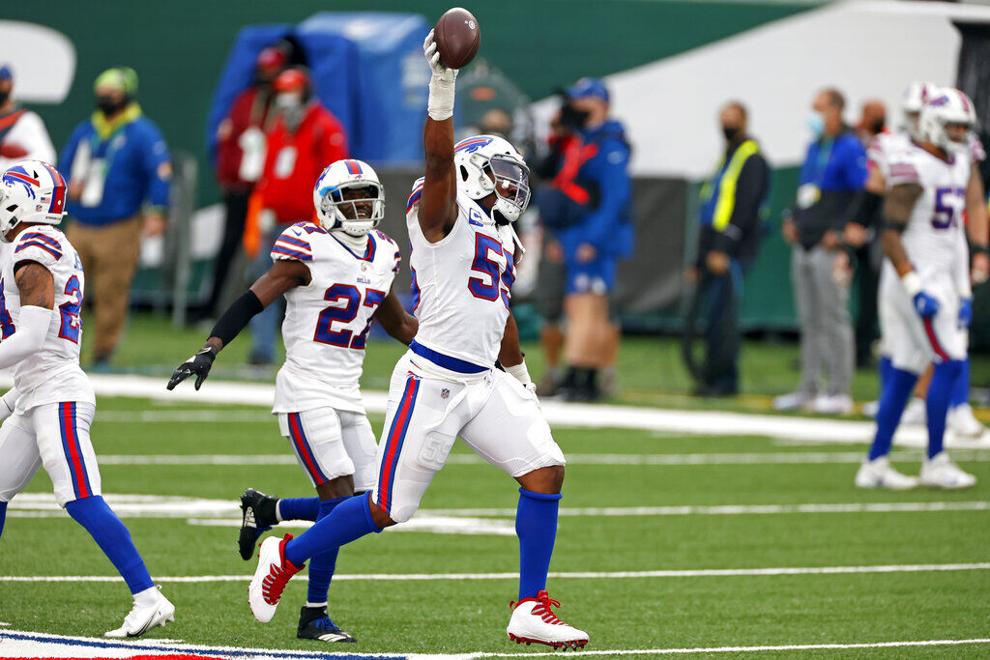 Bills Jets Football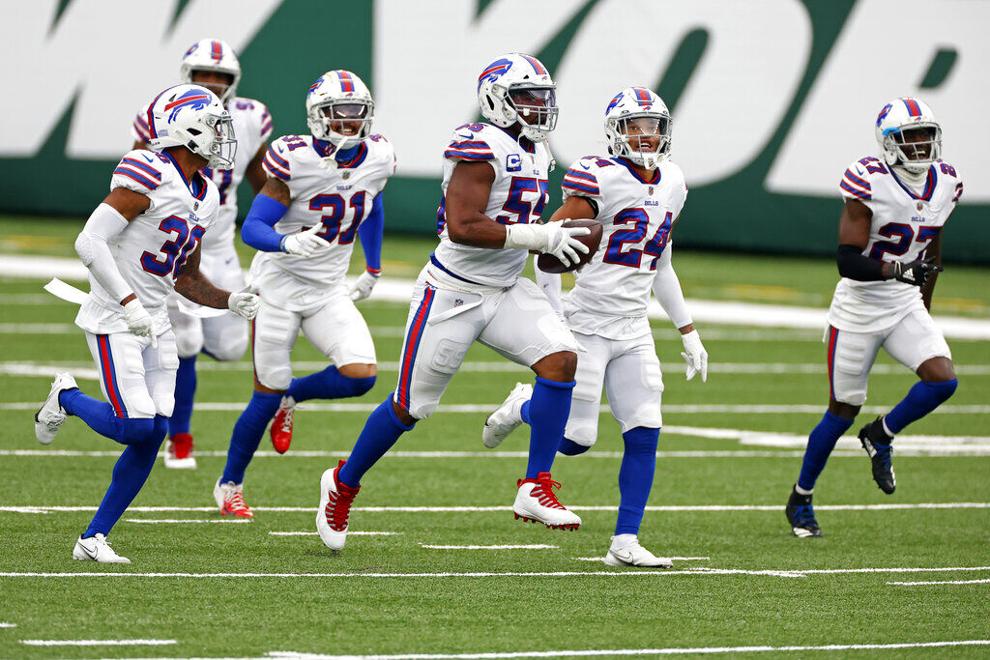 Bills Jets Football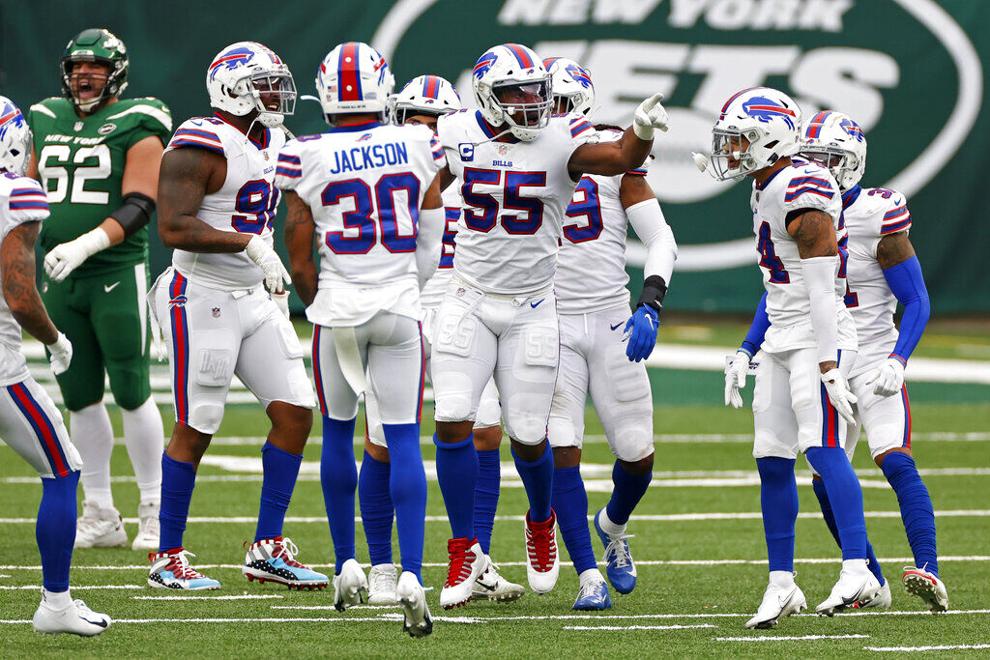 Bills Jets Football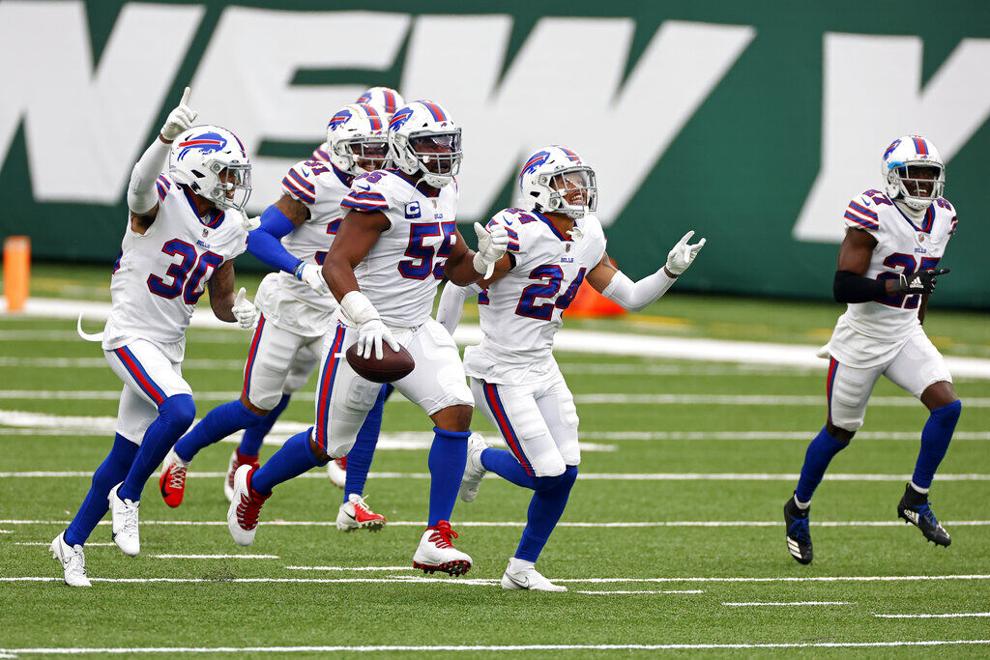 Bills Jets Football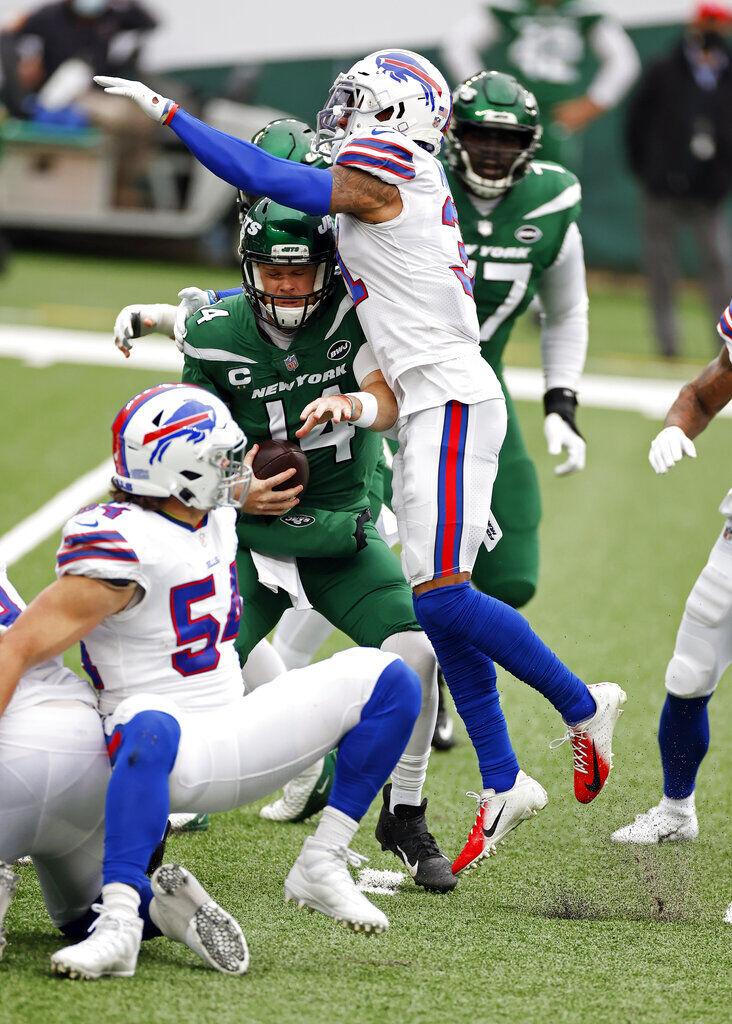 Bills Jets football