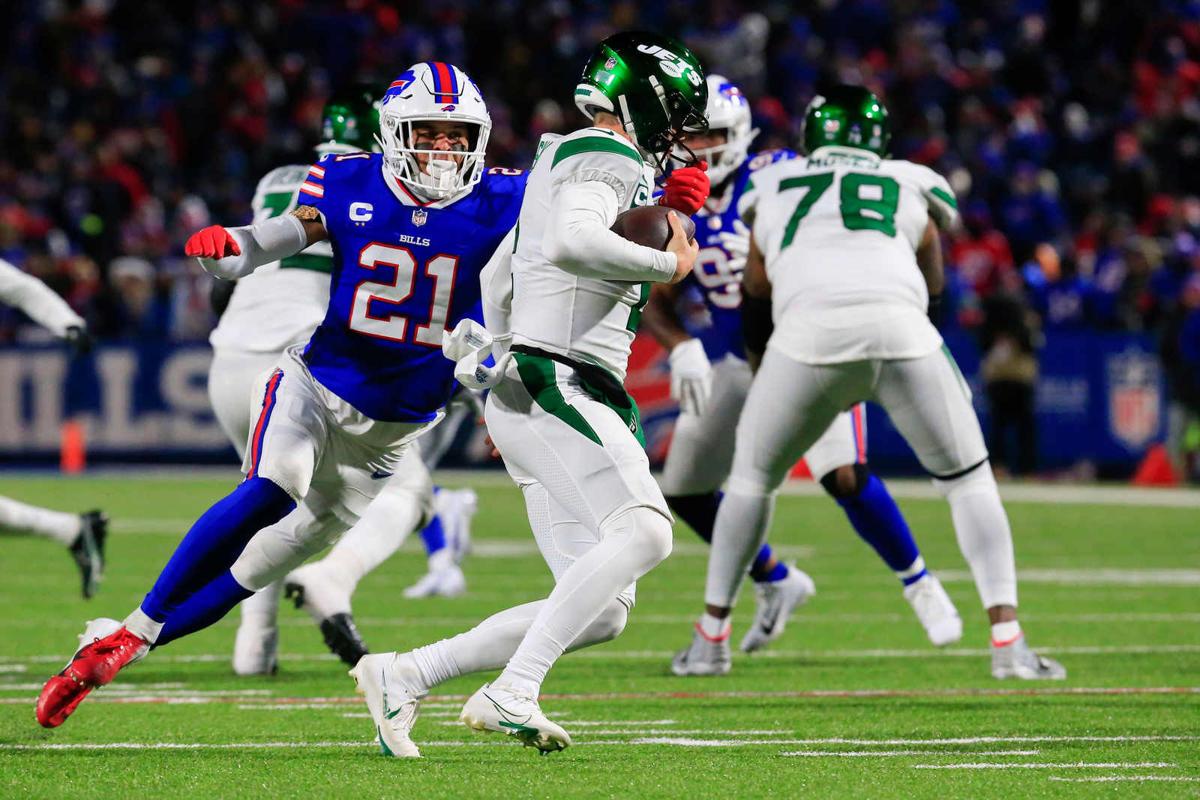 The Buffalo Bills established an NFL team record for third-down defense this season.
The Bills allowed the New York Jets to convert just 1 of 14 third downs in the regular-season finale Sunday. That dropped the Bills' season rate to just 30.8% conversions allowed. That's the best rate in the NFL and the seventh best total in the league over the past 15 years.
The previous team record for a full season was 31.6% in 1999, when the Bills also finished with the No. 1 ranking in yards allowed.
The Bills finished the year allowing a league-low 17 points per game. It's the first time in the Bills' NFL history (since 1970) that Buffalo has led the league in scoring defense. New England finished second at 17.8 points per game.
Given the increased scoring in pro football, the Bills' total is only the 12th lowest in team history. Just three years ago, in 2019, the Bills allowed 16.2 ppg, second best that season. The team record for fewest points per game is 14.3 in 1999.
Here are the position-by-position grades for Sunday's game, based on video review and on a scale of 0 to 5:
Defensive line (5.0): The Bills thoroughly dominated an injury-depleted Jets offensive line. Seven of the Bills' nine sacks came with a four-man rush. Nevertheless, right guard Laurent Duvernay-Tardif and right tackle Morgan Moses had been playing reasonably well and both had rough outings. Ed Oliver outplayed Duvernay-Tardif, getting five hurries. Oliver's solo sack came when he lined up as defensive end and beat left tackle Conor McDermott with a spin move. Jerry Hughes had four hurries. He created the sack by Matt Milano by beating Duvernay-Tardif with a speed rush. His half-sack gave Hughes 53 with the Bills, moving him past Cornelius Bennett and into fourth place on the team's career list. Harrison Phillips created the second sack by Mario Addison by beating Duvernay-Tardif with a power rush. Phillips was strong from the start. On the first play from scrimmage, he beat center Dan Feeney at the point of attack to get a tackle for loss. Greg Rousseau was stout vs. Moses. Boogie Basham's first sack was due to coverage, but he beat Moses to create Addison's first sack.
Linebackers (5.0): Matt Milano quietly played a superb game. His coverage on the running back out of the backfield helped create the sack on the Jets' attempted receiver-option play. He also had the running back smothered in coverage on a third-down incompletion in the third quarter. His hurry caused the first third-down stop and he had a sack. Tremaine Edmunds was superb, too. He shot a gap for a key tackle for loss in the third quarter and showed off his speed in covering Tevin Coleman on a wheel route up the sideline in the third quarter.
Defensive backs (5.0): Jordan Poyer capped his outstanding season with two sacks, demonstrating what a weapon he is while playing in the box. The lone Jets TD came when Poyer tried to jump a slant pass as the "robber" in underneath coverage, but Zach Wilson's pass was too quick. That's a lesson learned for next season's meetings with Wilson. Without their top four wide receivers, the Jets' passing game wasn't much of a threat. Dane Jackson was targeted just twice and Levi Wallace four times.
Quarterback (3.75): The Bills scored 24 of their 27 points with the wind. Josh Allen was 12 of 16 passing with the wind, 12 of 29 against it. Still, Allen made a bunch of highlight-video plays, including the first TD pass to Stefon Diggs, the instinctive scramble-lateral to Dawson Knox, the 28-yard dime to Knox, the 32-yard bootleg scramble and the throw-back on the run to Isaiah McKenzie to convert a third down. On the first drive of the third quarter, there looked like miscommunication on three consecutive incompletions, two to Gabriel Davis and one to Dawson Knox.
Running back (4.0): Devin Singletary continued his hard running. He blew past linebacker Quincy Williams on his 40-yard run and looked good running the counter play, behind pulling guards. He had two good blitz pickups. The Jets blitzed only 11 times in 52 dropbacks and were beaten for a touchdown (Singletary's 5-yard catch) and two other big plays.
Receivers (3.0): Diggs' ability to drag his trailing toe on the first TD was incredible. Six of his nine catches came against zone coverage. He also drew two pass interference fouls. Davis had three drops on a rare off day. It was good to see the Bills hit two screen passes early, one to Knox for 17 yards and the other to Singletary for 19.
Offensive line (4.0): There were no sacks, 170 rushing yards and 5.2 yards a carry. Dion Dawkins had no problem shutting down the Jets' mediocre right defensive ends. Spencer Brown had a tougher assignment against big John Franklin-Myers, giving up six hurries, although none produced a sack. Brown did a good job on the move, in front of the two screens. He also beat Nathan Shephard at the point of attack on a late 12-yard run. Shepherd, a 315-pound former third-round pick, is a quality player. Ryan Bates held up reasonably well against him, but it wasn't easy. Mitch Morse and the guards kept talented Quinnen Williams from doing much damage.
Special teams (2.5): Normally, a team would get an A grade in a game in which it blocked a punt. But punter Matt Haack struggled. All seven of his punts were made into the wind, and they included nets of 21, 22 and 29 yards. That doesn't include the net 29-yarder that was wiped out by penalty. Haack did boot a key, 53-yarder with a 4.5 hang time into the wind from his own 18 in the third quarter. He managed to get a 7-yard punt off after a rare bad snap by Reid Ferguson. The Jets' Braden Mann netted 48 yards on three punts into the wind. Isaiah McKenzie was deep for the first four punt returns, but he muffed one, which he quickly recovered. Micah Hyde took his place for the rest of the game. It would be reassuring to see Hyde field all the punts Saturday. The Bills' coaches beat the Jets' protection plan on the punt blocked by Cam Lewis.