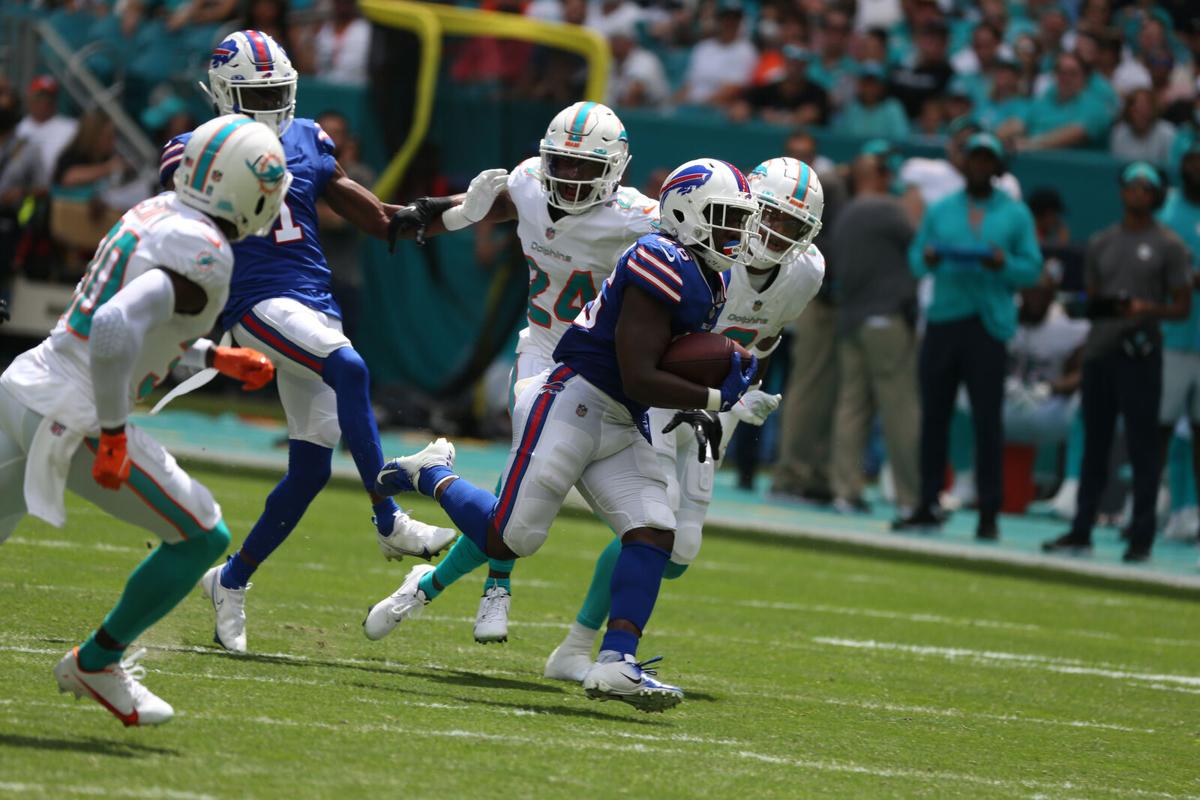 Two first-half turnovers kept the Buffalo Bills' offense from getting into a rhythm in Sunday's blowout victory in Miami.
Here is a quarter-by-quarter look at the Buffalo Bills' win against the Miami Dolphins on Sunday.
Yet there still were some spectacular moments for Josh Allen & Co. in the 35-0 win at Hard Rock Stadium. Here's a closer look at the big offensive plays for the Bills:
Motor rumbles. The Bills' spread formations can create some big mismatches in the run game, as well as the passing game – if the offensive line wins big at the point of attack.
That's what happened on Devin Singletary's 46-yard touchdown run on Buffalo's second play from scrimmage. The Bills exploited Miami's dime defense, with six defensive backs on the field.
The Bills' used three receivers in a tight formation, close to the tackles, and Isaiah McKenzie ran a jet motion to the right. That took the eyes of inside linebacker Jerome Baker to the wrong direction for an instant at the snap.
Don't miss Jay Skurski's grades of the Buffalo Bills' performance in their 35-0 win over the Miami Dolphins.
The Bills ran duo blocks at the point of attack. Dion Dawkins and Jon Feliciano double-teamed defensive tackle Christian Willkins. Mitch Morse and Cody Ford double-teamed defensive tackle John Jenkins. Dawkins and Feliciano got good enough push that Feliciano was able to get to the second level and put a good block on the "linebacker." Except it wasn't a linebacker, it was dime safety Brandon Jones filling a gap. Feliciano knocked him backward.
Receiver Emmanuel Sanders put a block 10 yards downfield on cornerback Byron Jones, the only other defender who could have put a glove on Singletary. In fact, Singletary was untouched.
"It's a great feeling," Dawkins said. "We care about our running backs just as much as we care about our receivers. For any time that a running back can run without getting touched or even just getting in the end zone, we also take it very personal. So hat's off to Motor and those running backs – the skinny guys, I call them – and we're going to continue to get them in the end zone more and more and more times without getting touched."
Miami has confidence in its defensive backfield depth. The Dolphins even played eight defensive backs and three linemen a few plays against the Bills last season. The Dolphins used six or more defensive backs last year on 24% of their snaps, ninth most in the league, according to Football Outsiders. On a second-and-10 play, they no doubt were expecting pass. Bills offensive coordinator Brian Daboll crossed them up.
"They did a good job of doing what they do. They broke one," Dolphins defensive tackle Christian Wilkins told reporters.
It's looking like the Bills will not have to rely on their offense to be dominant every week – as they did in many games last season. The Bills are looking like a more well-rounded team than last year.
Selling the run. The Bills' second touchdown was set up by a 35-yard completion to Sanders to the Miami 6.
A play-action run fake ensured Josh Allen had a pristine pocket. With fullback Reggie Gilliam on the field, Allen faked a handoff to Singletary off right tackle. The Bills further sold the run by pulling the left guard, Feliciano, to the right. That worked out well, because Miami rushed a fifth man, linebacker Benjamin Scarlett, off right tackle. Feliciano picked him up.
With Feliciano pulling, that meant tight end Dawson Knox needed to block defensive end Andrew Van Ginkel off left tackle. But Van Ginkel didn't rush hard because he was watching what looked like a run play.
Allen delivered a perfect deep ball, and Sanders got a step behind Jones, the cornerback.
It was apparent from the very first play that the Buffalo Bills' defense came to play Sunday, finishing with six sacks and forcing two turnovers (the special teams forced another) in a 35-0 win over Miami.
Escape artist. The Bills scored three plays later, when Allen converted a third-and-goal play with a 5-yard TD pass to Stefon Diggs.
Call it 80% Allen and 20% Diggs. Defensive end Emmanuel Ogbah came free off right tackle because running back Zack Moss failed to get a piece of him in pass protection. No problem. Allen stepped inside and under Ogbah to elude a sack and patiently ran toward the right sideline. The only receivers to the right were Sanders, who was well covered by Jones, and Moss, who was double-covered.
Diggs had lined up to the right and ran a shallow cross all the way to the left side of the field, then he fell down. Xavien Howard, covering Diggs, lost one of his shoes when Diggs fell down, and Howard simply gave up on the play, figuring Diggs was out of it.
But Diggs got back onto his feet and had time to run to the middle of the end zone, where Allen found him wide open.
The Buffalo Bills shut out the Miami Dolphins 35-0 on Sunday at Hard Rock Stadium in Miami.
Mobility kills. The Bills' third touchdown was set up by a 7-yard pass from Allen to Diggs on a third-and-6 situation at the Miami 15 in the third quarter. Allen's accuracy on the move was good to see. The Bills had an empty backfield, and Allen ran toward the left sideline when his first option was covered. Linebacker Sam Eguavoen was bearing down on him when Allen threw across his body to Diggs, who got open against Jones. Not a simple throw.
TE mismatch. The Dolphins again were in a dime defense on the next play, and Allen ran a play-action fake to Singletary. Miami had one of its most trusted defensive backs, 34-year-old ex-Patriot Jason McCourty, covering the tight end.
But Knox showed his athleticism. Don't forget, Knox was the second-fastest tight end in his 2019 draft class, running 4.55 seconds in the 40 yard dash. Knox gave McCourty a shake to the inside and broke to the back left of the end zone. McCourty had decent coverage, but not good enough, because Allen's throw was on target – low, outside and away from the defender – and Knox made a sliding catch.