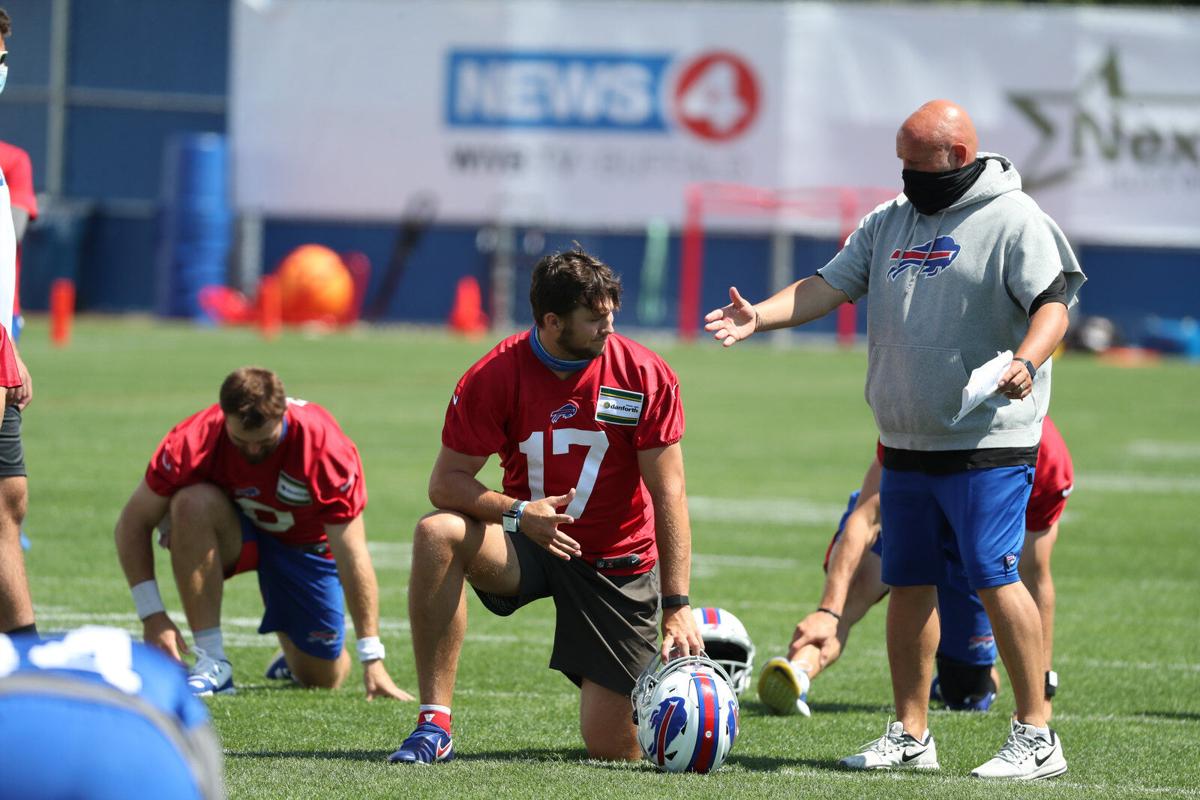 Eric Mangini will never forget the interview, in the 2000 offseason, when a young applicant for a position on the New England Patriots' coaching staff took his seat at a conference table.
This was an entry level job, an assistant to an assistant who would handle assorted menial tasks, who would be expected to put in ungodly hours for god-awful pay.
"We used to call them '20/20 guys,' " former Patriots offensive line coach Dante Scarnecchia said. "Twenty hours a day for $20,000 a year."
Yet, the Pats thought it was important enough for the 24-year-old candidate to be interrogated by the entire coaching staff, including head coach Bill Belichick.
But Brian Daboll, who had spent the previous two seasons as a graduate assistant for Nick Saban's Michigan State football team, never flinched.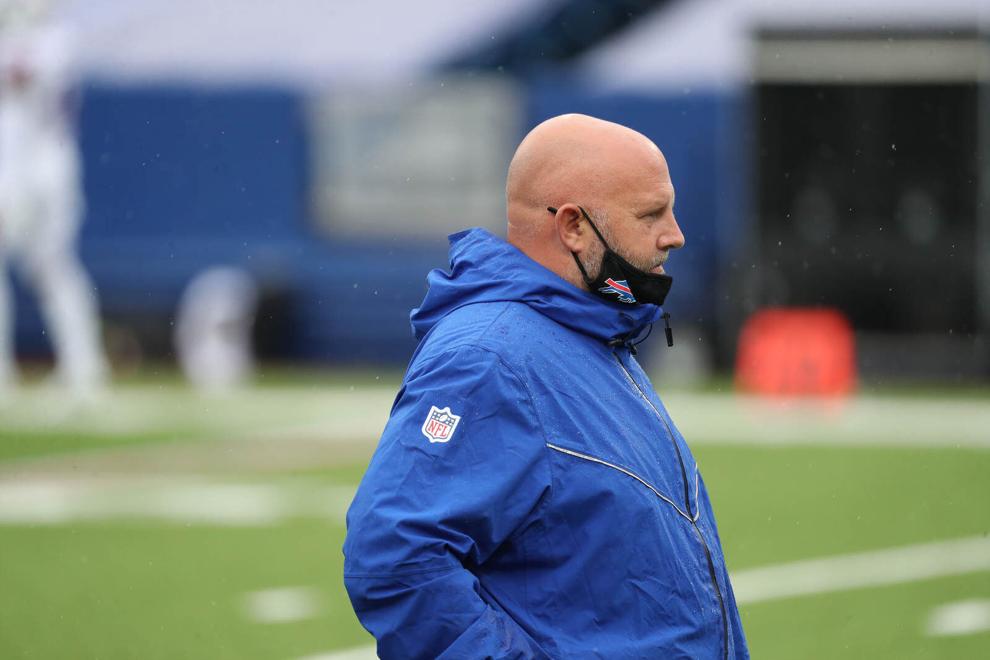 Twenty years later, Mangini, who was the Patriots' defensive backs coach at the time, still marvels at how well Daboll handled himself.
"Brian came in and blew us away with the amount of detail not only that he knew about the organization, but that he knew about the coaching staff, that he knew about the system, that he knew about the way things worked," Mangini said by phone. "And that, to me, is indicative of his whole personality."
Just as then, Daboll remains detail oriented and always prepared, now five games into his third season as offensive coordinator of the Buffalo Bills, his fourth opportunity to be an NFL offensive coordinator and the longest he has been with any team in that role. He spent 2009 and '10 with the Cleveland Browns, 2011 with the Miami Dolphins and 2012 with the Kansas City Chiefs.  
In between, he spent four years in New England, one as an offensive assistant and three as tight ends coach, and a year with national champion Alabama as co-offensive coordinator and quarterbacks coach.
Daboll's ability to call plays is only part of what will make him an attractive head-coaching candidate after the season. For now, with the Bills, his evolution as a coordinator and a play-caller has been a crucial ingredient in the Bills' 4-1 start.
As Daboll likes to say, "Plays are plays," but it's more than knowing what to call when. In his time in Buffalo, Daboll has become more attuned to the skills of his players, worked to develop a comfort level with them and, perhaps, most importantly, been unafraid to be creative and deviate from what he's done in the past.
New Bills offensive coordinator Brian Daboll conducted an extensive news conference in the days leading up to the college football national championship game when he was the offensive coordinator at Alabama. Here are some excerpts from that news conference that provide some hints of Daboll's style and influences and what fans might see in his time with the Bills.
In four of his five previous seasons as a coordinator, Daboll's teams were among the top 10 in the NFL in rushing attempts. The development of Bills quarterback Josh Allen has changed that this season.
Allen is ranked second in the NFL in passing yards (1,589) and touchdown passes (14) and the Bills are eighth in passing attempts (194) and tied for 21st in rushing (122), entering Monday's game against the Super Bowl champion Kansas City Chiefs.
"You learn from your past, both good and bad," Daboll told reporters during a video call Wednesday. "And you try to improve your leadership qualities, both in good times and bad times.
"The system that you grew up in and the people that you learn from, you try to continually evolve and learn new things as you go. Your staff that you work with has a big play in it, too. But in terms of just the leadership and being able to handle certain things, in-game adjustments and calls and things like that, experience always helps with that.
"Really, it's about dealing with people after wins and after losses and making sure that you can stay on track with a positive attitude and take accountability for your team, for your offense."
In Allen, Daboll has an asset that he lacked in his previous stops as a coordinator.
Even Mangini, who hired Daboll to be his offensive coordinator in Cleveland, acknowledged, "We didn't have much in the way of quarterbacks."
The Browns were 30th and 29th in passing yards and had among the fewest pass attempts in the NFL in Daboll's two seasons.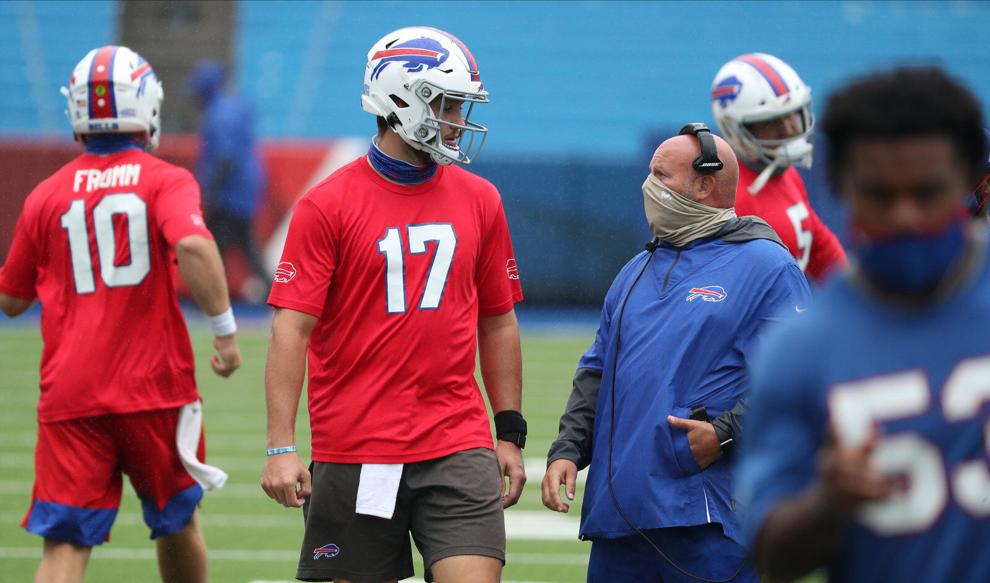 "Brady Quinn was there and Derek Anderson was there," Mangini said. "But Brian did, I thought, great things with not enough weapons. He was the guy behind (running back) Peyton Hillis' amazing growth (in 2010). Peyton wasn't really a well-known talent.
"Brian put him in position after position to be successful and he was our best offensive weapon. Even when people knew that he was really our main offensive weapon, they didn't do a great job of containing him."
In 2011 under Daboll, the Dolphins were 28th in pass attempts and 23rd in passing yards with Matt Moore and Chad Henne as quarterbacks. With Matt Cassel and Quinn the next year in Kansas City, the Chiefs were 29th in pass attempts and last in passing yards but were fifth in rushing yards.
"You go back to his kind of calling card previously as an offensive coordinator, he went to town running the football," Quinn said by phone. "And he was successful at doing that.
"Now it's different because, I think, Josh Allen's earned his trust, and he trusts what this group can do on the outside as far as making plays in the passing game. They feel like they could be successful now throwing the football 40-50 times a game, whereas, in the past he never wanted to be in that position. I think he wanted to be more balanced, I think he wanted to run the football more, and have more control of the clock."
Even so, in his previous two seasons in Buffalo, the disparity between the pass and the run did not reflect the drastic shift that has happened thus far this season: 2019, 513 passes to 465 runs; 2018, 499 passes to 468 runs. In each season, the Bills were ranked sixth in rushing attempts.
"I think he's adapted and changed in that regard, just because of what he has in Josh and what he has in his wide receiver group," Quinn said. "I think he also knows that if he throws the ball 40-50 times, he's going to probably get six rushing attempts, seven rushing attempts on those plays from Josh, because he's going take off when he sees it's open."
Daboll said the impetus behind his pass-heavy philosophy is "a combination of everything."
"It will always start with the quarterback and what he feels most comfortable with," he said. "Then, you need pieces around him that you can distribute the ball to and guys who block for him. But I think it's a continual work in progress. It has been since Josh has been here, along with me and the rest of the staff. And that's kind of how we operate week to week."
In almost all his stops, Daboll has worked for a defensive-minded head coach: Mangini in Cleveland, Todd Bowles as the interim coach in Miami after Tony Sparano was fired, Romeo Crennel in Kansas City and Sean McDermott with the Bills, along with his time with Bill Belichick in New England and Saban at Alabama.  
Daboll's early years were as a defensive coach as a graduate assistant at Michigan State before he transitioned to offense after two years as a defensive assistant with New England.
"You could see his work ethic, his desire to learn," Scarnecchia said. "He was a copious note-taker and wasn't afraid to speak up if he had an opinion on anything, or if he had a question on anything. He threw himself into the offense, really tried to learn the offense, really did a great job of it. And every year you could see him dramatically get better, more knowledgeable, ask questions, just everything you would want in a young coach."
By 2002, he was the Patriots' receivers coach. In 2007, he was guiding the quarterbacks of the New York Jets, with Mangini as head coach before they reunited with the Browns.
"He worked with me in the secondary his early years before transitioning to the offense, and I really feel like that gives him a different perspective and a different ability to help offensive players," Mangini said. "At New England, we were big believers in teaching the why. Why is the defense doing what they're doing? Why are they attacking you the way that they're attacking you? I'm not saying that other coaches don't do that, but he actually understands the why, because he's coached it, he's taught it. He learned it from in one of the best systems in New England."
While the New England system is his foundation, Daboll continues to learn from his experiences, something that will help as he interviews for a head-coaching opening.
"There's a lot of guys that they are who they are at a certain age and that's who they're going to be," Mangini said. "But Brian isn't like that. Brian's excellent at looking at the best of the experiences that he's had and then implementing them into what he does. And there's an ego-lessness to that, that I think helps a lot.
"He has notes about pregame talks that Belichick gave or Saban gave or I gave, things he liked, things he didn't like. He's that type of guy. So, he's been preparing for that next step for a long time. I think he'd be great in that position. I think that he's seen enough different ways of doing it. Sometimes when you're at New England, you're just at New England and that's all you have to base things on. You can get a little myopic, but been around enough different systems and different ways of doing it, that have all been successful and that have all had strengths and weaknesses, for him to say, 'OK, this is the way that that I want to do it.'
"And I think Brian's old enough and mature enough and been through enough different situations that it's not going to be overwhelming and it's not going to be just the him parroting what he's seen. It's going to be him taking the best of and putting that into play."
After coaching the Pats' tight ends from 2014 to '16, Daboll went to Alabama, where he was reunited with Saban. Daboll's play-calling and other contributions went a long way toward helping the Crimson Tide win a national championship in 2017. He learned a great deal about run-pass option (RPO) plays that have increasingly made their way into the NFL to take advantage of the heavy influx of mobile quarterbacks.
That one year with the highest-profile collegiate program in the country set the stage for Daboll to make a big splash in 2018, when the Bills, the team for which he rooted while growing up in West Seneca and attending St. Francis High School, hired him as offensive coordinator. Coinciding with Daboll's arrival was the Bills' drafting of Allen at seventh overall in the '18 draft.
In each year, the two have made substantial progress. Despite a disjointed offseason and preseason due to the coronavirus pandemic, the biggest jump for Allen and Daboll has come this season, especially through the first four games.
"I appreciate what Coach Daboll's done for me and the offense he's put around us in Buffalo and the way he calls games, the way he trusts his players," Allen told reporters recently. "The way he can see a game on Thursday night or Monday night or whatever it is, and look at that concept and say, 'This would be pretty cool. Let's see if we can use it here.' He's been able to adapt and adjust and find new ways we can get the ball to our guys outside."
'Lets guys be themselves'
Few people appreciate that more than Stefon Diggs, whom the Bills acquired in a March trade with Minnesota to become their No. 1 receiver.
Diggs is second in the NFL with 509 receiving yards through five games.
"I've had a series of coaches, OCs, head coaches, position coaches, I've had some great guys, and he's definitely at the top of the list as far as having a creative mind, and not necessarily being a players' coach but understanding the game and understanding what works," Diggs told reporters. "He lets guys play to their strengths and lets guys just be themselves."
Receiver Isaiah McKenzie, whom Daboll has utilized effectively on jet sweeps, said the offensive coordinator does his best work under pressure. That's reflected in the eight fourth-quarter comebacks Allen has led in his NFL career (including two this season), a category in which the QB led the league in 2019.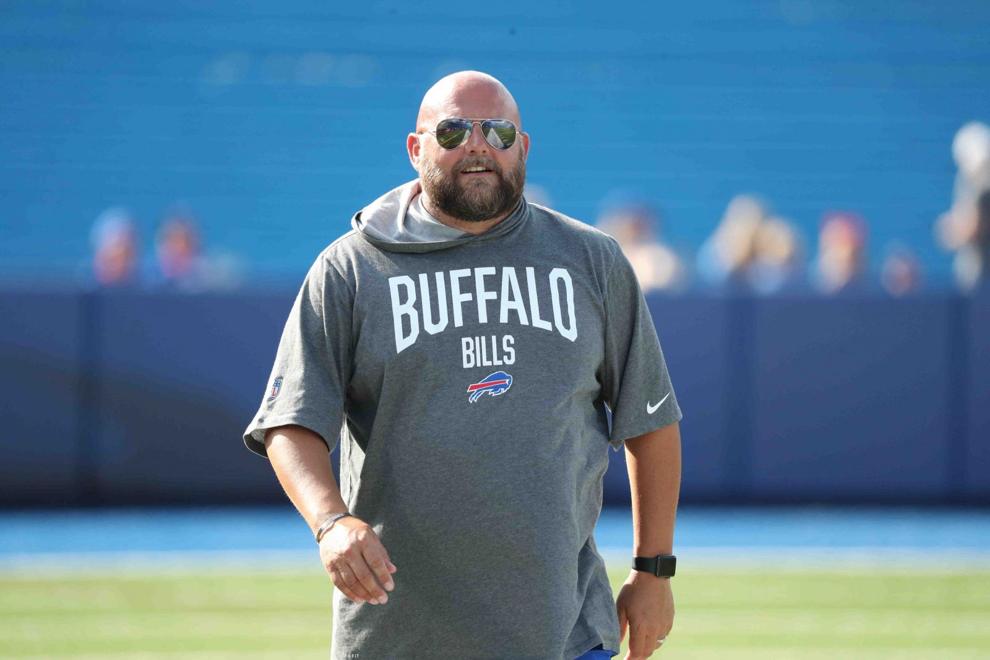 "With his play-calling, he knows what he's calling, when to call it, where to call it," McKenzie told The Buffalo News by phone. "He knows all the situations. He teaches us everything. He tries to give us every bit of information he has, so we can be successful on the field.
"Because he says it all the time: he's not playing, he's coaching. But if he can put us in the best situations possible from his knowledge of the game, then he will do that. And he does that every single day he comes in."
Though Diggs is the Bills' most dynamic playmaker and has been the focal point of each game plan this season, Daboll manages to work virtually all of Allen's targets into the passing attack. McKenzie became the ninth different player to catch a touchdown pass from Allen with the 3-yard pop throw he took into the end zone in Tuesday night's loss at Tennessee. Shortly thereafter, running back T.J. Yeldon became No. 10 on a 22-yard scoring catch.
"We try to utilize all our guys the best we can to give ourselves the best chance we can," Daboll said. "We'll always do that. It's just unfortunate we didn't get it done (Tuesday night). Give credit to Tennessee."
Mangini has been impressed with what Daboll has done to help smooth the rough edges with which Allen entered the NFL from the University of Wyoming.
Allen has mostly shown huge strides with his accuracy, especially on long throws. Through five games, his completion percentage is 69.3, a vast improvement over the 52.8 and 58.8 of each of the last two seasons. Before the two interceptions he threw against the Titans, Allen had only been picked off once in four games.
"I don't think the quarterback is, by any stretch, a finished product," Mangini said. "But you see growth where a lot of young quarterbacks, and even quarterbacks in that class, are not showing growth. (Allen has) made huge jumps, and I feel like it's Brian's willingness to put him in positions to be successful, his understanding of maximizing what he does best and trying to minimize what he doesn't do well, but not letting him or any of the other guys off the hook on what they don't do well.
"He's going to constantly be pushing those guys to address weaknesses, which I love. There's a level of accountability with Brian that I can't stress enough. Guys aren't going to be let off the hook for penalties, they're not going to be let off the hook for just doing what they do well and not addressing what they do poorly."
Quinn has tremendous admiration for Daboll's scheming and ability to put players in the best position to succeed. However, he believes the quality that will do the most to not only enhance Daboll's chances of becoming a head coach but also allowing him to be successful is his personality.
Being a head coach is much more than having a thorough grasp of X's and O's. It's also about knowing how to communicate with players, how to gain and maintain their trust in an environment that often makes that difficult if not impossible.
An NFL head-coaching job opens, and one of the first names promptly mentioned as a replacement is that of Buffalo Bills offensive coordinator Brian Daboll. Get used to it, writes Vic Carucci
"I actually think he may have a better opportunity of being a better head coach than a coordinator, just because I think when you look at how he is able to kind of manage people and be around people and all that," Quinn said. "He is a people person. He's a guy that I think a lot of people love. I remember doing a production meeting with him for Fox before we called a Bills game, the way he talked to our producers, the way he talked to everyone else, they kind of walked away and they're like, 'Dude, in all the years I've been doing this, no one's asked me about where I was from or my background or anything else.' That's the type of person that wins and is successful because everyone in that organization is going to be kind of pulling for him, playing for him.
"I think he would be incredibly successful as a head coach, just given his personality and his style and his type. I know he comes from New England, but I don't worry about him trying to be Bill Belichick. He'll take things from Bill Belichick. He'll take things from his experience with Nick Saban.
"But he's going to be his own man. It's Brian Daboll's offense. Now, New England is the terminology they're using. But it's Brian running that New England offense in his own style."
A style that he has developed through a willingness to let go of the past and always adapt to what his players do best.