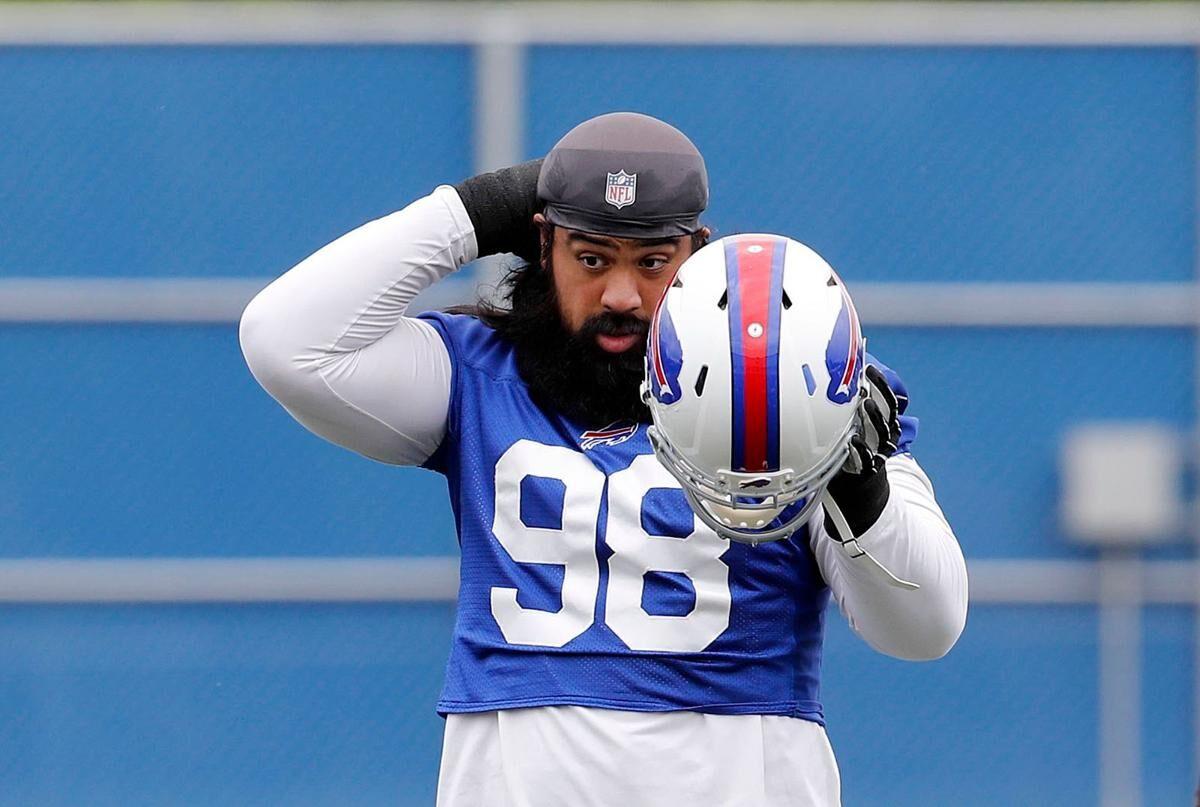 Lei Talamaivao said he didn't have many conversations with Star Lotulelei before the two former University of Utah football teammates began working together in the last couple of weeks as part of Talamaivao's Elite Rushers Sports Performance, a company he formed to train defensive linemen and linebackers.
"You know, he doesn't say a lot," Talamaivao, a former defensive line coach at Idaho State, said by phone Sunday. "He reached out and said he wanted to do some personal training ... just get a couple of sessions in."
"Noise is noise," Singletary said. "I don't pay attention to it. There's always going to be noise if you do good, if you do bad. That's just what it is."
Of course, not many words were needed about the drills Talamaivao put the Buffalo Bills defensive tackle through at a Utah high school, because Talamaivao posted two videos of them on social media.
Talamaivao, who was an end on the same Utah line for which Lotulelei played tackle, has been overwhelmed by the positive reaction the videos have drawn from Bills fans, seeing Lotulelei in action for the first time since he opted out of the 2020 season due to Covid-19 concerns.
"I've only posted two videos, and it's been blowing up," Talamaivao said. "It's good to see the fan base talk about the excitement they have for Star."
Much of that stems from the expectation that Lotulelei's return should help improve the Bills' run defense, which was 26th in the NFL in yards per rush allowed (4.62) in the 2020 regular season.
Will Josh Allen, Mitchell Trubisky, Davis Webb and Jake Fromm all find a roster spot on the Bills for the upcoming season?
After not reporting to the Bills' organized team activities practices, Lotulelei is expected to participate in this week's mandatory three-day minicamp, which is scheduled to begin Tuesday. It marks the final phase of offseason work before training camp begins in late July.
Lotulelei's offseason appeared to be on shaky ground in late May when Bills coach Sean McDermott only uttered "unfortunately" when mentioning the defensive tackle's absence from OTAs.
The videos seemingly helped remove a bit of lingering doubt as to the degree to which Lotulelei was engaged with football after he sat out all of last season. He looked to be in prime physical condition – lighter than his listed roster weight of 315 pounds – and moving quickly.
Every NFL player wears a GPS monitor that allows teams to measure top-end play speed.
Talamaivao said he and Lotulelei had not discussed Lotulelei's decision to opt out of playing last year or why he chose to skip the OTA workouts. Talamaivao said they chatted a little about family, but primarily stuck to the business of football.
"Mainly, we just focused on the basic stuff," Talamaivao said. "Get-offs, stance, hand placement. He looks great. I've never seen Star this ... not mobile ... but he looks really, really good.
"You can see that he's been working really, really hard in the weight room and on his dieting. I didn't ask any questions. We just hit the field. He looks ... let's just say he looks like he's excited to come back."