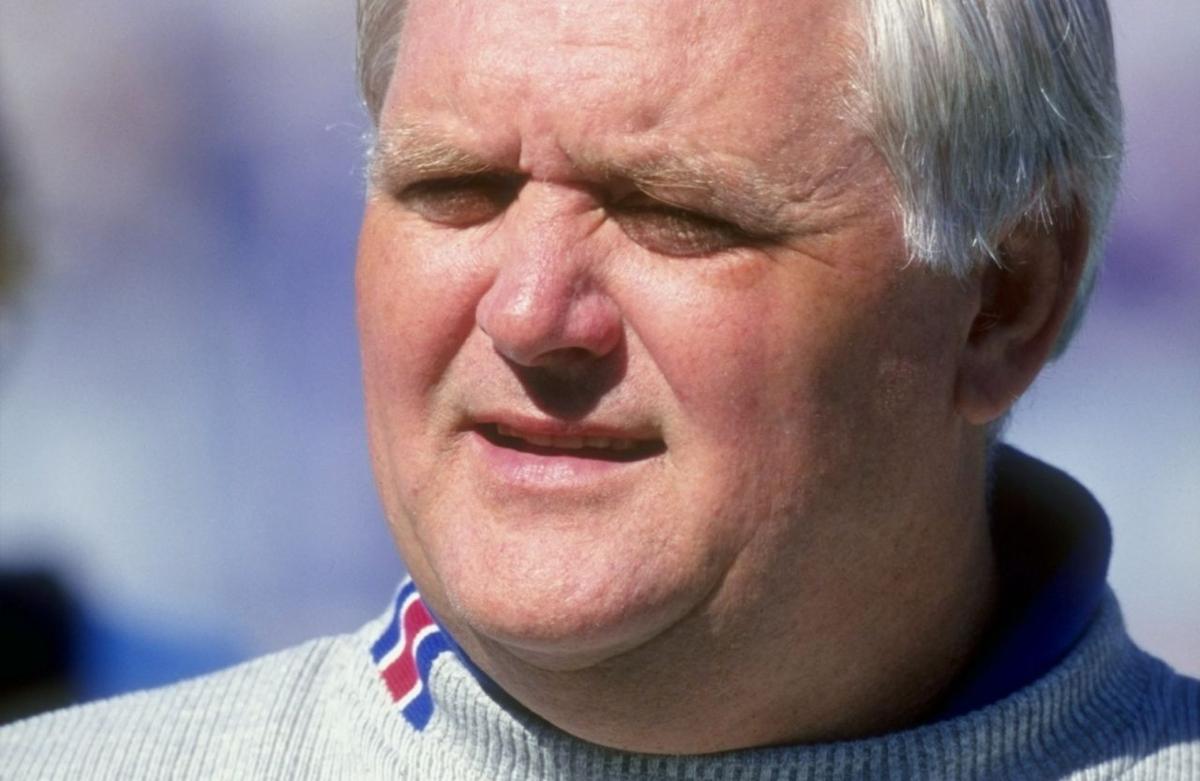 Wade Phillips' day usually begins with a walk. He and his wife, Laurie, cover about two miles during their morning stroll in and around their neighborhood in Houston.
"Then, we get back and decide what we're going to do the rest of the day … while we're indoors," Phillips said. "It's just like everybody, I think. It's a strange time."
For Phillips, the strangeness doesn't end with the coronavirus pandemic that has kept him and his wife mainly homebound for about seven months.
The fact he's watching, and not coaching, football feels even more bizarre.
Since 1976, Phillips has mostly been steadily employed in the X's-and-O's department of the NFL. There was that one year he spent away from the game after being fired as head coach of the Buffalo Bills following the 2000 season. Then, there was the other year he was out of the league, 2014, after ending the 2013 season as interim head coach of the Houston Texans. Phillips spent the next two seasons as defensive coordinator of the Denver Broncos, winning his first Super Bowl with them at the end of the first year.
In 2017, he became the DC for the Los Angeles Rams, who face the Bills on Sunday in Orchard Park. Phillips reached a second Super Bowl after the 2018 season and was let go last year.
At 73, he continues to have the burning desire to get back into the game.
"Being out, I feel like I could help somebody," Phillips said. "That's the only thing. But they've got to feel that way, too. But there'll be some teams that don't do as well. Whether they'll consider me to help, I don't know that. So, we'll have to wait and see."
In the meantime, he gets his fix from a distance. It comes, vicariously, by keeping in close contact with his son, Wes, a Williamsville North product who remained the Rams' tight ends coach even after his father's departure. It also comes from watching as many games as he can on television.
"I've got the NFL Sunday Ticket, on DirecTV, so sometimes I can see six and eight games at a time," Phillips said. "Sometimes, I flip over to the Red Zone. Sometimes, I stay on the game I would like to watch more of. Or, if it's coming down close to halftime or something like that and I want to see a certain game, I'll watch that. But mostly, I flip around."
The closest Phillips has come to plying his trade is the virtual coaching clinics he has done through video conferencing. He used his Twitter account (@sonofbum), which has 185,000-plus followers, to put the word out that he had some free time on his hands and was available to conduct the sessions if any high school or college coaches were interested.
"I got swamped," Phillips said. "It occupied me for at least a month and a half, almost all day, every day. I've had Zoom meetings with college coaches and lot of high school coaches, with most lasting about an hour. I've got one coming up at Rice. I've talked to Baylor's staff, North Carolina, several college teams. And I would say 50 to 100 high schools across the country, from Pennsylvania to California.
"Now, I get some feedback from some of them, saying, 'Hey, Coach, we won our game, 29-0,' or something like that."
In the latest edition of One-on-One Coverage, The Buffalo News spoke with Phillips by phone about being out of coaching, his reflections on his career, his thoughts on how his son and other coaches are doing their jobs during a pandemic and how it has impacted the game as a whole, and his impressions of the Bills.
Buffalo News: How strange does it feel to not be coaching, even though you've been through this before?
Wade Phillips: You just get anxious when you see the games, because I look at the game a little bit differently than most people. I'm watching the defense and how they're playing and why they're doing this and what their strengths and weaknesses are. You see things that maybe you could help with and maybe you couldn't. But I enjoy watching the games and watching teams play and see how they do.
BN: When you're watching games, what are some of the areas that draw most of your attention?
WP: Sometimes, it's coverages. Sometimes, it's what they're playing on longer yardage or shorter yardage and situation stuff, what they're doing, what offenses are doing or are trying to do. And then you see the offenses and kind of expect what they're going to do and you wonder why the defense didn't expect that, those kind of things. But I just enjoy seeing how they're playing and how the teams I'm watching are doing. And then I have people I root for, coaches that I've been with, my son, so I'm pulling for them.
BN: Do you do a lot of second-guessing?
WP: No, no, no. I did enough of that when I was coaching. I don't try to second guess, but I do analyze, or try to analyze, things and mostly anticipate things. I'll say, "Hey, it looks like they're going to run this." Or, "It looks like the offense is going to do this because they've been doing this or that." Just kind of how I think in the game, really, when I'm coaching. Laurie gets tired of hearing me say, "Hey, they're going to do this," and then saying, "I told you that."
BN: Is it frustrating to watch and not coach?
WP: It's not frustrating to me. Like I say, I enjoy it. I enjoy the games. That's why I love coaching. I enjoy, obviously, being in them, but also watching the games. I'm not that kind of person that gets too frustrated or bitter about not being a part of it. I've been around so long, I love football and I'd be watching football, no matter if I'd retired myself or not.
BN: What kind of conversations do you have with Wes?
WP: Just good luck before the game, for sure. But, really, "good plan," as my daughter, Tracy, says. You better watch out, because his tight end scored three touchdowns last game. He's doing a good job coaching the tight ends. I'm just proud of him. I keep in touch with him, obviously, and congratulate him after a win, and if they happen to lose one, I'll say, "Hey, you've got to worry about the next game and go on." Same thing my dad (former NFL head coach Bum Phillips) did with me, really.
I don't give Wes much advice beyond that. I ask him more about his tight ends and what they're doing with them and different things that he's doing with them, how he's coaching them.
BN: What's been the most satisfying, gratifying part of your career?
WP: It's all the wins, certainly. I've been lucky to be with really good teams and we've won a lot of games. And, really, it's been the first years at a lot of places that they weren't doing well before and we came in and then they did really well. So, that's really been gratifying, I think. I mean, Denver obviously won the Super Bowl (after Phillips became their defensive coordinator in '15).
But when we came to Buffalo (in 1995 as defensive coordinator), we did really well the first year. San Diego, we had the first pick in the draft, and we won 12 games when we came in. Houston had the 30th defense in the league (in 2011) and we went to second the first year. So, things like that have been really gratifying. And then all the players, not just the great players, because I still stay in touch with a lot of players and have a lot of respect for a lot of guys that weren't the Reggie Whites or the Bruce Smiths, but I love them, too. But just the experience with players and coaches. That's just me, I enjoy people. That goes for media people and PR people, too. Everyone around the game.
BN: Could you have ever imagined coaching during this pandemic, with no offseason workouts at facilities or preseason games and all the social distancing?
WP: I've been talking to Wes about it a lot, obviously, and then he's got a family and so they worried about it. The Rams did all the protocols, which were great. He told me about all the things they did in training camp. They met outside, in a tent; they took all the precautions. And you've got to say the league has done a great job. They've had, what, five people test positive? Because colleges are having problems and society overall, certainly, is having problems and the NFL has done really a great job.
Actually, when I went to the Texans, they had the lockout and we didn't have any OTAs and didn't put our defense in until training camp that year. But I have to say we went from 30th to second in the league in defense and from never winning the division to winning the division and winning a playoff game. So, it can be done. You don't want to make excuses, even if you go in new like we did. That's part of coaching. That's what you do; you've got get it to where they know what they're doing and how to play. And we drafted J.J. Watt, too, which helped a lot.
BN: How about coaching games in stadiums that are either empty, as is the case with the Bills', or mostly empty?
WP: Something everybody does, defensively, is you try to get what the calls are (from the offense). Audibles and those kind of things, they take them off the TV copy. That's going to be more prevalent this year, I think, as defenses are trying to listen for the offensive audibles and the offense has got to do a better job of disguising their audibles. They can do it (more easily) when the crowd's loud and it's hard to hear on TV. But now that you can hear them in an empty stadium, you kind of know what they're going to do sometimes. It's going to be an interesting part that I'm going to look at that a lot of fans don't know about.
BN: Does it look like football as we know it or is it kind of strange?
WP: A lot of it is energy, with a crowd, and I think you worry about not having that energy, players getting excited about making plays. You see it somewhat, but not as much. Of course, you worry about it when you're the home team, because you lose that crowd. That crowd noise helps you when the other team has the ball, but it also helps you win when you make a play and you get that reinforcement. That crowd cheering makes you play a little bit harder and if you can play a little bit harder, you have a better chance to win. I'm wondering how that has affected the home team. I don't know the odds or whatever, but home team's advantage, I guess you'd say.
BN: What are your impressions of the Bills?
WP: They've got a solid team. I don't think Miami is real good, so it surprised me a little bit that Miami played them so well. But they've got a solid team and the young quarterback looks good. They're doing all the right things.
(Editor's note: Vic Carucci co-authored Wade Phillips' book, "Son of Bum," published in 2017 by Diversion Books.)