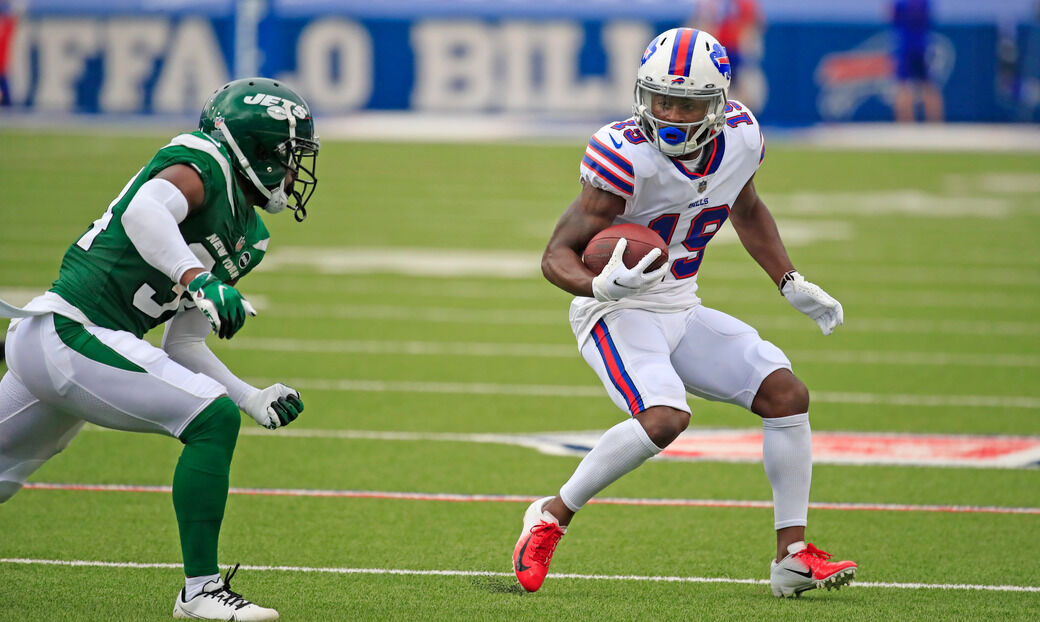 Life in the lower reaches of an NFL depth chart is never comfortable. For wide receiver Isaiah McKenzie, you had to think the discomfort reached maximum levels after the Buffalo Bills gave up a haul of draft picks to acquire Stefon Diggs and then drafted two more players at his position in Gabriel Davis and Isaiah Hodgins.
But McKenzie's seemingly ever-present smile and cheery disposition remained in place. In fact, on March 24, four days after the Bills' blockbuster trade with the Minnesota Vikings for Diggs, McKenzie signed a one-year contract to remain in Buffalo for a third season.
The deal guaranteed nothing, of course. McKenzie still had to make the roster, and the challenge included at least three incumbents – John Brown, Cole Beasley and return specialist Andre Roberts – appearing firmly entrenched ahead of him.
"When all that happened, I told my agent, 'I want to be here, regardless. I want to be here no matter what, because I'm used to the offense and I'm familiar with everything,'" McKenzie said. "I felt like, even though they did that, I still had a chance because I know what I can do. There was no doubt in my mind, if I go out here and show up every day, I know I'll be here."
McKenzie, who the Bills claimed off waivers from the Denver Broncos in 2018, understands the dynamics of being on the fringes. With the Broncos, who made him a fifth-round draft pick from Georgia in 2017, he bounced between their 53-man roster and practice squad in his second season before they waived him on Nov. 2, 2018. The Bills claimed him three days later.
As a relatively small man (5-foot-8 and 173 pounds) in a big man's sport, McKenzie learned long ago not to play the "numbers game" during training camp. That's when a player spends so much time trying to project the total number of players who will be kept at his and other positions, he loses focus on what he needs to do to make the team.
For McKenzie, it was all about continuing to show his tremendous versatility and living up to his nickname, "The Human Joystick." Not only did he need to be consistent when it came to running good routes and having reliable hands, but he also had to be his highly explosive self on running jet sweeps and other plays utilizing him as a running back, and letting the coaches know, if they needed another effective returner, he was their man.
"I know I spent this whole offseason working, just like every other offseason, busting my tail to show the coaches what I can do, and that I can do more," McKenzie said. "You can tell me whatever you need me to do, I can do it. There was never a doubt in my mind that I'd be here, that I could compete against the best guys, or even against the young guys.
"I feel like, if I go on this field and I can change one person's mind, that's a plus for me. If I can go out there and say I changed (Brian) Daboll's mind today, I changed (Sean) McDermott's mind today, and I changed the defensive coordinator's mind, if I can change everybody's mind, then I've got a chance. They saw that and they felt like I had a role on this team, and I appreciate them for that."
In the Bills' season-opening victory against the New York Jets, McKenzie took snaps at wide receiver, returner and even cornerback. In four games, he has seven receptions for 88 yards and has run three times for 15 yards. For his career, he has caught 56 passes for 550 yards and a touchdown (last year against the Jets) and has 22 carries for 134 yards and two scores (in '18).
In the latest edition of One-on-One Coverage, The Buffalo News spoke with McKenzie by phone about his thoughts on his versatility, Diggs' impact, the Bills' receiver group, Josh Allen's play and the barbecue restaurant he opened in the summer in Miami.
Buffalo News: How do you see your role?
Isaiah McKenzie: You've got all the words like "Swiss Army knife," you've got "versatile," you've got "a guy that can do it all," you've got "a lot of tools in the toolbox." I've kind of gelled into being a jet-sweep guy, being the receiver, sometimes even being in the backfield. I feel like I'm very versatile in everything I do, and I feel like that's why I'm here and I got an opportunity to stay here this year and be on the team. I feel like I can bring so much to the table, as far as speed, quickness, run after the catch, things like that. There's only one ball, there's a lot of guys, so when I do get the ball, I try to take full advantage of my opportunities.
BN: The jet sweeps seem to always provide a spark. Why?
IM: Me being me, I always want the jet sweeps to go big because I'm in the receiver room all the time and they talk about the jet sweeps and I'm like, "Yeah, I average such a such on the jet sweep every time that I get it and I want to keep doing that." So, I talk about it in the receiver room, I kind of make a joke out of it. But at the same time, when I do get a jet sweep in a game and it's a big play, I feel like I did something good for the team. I'm pretty sure a lot of teams do jet sweeps and things like that, and they don't expect them to hit big. But in this offense, I want them to hit big so I can show that I can make the big play and put our team in position with jet sweeps and things so that they can keep it in the game plan.
BN: As soon as you enter the game, opponents obviously are expecting the jet sweep. Yet, you still manage to often make it work. How does that happen?
IM: It starts with the line, then it goes to the perimeter block. Sometimes I have guys out there, sometimes I don't. When I have those guys out there the perimeter – receivers like Diggs, Gabe, Bease, Smoke (John Brown) and all those guys, even (running back Devin) Singletary sometimes, and (Dawson) Knox and (Tyler) Kroft and the tight ends – when they make their blocks and actually I've just got to make one cut and I've got to go. When they do block and I hit it the right way, it's a big play. And sometimes, when they're not out there, I've just got to make something happen.
BN: What else, besides your great speed, goes into making you so effective running with the ball?
IM: First, we start with timing because if you don't have the ball, you can't make a play. Josh and I are on the same page as far as far as timing, or how fast I'm going, when we should snap the ball, things like that. Once I get it in my hands, I've got to run sideways full speed. I know I have to beat the D-end and, if it's man-to-man, I've got to beat the backside corner that's following me. Once I get around the corner at full speed, it's one cut and go or I'm just running like a 200 (meters), as fast as I can around the corner.
Just like last week, on the fourth-and-1 (when he gained 14 yards) against the Raiders. I knew I wasn't going to have blockers, so once I grabbed the ball, I saw the corner's foot was in the ground and he didn't turn his hips. So, I knew, once I got around a corner, I had to beat him on the edge, run full speed and get as much as I can. There's a lot that goes into it, but you can't really think much. It's read and react, and it happens quick.
BN: What's your fastest time in the 40-yard dash?
IM: My fastest time in the 40 is probably 4.37, 4.36. That was in college. At the combine, it was a 4.4 flat, but I felt like I was faster than that. Because my track time is way different than my 40 time. I ran track in high school (American Heritage in Miami). I ran the 100, 200, 4-by-100 and 4-by-400. I won states my sophomore year of high school in the 4-by-1 and the 4-by-4. There's a lot of guys that run slow 40s that are fast track guys. At the same time, it's different when you're on the field and you've got the ball in your hands.
BN: What are you seeing from Josh Allen now compared to what you saw from him as a rookie in 2018?
IM: It's like a whole 180. It's a complete, different guy. Not saying he was much different than last year. The guy he is this year, he was that guy last year. He just took it to another level, with the way he's reading coverages, throwing the ball. And he's out there having fun. He's doing less thinking, more playing. And that's the Josh we love. We know he's competitive. When it's time to make plays, he's going to make plays. When it's time to make the right decisions, he's going to make the right decisions.
But this year, he's been awesome. There's not really much you can say about Josh that he's not doing right now. He's killing the game right now, and as a receiver group, we want to keep catching the ball for him and keep blocking for him when he runs. When he scrambles, he keeps his eyes downfield. Or, if he doesn't keep his eyes downfield, we know he's going to turn into a running back because he can run the ball as well. So, you've got to stay on the move. The play's never over with Josh.
BN: What are your impressions of Stefon Diggs?
IM: Hahaha. Funny guy, he's a funny guy. But he's also a competitor. He's also an amazing route-runner, great hands. He's great for the room. He's been showing up each and every week and we appreciate him for that, I appreciate him for that. He's been showing us the ropes, as far as the receivers. He's been showing us certain routes, certain moves to make and things like that.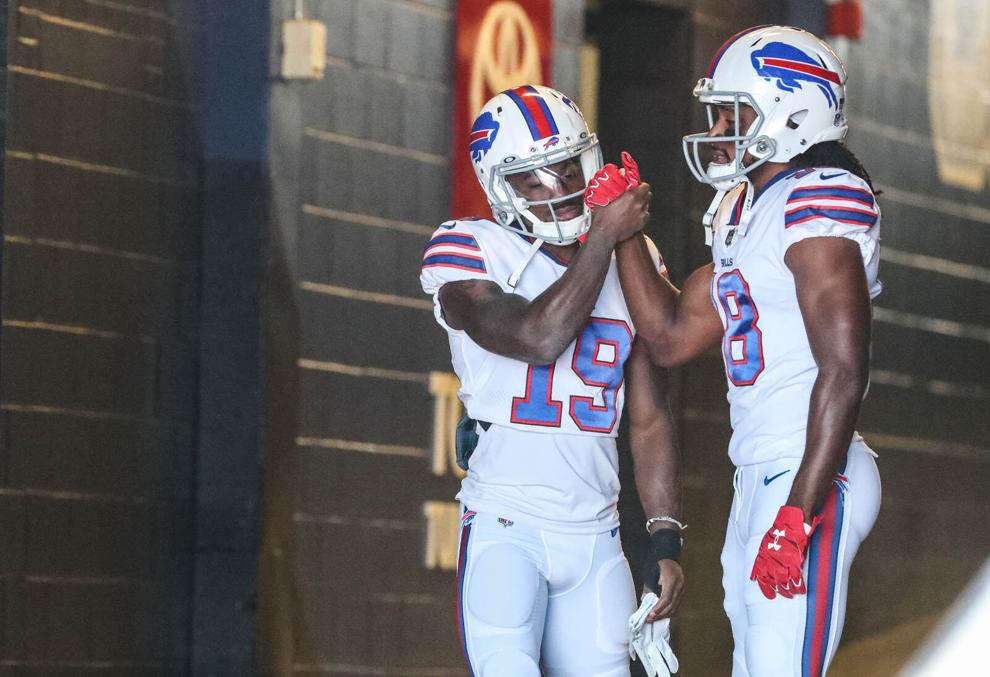 It just changes the whole dynamic of the room. But we've also got Cole Beasley and John Brown still in the room, and they're teaching (Diggs) as well. They're older than him. And he's teaching us, the younger guys like me, Duke (Williams), Isaiah (Hodgins), Gabe and all of us. So, it just trickles down and everybody's following each other's lead.
BN: What's the most helpful advice Diggs has given you?
IM: I would say in camp, we were doing one-on-ones and he was just teaching me certain releases, how to use my hands. He was like, "You've got the attributes; you've just got to know how to use them. Like, you don't have to run every route full speed." So now, when I run routes and things like that, I try to be patient off the line and use my quickness more than my speed. And when it's time to use my speed, use my speed more than my quickness.
He taught me a lot, but I also learned from Cole Beasley – because Cole Beasley's always open, by the way, if you didn't know – but Bease and Diggs try to teach me the same thing because I'm kind of a mixture of both of them when it comes to speed and running routes and things like that.
BN: You've seen a lot of changes in that receiver room in the last two-plus seasons. What's your perspective on it?
IM: I feel like, since the first day we met, there was just like a bond, like a brotherly bond between all of us. We all get along. There's no arguing, we don't care who gets the ball, we don't care who makes the big play. We just want somebody to make it. We celebrate each other's success.
Over the years, it's changed a lot and I feel like it's changed for the better. There were a couple of guys who were here that would still fit in today's room, but they're just not here. But the guys we do have here, it's amazing, from Diggs to the rookies, Gabe and Hodgins, myself, Jake (Kumerow) that came from Green Bay; he fit right in. Duke Williams. I feel like we can't be broken. We've just got to stick together and keep celebrating each other's success and keep being successful as a group.
BN: What's the story behind opening La Traila Barbecue, your Texas-craft-style barbecue restaurant in Miami?
IM: I had thought about it for like two years. I thought about buying a food truck, but I don't know how to cook. I met this guy named Mel Rodriquez through a mutual friend. He's a pit master and he makes barbecue. I wanted people to test his food before I even went into business with him. So, on June 20, we kind of had a free food day just to test his food out and everybody loved it. And I'm like, "Man, you know what? Let's take it to another level. Let's start partnering with people and getting other places and getting the food out."
After a while, the food started going out, our name started getting bigger and things like that down in Miami. And then we said, "You know what? It's time to get a spot and let's get this show on the road." We've got a restaurant and two catering locations, and it's been  a success so far, so I want to keep going.
BN: Did it scare you a little bit to open a restaurant during a pandemic?
IM: It didn't scare me. Because of the pandemic, you couldn't really go outside, you couldn't really be in places, and this (lockdown) was serious. Like, stay in the house, you've got a curfew. So, we were doing everything online, from licensing and working with vendors, all that stuff, so it happened quicker. We didn't have too much paperwork, so it kind of worked out for us. It was a gusty call, but I felt like I could do it, so I did it.