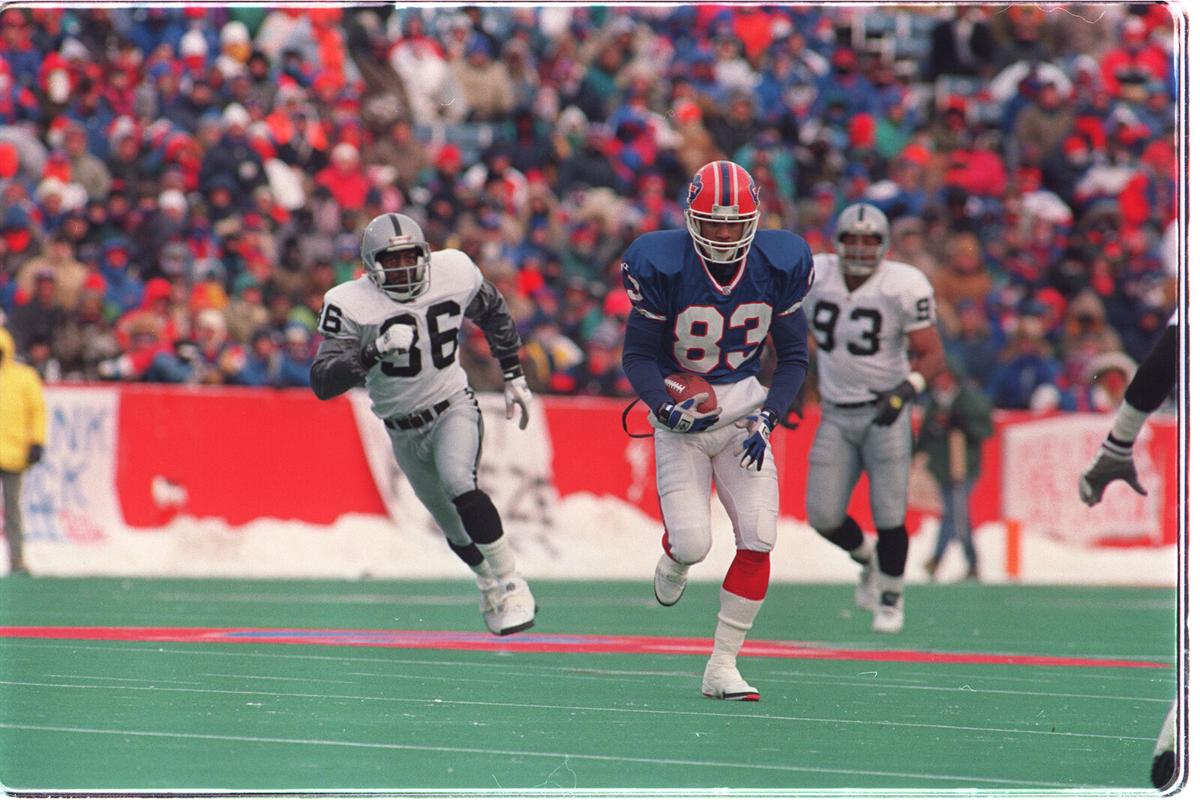 When Andre Reed watches the Buffalo Bills, he can't help but flash back to their incredible, high-flying, offense-driven ride of the 1990s.
When he sees Josh Allen, he thinks of his quarterback, Jim Kelly. When he sees Stefon Diggs, Cole Beasley, John Brown and Gabe Davis, he thinks of that great receiving corps that he led.
Just as today, opponents struggled with the often-impossible task of trying to cover Reed, Don Beebe and James Lofton, along with Thurman Thomas out of the backfield.
"It takes you back in a lot of ways, because they're scoring a lot of points," Reed told The Buffalo News by phone. "They are taking a lot out of the book of our teams, and I'm sure Sean McDermott has referenced us many times during the season and the last four years he's been there. They've got a quarterback that, from one year to the next, has just made a complete turnaround. And they've got the weapons. I just think they've got everybody that that front office wanted to get.
"You can get all the pieces you want, but if they don't work in the system, it really doesn't matter."
In the run to four consecutive Super Bowls in the 1990s, the Bills' system was the K-Gun, no-huddle attack designed by the late Ted Marchibroda. It had all the right components, beginning with Kelly calling plays at the line of scrimmage and the offense moving at a breakneck pace.
On the way to a 13-3 regular season and winning their first two playoff games to advance to the sixth AFC Championship Game in franchise history, the Bills are utilizing a multiple scheme employed by Brian Daboll. It allows Allen, with his powerful throwing arm and off-the-charts athletic ability, to work the width and depth of the field to the fullest. As with the '90s Bills, defenses are consistently pushed beyond their coverage limits.
"I think that Brian Daboll has been kind of the ringleader," Reed said. "I can't say it's all Sean McDermott, even though he's the head coach. He brings a certain mentality to that football team, but Brian Daboll is kind of like the shoe on the other foot for him. And then Leslie Frazier, too. They have coaches that believe in their players and their system is (tailored) to those players.
"They're not the greatest defense in the league, but the Bills are pretty opportunistic and last week was an indication of that, with a kid named Taron Johnson (breaking the game open with a 101-yard interception return for a touchdown). They showed videos of him at the combine and he looks like he can't catch a cold anywhere, and he makes the biggest play for the Bills in the last 20 years.
"Those are the kind of guys they need to step up in games like they played last week and against the Colts. They need these unsung heroes that take turns to make plays. That's what we had. We needed the Kenny Davises and the Marlo Perrys and the David Whites and the Carlton Baileys. Those are the guys that need to step up and they did. That's what that team was about."
In the latest edition of One-on-One Coverage, The Buffalo News spoke with Reed about what he thinks of the Bills' offense, reflections on how it compares with the one during his playing days, his assessments of the receivers and Allen, and what he thinks the current team needs to do to be at its best for Sunday's game against the Kansas City Chiefs.
Buffalo News: What do you see when you look at the Bills' passing game, where it seems someone is always open?
Andre Reed: You're not going to cover a Stefon Diggs one-on-one all the time when you have Cole Beasley there and you have John Brown on the other side. It's just not going to happen, and vice-versa. You're not going to cover John Brown and you're not going to cover Cole Beasley when you've got Stefon Diggs over there. But those guys have to be good at what they do, as far as knowing where they are, their route-running, knowing where Josh is going to throw the ball.
Just like me, Jim, Thurman, Beebe and James Lofton. Jim could throw it 60, 40, 50 times a game, but where do we need to be to give him the 25 completions, to give him the 30 completions? We have to be in the right place. And I think, with that offense, that's what Josh believes about those guys, that they're going to be in the right places. And those guys believe that Josh is going to put it there. That's why they were a top-five offense and they broke records. Defenses didn't just let them throw the ball around. They broke records because of what they were doing and the guys that were doing it, so kudos to them.
BN: What was it like to be a part of the no-huddle offense?
AR: The no-huddle offense really was a very, very vanilla kind of offense. It wasn't West Coast style. It wasn't the run-and-shoot. The no-huddle was its own entity. It was, "Here's the guys, this is what we do, we don't do anything special, but can you stop it? We're not extraordinary. We just do extraordinary things in basic situations." Teams use no-huddle all the time, but teams don't use that as their base like we did. We ran teams into the ground with that.
BN: Did you feel, as a group, your passing game was unstoppable?
AR: Very much. Going out there and being productive, anybody can do that, but going out there and feeling that nobody can stop you is a different feeling. I think every time we stepped on a field, we knew people couldn't stop us as long as we were doing what we were supposed to be doing. The sign of a great offense is, it doesn't matter what you put out there – down, distance, whatever it is – we're going to be productive, because we always have something for what you're going to give us. If you want to double-team me, you'd better watch Beebe, you'd better watch Lofton, you'd better watch Thurman coming out of the backfield. After a while, teams caught up with us. But at the time, the offense was such an innovative thing, but it was, to me, more vanilla.
BN: What did you like best about your role in the no-huddle offense?
AR: I just liked that, regardless of where I lined up, not only was I going to get, most of the time, the best corner but, to a certain point, I dictated what the secondary was going to do. Wherever I was, on one side or the other or going in motion, they not only had to account for me, but their defensive backfield and the way they played changed (based on) wherever I was.
A lot of times I was in the slot, a lot of times I was tighter; I could be less than five yards closer to the tackle. And what I was going to do, to a certain point, dictated what was going to happen. The defense had to honor that. And with Thurman coming out the backfield, whatever side he was on, that dictated what the linebackers were going to do.
You could guard, to a certain point, Beebe and James because (defenses) used the sideline as an extra man. But with me being in the middle, I had more room and I could disrupt a little bit more. Depending on where I was on the hash, they had to make a lot of different calls.
BN: What's your analysis of Stefon Diggs?
AR: Is he the best route-runner in the league? Probably not. Can he run as fast as Tyreek Hill? No. But I think he's a combination of both of those. He's very, very subtle. I think he has the top-five best hands in the league. He catches a lot of 50-50 balls. And he just is very savvy within five yards of a route.
AR: He's a bug, man. Within five yards, can't nobody cover that dude. He's like a Wes Welker. That guy was unbelievable within five yards. When's the last time you saw Cole Beasley actually run past somebody? That's not what he does. He's from one to eight yards, and he's going to screw you into the ground. He's great at that. (Opponents) take their chances and put the nickel corner on him and, most of the time, he roasts the guy.
AR: He's the guy running down the field on a fly most of the time, and Diggs is more of an intermediate route-runner, 10 to 15 yards or 10 to 20 yards, and then Beasley's underneath them. So, they've got every level covered, something like with me, Beebe and Lofton. Even though Beebe and Lofton ran the deep patterns, they came across the middle 20 yards deep, too. I did that, but I was mostly in that eight-to-15-yard range. If they didn't make the tackle, it was over.
BN: How impressive has Gabe Davis been as a rookie?
AR: Very impressive. Not only does he have the size, he's going to get better at running routes. He really surprised me with where he is with his awareness of where he was on the field, especially two weeks ago against the Colts. He's got great awareness on the sideline. He made two good catches, but his feet made them great catches, toe-tapping on the sideline. I think he's going to be a good player and he is right now. He's going to be very important on Sunday, for sure.
BN: What are impressions of Josh Allen?
AR: You know, a quarterback makes mistakes. We all make mistakes, especially at that position. It can diminish your confidence. And I think the first two years Josh was in the league, you could tell that if he made a mistake, to a certain point, that really, really hurt him and it showed the next time he was out there. This year, you didn't see that at all. If he did make a mistake, he was a totally different quarterback than he was the previous two years.
How did that happen? I think, well, he's been accountable to himself, number one. Number two, the guys he has around him hold him accountable. And it isn't like guys didn't hold him accountable before, but I think the people around him have given him that confidence that he didn't have the previous two years. He didn't have that confidence. You could see it in him – the way he played, the way he carried himself.
They gave him the keys two years ago, but he didn't even put the keys in the car two years ago. He had the keys, but he didn't start it up. This year, he started it up and actually drove it. As a quarterback in this league, you've got to be doing something by that third or fourth year. You've got to be moving forward, not backwards. And he's taken that step forward. Is he going to be perfect? No. Obviously, he's not going to be perfect, but one thing he'll be able to build on this year is that he was able to step up when they needed him, and he's done that all year. And I'm looking forward to seeing it on Sunday.
BN: As someone who played in five AFC championship games, and were part of four victories in a row, you understand what it takes to succeed in this game. What's your advice to the current team?
AR: I just believe that Sean McDermott has been preparing for this all year. Marv Levy used to say, "One more river to cross," or, "One more bridge to cross." And this is what you put number one. Now, Sean has to tell the team, "This is what you play for. You're here for a reason. This is why you play the game. It's up to you to take this game the way you've taken the game before and the game before that and the whole season. You're prepared for this. And you don't want to go out there and not feel that you haven't prepared for this because you never know if you're going to be back here again."
That's a fact. You don't know if you're going to be back here again. You don't know what's going to happen from year to year. We can all speculate that, of course, the Bills have the in on the division now. They should win the division the next five years, 10 years. But will that happen? We don't know that.
It takes me back to our first AFC Championship Game (against the Los Angeles Raiders on Jan. 20, 1991). Not only was it phenomenal, but you look at what we did and how we came out, we totally annihilated the Raiders (51-3). They shouldn't have even stepped off the plane, really. I think after the first half, they should have gone into the tunnel and just kept going and gotten on a bus. Talking to Howie (Long) and Greg Townsend and some of those guys after the game, they were like, "Yo, man, I've got to get on the bus and get on out of here." They were ready to go. And I think, as a team, that's what we looked forward to all year, for that kind of feeling.