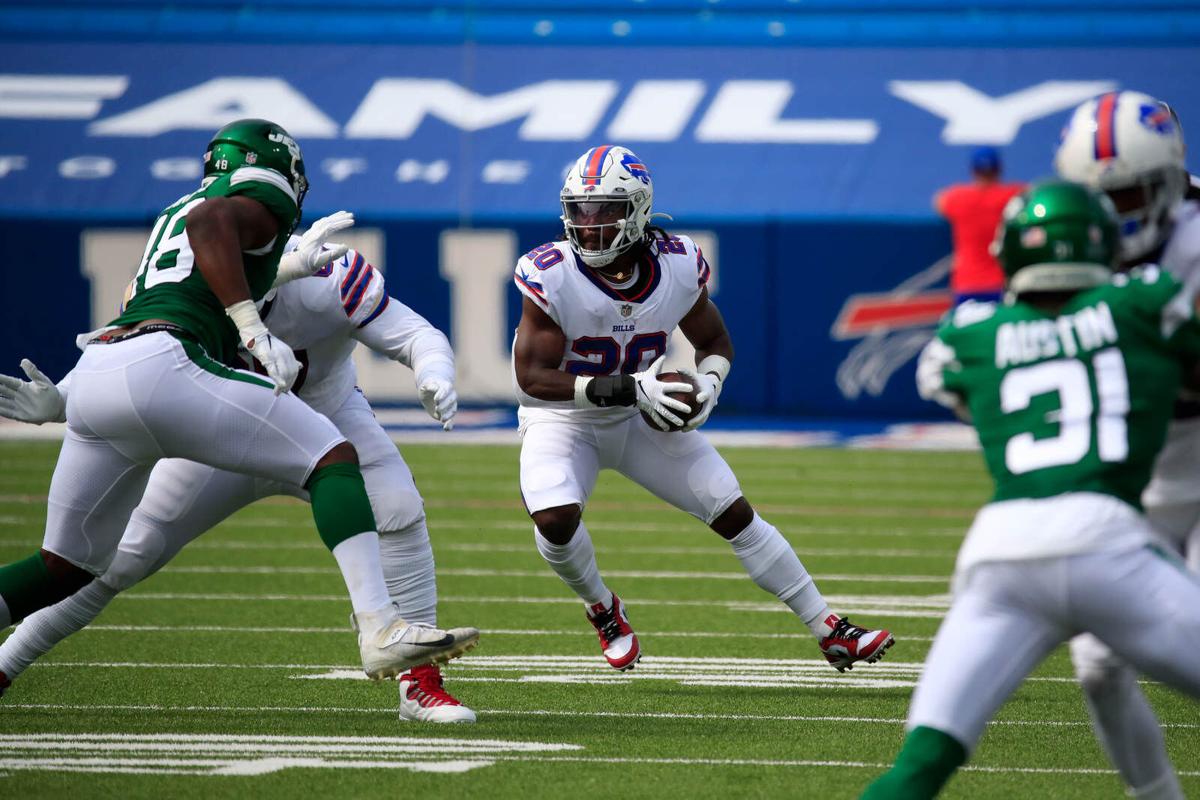 It was a quiet trip to One Bills Drive on Sunday.
There was no traffic to battle and no shortage of parking in the fieldhouse lot. The unmistakable smell of tailgate grills did not fill the air on the walk into Bills Stadium. Once inside, there was ample space to spread out in the press box given the reduced capacity because of Covid-19 precautions. While players and staff dotted the field, the stands were empty. Bills Mafia was nowhere to be found.
The lack of 70,000 fans was apparent throughout the Buffalo Bills' 27-17 win over the New York Jets in a season opener unlike any other. From when the team took the field before the game to when the defense forced its first three-and-out, it was a strange, even disorienting atmosphere.
"It was weird, for sure," quarterback Josh Allen said. "We definitely missed Bills Mafia. We wish they could be in the stands for us. Hopefully, sometime in the near future our wish can come true there. Their presence was deeply missed. There's nothing like playing in front of Bills Mafia, the energy, the excitement, how crazy it gets, but we're making due with what we've got and at least we're playing some football now."
It was so quiet in the stadium that Allen could be heard behind the glass in the press box trying to use a hard count to draw the Jets offside. The usual roar – or grumble – after a good or bad play made for a bizarre viewing experience.
"I thought about it when we first went out," receiver Stefon Diggs said. "I forgot we weren't having fans, so when I first walked out, I was like, 'Where the hell is everybody at?' Then I remembered. I remembered that we can't have anybody yet. Hopefully we can talk to the governor a little bit, hopefully we can get some people in the seats, because I saw somebody driving in. Some ladies they had their signs out. Like, that's awesome. I just can't wait to have them be a part of it because I know it's just gonna make it an even better atmosphere. I was excited as is and I didn't hear a soul. I know when Bills Mafia gets in there it's gonna be fun."
Fans will not be allowed for the Week 3 game against the Los Angeles Rams on Sept. 27. State and local health officials plan to re-evaluate because the Bills do not return home until a Thursday night game Oct. 15 against the Kansas City Chiefs.
Scenes from an empty stadium as the Buffalo Bills open their season without fans
See photos of an empty Bills Stadium and the parking lots and streets surrounding it due to the coronavirus pandemic, as the Buffalo Bills faced the New York Jets on Sunday, Sept. 13, 2020.
2. We finally have some answers on the offensive line. The Bills used second-year veteran Cody Ford at right guard and Daryl Williams at right tackle. That information was guarded like the gold at Fort Knox during training camp and the unofficial depth chart released last week listed three options at each spot.
3. It didn't take long for the Bills to get their rookies involved on offense. On the first offensive play from scrimmage, the Bills went with four wide receivers. Quarterback Josh Allen completed a 3-yard pass to fourth-round draft pick Gabriel Davis, who was on the field with veterans Stefon Diggs, John Brown and Cole Beasley at receiver.
Running back Zack Moss, the team's third-round draft pick, got involved a short time later, catching a 4-yard touchdown pass from Allen that put the Bills up, 14-0, after a successful extra point.
"Definitely a great moment, man," Moss said of his touchdown. "Doing it at home in Week 1, everyone was happy for me. Just blessed. ... Definitely going to keep (the ball) and get it all painted up and things like that."
Davis finished with two catches for 16 yards, while Moss had 11 yards on nine carries and 16 yards on three catches.
4. Rookie kicker Tyler Bass had a forgettable debut for the Bills. Bass missed a pair of field goals he absolutely has to make in the third quarter. He was wide right from 38 yards and 34 yards kicking to the tunnel end of the stadium, allowing the Jets to hang around in a game that should have been over at halftime.
The first miss, from 38 yards, appeared on TV replays that it might have been good, but it was unable to be reviewed by instant replay because of its height. From Section 3, Article 11, Item 3 of the NFL rule book under field goal or try attempt, it states, "Whether a field goal or try attempt crossed above the crossbar and inside the uprights is reviewable, but only if the ball crosses the plane of the goal post below the top of the uprights, or if the ball touches anything."
Bass rebounded with a pair of chip-shot field goals in the fourth quarter, from 22 and 19 yards kicking to the scoreboard end of the stadium, but his debut is not going to ease any concerns that he'll be able to come through under pressure.
"There's always a first time for all of us. We remain confident in Tyler. There's going to be some of those moments, there's adverse moments, there were today for our team," coach Sean McDermott said. "Tyler, I thought did a good job of pushing through. Had the field goal at the end to seal the game basically, so I was proud of him for that. He was resilient in his approach, so like all of us, we've got to go back and continue to work on our game this week. There's a lot to work on, but we remain very confident in Tyler. He's a young kicker and that's going to happen from time to time. We stick by him."
5. A.J. Epenesa's debut will have to wait. The team's second-round draft pick was a healthy inactive Sunday. Epenesa was listed as a third-stringer on the team's unofficial depth chart, and that played out as McDermott went with Trent Murphy, Jerry Hughes, Mario Addison and Darryl Johnson Jr. at defensive end.
6. Former University at Buffalo standout Cam Lewis made his debut for the Bills. Lewis was promoted from the practice squad to the active roster Saturday after the team placed veteran Josh Norman on injured reserve with a hamstring injury.
7. Former Bills running back Frank Gore led the Jets with six carries for 24 yards. Gore, 37, took over as the primary runner for the Jets after Le'Veon Bell suffered a hamstring injury. Jets receiver Chris Hogan, another former Bill, had just one catch for zero yards against his old team. Hogan dropped a would-be touchdown in garbage time.
8. Bills defensive tackle Vernon Butler, who was listed as questionable on the final injury report, did not play because of a hamstring injury. That meant Justin Zimmer, who was promoted from the practice squad Saturday, was in the lineup. Zimmer finished with four tackles, just one off the team lead.
9. The Bills' other healthy inactives: Quarterback Jake Fromm, running back T.J. Yeldon, offensive lineman Ike Boettger and veteran tight end Lee Smith. With Smith not in the lineup, rookie undrafted free agent Reggie Gilliam made his debut for the Bills.
Buffalo Bills beat New York Jets, 27-17, in season opener
Allen in all alone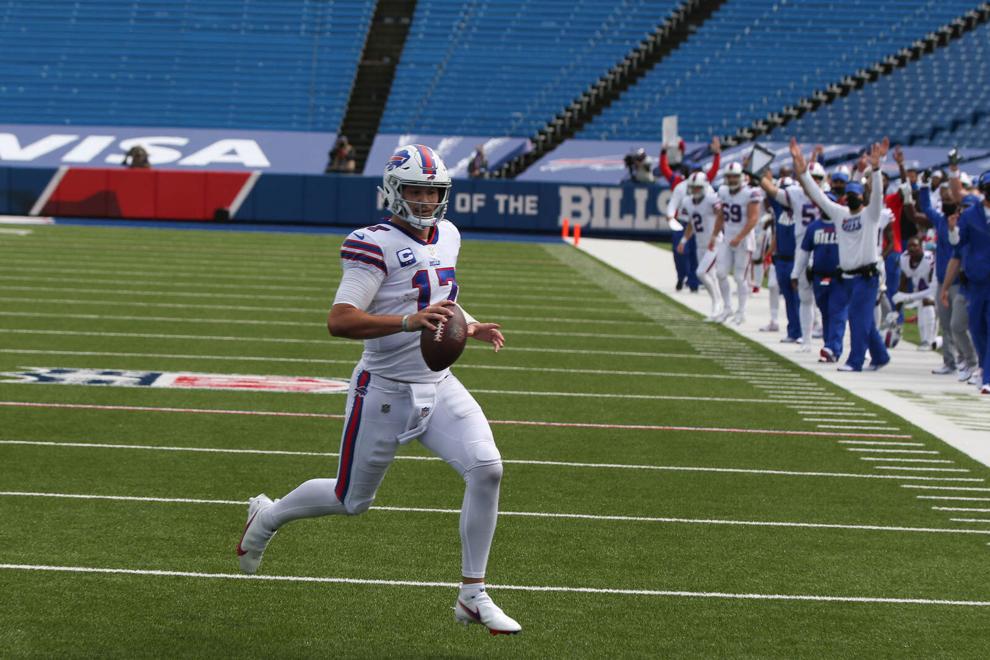 Allen fumbles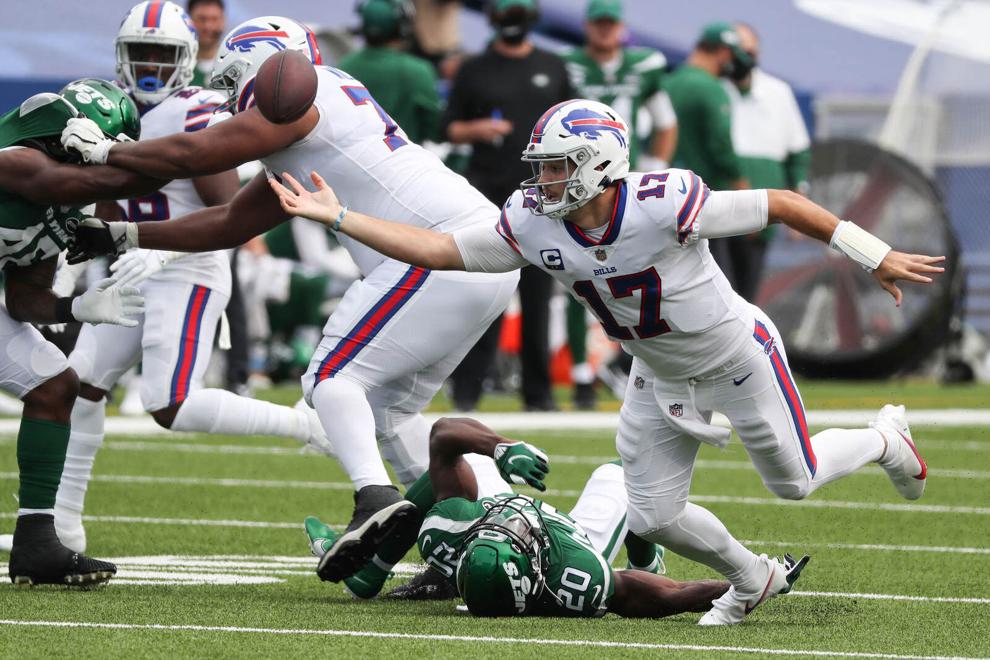 Brown goes up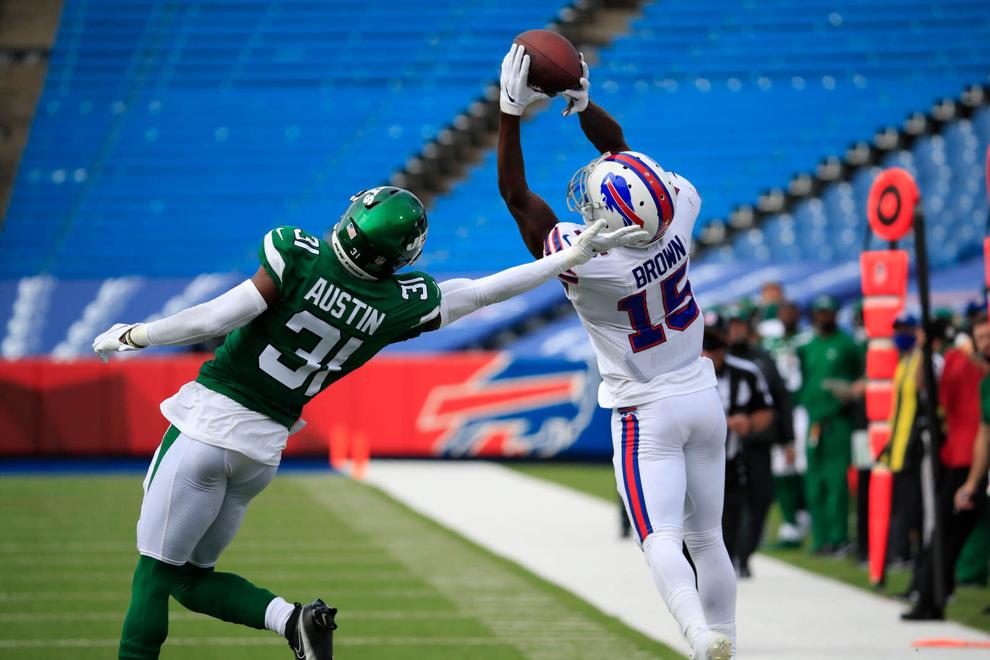 Allen out of bounds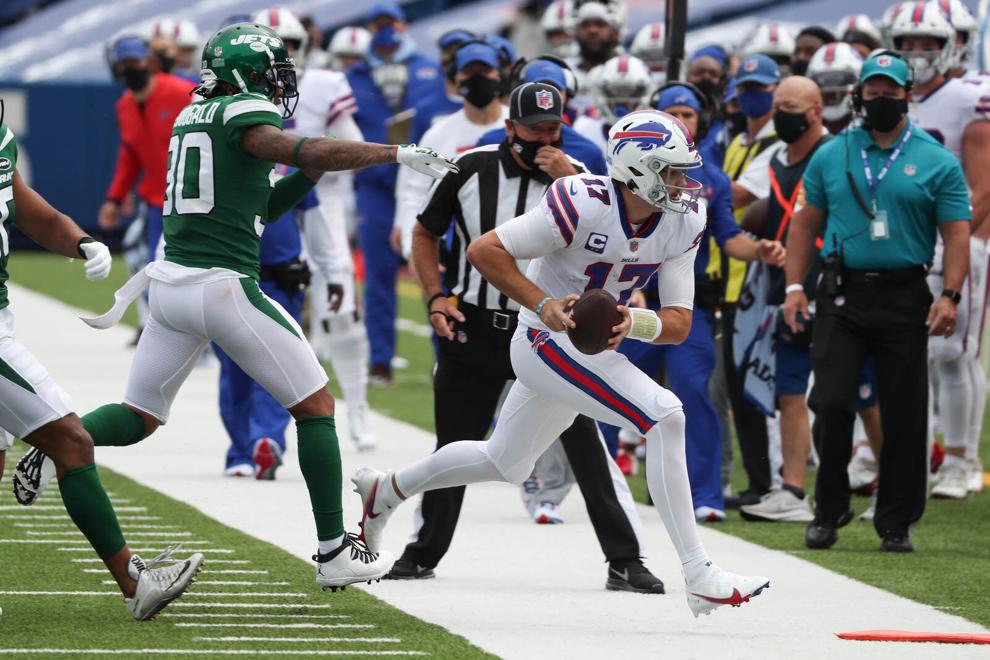 Milano intercepts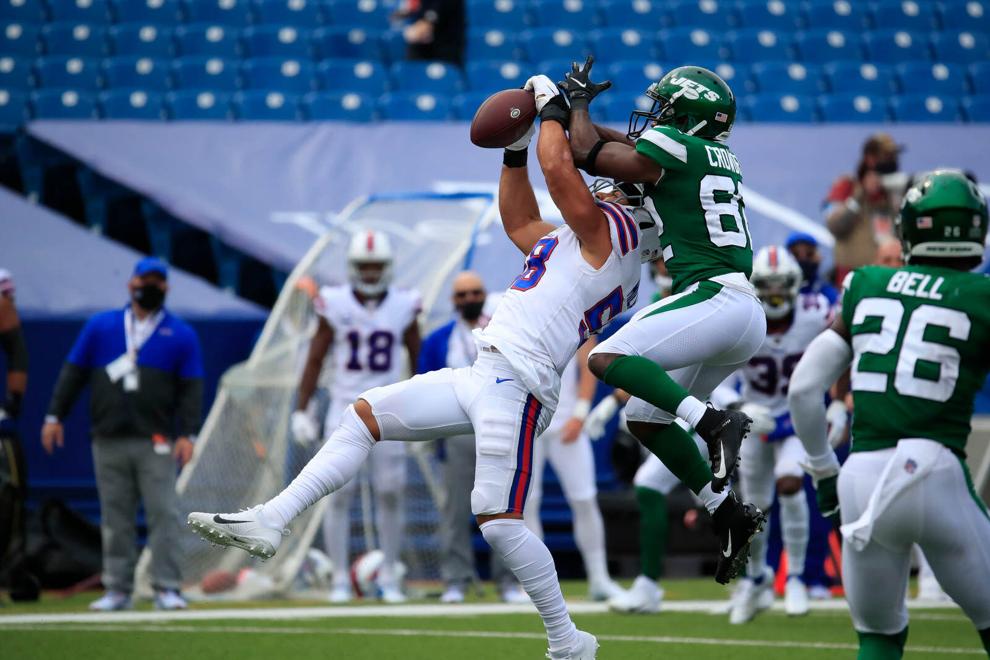 Coach McDermott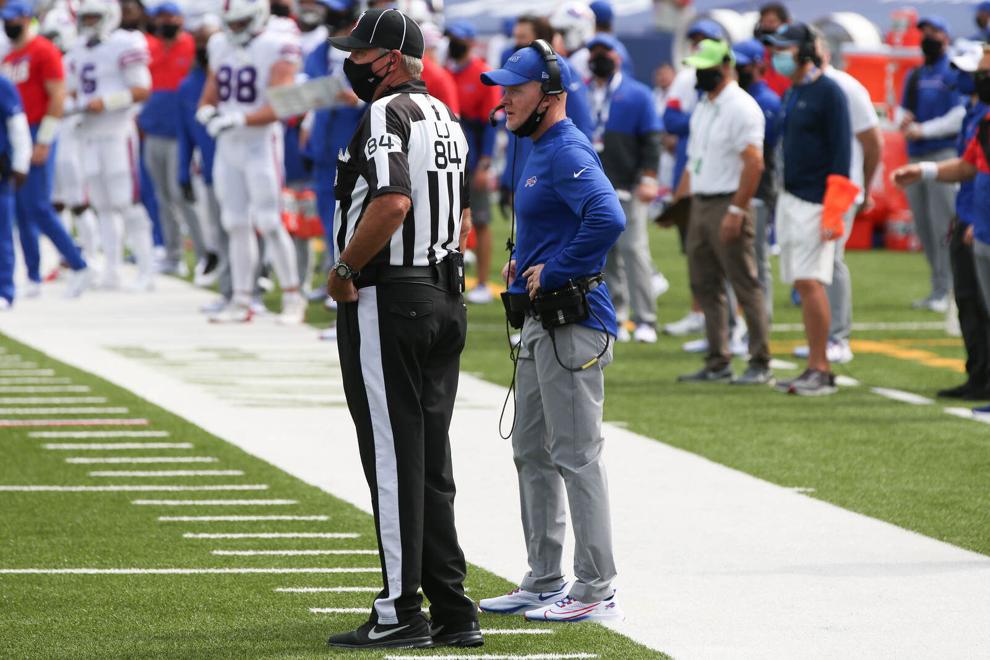 Knox up the middle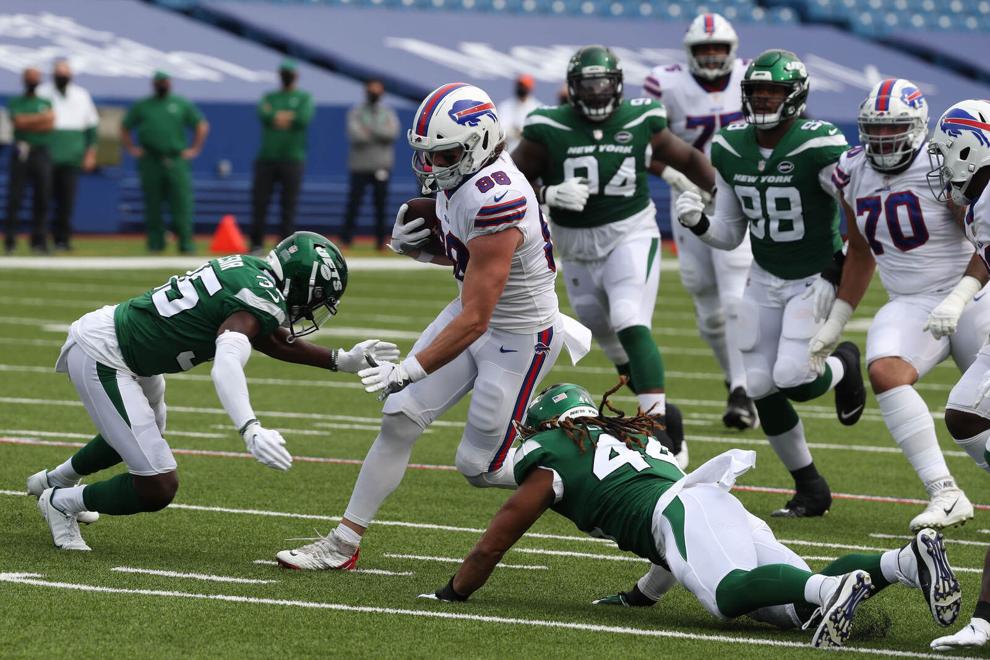 Allen passes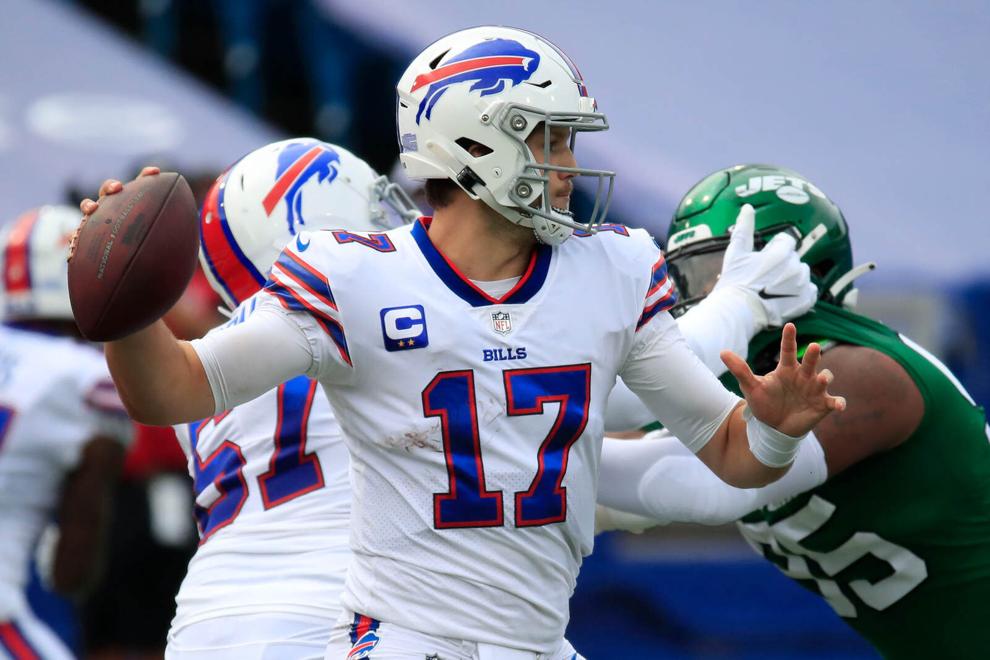 Moss scores a TD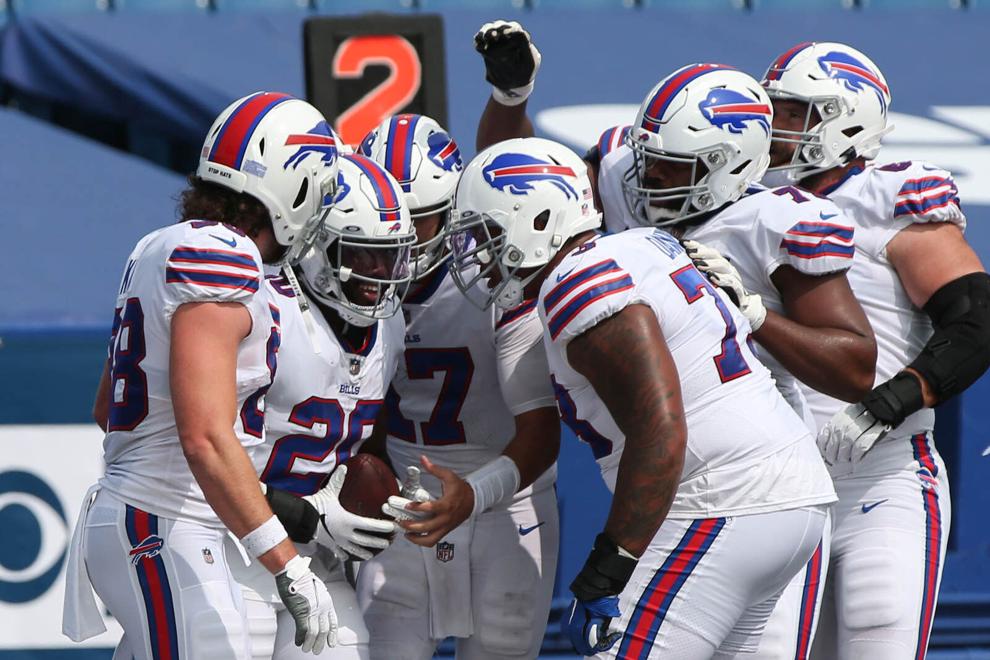 Darnold in the pocket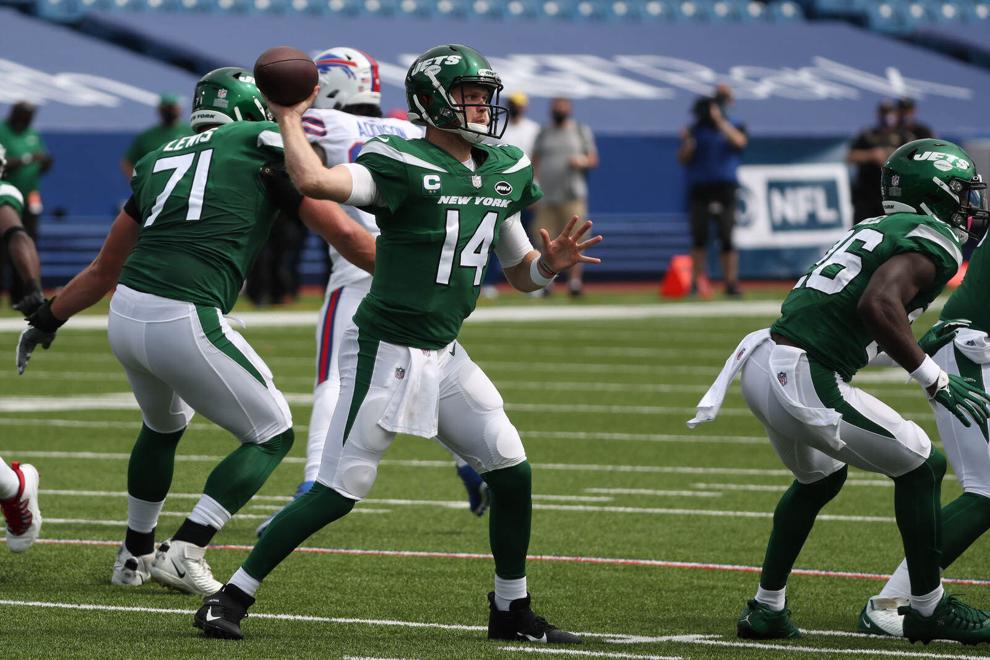 Bell contained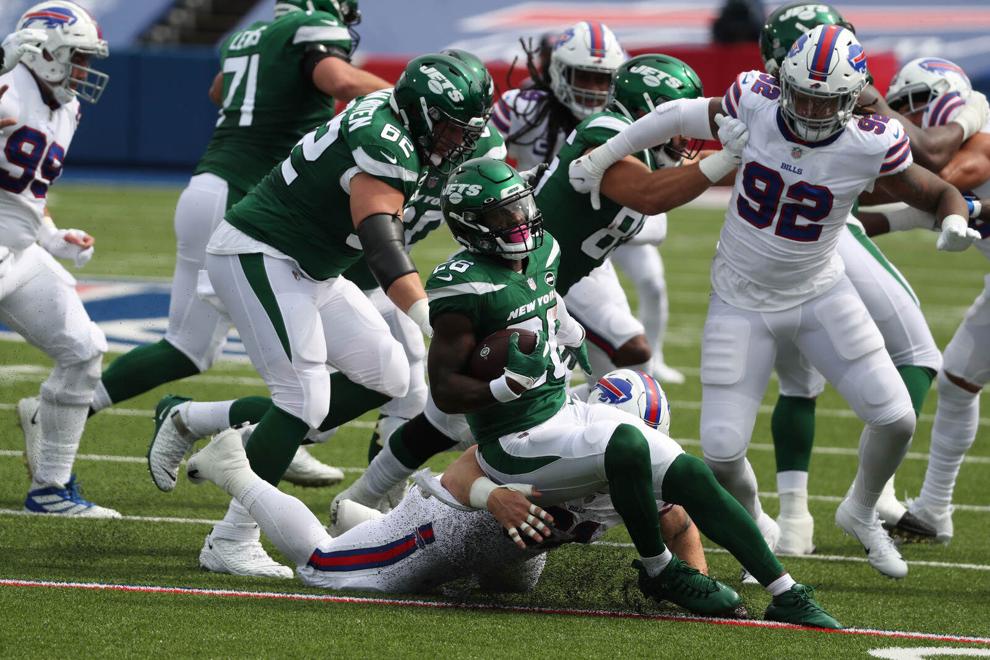 Allen on the run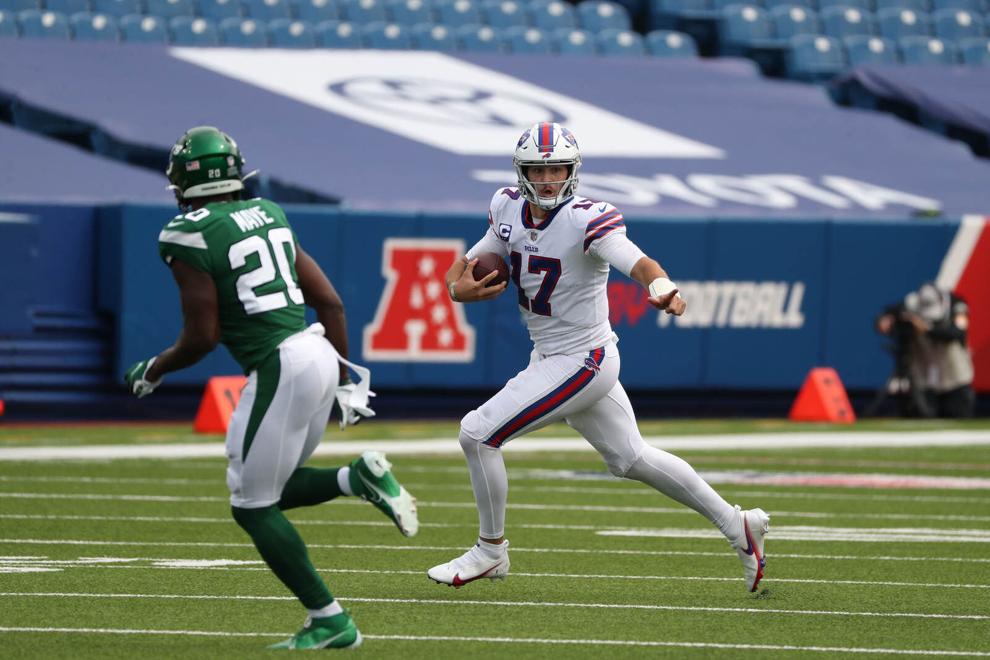 Brown into the end zone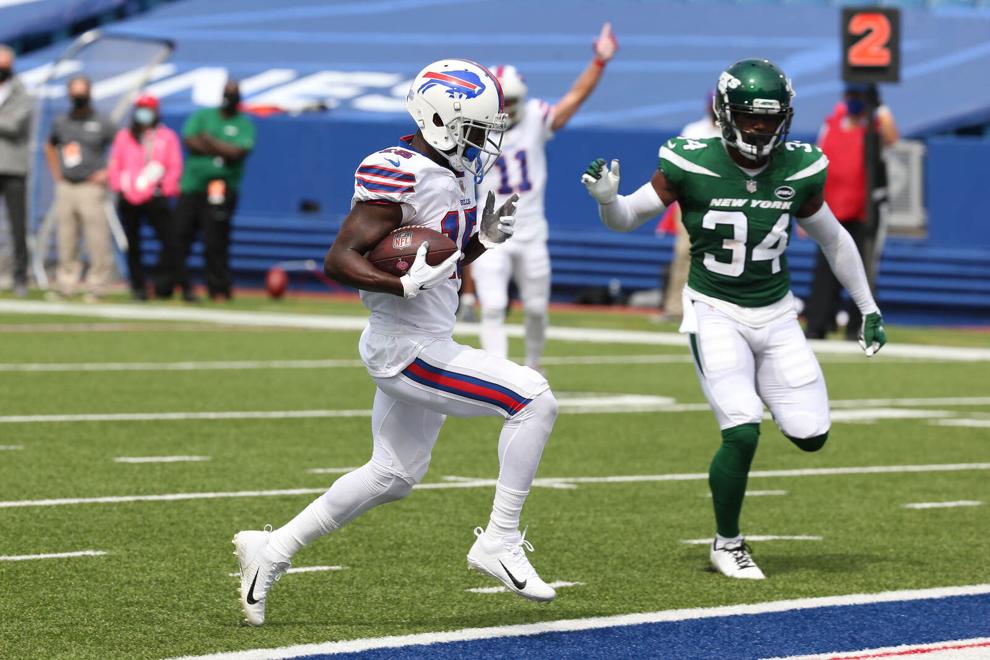 Brown brings it in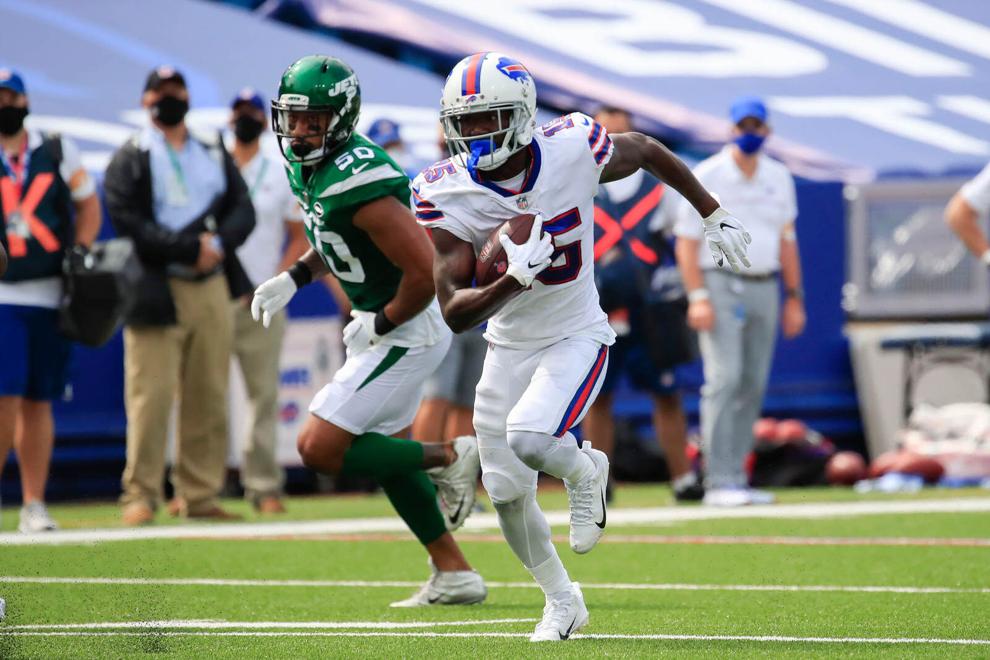 Allen to Brown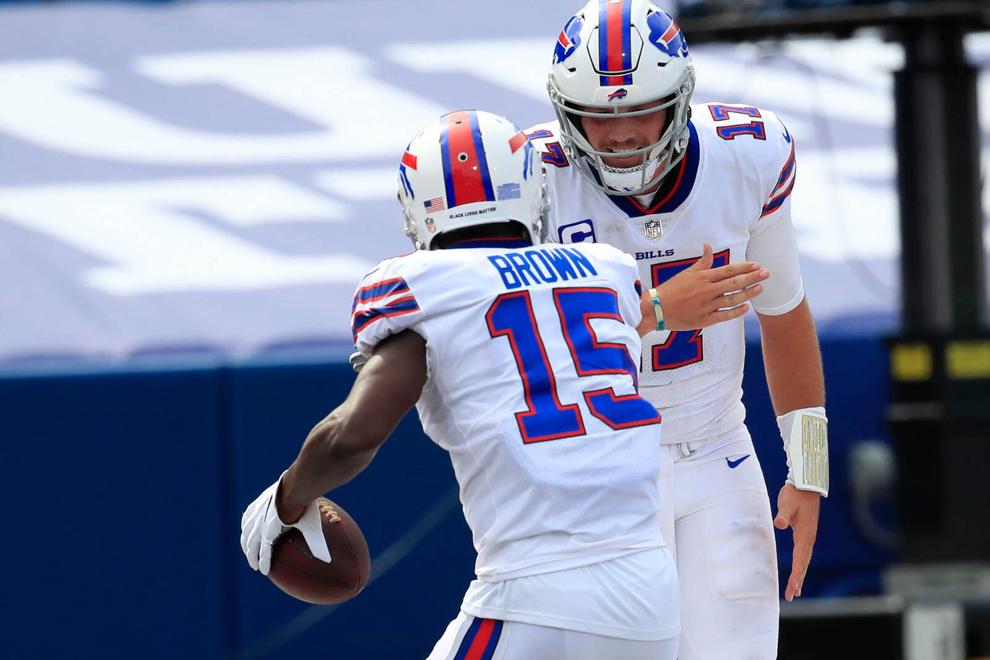 Dancing in the end zone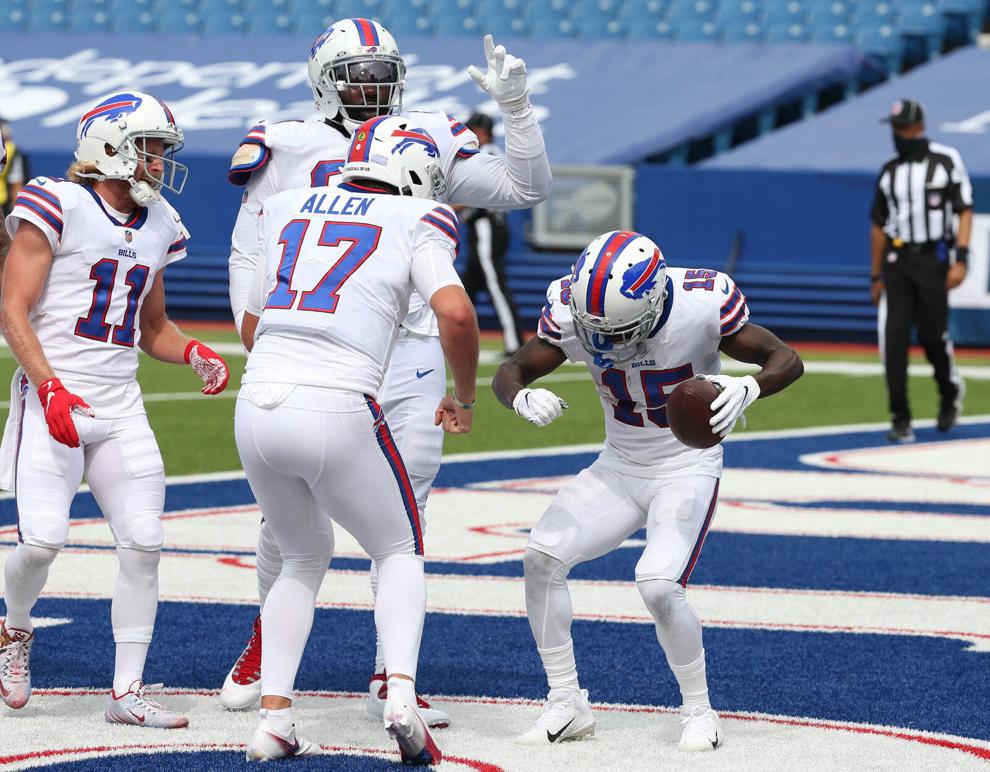 Empty stands
Murphy sacks Darnold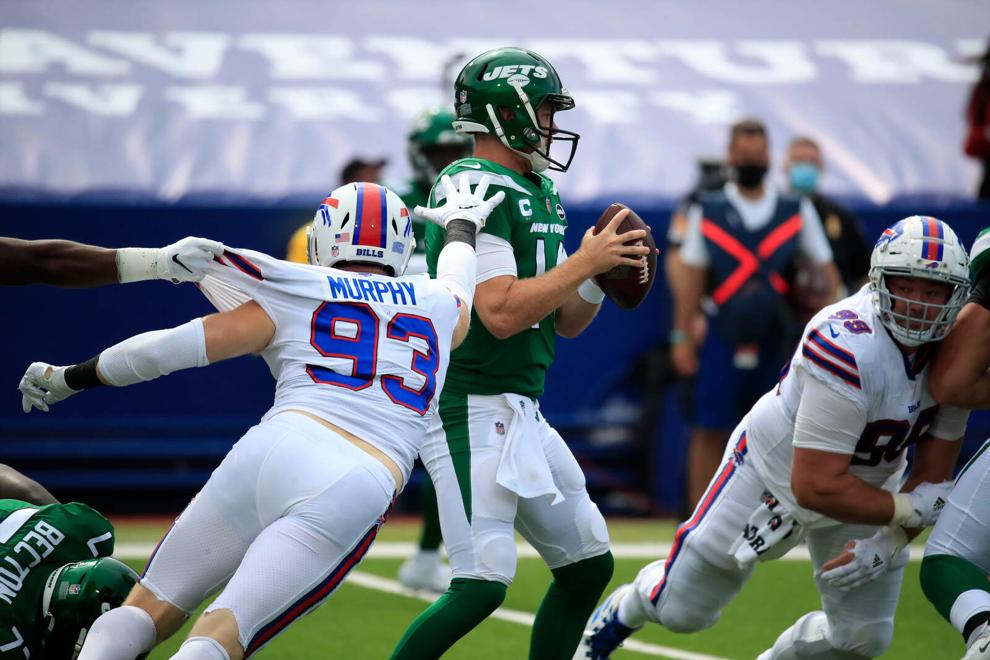 Singletary up the middle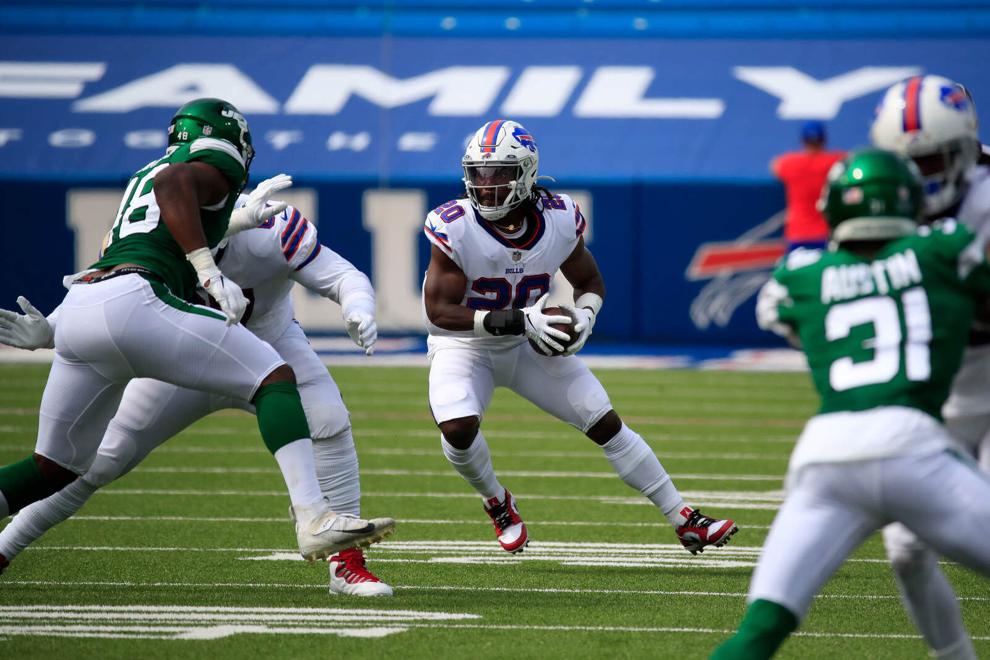 Allen sacked hard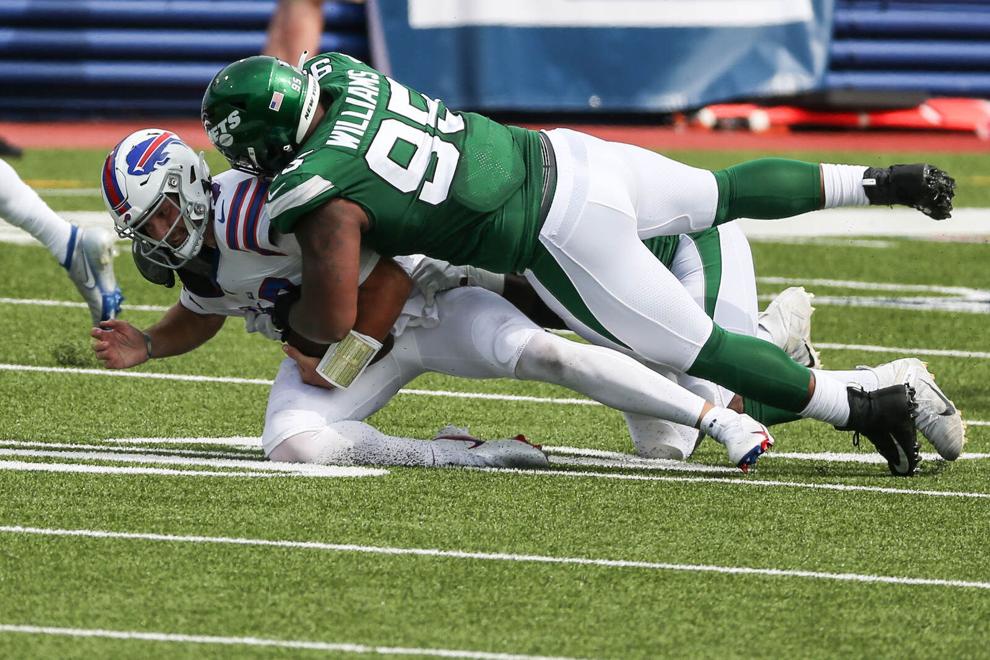 Singletary fights for yards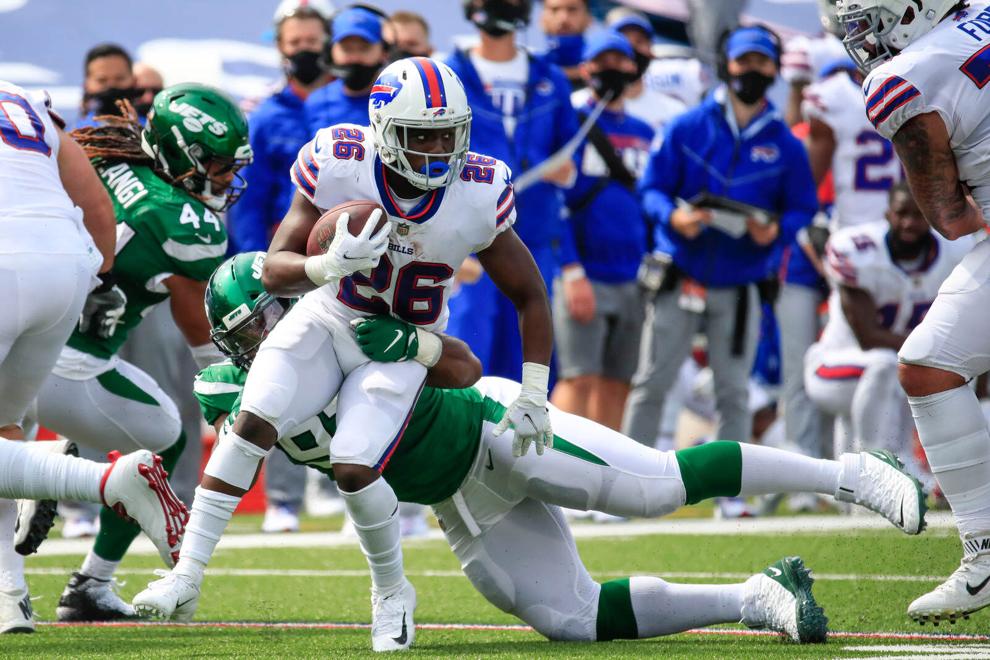 Upper deck view
Allen goes high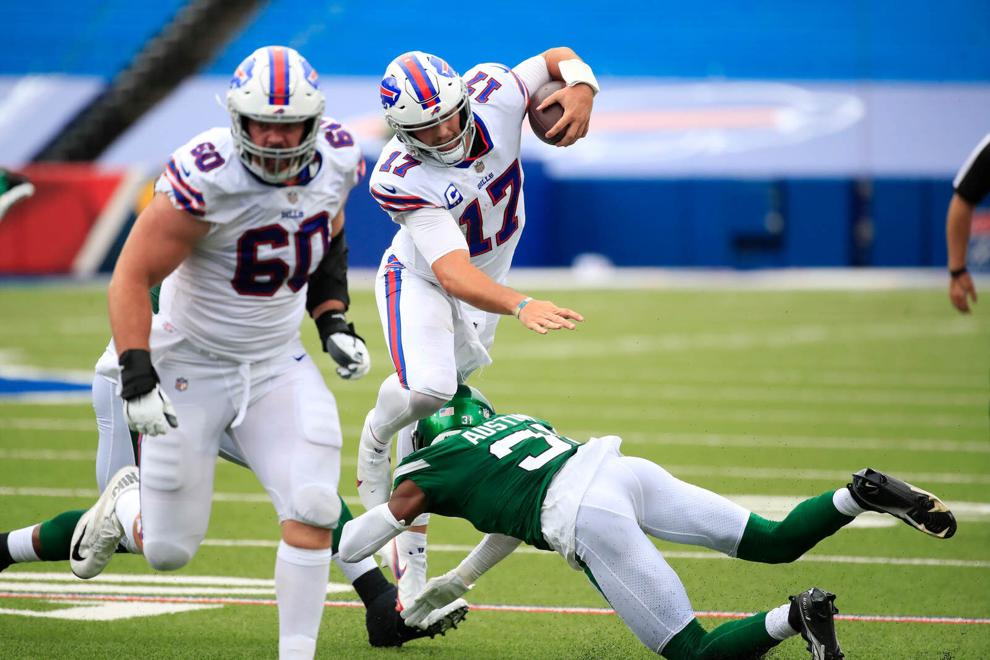 Bass on the board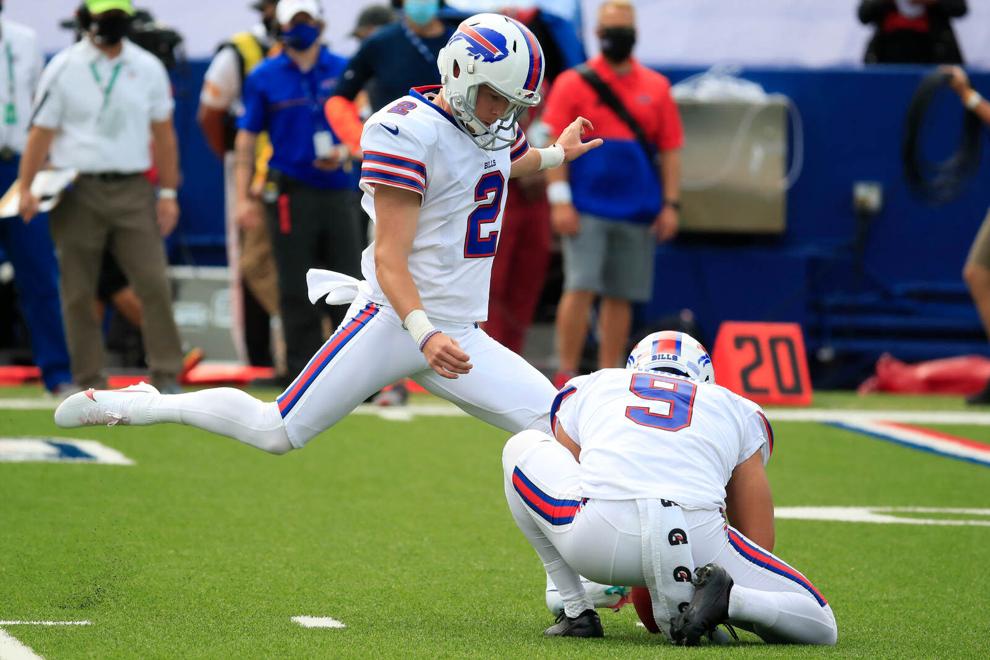 Former Bills coach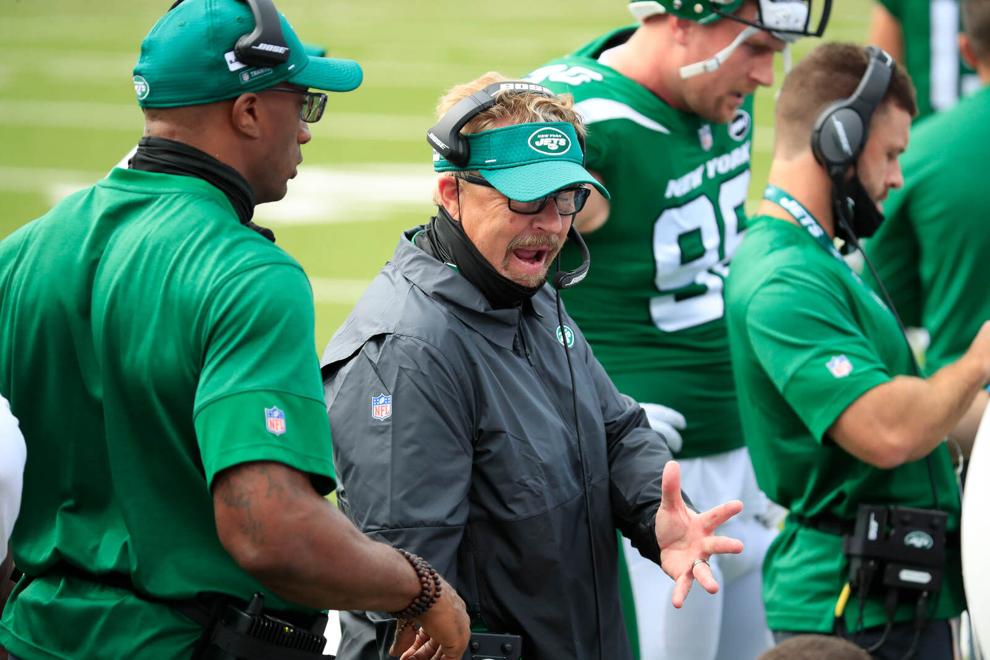 McKenzie makes a move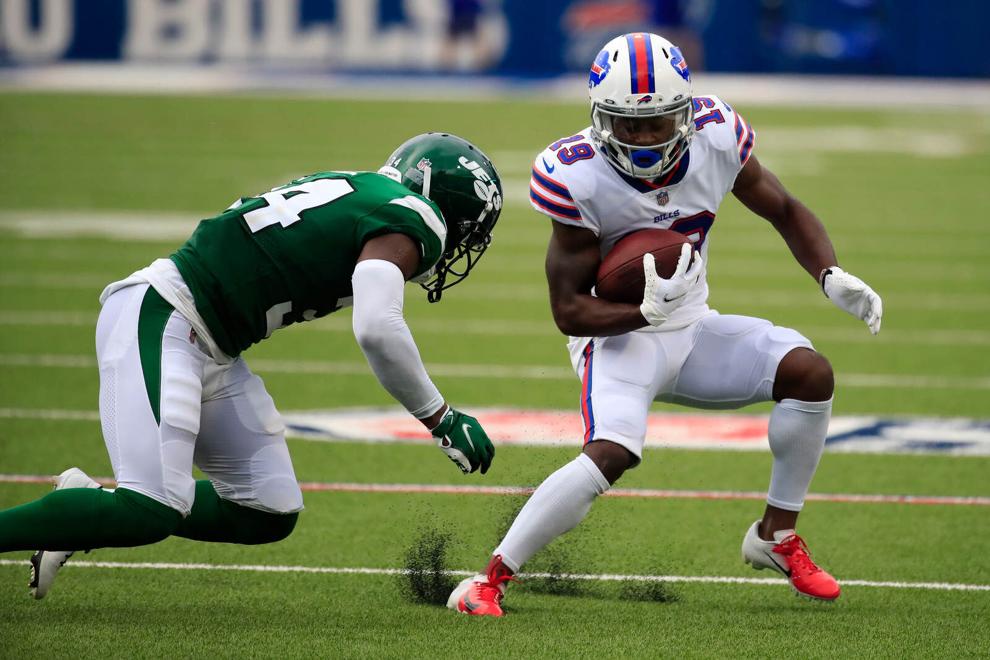 Allen stretches out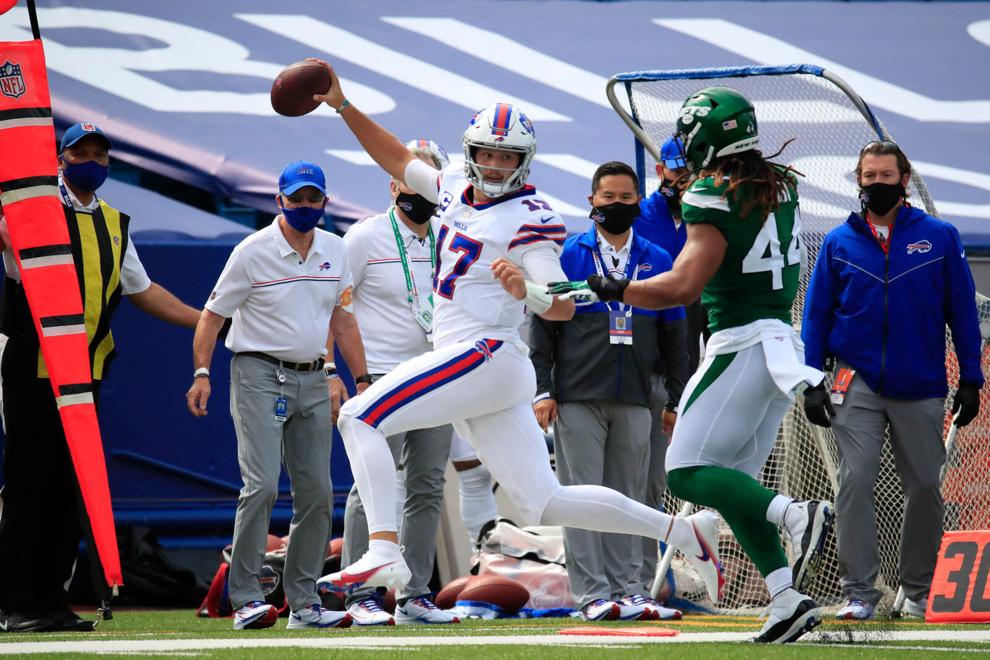 Empty stadium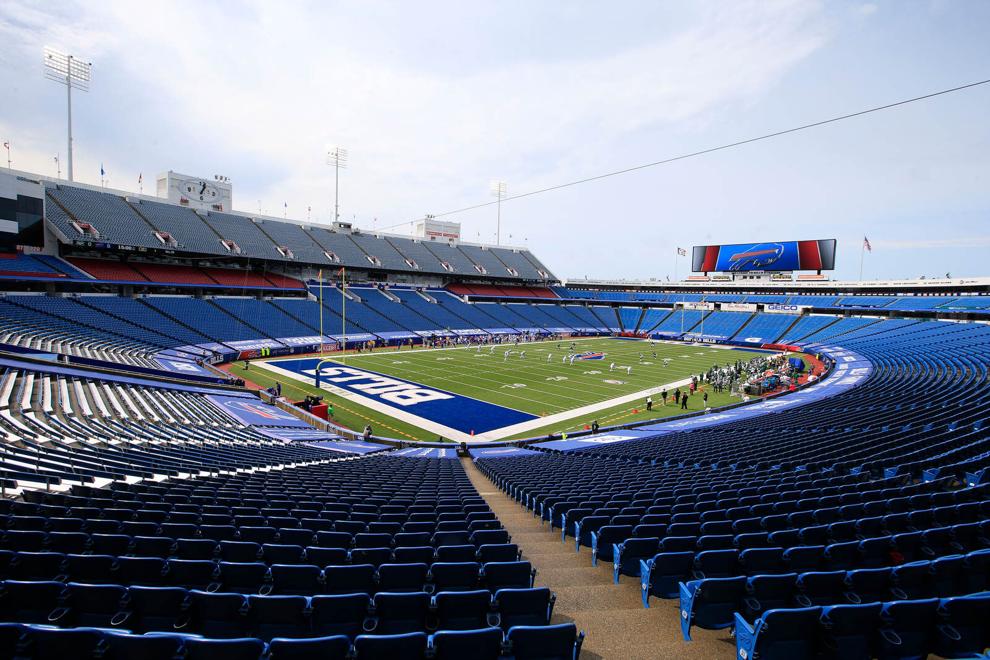 Davis up the sideline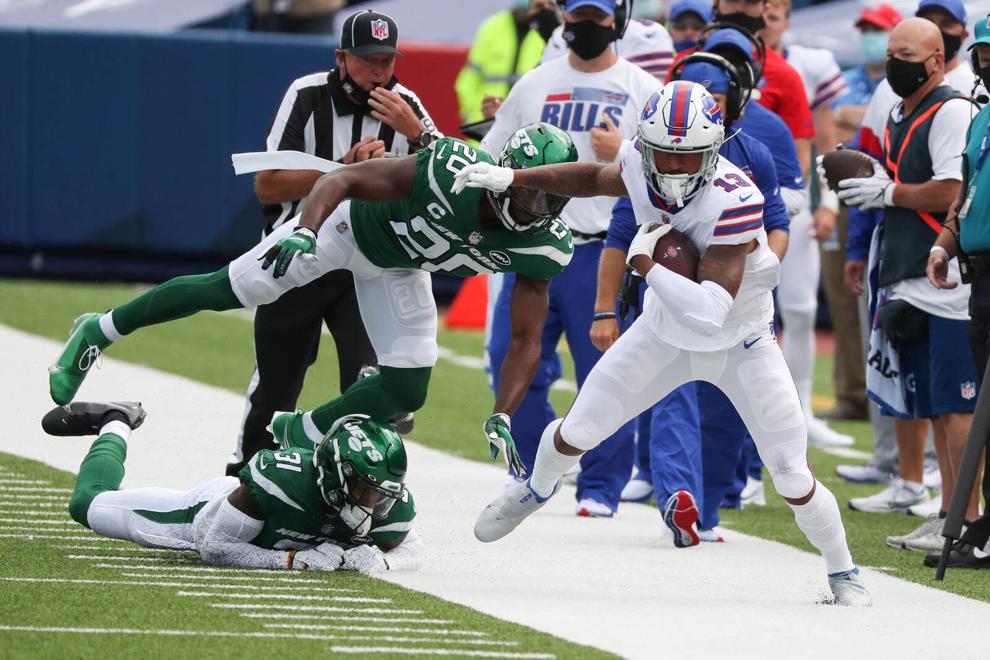 Coach McDermott pumped up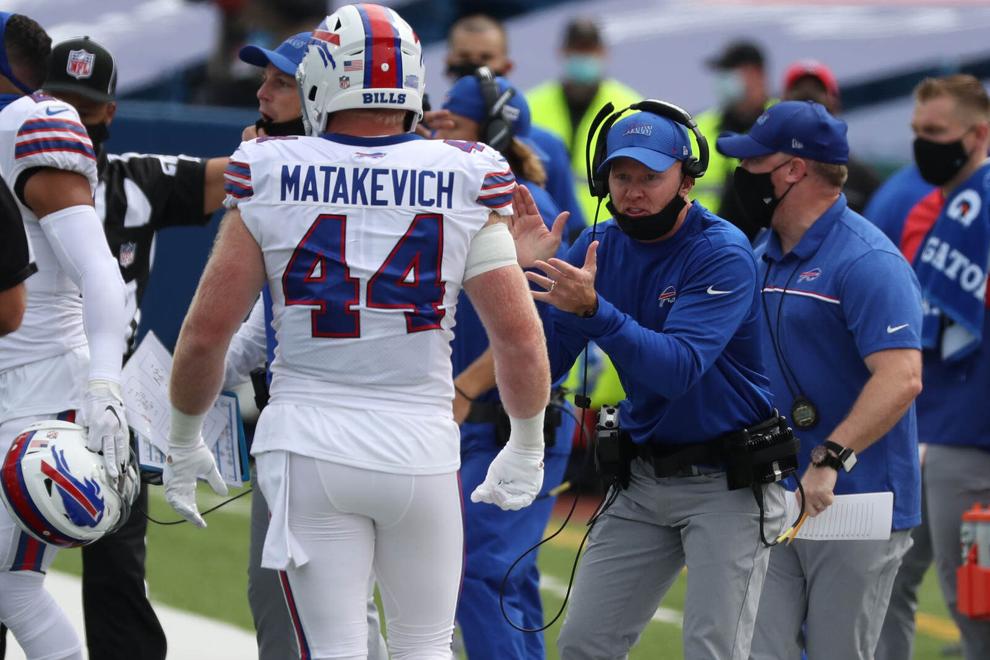 Fan free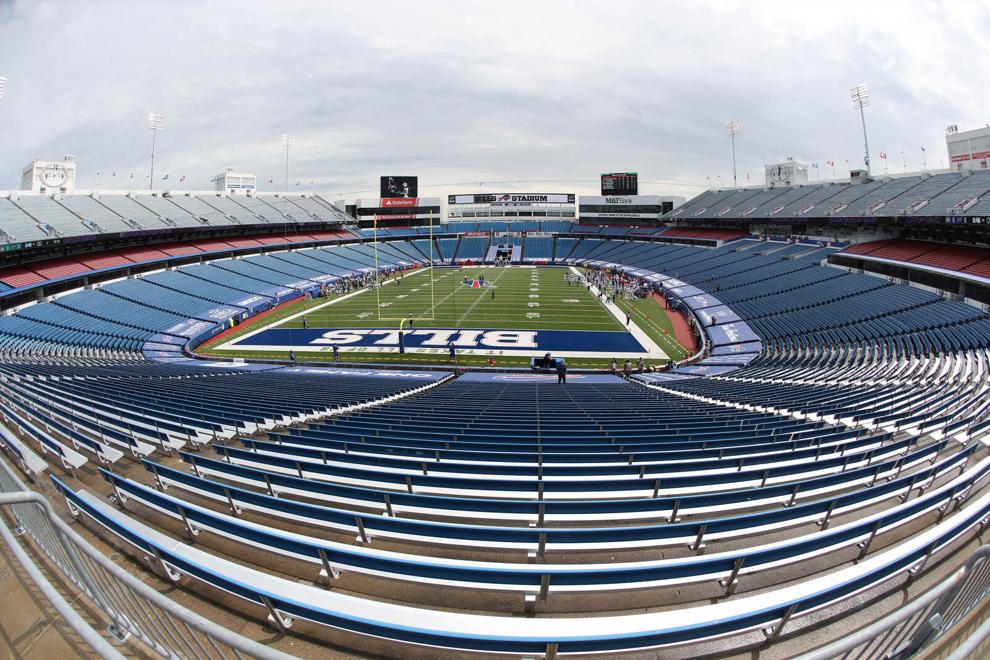 Allen fires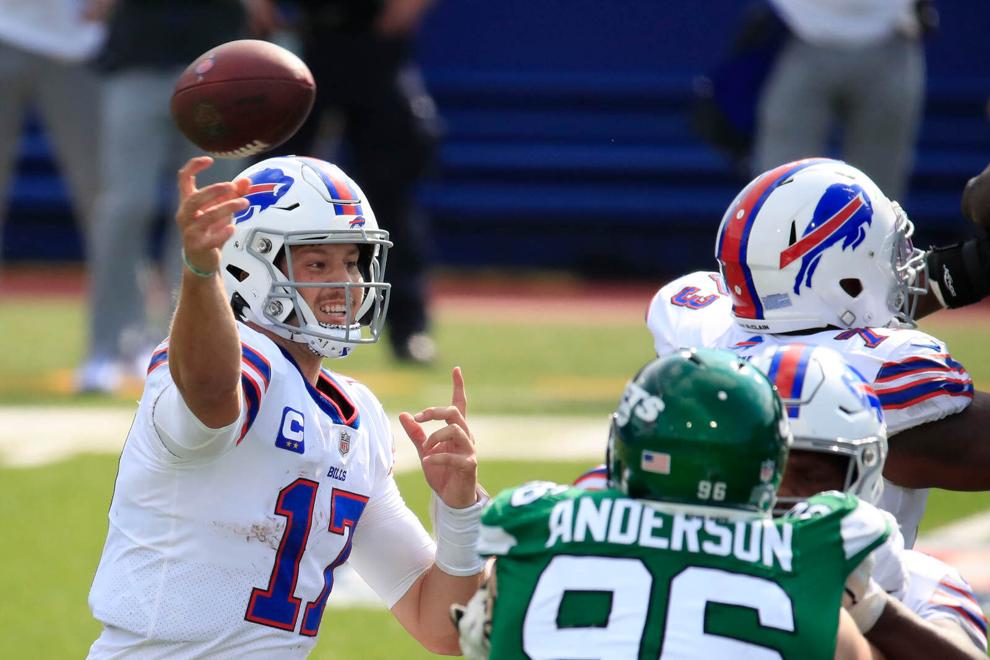 Allen wiggles free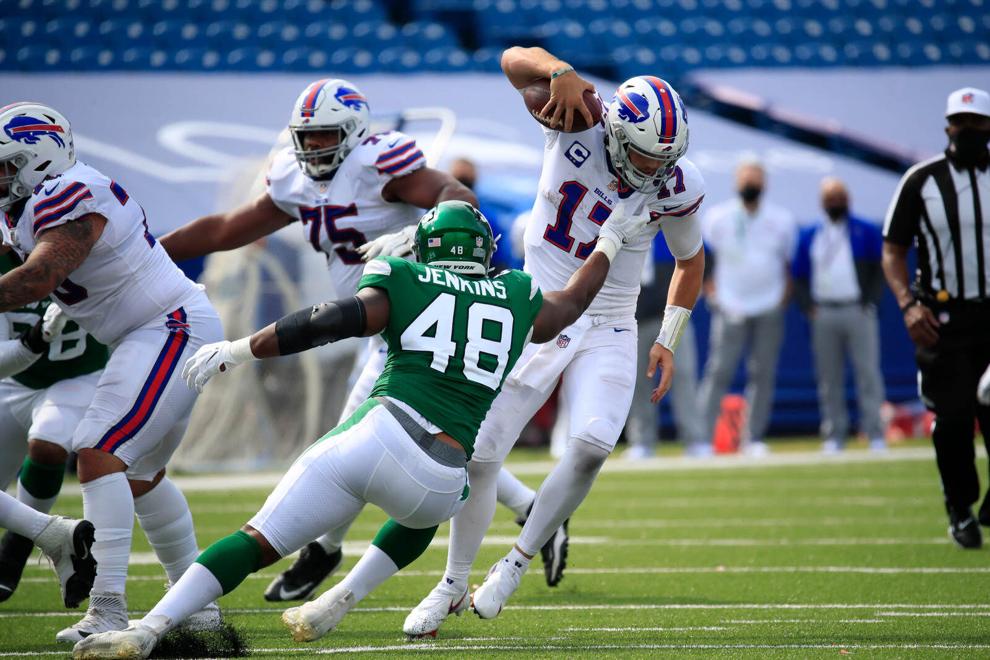 Jets kick field goal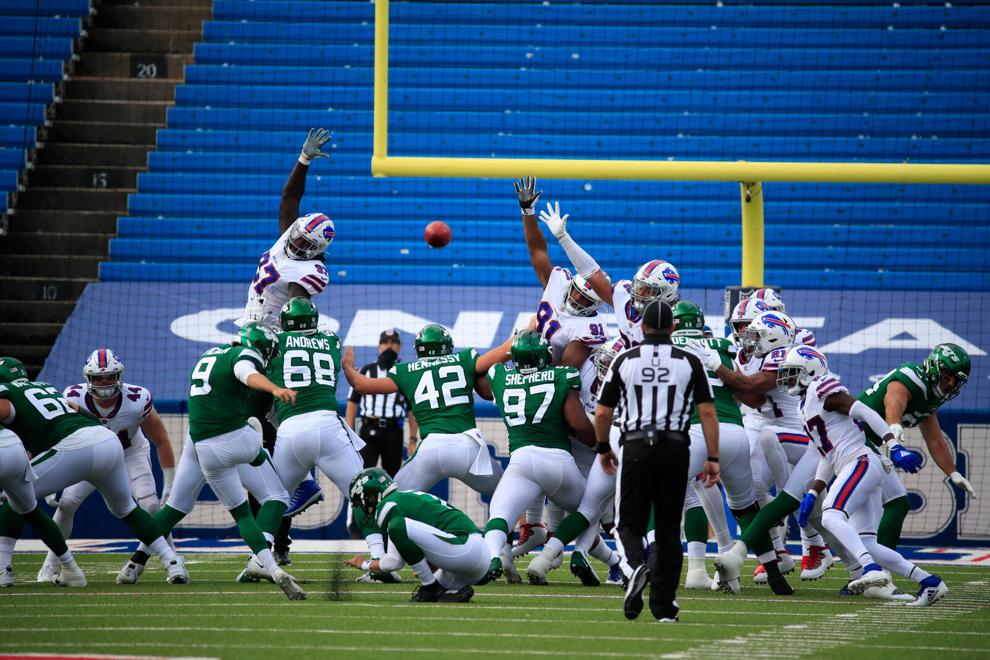 Allen sacked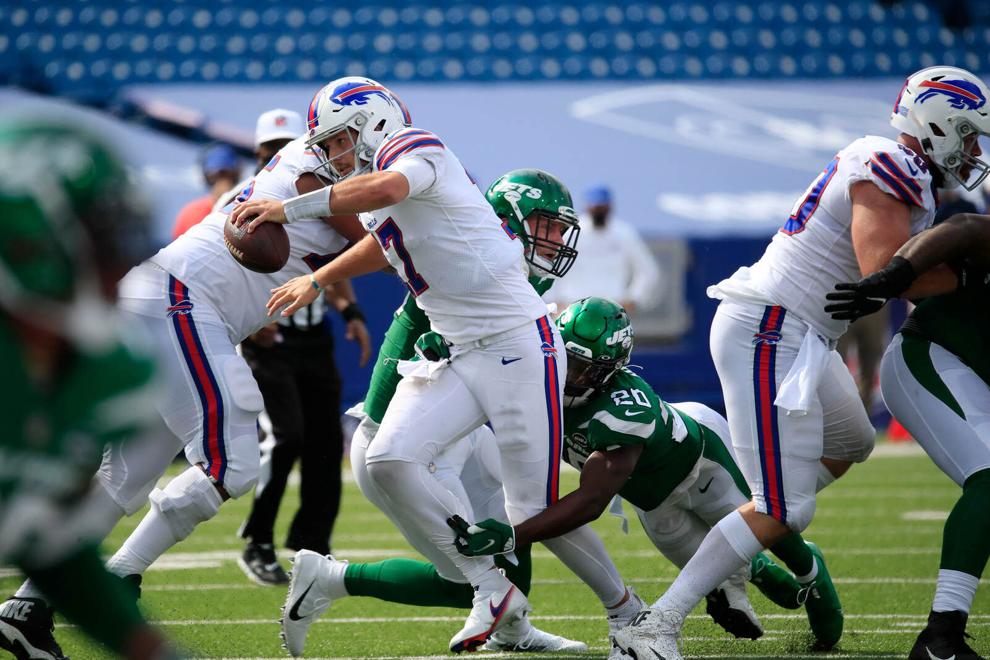 Missing the fans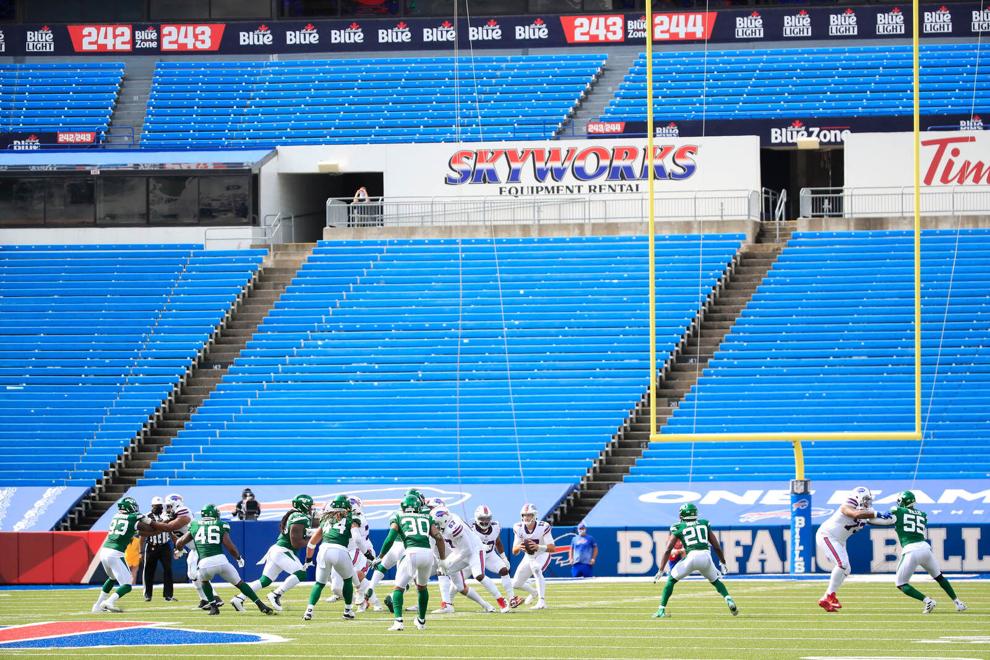 Missed field goal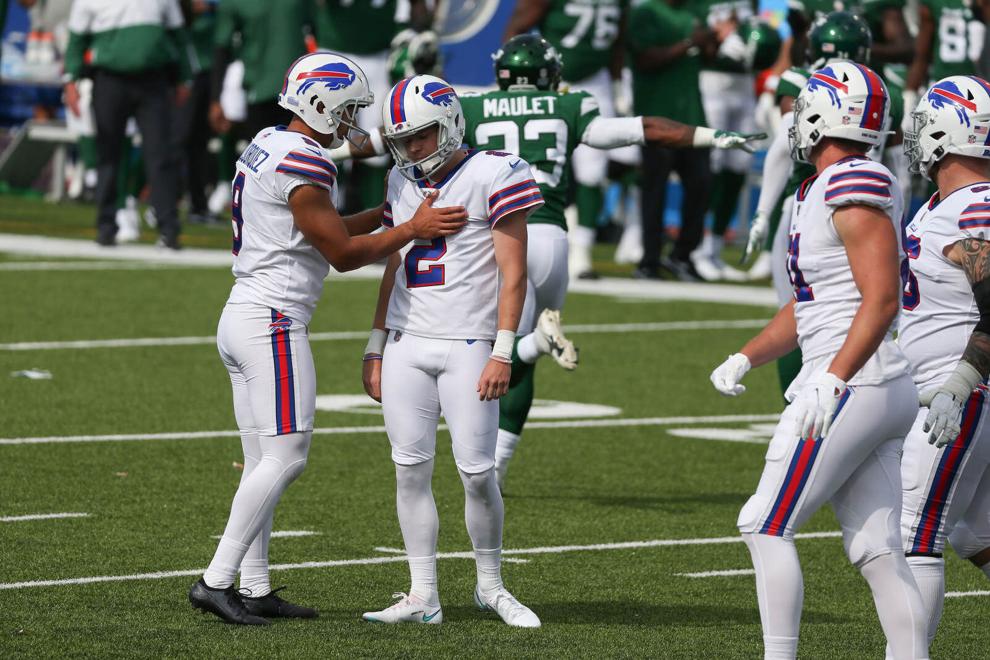 Field goal good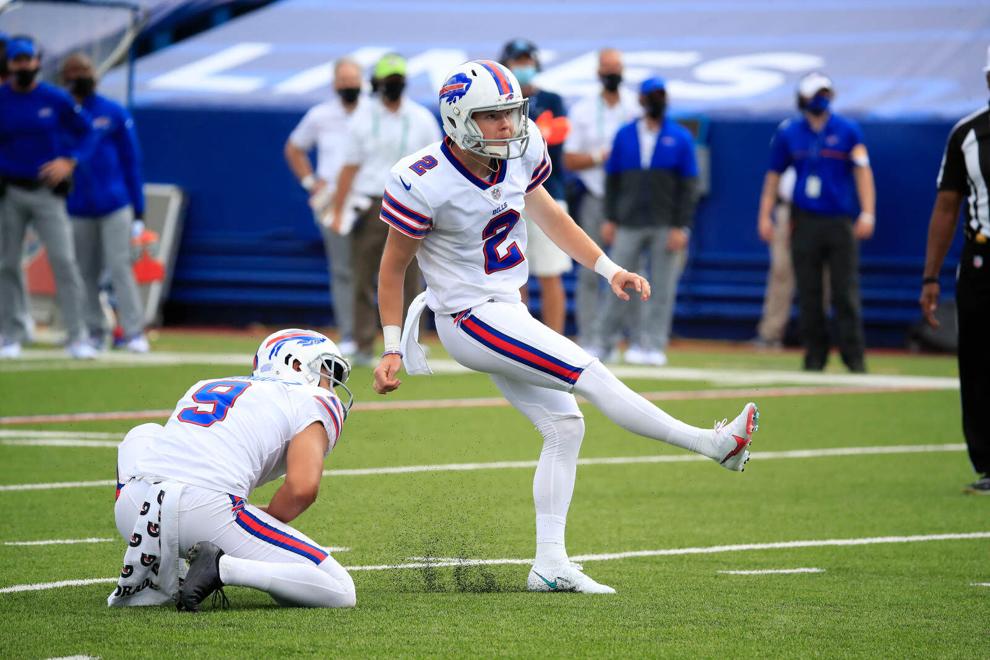 Moss rushes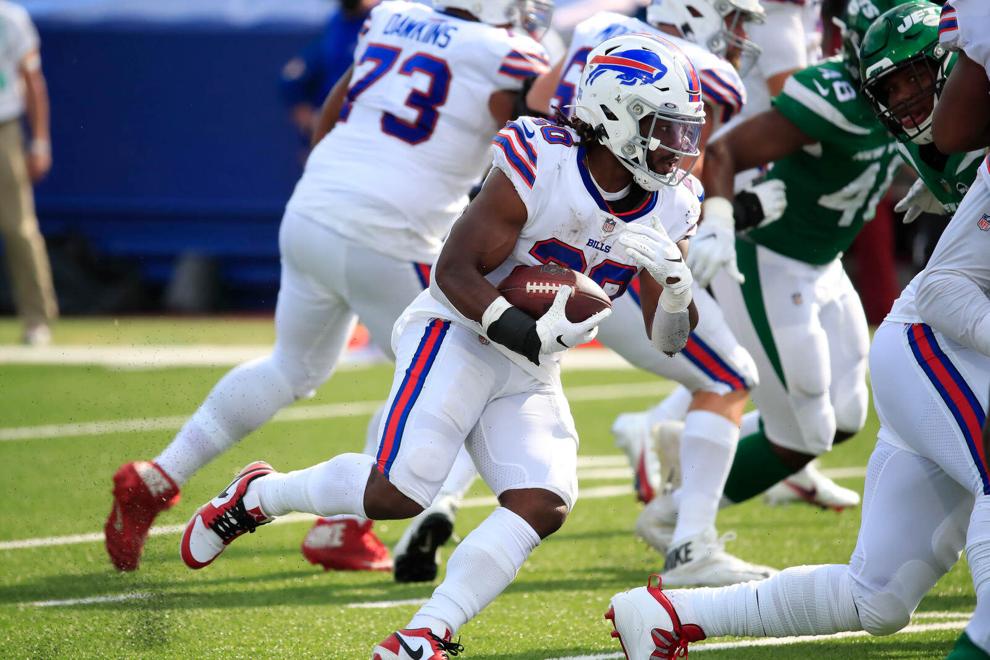 Hughes interception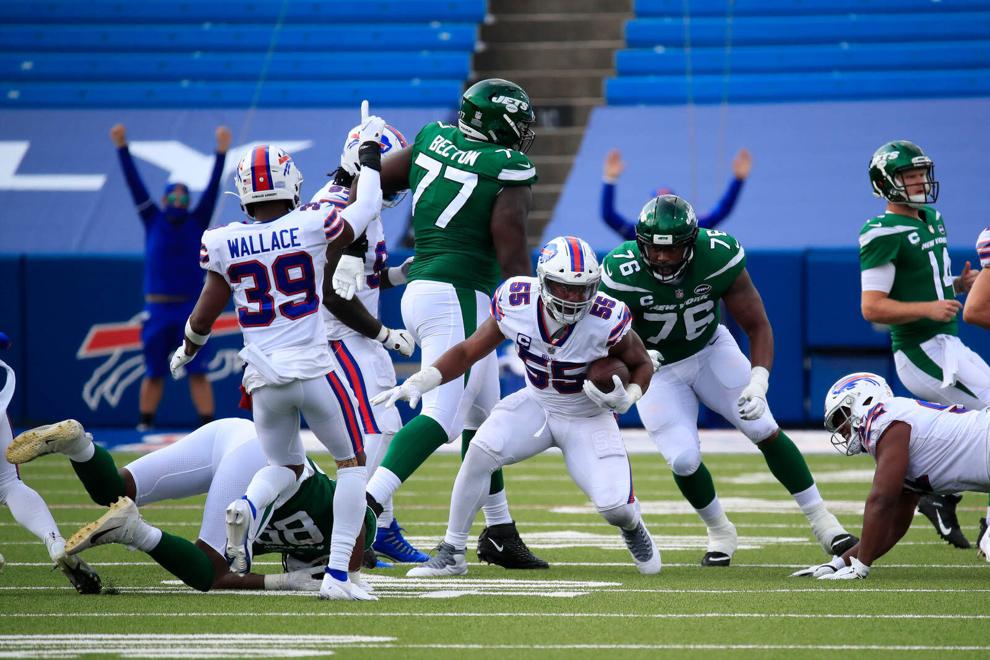 Jets too little too late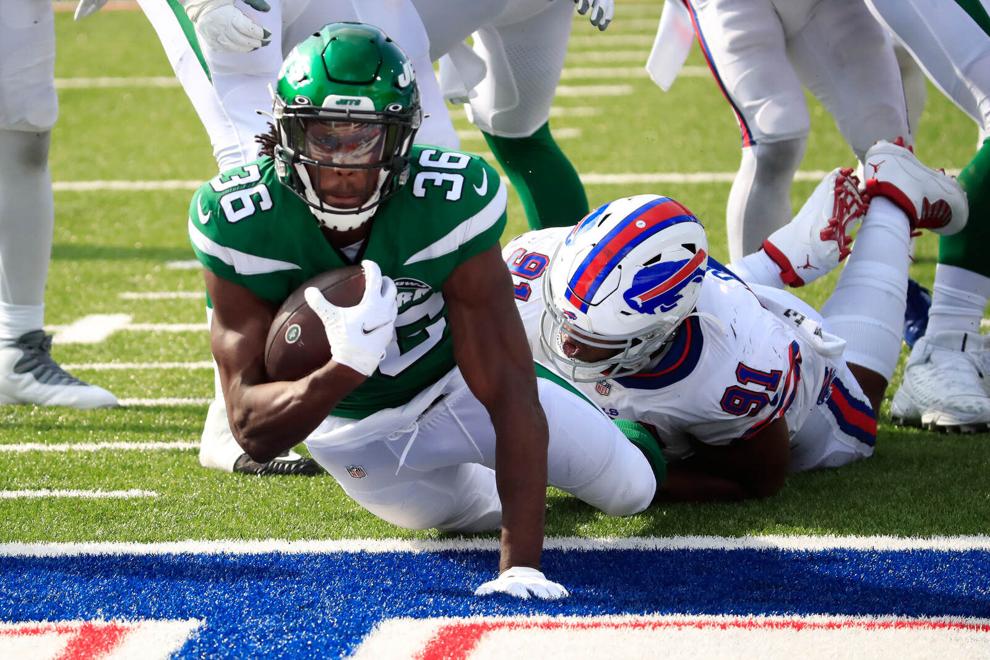 Sam Darnold throws it up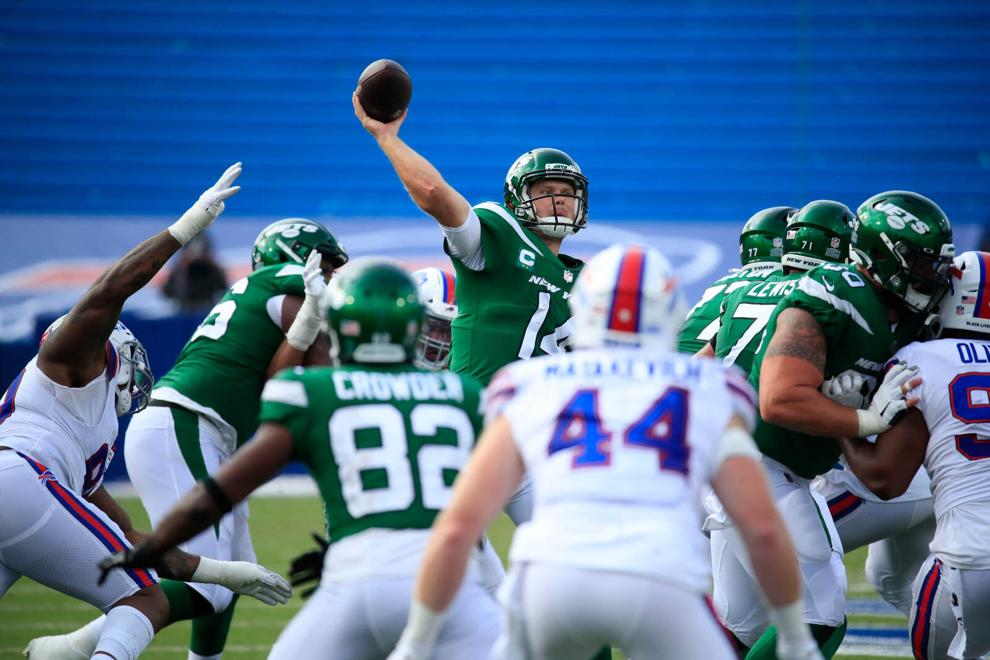 Win for the books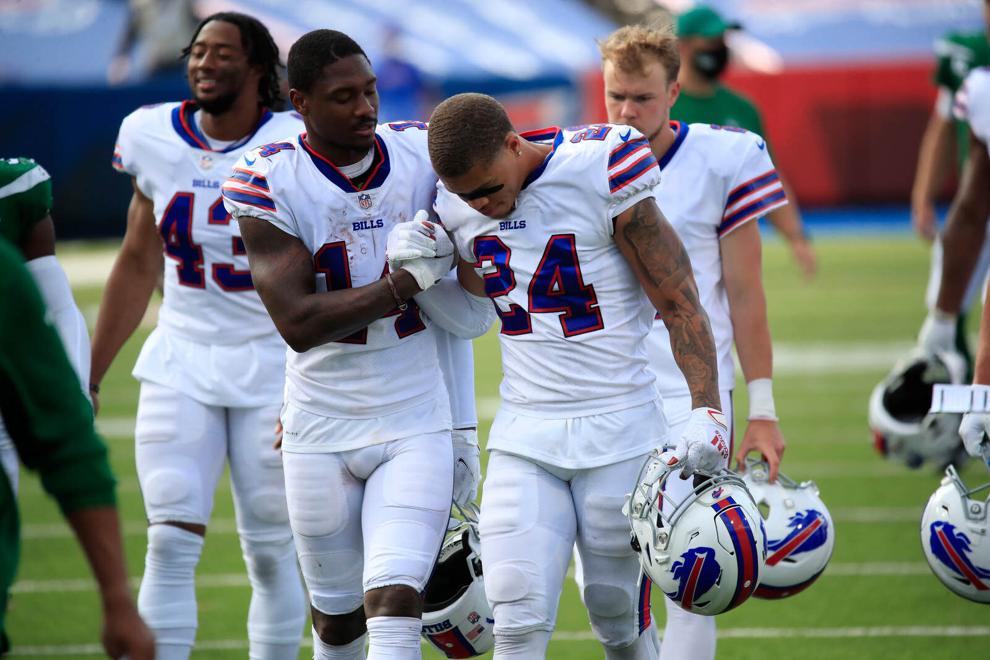 Mission accomplished