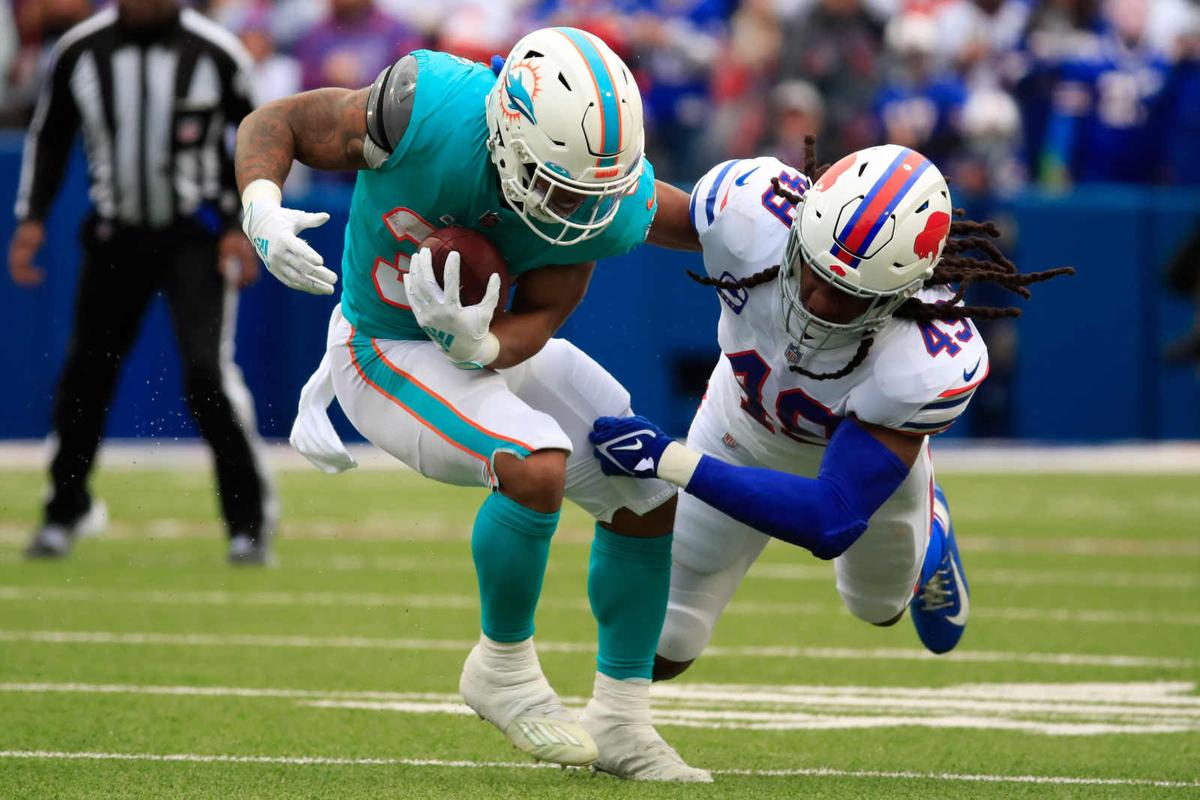 The Buffalo Bills could be getting a key member of their defense back soon.
Linebacker Tremaine Edmunds was a full participant during the team's Monday practice ahead of Thursday's game at New Orleans. Granted, the practice was only a walk-through, but it was a step in the right direction.
"We'll see as far as this week goes, but good to have him back on the field," coach Sean McDermott said. "Obviously just a walk-through, so we'll just see where it goes here."
Edmunds has missed the past two games, including Sunday's massively disappointing 41-15 home loss to the Indianapolis Colts, so any help for a defense that had no answers for running back Jonathan Taylor will be welcome.
"I think it's a little bit everything," McDermott said about fixing the run defense. "You talk about scheme, you talk about fundamentals, you talk about attitude, mentality. This is a physical game, so you always have to bring a physical component to the field every weekend, and I didn't think we did that enough yesterday."
Here are four more observations from Monday's video conference with the Bills' coach:
1. There is no change in status with the players on the reserve/Covid-19 list. McDermott has refused to provide an update on rookie right tackle Spencer Brown and veteran defensive tackle Star Lotulelei, and that continued Monday.
"Not really going to go there – can't go there because of the Covid situation with Spencer," McDermott said, while echoing a similar sentiment when asked about Lotulelei. That leaves their status for Thursday's game in doubt.
2. The Bills face a tough call on Isaiah McKenzie. The team's primary returner ranks sixth in kick return average, at 24.9 yards per attempt, and seventh in punt-return average, at 8.7. McKenzie, though, made an inexcusable mistake when he fumbled a kickoff in the second quarter against the Colts without being touched. The Bills have been turning the ball over way too much lately, and a play like that erodes trust.
"We always talk about different things roster wise, Brandon (Beane) and myself, and so look at everything," McDermott said. "We're confident in Isaiah. He's done some good things for our football team. We all have to improve. That starts with me and goes right on down the line, so each and every one of us needs to improve."
3. Matt Breida may see more work. The veteran running back made something happen for the second straight game, leading the team with five carries for 51 yards against the Colts a week after scoring a pair of touchdowns against the Jets.
"He's done something with the ball, right? He's done something when given the opportunity and so that's earned and I thought he's done a good job with it," McDermott said. "We'll see what comes with this week and as we move forward, but he's done a good job."
4. Cole Beasley is improving. The slot receiver was listed as limited on Monday's practice report as he continues to play through an injury to his ribs. Beasley had four catches for 23 yards against the Colts.
"I think he seems to be improving each week," McDermott said. "I expect the same moving forward, coming off of this week's game."