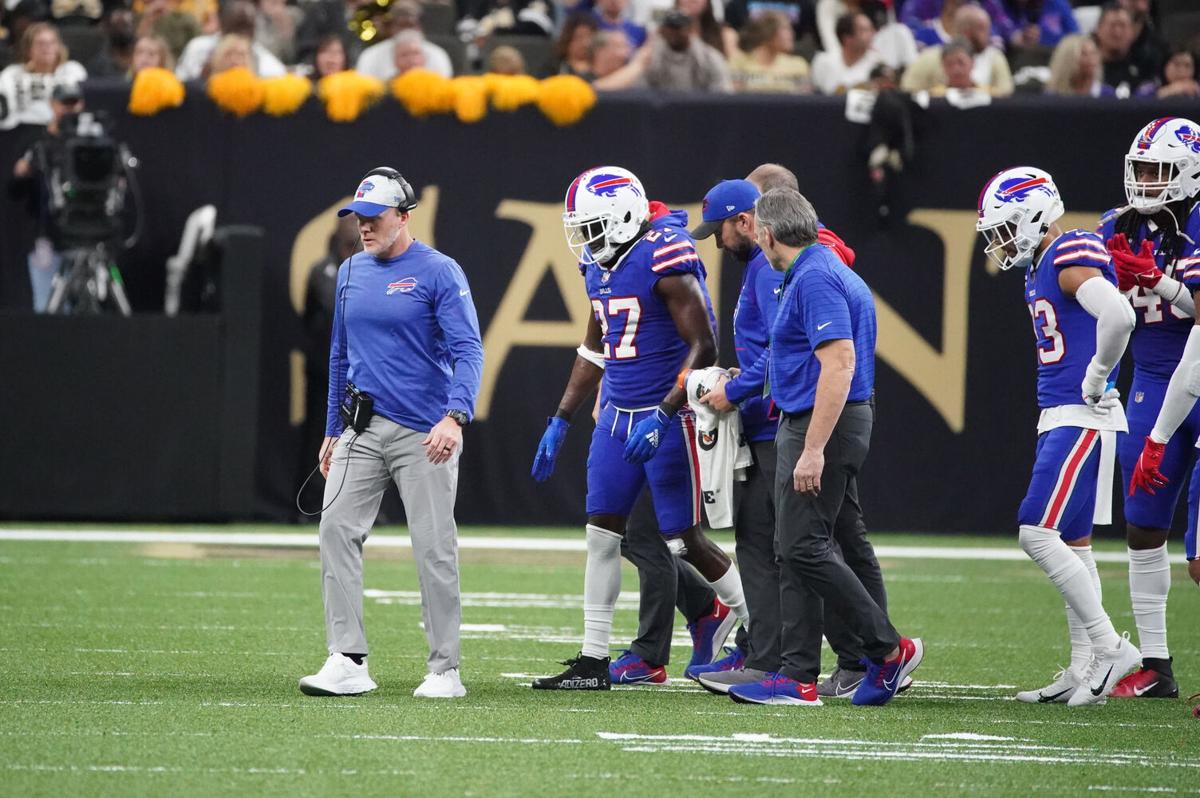 NEW ORLEANS – First, the good news: The Buffalo Bills took care of business on Thanksgiving night.
Facing a team ravaged by injuries, the Bills handled the New Orleans Saints from start to finish in a 31-6 victory at the Superdome.
Now, the bad: The win might have come with a heavy, heavy price. All-Pro cornerback Tre'Davious White left the game in the second quarter with a knee injury. White was hurt with 6:21 remaining in the first half on a play that ended in an incomplete pass for the Saints. He stayed down on the field as trainers looked at him. After slowly walking to the sideline, White slammed his helmet down in frustration before going to the sideline medical tent.
From there, he walked back to the locker room with a towel over his head. The Bills initially announced he was doubtful to return to the game before officially ruling him out at the start of the third quarter. White was replaced in the lineup by second-year veteran Dane Jackson.
Against Trevor Siemian, the Bills were able to get by. Against teams with actual starting quarterbacks, they might not. White is on a very short list of players the Bills could least afford to lose. If he's out for a significant amount of time, the defense might be in big trouble. Jackson has played well in his brief time on the field, but White is an All-Pro for a reason.
Jackson will start opposite Levi Wallace – who has had some shaky moments – and those two will be backed up by Cam Lewis. That leaves the team inexperienced at a crucial position.
The Bills have 11 days to prepare for their Week 13 game against the New England Patriots, which will be on "Monday Night Football." The teams are currntly tied atop the AFC East at 7-4, but the Patriots first face the Tennessee Titans on Sunday. If the news on White is as feared, defensive coordinator Leslie Frazier will be busy during that time trying to scheme up a way to replace a player who is viewed by most as irreplaceable.
2. The Bills shook things up in a major way on offense. The team made both running back Zack Moss and wide receiver Isaiah McKenzie inactive against the Saints.
Moss leads the team with four rushing touchdowns, but has struggled recently, rushing three times for just 5 yards in the loss to Indianapolis on Sunday.
Without Moss, the Bills went with Devin Singletary and Matt Breida at running back. Breida has given the Bills a spark since getting into the lineup against the Jets in Week 10, a game in which he scored a pair of touchdowns. Last week against the Colts, Breida led the Bills with 51 rushing yards on just five carries.
Singletary got the start, but it was Breida who was more involved in the rushing attack early for the Bills. He gained 19 yards on four carries on the Bills' first possession, which ended with a 7-yard touchdown pass from quarterback Josh Allen to tight end Dawson Knox.
Breida found the end zone in the fourth quarter, taking a screen pass from Allen 23 yards to the house.
McKenzie, meanwhile, lost a costly fumble in that game against the Colts. His primary role this season has been as the kick and punt returner – jobs that were handled against the Saints by Marquez Stevenson, the rookie who was activated from injured reserve earlier in the day and made his professional debut.
McKenzie came into Week 12 ranked sixth in the NFL in kick-return average at 24.9 yards per attempt, and was seventh in punt-return average at 8.7. The fumble against the Colts, however, was an inexcusable error, so benching McKenzie was a big move by coach Sean McDermott, who talked glowingly about the receiver after the Week 10 win over the Jets.
"He's always been a good person, but just how far he's come and his maturity, how he's developed off the field, and then how he's developed on the field, I'm just extremely proud of him," the coach said. "I really am. You love when you see a person like that have success. He's part of the reason why we are who we are, just in terms of his story."
Stevenson spent the first 10 games of the season on injured reserve because of a foot injury suffered during the preseason. The Bills started the clock on his return this week, giving themselves a three-week window to decide whether they would return him to the active roster or leave him on injured reserve. They needed just two days to make that decision.
Stevenson gained 11 yards on his first punt return, and took a huge hit by Saints linebacker Zack Baun at the end of the play. Stevenson finished with five punt returns for 49 yards – an average of 9.8 yards per attempt.
3. Vernon Butler Jr. took a seat. The Bills elevated defensive tackles Eli Ankou and Brandin Bryant from the practice squad and they were both in the lineup. As a result, Butler was benched after he had a rough game against the Colts in Week 11.
4. Cody Ford was hurt in the first half. The Bills' guard left the game with an arm injury, leading to both Ryan Bates and Jamil Douglas getting some playing time. Bates also seemed to be shaken up at one point, although there was no official injury announcement made and he was able to return to the game. Ford was also able to return, although he seemed to be in a good deal of pain.
Also, Bills fullback Reggie Gilliam suffered an ankle injury and was ruled out for the remainder of the game in the fourth quarter.
5. Allen's numbers. Josh Allen completed 23 of 28 passes for an 82.14% completion rate, the highest by a Bills quarterback since Trent Edwards hit 83.33% (25 for 30) against San Diego on Oct. 19, 2008.
It also ties the fourth-highest rate by a Bills quarterback in franchise history.
Allen also had his ninth consecutive game with 200 or more yard passing to tie the franchise record set by Jim Kelly and eclipsed 3,000 yards for the third consecutive season. Ryan Fitzpatrick had more than 3,000 yards in three consecutive seasons and Jim Kelly did it for five.
6. Mario Addison had a big first half. The veteran defensive end got a third-down sack of Saints quarterback Trevor Siemian, and later made a tackle for loss on a fourth-and-2 rush by Saints running back Tony Jones Jr., forcing a turnover on downs.
7. Ed Oliver finally got his first (half) sack. The third-year defensive tackle had another strong game that included getting to Siemian for a sack right before the two-minute warning in the second quarter.
Oliver had two quarterback hits and a pass defensed, although he was a bit too eager on one play, hitting Siemian late and getting flagged for roughing the passer in the third quarter.
8. Playing the Saints brought back good memories for Stefon Diggs. The Bills' receiver had 17 catches for 212 yards and three touchdowns in two regular-season games against New Orleans while he was with Minnesota. Diggs also had one of the NFL's signature plays over the last decade, the "Minneapolis Miracle" 61-yard touchdown catch to beat the Saints in a 2017 playoff game – the first time a playoff game had ended with a touchdown on the last play.
"I think about it maybe a couple of times a year now, around the time when the playoffs come, and they run it back, they'll bring up some of the highlights from the past," Diggs said. "That's something that I'm always going to be looking back like, 'Damn, I'm going to tell my kids that one day.' And they probably won't believe me, but I'm like this: 'Look, we've got some video of it.'
"Now, I'm trying to focus on something a little bit bigger. … That was amazing, that was a blessing, but then I also be like this: 'Damn, you was close.' We lost in the NFC championship that year, and that's something that sits in the back of my mind, too."
Diggs finished with seven catches for 74 yards and a thing-of-beauty touchdown. Diggs used some nifty footwork on a short route to get open against the Saints' best cornerback, Marshon Lattimore, catching a 5-yard touchdown in the third quarter. Asked what the Bills called that route, Allen said, "Basically, Diggs get open."
9. The Saints were without their top two running backs. Both Alvin Kamara and Mark Ingram were unable to play, as both are dealing with a knee injury. Also out for New Orleans was starting right tackle Ryan Ramczyk, along with quarterback Ian Book and defensive ends Tanoh Kpassagnon.
Saints linebacker Andrew Dowell suffered a concussion in the first half and left the game.
10. Damar Hamlin was inactive for the Bills. The rookie safety, who has played sparingly on defense, was a healthy inactive for just the second time this season. He was joined on the inactive list by cornerback Cam Lewis, offensive tackle Bobby Hart and defensive end Boogie Basham.