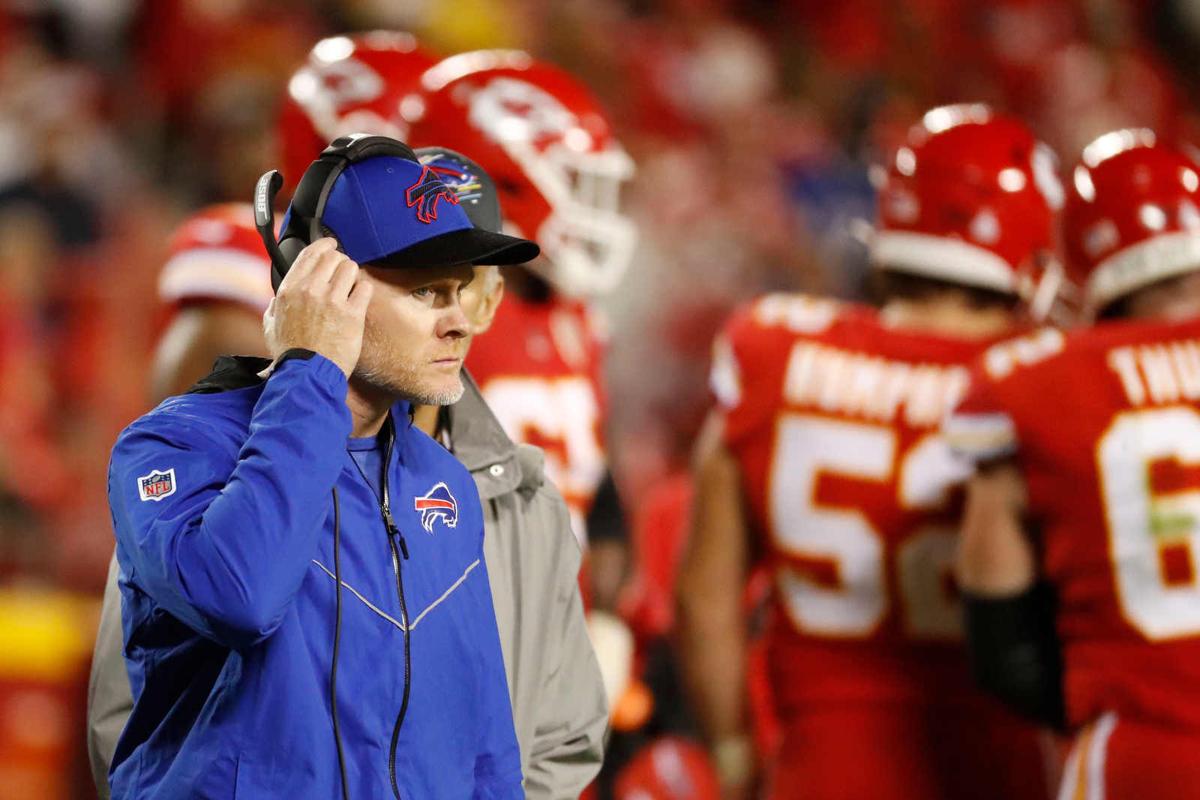 Most of Western New York operated on less-than-normal sleep Monday.
Buffalo Bills coach Sean McDermott is no different. McDermott went straight from the team charter to the team practice facility after landing back in Buffalo at 5 a.m. Monday, mere hours after his team's 38-20 victory over the Kansas City Chiefs.
"That's what we do, right?" McDermott said during a Monday afternoon video news conference.
There was plenty of good to review as the Bills came home with an impressive, start-to-finish performance against the two-time defending AFC champions.
"I think more than anything, it's a step in the right direction," McDermott said. "They're a good football team. You know, we're trying to continue to grow and become a good football team. To see the contributions that were made from everyone, in particular, a couple of the young players in that game that are new to our team this year, that we acquired via the draft, is a good sign. It doesn't mean we're where we need to be, right? But it is a good sign at this early stage of the season."
Here are four more observations from Monday's news conferences with McDermott, offensive coordinator Brian Daboll and defensive coordinator Leslie Frazier.
• Frazier explained how the team handled the extra break at halftime caused by a weather delay. Upon conclusion of the usual, 12-minute halftime break, the Bills received word the game would be suspended because of dangerous weather.
"At that point, I just kind of let the guys react and not put too much football on their mind at that moment, because we didn't know how long we would be in the locker room," Frazier said. "Just kind of let them get to themselves and do whatever they need to do to kind of stay locked into what we had to get accomplished. Then you just wait and wait and wait. But not a lot of conversation. Just let them be themselves during that time."
• Matt Milano's status for Week 6 remains up in the air. Milano missed the win over the Chiefs because of a hamstring injury suffered in Week 4 against Houston. The Bills have an extra day to prepare for their next game, which comes Monday night at Tennessee.
"I don't have a lot of the information on all the injuries," McDermott said. "Matt's situation, we'll see how it goes this week. It was really about, it's hard enough to lose a player of Matt's caliber for one game, didn't want it to be two or three if we pushed him through this past game, so we just felt like it was the smarter option for us."
• The addition of Emmanuel Sanders continues to pay dividends. Sanders now has 19 catches for 322 yards and four touchdowns this season after finishing with three catches for 55 yards and two touchdowns against Kansas City. Sanders is tied for 24th in the NFL in receiving yards and tied for sixth in receiving touchdowns.
"He's a pro. He really adds a lot to our football team, particularly on the offensive side, but I'd say just as a veteran leader in general," Daboll said. "He does everything the right way, he works hard, he leads by example, but he's also a vocal leader when he needs to be. You can tell why he's been such a successful player 12 years in the league, or 12-plus. So, when his number's called, he's ready to go, and he made some big plays for us."
• Aggressive penalties are the kind McDermott can live with. The roughing-the-passer penalty taken by defensive tackle Ed Oliver falls into that category. Oliver was flagged in the third quarter on a fourth-down play, when he appeared to make contact with Chiefs quarterback Patrick Mahomes below his knees.
"Yeah, those are tough ones. I mean, those can go either way, but you hope over the course of the game those even out and at the end of the day you want an aggressive player and you've got to be able to reset at the same time," McDermott said. "You're going to get some aggressive penalties from time to time. And so, having that tool in your toolbox to be able to reset during the course of the game is critical and I thought Ed did that."