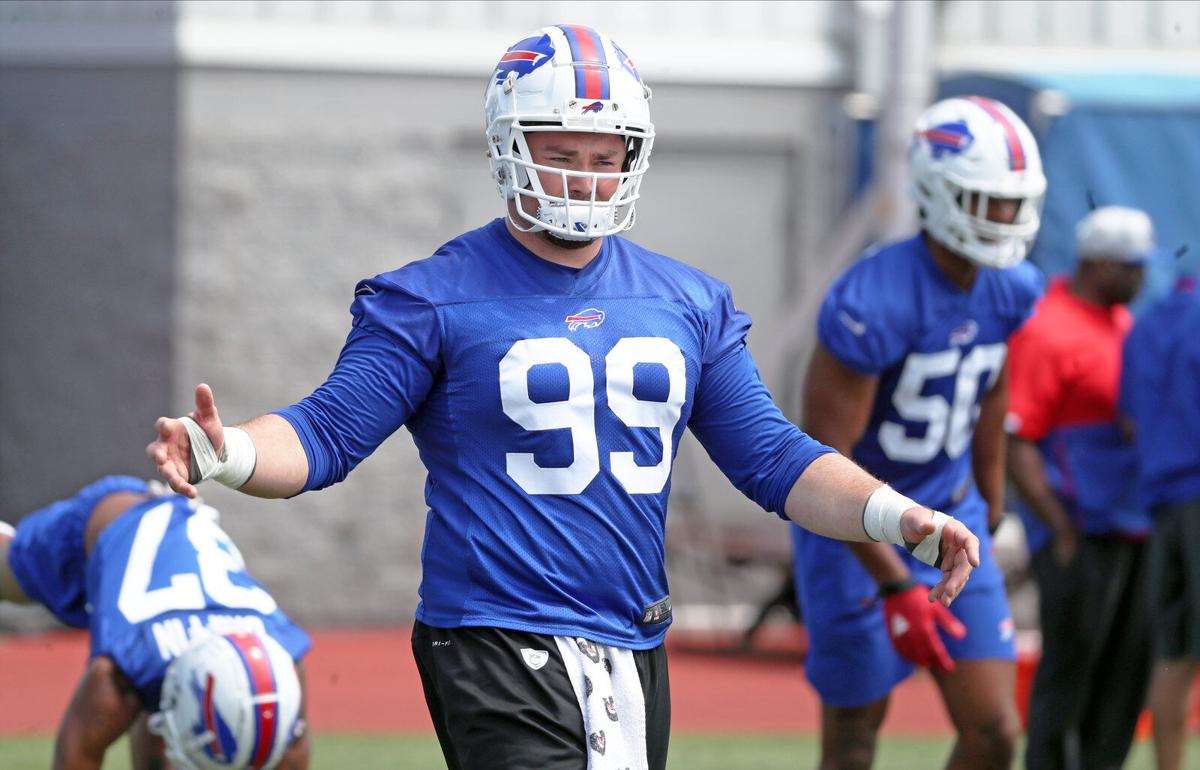 At least by spring-practice standards, the Buffalo Bills were getting after it Tuesday.
A rare scuffle broke out during an organized team activity after second-year defensive end A.J. Epenesa intercepted quarterback Josh Allen at the line of scrimmage and returned the ball for a touchdown. That didn't sit well with guard Jon Feliciano. The two exchanged words before Epenesa fired the ball at Felciano, who responded by appearing to throw a punch before teammates swarmed in to break things up.
Such dustups are common during training camp, but it was a bit unusual to see one of them in the spring, when players are not in full pads and an emphasis is more on installation of plays rather than execution.
"This hasn't been my first scuffle in practice," Feliciano said during an appearance later Tuesday on the Pat McAfee Show podcast. "Everyone knows around there, we're trying to work. There's no animosity between me and A.J. I mean, that crap was done right when we walked off the field. Iron sharpens iron, and trying to get him better."
The Bills have two more OTAs this week, then a three-day, mandatory minicamp next week before they take a break for summer.
"Any time you have guys out here who take so much pride in what they're doing, it gets a little competitive out there," defensive tackle Harrison Phillips said of the scuffle. "Obviously, we all know what the tempo is and what's really happening right now in early June. But at the same time, tempers flare and there's sometimes a boiling point and this guy's going a little harder than this guy. That's just things that come with the game, but that's also what brings people together. Brothers fight all the time, but they love each other 100%. It's just football, nothing unexpected. It's just NFL football."
Morse, Williams make appearance. Center Mitch Morse and right tackle Daryl Williams, both of whom were not seen on the field the past two weeks at the OTA session open to the media, participated in Tuesday's practice.
A total of 10 players were not spotted for the voluntary session: Wide receivers Stefon Diggs, Emmanuel Sanders and Isaiah McKenzie, running back Taiwan Jones, offensive lineman Jordan Devey, safety Jaquan Johnson and defensive linemen Jerry Hughes, Mario Addison, Star Lotulelei and Vernon Butler Jr.
McKenzie, Johnson and Devey were at the previous two OTAs open to the media, while Diggs and Sanders were present last week. None of the defensive linemen absent Tuesday have been seen at any of the OTAs.
Defensive end Darryl Johnson Jr., running back Zack Moss, wide receiver Cole Beasley and tight end Reggie Gilliam were at practice, but did not participate. Wide receiver Isaiah Hodgins, safety Josh Thomas and guard Cody Ford all wore red, non-contact jerseys.
Defense is making plays. In addition to Epenesa's interception, the defense turned in a couple of other big plays during team work. First, rookie safety Damar Hamlin intercepted backup quarterback Mitchell Trubisky. A short time later, running back Matt Breida fumbled, with rookie defensive end Boogie Basham picking up the loose ball and returning it to the end zone. Finally, safety Thomas had an interception of Trubisky.