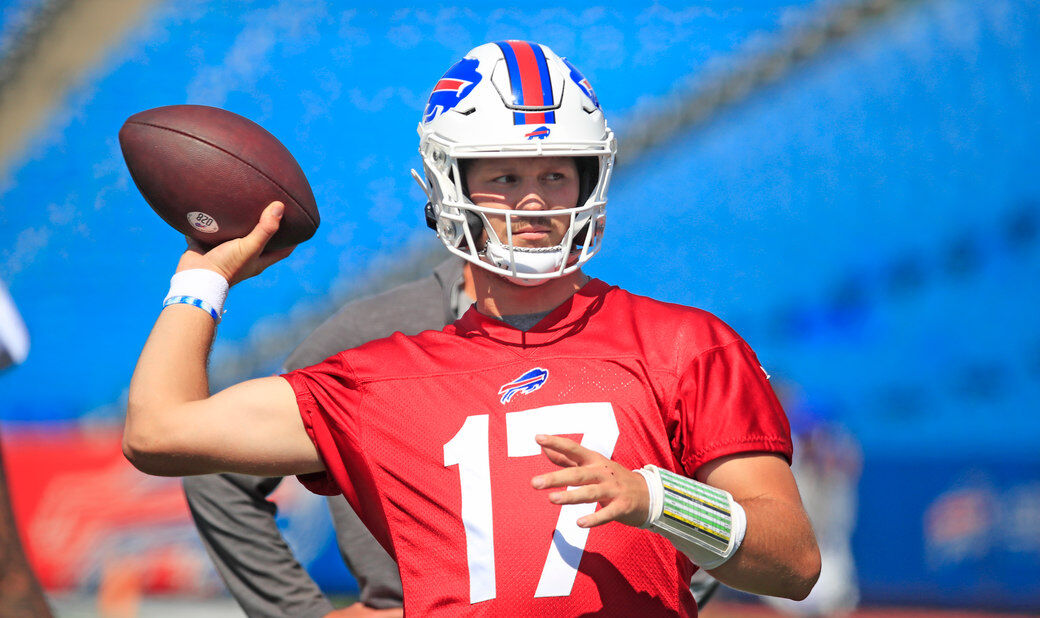 With all the uncertainty from injuries and Covid-19 protocols surrounding the Bills right now, coach Sean McDermott set one thing in stone Thursday: Saturday's starting quarterback.
McDermott said Josh Allen will start in the preseason finale against the Green Bay Packers at Highmark Stadium. It will be Allen's first appearance this preseason, as backup Mitchell Trubisky started the last two games.
McDermott said he didn't have set reps for the starters as a group, but "the majority will play," with time varying.
"Some will come out of the locker room after half and give it a series in the third quarter," he said. 
A large part of those decisions will depend on who's available. The wide receiver room is thin. Cole Beasley and Gabe Davis are still missing time from Covid-19 protocols, as are defensive linemen Star Lotulelei and Vernon Butler. McDermott said there is "a chance" that those players will be back to play Saturday, and that the four are "all on a similar path" as far as when they could be cleared to return.
Bills receivers Cole Beasley and Gabriel Davis and linebackers Matt Milano and A.J. Klein have been removed from the team's facility and will have to go through a five-day re-entry process.
According to Covid-19 protocols, the players must be away from the team for five days and then have negative tests. The four were sent home Tuesday after being deemed to be close contracts with a vaccinated team trainer who tested positive.
Wide receiver Isaiah McKenzie missed another practice after injuring his shoulder Tuesday.
"He has a shoulder right now that he has to deal with," McDermott said. "At this point, it would be between a day-to-day and week-to-week type of injury."
Veteran receiver Emmanuel Sanders did not practice Thursday. Rookie receiver Marquez Stevenson (foot) returned to practice, getting work in on returns as well.
The injuries are notable other than the receivers, too. Cornerback Taron Johnson (hand) did not practice, and while McDermott did not have an exact timeline for him, he indicated it was similar to McKenzie's.
Allen has not played in the previous two preseason games. 
"It's nothing to be concerned about long term, but it's between a day-to-day and week-to-week type of injury," McDermott said.
McDermott did not have an update on Harrison Phillips (knee), who has not practiced this week.
Also not practicing were: OL Spencer Brown, RB Antonio Williams, RB Christian Wade, TE Tommy Sweeney, DL Treyvon Hester, S Jaquan Johnson, CB Levi Wallace and long snapper Reid Ferguson.
Thursday's practice was held in Highmark Stadium. It was a little shorter, but that didn't slow cornerback Tre'Davious White.
McKenzie shared on social media that he's been fined $14,650 by the NFL for failing to wear a mask inside the team facility.
White picked off Trubisky, who was targeting newcomer Rico Gafford in the end zone, and then nearly intercepted Davis Webb shortly after.
Allen connected nicely with wide receiver Stefon Diggs, who returned to practice this week, and got additional reps with Jake Kumerow, who faces his former team Saturday.
"I'm excited, it will be cool to see some of the guys I know, some familiar faces," the wide receiver said Wednesday. "I'm looking forward to it. Also, it's the next game so I'm going to be excited, no matter what. Just because it's Green Bay it will be good to bump those guys around a little bit."
The Bills released wide receiver Duke Williams and offensive lineman Forrest Lamp from injured reserve with injury settlements, per the league's transaction report.