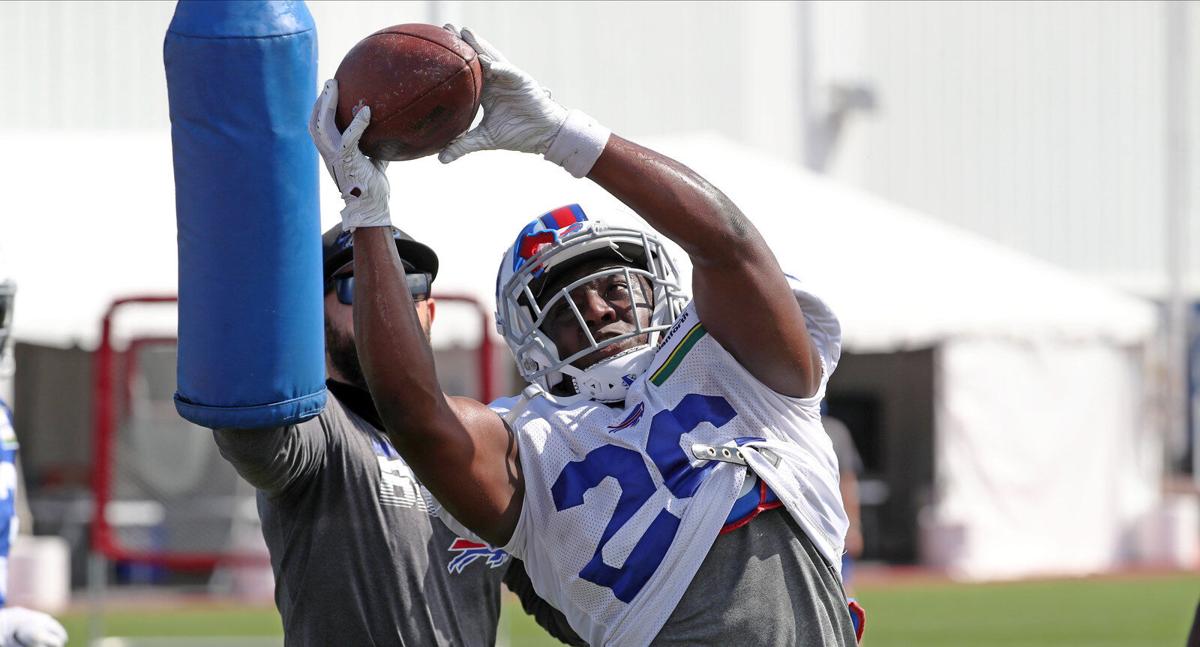 The competition for snaps at running back looks like it will be heated between Devin Singletary and rookie Zack Moss heading into the regular season.
Moss has been impressive rushing and receiving throughout training camp in Orchard Park.
Singletary had another strong day during Sunday's two-hour session on the grass fields outside the team's ADPRO Training Center.
The second-year back showed his quick acceleration through the hole repeatedly in the practice. Singletary burst wide for a big gainer on the first play of the second 11-on-11 session. He had a 5-yard gain up the middle a few minutes later. Then in enemy territory late in the practice, Singletary burst up the middle for at least 20 yards, and it might have been a touchdown of 30-some yards if it was a game situation.
Moss brings a little more power, Singletary a bit more elusiveness. Moss wore a red non-contact jersey due to a sore neck, and his carries appeared to be a bit limited Sunday. But he did hit a few holes hard and get tackled to the ground.  
Cagey Cole: The biggest whoops and hollers from the players came during the portion of practice when receivers were running one-on-one routes against defensive backs. Cole Beasley made a ridiculous set of moves on safety Dean Marlowe, turning the veteran defensive back completely around, before releasing wide open in the opposite direction for an easy catch.
The Allen report: Josh Allen completed 7 of 14 passes as the offense did a lot of situational work, as opposed to running complete drives. Robert Foster dropped one of the incomplete passes, twice the intended receivers slipped and fell. One incompletion was a throwaway prompted by a heavy rush from Jerry Hughes. Allen had a sharp TD throw to Beasley.
Good hands: Rookie receiver Gabriel Davis again made himself noteworthy. He smoothly plucked a ball from Matt Barkley on a dead run. A few minutes later an intermediate pass from Allen was just a tad low, but Davis made the catch look easy. Later on, he had a TD catch from Barkley with Tre'Davious White in coverage, then he had a TD grab from Barkley with cornerback Brian Allen in coverage.
Defensive standouts: White showed good route recognition in nearly intercepting a pass for Duke Williams. . . . Besides his hurry early, Hughes chased down Allen from behind and then made a run-stuff on back-to-back plays. . . . Linebacker Vosean Joseph burst into the backfield to take down T.J. Yeldon for a 5-yard loss. Safety JaQuan Johnson made a similar play deep in the backfield on Yeldon, who had no chance to get to the line of scrimmage. . . . Bryan Cox Jr. and Darryl Johnson had sacks. . . . Marlowe picked off a pass from Jake Fromm at the goal line, but Marlowe might have fumbled on the return. It was hard to tell if the play had been blown dead. . . . Backup defensive linemen had a hard time getting pressure against offensive lineman Ryan Bates.
Injury report: Receiver Stefon Diggs sat out a second straight practice due to lower back soreness. Defensive end Bryan Cox Jr., given an excused absence on Friday, was back at work. So was linebacker Corey Thompson, who had a sore knee. Sitting out besides Diggs were: guard Quinton Spain (foot), guard Jon Feliciano (chest), running back Taiwan Jones (knee), tight end Tommy Sweeney (foot), cornerback Josh Norman (hamstring), running back Christian Wade (quad) and fullback Patrick DiMarco (neck). All of them were in attendance.
FG watch: Rookie Tyler Bass was 7 for 7 on field-goal attempts, hitting from 35, 41, 44, 45, 46, 48 and 51 yards.
Steady: Corey Bojorquez had another strong day. All but one of his full-field punts went for hang times of 4.5 seconds or better. On shorter-field Aussie kicks, deep into opponent territory, he had hang times of 4.6 (to the 9-yard line), 4.4 (to the 14) and 4.7 seconds (to the 11).
Uni-watch: Allen, the 6-foot-3 cornerback signed three days ago, was wearing O.J. Simpson's old number (32).
Last open practice: Sunday's session was the last one of the season that the media got to watch in its entirety. Starting Monday, all NFL teams begin "regular-season" rules regarding practice availability for the media. Media is allowed to watch roughly the first 20 minutes of warmup work and individual position drills. Thus, this is the final observations column of the season.