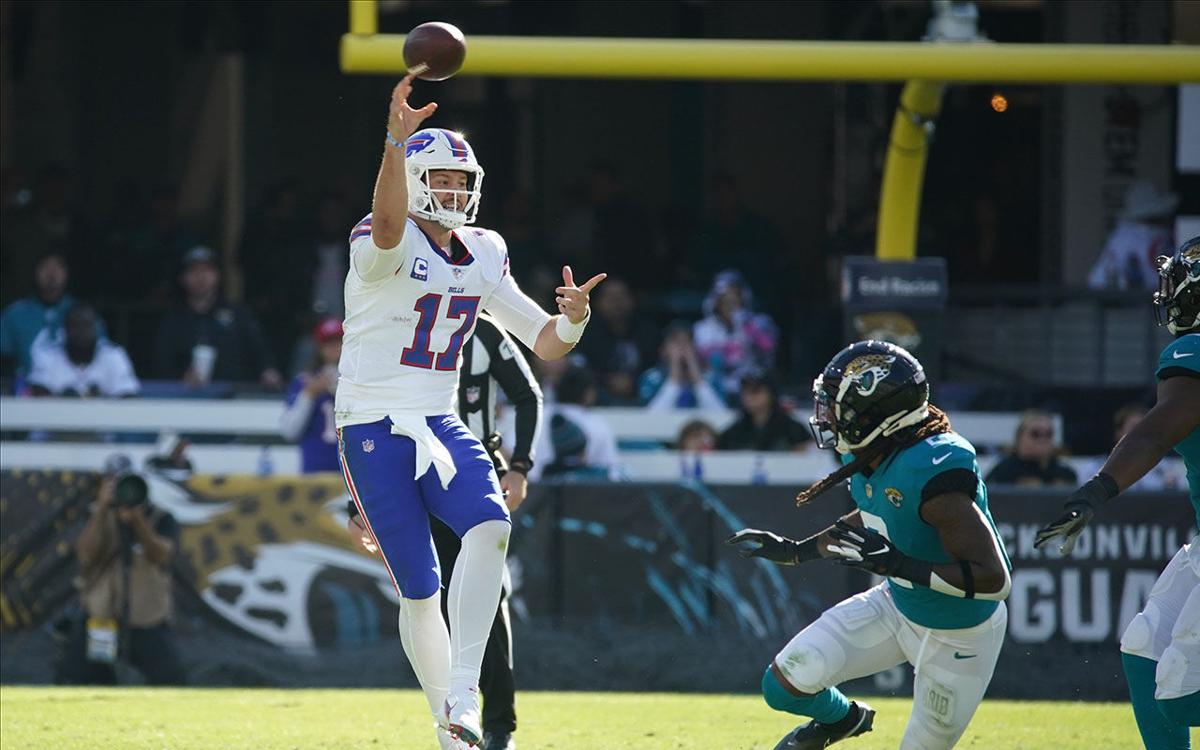 JACKSONVILLE, Fla. – Once can be forgiven. Twice looks like the start of a troubling trend.
For the second consecutive game since their bye week, the Buffalo Bills were lost offensively in the first half. Only this time, no answers were to be found after halftime.
 Don't miss Jay Skurski's grades for the Buffalo Bills in their 9-6 loss to the Jacksonville Jaguars on Sunday at TIAA Bank Field. "Buckle up ..." he writes.
The Bills looked nothing like the Super Bowl contenders they're supposed to be, struggling all afternoon in a 9-6 loss to the Jacksonville Jaguars on Sunday at TIAA Bank Field.
The loss, which dropped the Bills to 5-3 and cut their lead in the AFC East to just a half-game over the New England Patriots, produced a multitude of questions about the offense overall, but perhaps none more pressing than this: Why is this offensive line so broken, and what – if anything – can be done to fix it?
The Bills are dealing with some injuries. Rookie right tackle Spencer Brown missed his second straight game because of a back injury, and starting left tackle Jon Feliciano went on injured reserve Saturday because of a strained calf.
Allen sat red-faced behind a microphone, having committed three turnovers in the second half, and with a hoarse voice attempted to explain how the highest-scoring offense in the NFL failed to find the end zone.
Still, that doesn't absolve the five starters who played against the Jaguars. None of them – left tackle Dion Dawkins, left guard Ike Boettger, center Mitch Morse, right guard Cody Ford and right tackle Daryl Williams – played remotely well enough against an inferior Jacksonville defense that came into the game allowing 386 yards and 29.0 points per game, both in the bottom quarter of the NFL.
"You can't put this on one person," Morse said. "Every person's got a little bit of blame. Simple as that. So much like every loss, or every game, you look at what you can fix. I can only speak for myself. There's quite a few plays I wish I had back to put us in optimal position to play more efficiently. And I think most of guys would say the same thing."
They certainly should be saying the same thing. Run blocking or pass blocking, it didn't matter, the line looked as bad as it has all season.
The Jaguars entered the game with 11 sacks, which ranked 30th in the NFL. They had four against Josh Allen on Sunday.
The Bills had yet to use that offensive line combination in a game, but again, that can't be an excuse. Morse at first said the line's communication was satisfactory, before talking through the answer left him unsure of himself.
Don't miss Katherine Fitzgerald's quarter-by-quarter analysis of the Buffalo Bills' 9-6 loss to the Jacksonville Jaguars on Sunday.
"I thought we did a good job communicating for the most part. When we didn't it showed," Morse said. "So yeah, maybe not. You'd like to be perfect, and we weren't. And on those times that we weren't, there were some unfortunate results."
"Unfortunate" is one word to describe them. Undoubtedly, Bills fans watching Sunday's horror show used quite a few more.
"Sometimes we just got outplayed," Morse said. "Sometimes it was the right call against the right play we had. It was just kind of an accumulation of a lot of stuff, which made it very frustrating. But all you can do in games like this is point inwards. … It's what professionals do."
That self-analysis will also be performed by the coaching staff.
"We've got to fix some things," coach Sean McDermott said. "Let's just start there. ... We'll take a hard look at the film. You've got to win up front in order to play well offensively or defensively."
The one-dimensional nature of the Buffalo Bills' offense was exposed and exploited by the Jacksonville Jaguars on Sunday.
By now, it's clear that the Bills have a gigantic problem with Ford. A 2019 second-round draft pick – one the Bills traded up for – Ford has trended firmly into "bust" territory. You name it, he did it wrong against Jacksonville, giving up frequent pressures, taking a holding penalty and otherwise struggling against one of the worst defensive lines in the league.
It's not in his DNA and it's unlikely he'd ever do it, but McDermott might want to consider dialing down the public praise for how Ford has handled himself and send a message through the media that his performance isn't acceptable. It's great that he's been "professional," but that's setting the bar too low. Given where he was drafted, Ford was supposed to be a big part of the future. It's looking increasingly like that won't happen.
In the short term, there aren't many obvious solutions. Feliciano will miss at least two more games. The Bills signed Jamil Douglas to the active roster from the practice squad Saturday. Perhaps he gets a look as soon as Week 10 against the New York Jets.
"We always look at it," McDermott said when asked if he considered making a change to the offensive line during Sunday's game. "Some of it is where we were at this week with the injuries and everything. We'll see. We always look at everything we can going into a game."
A loss to the hapless Jacksonville Jaguars deflated the Buffalo Bills, but Jacksonville cornerback Shaquill Griffin said he saw their spirits dipping well before the game ended.
2. Penalties were a major issue
The Bills took 12 penalties for 118 yards, both of which are the third-highest totals under McDermott. That included five personal fouls: Three unnecessary roughness penalties against Tre'Davious White, Dion Dawkins and A.J. Klein, as well as a roughing-the-passer flag on Tremaine Edmunds and a taunting penalty against Levi Wallace – one that came after the Jaguars converted a fourth down.
"We got to play smart," Edmunds said. "Definitely in close ballgames, we can't beat ourselves. We can't point fingers at the refs or whatever it may be. We just got to play smart ball out there. Whatever the call is, whatever we think, in close games, we just got to play smart."
With 61 penalties against, the Bills rank tied for seventh most in the NFL going into Sunday Night Football, although five of the teams ahead of them have played nine games, while Buffalo has played just eight.
"I'd like to believe we're a disciplined team, but it doesn't show right now," McDermott said. "So I have to go back and look at that as well. We practice a certain way, but for some reason it's not being reflected in the way we're beating ourselves with penalties."
The penalty flags were out in force Sunday as the Bills were penalized 12 times for 118 yards against Jacksonville. 
There are two key ways to lose to a pronounced underdog –as the Jaguars were Sunday. The first is to turn the ball over, and the second is to hurt yourself with penalties. The Bills were guilty on both charges.
"You can't beat yourself," McDermott said. "Whether it's penalties, turnovers, fundamentals. So, way too many penalties were self inflicted. We've got to keep our poise. That was a crew that called taunting, I believe, more than any crew in the league. We were aware of that and we didn't execute."
Referee Land Clark's crew had called seven taunting penalties this season. To be fair, Clark's crew had a rough afternoon.
Penalties were called, then called differently after group consultations.
Players such as Bills backup quarterback Mitchell Trubisky, who wasn't even dressed for the game, were called for penalties. The Jaguars' kicker was called for an illegal shift penalty that actually was on someone else. An unnecessary roughness penalty was called on the Bills' Darryl Williams, but should have been on Dawkins. A scrap involving White and Tavon Austin was called one way and then the other.
Referee Land Clark became an all too familiar face to Bills fans in the first half of Sunday…
Clark would not be a known entity to Bills fans before Sunday because this is the first time he has officiated a Bills game in his season-plus as a referee and two seasons as a field judge.
Clark was hired by the NFL in 2018 and was promoted before the 2020 season to replace the retiring Walt Anderson among the referees. Interestingly, he was promoted to referee despite having not been assigned to a playoff game in his two seasons as a field judge.
Before joining the NFL, Clark worked in the Pac-12 Conference as a referee and he was the referee for the 2018 Sugar Bowl, which was the national semifinal between Alabama and Clemson.
Entering Sunday, Clark's crew was fourth in the NFL, calling 96 penalties in seven games, 13.71 per game, according to nflpenalties.com. (The league average is 12.31.) The 96 were split 47 on the home team and 49 on the visiting team. The Jaguars were flagged eight times for 54 yards.
Also, an average of 2.72 unnecessary roughness penalties were called per team for the season, making the Bills' five in one game stand out even more.
"There's a lot of he said this, he said this, he pushed me first," safety Jordan Poyer said. "Obviously, we got to be able to handle our emotions in situations like that in a football game. Sometimes they're aggressive penalties, sometimes they're not, we just got to be able to bounce back off of it."
Sean McDermott's suffered his worst loss in his career as the Buffalo Bills' head coach, falling to a 1-6 Jacksonville Jaguars team ranked 27th in scoring, 28th in points allowed and second last in turnover differential.
3. The injuries are starting to pile up
The Bills lost starting nickel cornerback Taron Johnson to a concussion in the first quarter. He was replaced in the lineup by Siran Neal.
Running back Zack Moss also suffered a concussion, leaving the game in the third quarter after rushing just three times for 6 yards and gaining 18 yards on two catches.
Additionally, safety Jaquan Johnson suffered a hamstring injury in the first quarter, while defensive tackle Ed Oliver and cornerback Tre'Davious White were both hurt in the fourth quarter. White was able to return to the game.
4. Trevor Lawrence briefly left the game for the Jaguars
Lawrence, the No. 1 overall draft pick in April, appeared to get stepped on by his own offensive lineman Walker Little in the second quarter. Little was pushed back by Bills defensive end Jerry Hughes. Lawrence went down and was helped to the locker room by trainers. The Jaguars announced he was questionable to return, and Lawrence was temporarily replaced by C.J. Beathard.
Beathard moved the ball well, completing a 28-yard pass down the left sideline to tight end Dan Arnold, but Lawrence was able to return later on that same drive.
Lawrence finished 15 of 26 for 188 yards and did not throw an interception, only the third time he has not thrown a pick in a game.
The Bills allowed only 219 total yards, which is the fewest in a loss since they gave up 175 yards in a 21-17 loss at Miami in 2018.
With 28 seconds left before halftime, the Jaguars' Josh Allen sacked the Bills' Josh Allen, marking the first time in NFL history a player has been sacked by a player of the same name.
5. Chris Manhertz made an appearance
The former Canisius basketball player and current Jacksonville tight end had a 9-yard reception on the Jaguars' first possession of the third quarter. It was the only target of the game for Manhertz, who is primarily used as a blocker. Manhertz is in his first season with the Jaguars after spending the last five years with Carolina.
6. The Bills once again shuffled their defensive line
Defensive tackle Justin Zimmer was inactive for the second straight game. Zimmer has been dealing with a foot injury, which led to him being questionable and ultimately missing the Week 8 game against Miami.
Zimmer practiced fully all week, however, and wasn't listed on the final injury report, meaning the move is more of a coaching decision by McDermott.
Tight end Dawson Knox (hand) and Brown were previously ruled out because of injuries.