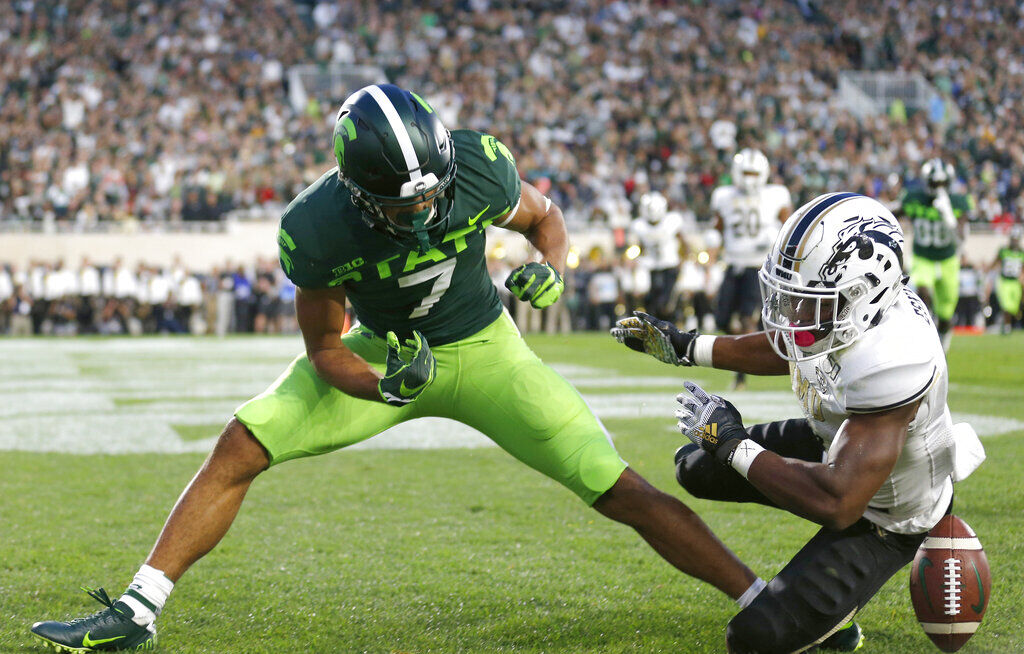 This is the third in a series profiling players the Bills could select in the April 29-May 1 NFL draft.
D'Wayne Eskridge arrived at the Senior Bowl in January, in his words, feeling like a ticking time bomb.
Samuel had solid production in more than two years as a starter at Florida State. Of the 137 times he was targeted, he was credited with 29 pass defenses and four interceptions.
So what happened over the course of the week in Mobile, Ala., to the Western Michigan wide receiver?
"I exploded," he said. "People started to know more of who I am and what I can do on the field."
The Senior Bowl solidified Eskridge as a rapidly rising prospect. In fact, a strong case can be made that no player nationally has helped their stock over the past year more than the Broncos' redshirt senior.
This is the first in a series profiling players the Bills could select in the April 29-May 1 NFL draft.
After suffering a broken clavicle during the fourth game of the 2019 season, Eskridge flirted with the idea of putting his name in the draft. The NFL Draft Advisory Board informed Eskridge that if he did so, he'd likely be a seventh-round pick or a priority signing as an undrafted free agent. Instead, Eskridge used his medical redshirt to return to Western Michigan for a fifth season.
The Covid-19 pandemic initially led to the delay of the fall football season for the Mid-American Conference, but that decision was eventually reversed and a six-game schedule was put into place. Eskridge responded in a big way, being selected the MAC Special Teams Player of the Year and making the conference's first team as both a receiver and returner. Eskridge was a finalist for the Paul Hornung Award, which is given to the nation's most versatile player. He was the only one of five finalists not to play at a Power 5 school. Eskridge led all Football Bowl Subdivision programs with 213.0 all-purpose yards per game – the only player in the country to top 200 – and his 130.7 receiving yards per game (34 catches for 784 yards) ranked fourth in the FBS and led the MAC.
It's easy to imagine Buffalo Bills offensive coordinator Brian Daboll daydreaming of ways to get the football into Eskridge's hands. Eskridge had touchdowns of 72, 76 and 85 yards last season.
"When it comes to NFL teams looking at dynamic offensive players, they want the ability to go to the house," Western Michigan coach Tim Lester said. "He is a guy from in front of the defense and having the ability to get behind the defense, he's done both and he's shown it. That definitely translates into the NFL game."
Eskridge's eight receiving touchdowns last year led the MAC and ranked 16th nationally. It's his ability as a returner, though, that may increase his value to the Bills, who lost veteran Andre Roberts in free agency to the Texans. Eskridge averaged 77.8 kickoff return yards per game, which ranked fifth in the FBS.
The Bills' GM said enough to make it seem like last year's draft experience – in which the Bills stood pat for each of their seven selections – was an aberration.
Receiver is not at the top of the list of Bills' needs, but with Emmanuel Sanders and Isaiah McKenzie playing on one-year deals, it is a definite possibility at some point.
"I feel like I bring a different type of dynamic to the league," he said. "When it comes to special teams, wide receiver, any position that I'm put in, I feel like I can do it at a high level because of my motor, how I play the game, the emotions that I play with. Just being dynamic and being able to play multiple positions."
That includes cornerback. Western Michigan experimented with using Eskridge on both sides of the ball during the 2019 season, partly because NFL scouts thought it would be good for the 5-foot, 9-inch, 190-pounder to experiment with a position switch given his smaller size.
"It helped me more so at receiver than it did at corner," Eskridge said. "Just realizing some of the vulnerabilities when it comes to DB, because the receivers always have the advantage. As a DB, I never knew what a receiver was doing. I studied up on tendencies and all that, but just me being able to attack blind spots, being able to know how to get open under pressure, it helped me become a full, all-around wide receiver."
A two-time state champion in the 200-meter dash, Eskridge was named Mr. Track and Field in Indiana in 2016. He also won one state championship in the 100-meter dash. Speed is undeniably his greatest asset.
Eskridge ran a 4.35-second 40-yard dash at Western Michigan's pro day – and came away disappointed.
"I wanted to run a 4.29 today, for sure," he said. "The weather, it wasn't terrible. I don't know what it was. It's a little bit cooler. I guess it just wasn't my day for the 4.29, but I still feel like I'm a 4.29 guy."
Harnessing that speed, though, and knowing when to use it isn't always easy.
"There's a lot of fast guys who, they do everything fast and they're a little bit out of control," Lester said. "Once he learned the pace of routes, and how to accelerate and decelerate, which came when he went to defense, there was a light bulb that went off.
"I was so excited to use him two years ago as a two-way player and then he got hurt. I'm just glad that he got six games to show everybody that he's not just a post guy or a slant guy. … When he controls that speed, he's almost uncoverable. I'm happy he got these six games to show everybody what we've known for two years. It showed last fall, that's for sure."
Eskridge is No. 81 on ESPN's list of top prospects, with the expectation being that he'll be a Day Two pick.
"I've known I wanted to play in the NFL even before I started playing organized football," he said. "I started playing in the fifth grade, but I can remember as far back as I could just watching football. I knew that was always going to be something that I wanted to do. I just kept my head down and actually worked for that dream. … The main goal is just getting on a team. I don't care if I get drafted in the first or seventh round. I'm just trying to get on a team."