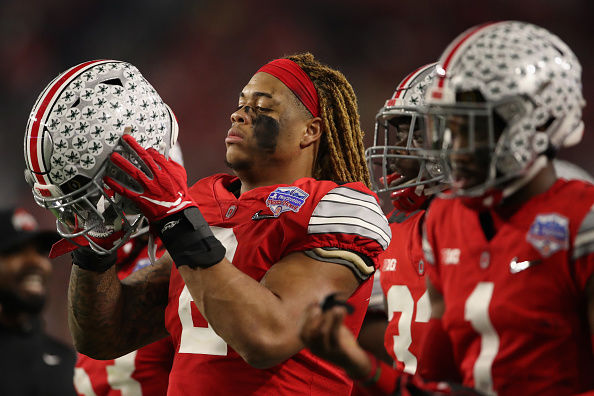 This is sixth in a series of stories previewing the NFL draft from the Buffalo Bills' perspective. Today, we look at defensive ends.
Top heavy is the best description for the 2020 NFL defensive end draft class.
It starts strong, if not stronger than any position, with Chase Young of Ohio State. He's arguably the most talented player in the draft and likely would be the top overall choice if the Cincinnati Bengals weren't almost certain to address their quarterback need by selecting Joe Burrow of LSU.
Another LSU prospect, K'Lavon Chaisson, and A.J. Epenesa of Iowa are likely first-round defensive ends, while Yetur Gross-Matos of Penn State could sneak in at the bottom of the first or the top of the second.
"This year's defensive end group, even though you've got Chase Young at the top and you've got a couple of really good interior defensive linemen, the end group kind of drops off after the first three or four," ESPN draft analyst Todd McShay said during a conference call with reporters. "So, after Yetur Gross-Matos, it's a little bit of a dip, and you're probably looking later in the second round before you get an end that you're excited about."
Julian Okwara of Notre Dame and Bradlee Anae of Utah could fall into that late-second-round category.
The bottom line is if a team considers defensive end a priority, it should make every effort to land one in the first round and no later than the second.
Overall position ranking: 6 of 10.
Bills view: There once seemed to be pretty good logic behind thinking the Bills would use the 22nd overall pick on a defensive end. The need seemed strong enough, given the likely free-agency departure of Shaq Lawson (who signed with Miami) and the fact starters Jerry Hughes and Trent Murphy combine to raise concerns about age, health and consistency.
Of course, the Bills have since traded the choice to Minnesota as part of the deal to land wide receiver Stefon Diggs. They did address defensive end with the free-agent signing of Mario Addison from the Carolina Panthers. However, that is not seen as a long-term solution.
The possibility remains the Bills could go with a defensive end in the second round provided one from what looks to be a fairly short list of top players at the position falls that far.
Bills' need ranking: 7 of 10.
The best: Chase Young, Ohio State. The production unmistakably paints the picture of a player who should be taken first overall and no later than second. After emerging in 2018 with 10.5 sacks, 15.5 tackles for loss, five passes broken up and two forced fumbles, Young took a larger step to prominence last year. In 12 starts (he was suspended for two games for receiving a loan to reportedly pay to have his girlfriend travel to the 2018-19 Rose Bowl), he led the nation with 16.5 sacks and six forced fumbles. He also had 21 tackles for loss.
Pro Football Focus describes Young as "quite easily the best edge prospect we've ever graded." In 2019, PFF gave him a pass-rushing grade of 96.5, the highest it has ever given. "There's not a single thing about the position he's not elite at as a prospect," PFF posted on its website. "Truthfully, coming up with any sort of negatives about him just seems like nitpicking."
"As a pass rusher, he explodes off the ball and gains ground in a hurry," NFL.com draft analyst Daniel Jeremiah wrote in his summary of Young. "He uses a quick swipe move and also has the ability to control the wrists of blockers. He can convert speed to power and is effective on loops and games. He does have a little tightness at the top of his rush. Against the run, he sets the edge easily and uses his quickness to slip blocks and create chaos behind the line of scrimmage. Overall, Young is an All-Pro talent, reminiscent of Julius Peppers and Mario Williams."
The sleeper: Jonathan Garvin, Miami. Multiple projections have him going somewhere in the middle rounds, but he does have physical qualities that strongly suggest he could prove to be someone who merited being taken higher. At 6 feet, 4 inches and 263 pounds, he has good size to go along with considerable athleticism. He shows impressive speed and agility, consistently strong effort and tackles well in the open field. At the very least, he is someone who could fit a scheme that likes to frequently rotate linemen.
Overcoming tragedy: Yetur Gross-Matos has had to overcome a pair of tragic events from his childhood. First, there was his biological father, who died in the process of saving then-2-year-old Yetur from drowning. Then, there was his older brother, Chelal, who was killed when a lightning bolt hit a Little League field on which he and Yetur were playing.
Yetur has a tattoo on his left arm to honor the memory of Chelal, who he considers his hero.
"I think the biggest thing is just staying positive throughout all the things that I've faced in my life," Gross-Matos told reporters at the NFL scouting combine in Indianapolis. "And just keep working. Being sad and moping around is not going to change anything."
NFL draft top 10 defensive ends
Chase Young*, Ohio State, 6-5, 264
K'Lavon Chaisson*, LSU, 6-3, 254
A.J. Epenesa*, Iowa, 6-5, 275
Yetur Gross-Matos*, Penn State, 6-5, 266
Julian Okwara, Notre Dame, 6-4, 252
Bradlee Anae, Utah, 6-3, 257
Terrell Lewis, Alabama, 6-5, 262