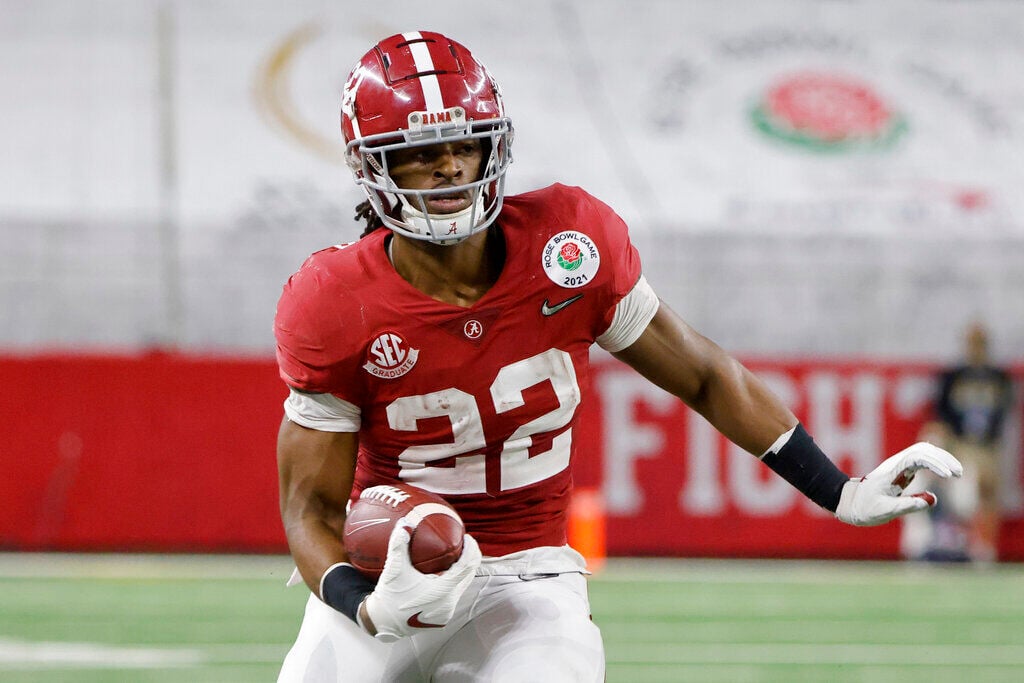 This is the second in a series previewing each position in the April 29-May 1 NFL draft. Today's installment looks at running back.
Whether the Buffalo Bills should take a running back in the first round of the NFL draft is the hottest predraft argument in town.
The Bills' offense could use a home-run hitting speedster in the backfield to become even more sensational. What team couldn't?
However, the Bills already have spent quality draft capital – two third round picks – over the past two years on running backs. Devin Singletary and Zack Moss are young, developing NFL players.
There are so many running backs available on the second and third days of the draft every year that better value can be had in the first round at virtually every other position on the field.
The only way drafting a running back in the first round pays off is if the player turns out to be outstanding – not just good. And even if he is outstanding, you're probably not signing him to a second contract because there's no value in doing that at a position that has a shorter shelf life than most others.
The Bills, of course, have proved the anti-running back argument by drafting three running backs in the first round this millennium. Willis McGahee, Marshawn Lynch or C.J. Spiller all were good players but none of them made it to his second contract. In fact, the Bills got more production out of second-round pick Travis Henry than McGahee. They got more production out of undrafted Fred Jackson than Lynch or Spiller.
And yet: Wouldn't Travis Etienne look great in a Bills uniform? The Clemson star ran the 40-yard dash in 4.44 seconds. He rushed for 70 touchdowns in four years. He scored in 46 of 55 games, a major-college record.
The Bills, coming off a 15-4 season, don't have many spots available for a rookie to come in and make a significant impact in 2021. Cornerback is one. Edge rusher is another, although it's unusual to find one at the end of the first round who makes a big impact as a rookie. Game-breaking, gadget-running back is the other.
Let the arguments continue.
Overall position ranking: 6 of 10.
Bills view: The Bills signed former 49er and Dolphin Matt Breida to fill the backup spot vacated by free agent T.J. Yeldon. Breida is no slouch as an athlete. He ran a 4.38 entering the NFL. Special teams ace Taiwan Jones, who probably is making the team, is back as the fourth man at running back. The need is not glaring.
Bills need ranking: 5½ of 10.
The best: Najee Harris, Alabama. Actually, it's debatable between Harris and Etienne, and North Carolina's Javonte Williams is a close third. Harris, 6-foot-2 and 230, is a complete back. He rushed for 1,466 yards with 20 touchdowns last season and had a Football Bowl Subdivision-leading 47 runs of 10-plus yards. He also has good hands.
"The biggest knock I had on him when I studied him in the summer was for a 235-pound back he didn't run like that," said ESPN analyst Todd McShay. "He kind of danced and always wanted to bounce things outside. He didn't do that this past year. He really was more aggressive, he was more of a north-south runner. He wanted to get upfield and utilize his size and his strength."
"He is a hammer running on all those nails on defense," said NFL Network analyst Bucky Brooks. "But he also has soft hands and can make plays in the passing game. He can anchor an offensive attack."
Names to know: The ranking of running backs will vary by team, depending on if it is looking for a workhorse back, a change-of-pace back, a zone runner or a gap-scheme runner. Ohio State's Trey Sermon, Oklahoma State's Chuba Hubbard and Oregon State's Jermar Jefferson are very good running the outside zone scheme. Oklahoma's Rhamondre Stevenson is a 227-pound power back perfect for a gap scheme like Baltimore runs. Virginia Tech's Khalil Herbert has patience reminiscent of ex-Steelers star Le'Veon Bell. Kansas' Pooka Williams and Louisville's Javian Hawkins are little, speed, gadget guys.
Local hero: We list Buffalo's Jaret Patterson as No. 10. That might be a little high, but we don't mind admitting to some hometown bias. Patterson is likely to be drafted sometime on the third day. ESPN's Mel Kiper considers him a fifth- to seventh-rounder prospect. The Maryland native rushed for 3,884 and 52 touchdowns the past three years. UB didn't need him much in the passing game, but he showed good hands in his pro day workout. Patterson is short, at 5-foot-6½. But plenty of backs that size – Maurice Jones-Drew, Darren Sproles, Tarik Cohen, etc. – have enjoyed great success. Patterson helped himself by running a good 40 time (4.52 to 4.54). He also has a skill set that is transferrable from college to the pros: He's really hard to tackle.
Hybrid: UCLA's Demeric Felton was left off the top 10 only because he's as much of a slot receiver as a running back. He played receiver at the Senior Bowl. He's another gadget guy.
RB Trends: An average of 22 running backs per year have been drafted over the past 10 years. Most are third-day picks; an average of 15 per year are selected between the fourth and seventh rounds. Only two backs have been drafted in the first round the past two years.
1. Najee Harris, Alabama   6-2, 230
2. Travis Etienne, Clemson 5-10, 215
3. Javonte Williams*, North Carolina 5-9 1-2, 212
4. Michael Carter, North Carolina  5-7, 202
5. Kenneth Gainwell*, Memphis 5-8, 201
6. Trey Sermon, Ohio State, 6-0, 213
7. Rhamondre Stevenson, Oklahoma 5-11, 227
8. Khalil Herbert, Virginia Tech  5-9, 204
9. Chuba Hubbard*, Oklahoma State 6-0, 210
10. Jaret Patterson*, Buffalo 5-6½, 196